Could the Georgia Southern Eagles produce their first NFL Draft pick since 2020 in the 2024 NFL Draft cycle? Here's a look at the team's upperclassmen group and how each of these players might provide an impact in the 2023 campaign.
Georgia Southern Eagles NFL Draft Prospects
Georgia Southern will be tasked with replacing a lot of production in 2023 on both sides of the ball. But former USC head coach Clay Helton has the program trending up. Helton's program went 6-6 in regular-season play last year and earned a Camellia Bowl appearance against the Buffalo Bulls.
The 2023 reset won't be easy. The team lost its starting QB in Kyle Vantrease and one of its top receivers in Jeremy Singleton. And on defense, an extremely productive DB trio left, with NaJee Thompson hitting the UDFA pool and Derrick Canteen and Tyler Bride leaving as transfers.
All this being considered, the Eagles addressed some of their more important positional voids through the transfer portal, and they'll have a chance to compete again in Sun Belt play.
Davis Brin, QB
After inhabiting the Tulsa football roster since 2018, Davis Brin will conclude his college football career at Georgia Southern in 2023, following in the footsteps of another productive transfer in Kyle Vantrease.
The 6'2″, 210-pound Brin profiles more as a solid college QB than an actual prospect. Regardless, he'll need to tone down his volatility. His willful gunslinging style should help sustain the team's numbers.
Jalen White, RB
Jalen White may ultimately be Georgia Southern's top prospect in the 2024 NFL Draft cycle. The 6'0″, 215-pound running back rumbled for 914 yards and 10 touchdowns on 162 carries in 2022 and also brought in 22 catches for 217 yards and an additional score.
White has good burst for his size, has proven his utility as a receiver, and also shows off impressive willingness and leverage IQ as a pass protector.
Khaleb Hood, WR
Georgia Southern's passing attack was potent in 2022, and the team's leading receiver was Khaleb Wood. Wood hauled in 87 passes for 925 yards and three touchdowns, and he'll have a chance to stack that in 2023.
At 5'10", 180 pounds, Hood is a bit undersized, but he's an alignment-versatile receiver who's also shown he can offset defenders at stems and use targeted physicality to splice past off-man coverage.
Derwin Burgess Jr., WR
Derwin Burgess suddenly emerged as one of the Eagles' top offensive targets in the 2022 campaign. Over the course of the season, the 5'11", 190-pound receiver racked up 717 yards and seven touchdowns on 58 catches.
Though he's not an elite explosive threat, he's a solid route runner with good stopping capacity and intent in his movement, and he has some sneaky run-after-catch ability.
Keaton Upshaw, TE
Also joining the Eagles' passing attack will be Keaton Upshaw — a 6'7″, 245-pound transfer from Kentucky. Upshaw toiled for four years at the SEC level and actually established a bit of production early on in his career.
In 2020, he caught 16 passes for 198 yards and three touchdowns. He battled a hamstring issue as a redshirt in 2018 and missed all of 2021 with a summer injury, but if he can stay healthy, he has breakout potential at Georgia Southern.
Davon Gilmore, EDGE
Georgia Southern will be the stage for one FCS-to-FBS transfer in 2023: former Wingate linebacker Davon Gilmore. Gilmore dominated last season, racking up 95 tackles, 20.5 tackles for loss, 6.5 sacks, seven pass deflections, and two forced fumbles.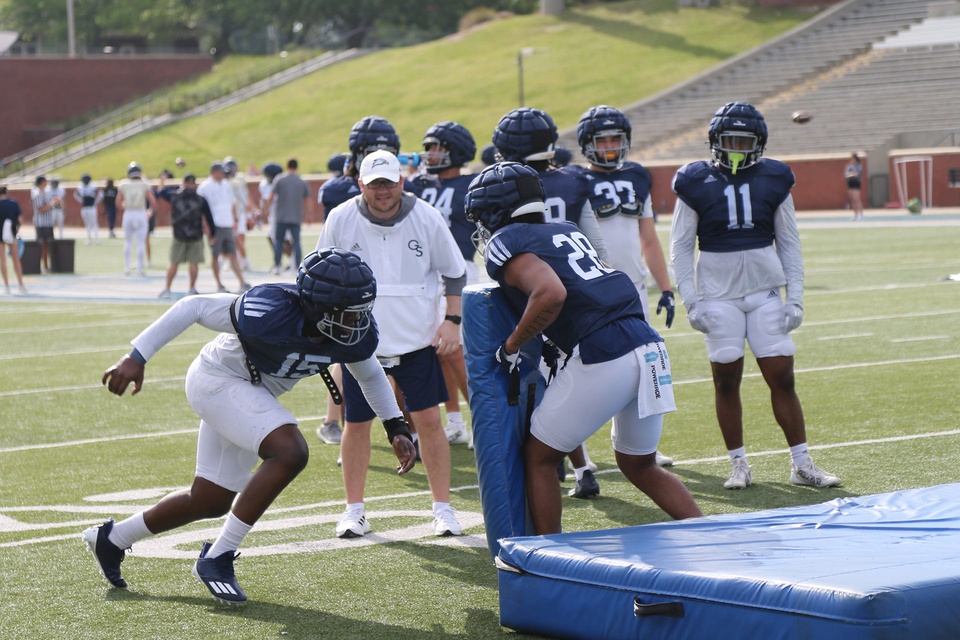 At the FCS level, he was able to showcase his versatility. But he's now up to 6'3″, 250 pounds, and he'll be able to display his attacking ability in the Sun Belt.
Khadry Jackson, LB
In Khadry Jackson, Georgia Southern has a former North Carolina commit who passes the eye test at linebacker with his 6'1″, 230-pound frame. In 2022, Jackson was one of the Eagles' leading producers at the second level, accumulating 84 tackles, four TFLs, a sack, an interception, and two pass deflections.
If he can finish strong in 2023 while showcasing his physical gifts, it could help his PFA aspirations.
Marques Watson-Trent, LB
The Eagles return their leading tackler from the 2022 campaign in linebacker Marques Watson-Trent. At 5'11", 225 pounds, without high-end functional athleticism, Watson-Trent's range as a prospect is unclear.
But there's no disputing his production. In 2022, he amassed 114 tackles, 5.5 TFLs, a sack, three pass deflections, and a forced fumble. His strong frame helps him hold up at contact time and time again.
Jalen Denton, CB
Georgia Southern saw a mass exodus of talent from the secondary this offseason. They'll have to rely partly on Jalen Denton — a former Ole Miss transfer — to fill the void.
Denton played sparingly in 2022, but even with limited reps, the 5'10", 180-pound cover man was able to score an interception and two pass deflections.
TJ Smith, S
The Eagles will be getting a needed boost in their secondary with Kansas State product TJ Smith. Smith has a wealth of experience at the Power Five level. Though he's undersized at 5'9″, 185 pounds, he's flashed playmaking ability before.
In 2021, Smith amassed 39 tackles, two interceptions, and two pass deflections. At Georgia Southern, he'll get a chance to rebound after a quieter 2022 campaign.
Other Notable Names
Anthony Queeley, WR
Jjay Mcafee, TE
Brian Miller, OT
Khalil Crowder, G
Kristian Varner, DT
Isaac Walker, EDGE
Damel Hickman, CB
Cameron Williams, S
Georgia Southern Eagles Schedule
Week 1
BYE
Week 2
Sept. 2: vs. The Citadel Bulldogs
Week 3
Sept. 9: vs. UAB Blazers
Week 4
Sept. 16: at Wisconsin Badgers
Week 5
Sept. 23: at Ball State Cardinals
Week 6
Sept. 30: vs. Coastal Carolina Chanticleers
Week 7
BYE
Week 8
Oct. 14: at James Madison Dukes
Week 9
Oct. 21: vs. Louisiana-Monroe Warhawks
Week 10
Oct. 26: vs. Georgia State Panthers
Week 11
Nov. 4: at Texas State Bobcats
Week 12
Nov. 11: at Marshall Thundering Herd
Week 13
Nov. 18: vs. Old Dominion Monarchs
Week 14
Nov. 25: at Appalachian State Mountaineers
Week 15
BYE
Listen to the PFN Scouting Podcast
Listen to the PFN Scouting Podcast! Click the embedded player below to listen, or you can find the PFN Scouting Podcast on iTunes, Spotify, and all major podcast platforms.  Be sure to subscribe and leave us a five-star review! Rather watch instead? Check out the PFN Scouting Podcast on our Scouting YouTube channel.