Maurice Clarett has been on a journey. From winning a college football national championship with Ohio State to his incarceration at the Toledo Correctional Institution — and everything that came in-between — he has lived through the highs and lows that the human experience has to offer.
Where he is now is the product of that journey. Clarett has found redemption by not only ensuring he never relives those experiences but by helping those that have.
Maurice Clarett: 'I will never settle for less, ever again'
Apr. 9, 2009 — Toledo Correctional Institution. By no means is this the start of Clarett's story. The before — his rise as a star running back for Ohio State and subsequent battle with drugs, alcohol, depression, and violations of both NCAA and federal law — will be told. The after — the revitalization of his life and subsequent redemption — is the conclusion to his story.
But the entry into his "The Mind of Maurice Clarett" journal on Apr. 9, 2009, sets the scene succinctly. Here, in the midst of his three-and-a-half-year incarceration for multiple felonies, you find the motivation for where he is now. Here, when removed from the pedestal of sporting glory, with all the finery that even early 2000s collegiate success affords stripped away, you find the desire for betterment that led to where he is now.
"Understand my struggle so you can respect my hustle. I am never coming back here, believe that. Never, I am cool on this. It is first-class living from the day I get out. I WILL NEVER SETTLE FOR LESS, EVER AGAIN. That goes for communication, personal relationships, housing, education, friendships, and travel arrangements. Everything. I have the fire in my eyes."
Without access to the internet in Toledo Correctional Institution, Clarett maintained his journal by sending the entries to his girlfriend, who posted them online. As he educated himself via books and a distance learning program at Ohio University, the former star running back was already planning on making a difference on his release. Without access to the internet, he couldn't see the comments that indicated he was already making a difference.
From Youngstown to a young Buckeye, the rise of Clarett
Oct. 29, 1983 — Youngstown, Ohio. Born Maurice Edward Clarett in Youngstown, Ohio, Clarett showed immediate promise as a young running back for Austintown-Fitch High School. Starring as a freshman, he transferred to Warren G. Harding High School, a notorious producer of talented players to the college level. The school has become a pipeline for some of the most prolific players in Ohio State history.
During his three seasons at Harding, Clarett developed into a high school super star. The ascending running back was named Ohio's Mr. Football, a U.S. Army All-American, and ended his high school career as USA Today's Offensive High School Player of the Year. A five-star recruit, Clarett opted to stay at home with Ohio State over offers from Miami (FL), Notre Dame, and the Buckeyes' hated rival — Michigan.
A star was born almost instantaneously. On his debut against Texas Tech, the true freshman running back exploded onto the college scene with an exhilarating performance. Averaging a ludicrous 8.3 yards per carry, Clarett torched the Red Raiders to the tune of 175 rushing yards and three touchdowns. Rushing for over 100 yards in half of his games, he set the Ohio State freshman running back record with 1,237 rushing yards. Meanwhile, he added 14 touchdowns prior to the most significant contributions of his college career.
Having swept all comers in 2002, the Buckeyes faced Miami in the 2003 Fiesta Bowl to decide the BCS National Championship. Clarett made a key play in dislodging the ball from Miami safety Sean Taylor following an interception. However, his game-winning 5-yard touchdown in 2OT gave Ohio State the national championship that ensured that Clarett lives in Buckeyes footballing folklore.
From football phenom to convicted felon, the fall of Clarett
Yet, things were not as they seemed between Clarett and the Buckeyes football program. His sensational freshman season was marred by several off-field incidents. During the Buckeyes' win over Northwestern, their star running back was seen arguing with team staff. Even before their title win over Miami, he lashed out at the program for allegedly not paying him to fly back home for a friend's funeral. He also accused the program of lying.
There were deeper problems afoot for Clarett and the Ohio State program. An academic scandal engulfed the Buckeyes, with allegations that Clarett had received preferential treatment from professors and hadn't attended any classes in 2002. There were also allegations of financial irregularity. Those were substantiated in Monte Burke's book "4th and Goal: One Man's Quest To Recapture His Dream," where Clarett claimed he lived "the NFL life in college." He also boasted of his life of drugs, women, and expensive cars.
Subsequently, Clarett was suspended for the 2003 season, beginning a downward spiral that would ultimately lead to his downfall. His response was to challenge the ruling that states a player must be three years out of high school to play in the NFL. His goal was to enter the 2004 NFL Draft. However, when that challenge failed, he was left with nowhere to go. Having signed an agent, he couldn't go back to college. Clarett was left in limbo.
Although he was surprisingly drafted in the third round of the 2005 NFL Draft by the Denver Broncos, that limbo had taken its toll on Clarett. Overweight and saddled with debt, the former star running back never made it onto the field at the NFL level. While he explored alternatives, the events of Jan. 1, 2006, altered the direction of his life forever.
Arrest and incarceration, reflection and redemption
Jan. 1, 2006 — Columbus, Ohio. In the early hours of New Year's Day, outside of a Columbus nightspot, two people were robbed at gunpoint. The assailants drove off in a white SUV with a $150 cell phone as their only "reward" for inflicting a horrific ordeal on two unsuspecting victims. Two of the perpetrators were referred to simply as "unidentified." The other assailant was easily identifiable; former Ohio State star running back Clarett.
Having turned himself in to police shortly after, Clarett pleaded not guilty to multiple charges. If convicted, he would face up to 25 years in prison. Even in this most serious of moments, his attorneys couldn't help but harken back to his football stardom. "Clarett intends to fight this indictment with the same vigor and resolve he displayed in taking OSU to a national championship," they told reporters following his indictment.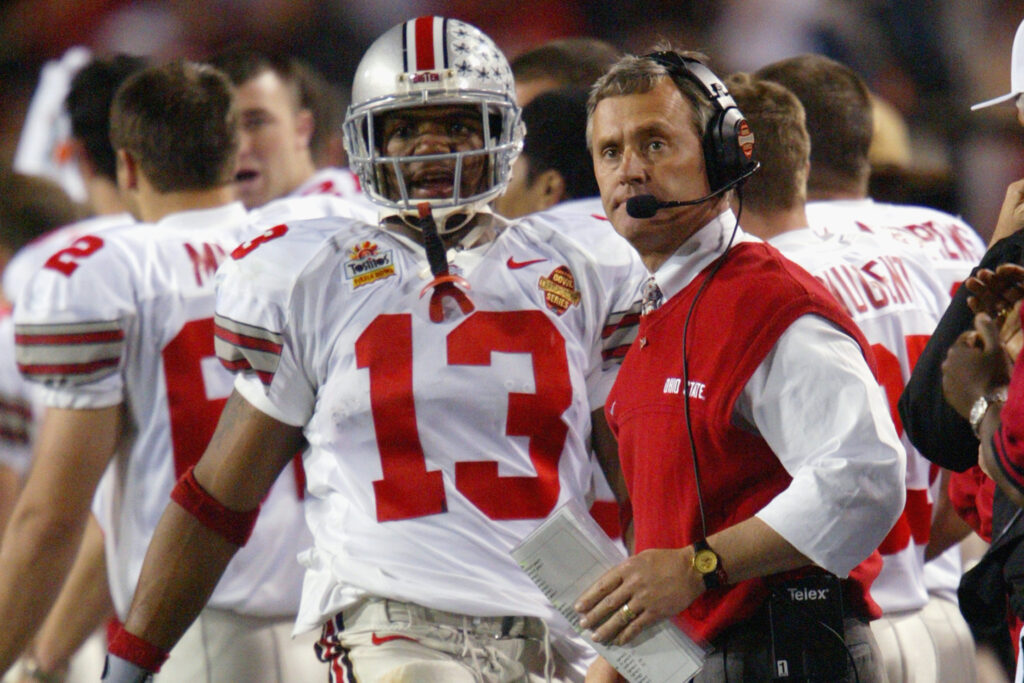 Just over eight months later, however, Clarett would be sentenced to seven and a half years in prison. His eventual incarceration was hastened by another incident with the law. On Aug. 9, 2006, the former Ohio State RB was arrested after performing an illegal U-turn. When he was finally apprehended following a pursuit, police found multiple weapons, including knives and guns. Law enforcement also found a half-empty bottle of vodka, with the other half having been consumed by Clarett.
While pleading guilty to all charges — both 2006 incidents –, Clarett entered a plea bargain that would allow him early release after three and a half years. It wasn't the first time he would spend behind bars. Growing up in Youngstown, he'd spent time in a juvenile correction facility as a result of breaking and entering. As he sat in Toledo Correctional Institution, he vowed he would never settle for less again.
Clarett finds redemption in helping others
On his release from prison in Apr. 2010, Clarett sought to find redemption in football. He'd kept himself in relatively good shape while inside Toledo Correctional Institution. As a result, the former star running back with NFL aspirations lined up for the Omaha Nighthawks of the now-defunct United Football League. He even managed to score a touchdown. However, his redemption didn't come from football. It came from his journey.
Since his release from prison, Clarett has become a highly respected and much sought-after public speaker. Between those engagements and his book "One and Done," the former Ohio State running back has sought to become an inspiration for people who have been where he has been. His battle with drug and alcohol abuse, depression, and criminality haven't defined him negatively. Clarett believes they shouldn't define anyone.
Yet, Clarett's motivation, guidance, and inspiration to others — however you may wish to frame it — doesn't come solely in the words he's written or the words he speaks. That isn't to denigrate their importance. You only need to read the comments section of "The Mind of Maurice Clarett" to understand how inspiring his words alone have been. As the old adage goes, actions speak louder than words. Since 2016, Clarett has acted on his words.
He's heavily involved in political discussions to make changes to the political justice system based on his own personal experiences. He's sought to show that you can overcome addictions and escape the circle of criminality with focus and self-education. Without his hours spent applying himself to learning in prison, he'd have never started the "Business and Biceps" podcast that features among the top podcasts in the Apple library.
'I want people to see me now and say they want to be like me'
Clarett uses his experiences to help mentor collegiate athletes that are in the same position he was in 20 years ago. His focus has been on ensuring the mental well-being of those athletes, helping develop the psycho-social-emotional skills that he admits he didn't have. Most recently, he's worked with the University of Connecticut. But his influence is felt across multiple programs across the nation.
However, his most impactful contributions have been back home in Youngstown. Recently, Clarett was appointed to the Youngstown/Warren Regional Chamber of Commerce Board. The YWRC coordinates local development opportunities to help develop a thriving community. Meanwhile, in 2016, he founded "The Red Zone" — a behavioral health agency based in Youngstown that has grown to have a second base in Columbus, uniting the two areas that have played a significant part in Clarett's story.
The program offers services ranging from an alcohol and drug addiction program to school-based social work solutions. The mission of "The Red Zone" is to empower. Through its message, Clarett has found a way to help ensure that he never settles for less — for himself and those around him. His redemption may not be complete, but he's working every single day to be an inspiration, provide support, and prove that if he can change, anyone can change.
"I don't want people to say 'Don't be like Maurice Clarett,'" he's quoted as saying in Burke's book. "In fact, I want the opposite. I want people to see me now and say they want to be like me. And I'm working every day to earn that."
Listen to the PFN Scouting Podcast
List to the PFN Scouting Podcast! Click the embedded player below to listen, or you can find the PFN Scouting Podcast on iTunes, Spotify, and all major podcast platforms.  Be sure to subscribe and leave us a five-star review! Rather watch instead? Check out the PFN Scouting Podcast on our Scouting YouTube channel.