What a difference a few weeks can make. Last year, the Miami Dolphins offense had its share of shortcomings and their run game for the 2020 season was no exception. But, after big moves during this year's offseason, the tone of Miami's running offense has a much different ring to it. So with some new names on the roster heading into this season, who is the favorite to lead the Dolphins' backfield?
[sv slug=mocksim]
The difference between Miami's backfield in 2019 and 2020
The running numbers for Miami's offense last year were ugly. We can chalk some up to it being a "rebuilding year" for the Dolphins but the truth is that there just wasn't ever a primary running back at any point during the season. At the start of the year, Kenyan Drake and Kalen Ballage were at the helm. But by the end of the season, Patrick Laird seemed to be the guy. With a change at the position seemingly every other week, it was almost impossible to find a groove.
Fast forward to today and things seem a little bit different this time around. Back in March, the Dolphins were able to sign Jordan Howard from the Philadelphia Eagles from free agency. Then, during the 2020 NFL Draft, the Dolphins traded a fifth-round pick to acquire Matt Breida from the San Francisco 49ers. And of course, there's still Patrick Laird on the active roster, who gained a little notoriety as somewhat of a Dolphins fan favorite down the home stretch of last season. The running back position is starting to really come together.
What does OSM tell us about Matt Breida's potential?
The Offensive Share Metric data on these running backs, which singles out individual player performance separate from the overall offensive group, is very telling of the production value of each of these players. Matt Breida finished the 2019 regular season with an OSM grade of 17.31, which placed him as RB13 among all NFL running backs for individual production.
Of Brieda's eight games with a recorded OSM grade for last season (he was primarily used as a backup in 2019), he finished four of those games with an OSM grade that far exceeded the average grade for running backs and finished top-10 in those weeks. In Week 2, he finished the day with a Very Good overall OSM grade of 30.02 — a high caliber grade for running backs within the OSM database.

During the 2019 regular season, Matt Breida rushed for 623 yards, averaging 5.1 yards per carry, while simultaneously being one of the most defended against running backs in the NFL (he was running against eight or more defenders in the box on over 30% of his snaps last season). But as impressive as these numbers are, he's joined in Miami this season by Jordan Howard who has some stately numbers of his own.
Could Jordan Howard become the lead back?
Jordan Howard ended his Eagles' season last year with an overall OSM grade of 13.71, which placed his at RB25 in 2019. This is fairly consistent with his 2018 grade on the season, which was 13.01 overall. This is considered an Average grade on the OSM scales but he does lag a bit behind Breida for production.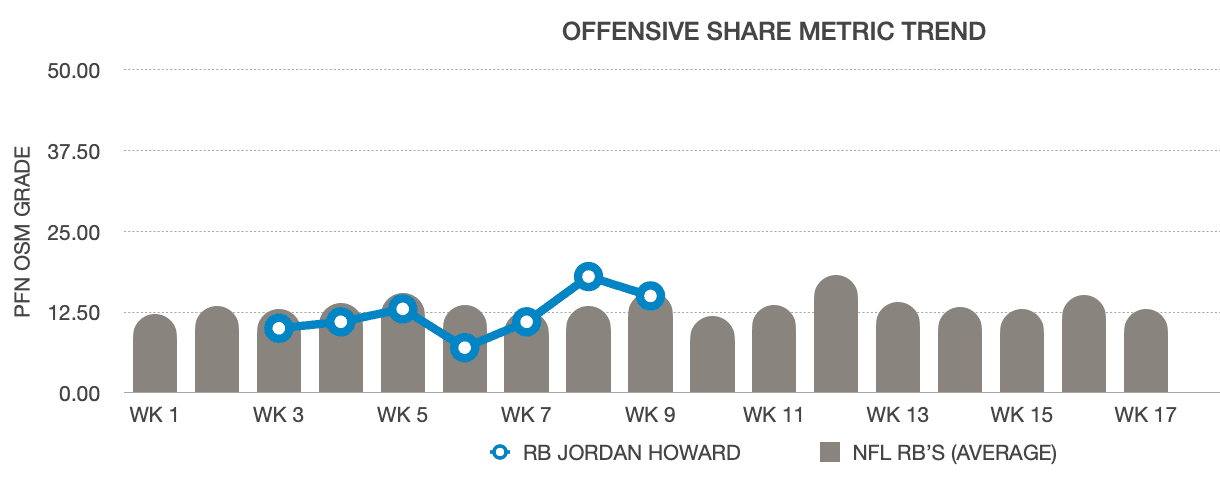 His individual stats are very similar to Breida's, however. He had only four fewer snaps on the year at 119 and rushed for 525 yards and six touchdowns. Howard is a decent back for individual production but fits in better as part of the overall offense. In rotation with Breida, he should be a very useful piece to the offensive puzzle but I don't expect to see Howard putting the team on his back this year.
Individually, neither Breida or Howard have exceptional overall data for their sole production — Breida has a couple of big games but overall is still Average on the OSM charts. If the Dolphins would have only grabbed one of these guys, it would have been hard to feel good about the outlook. But Breida and Howard in tandem have the makings, on paper, of a very strong team. Their usefulness and stats are very similar and they should be able to tag in and out throughout the game to play off each other's strengths. The production data for the two together averages an OSM of 15.51 which is almost double the grade of last year's backs.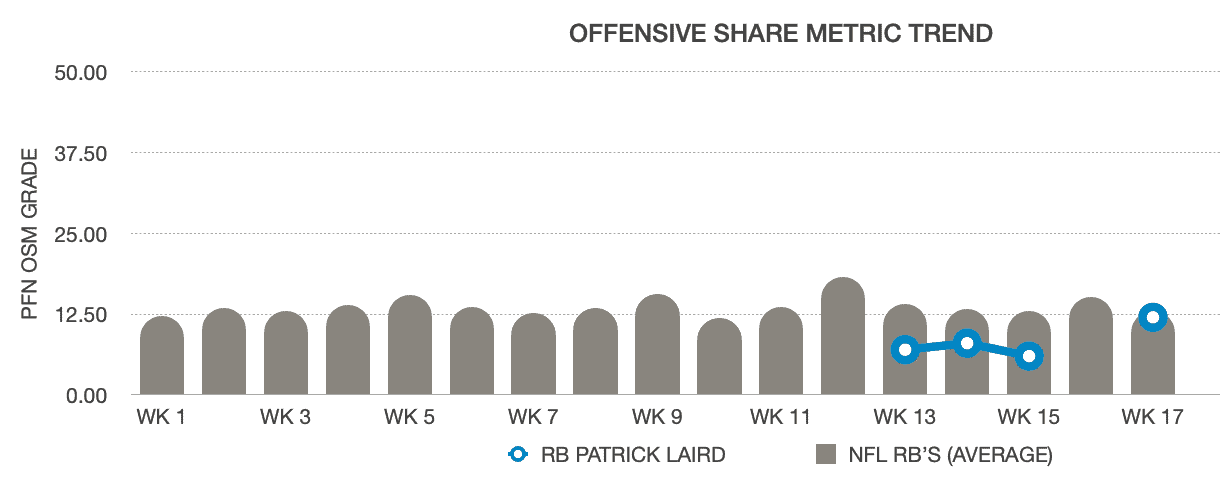 What about Patrick Laird?
Speaking of last year's running back, remember that Patrick Laird is still listed on the depth chart. Many Dolphins fans became more interested in Laird during the home stretch of last season but it's hard to get excited about his stats. He averaged an OSM grade of just 8.23 over the last five games of the year — anything under nine on the grading scale is considered Poor. Comparatively speaking, it's easy to see why his rushing attack stood out on paper. Up until that point, the leading rusher for the offense was quarterback Ryan Fitzpatrick. But I don't expect to see Laird much this season except for a handful of backup snaps.
So who is the favorite? I like Matt Breida's production value better but he has never had the wheel as the starting back for an offense yet. I expected head coach Brian Flores to have Howard as the starter with Breida rotating in for snaps. Breida is definitely the stronger back for reliability and can be utilized as a third-down option. Howard has more experience as a starting back in the NFL, even though he only has one more year on Breida for overall tenure.
Ultimately, I think Dolphins fans can get behind these new additions to the roster. Howard and Breida bring very complementary football to an offense that hasn't had much success in the rushing attack since 2016. The run game of the 2020 Dolphins won't be the bread and butter of the offense, but it will be competitive enough to open up the playbook.
Thoughts on this feature? Something you would like to see during the offseason? Follow us on Twitter or join in on the conversation on Facebook. You can also check out my other articles from this season here.