After going 9-4 and surprising the college football world in 2022, can the Duke Blue Devils rise to continued prominence with the help of their 2024 NFL Draft group? Here's a look at what the 2023 Blue Devils squad has in store.
Duke Blue Devils Roster and Depth Chart Changes
Turnover can be a cause of stalled momentum, but luckily, the Blue Devils won't have to worry about that in 2023. The majority of Duke's 2022 core is not only still intact, but the entire squad has now had an extra offseason to grow and develop.
On offense, the Blue Devils return all of their starters at the skill positions, as well as quarterback Riley Leonard, who could be an early-round pick. They also return three of five starting linemen, including Graham Barton at LT, and added RT Jake Hornibrook via the transfer portal.
Duke's three biggest losses all came on the defensive side of the ball. The Blue Devils lost their two leading tacklers from 2022 in Darius Joiner and Shaka Heyward, and they also lost defensive back Natrone Young in the secondary.
Linebacker will be the biggest question mark without Joiner and Heyward, but Dorian Mausi and Cam Dillon have experience to rest on. And in the secondary, ascending young talents like Joshua Pickett, Chandler Rivers, and Brandon Johnson can ensure that the best is yet to come.
Duke Blue Devils NFL Draft Prospects
Riley Leonard, QB
Riley Leonard is an up-and-coming signal-caller who could command early-round capital in the 2024 NFL Draft if everything breaks his way. Leonard fits the prototypical mold at 6'4″, 212 pounds, and has very impressive athleticism, creation capacity, and movement freedom.
Leonard's arm talent isn't elite, but he has good baseline arm strength. Even at his young age, he's composed and has shown to anticipate windows and place passes with rare precision.
Jordan Waters, RB
Of Duke's three 2024 NFL Draft RB prospects, Jordan Waters is the one who most looks the part. Listed at 6'0″, 219 pounds, Waters has workhorse size and flashes impressive functional athleticism and flexibility. He's still not an adept creator, but Waters has shown that he can bend as he accelerates upfield to warp pursuit angles. And as one would expect from his frame, he's more than willing to put his head down and exert his will.
Jaquez Moore, RB
Running backs can give themselves more draft security by proving they can fulfill multiple roles. Jaquez Moore has already accomplished that.
On top of being a very efficient runner at 5'10", 201 pounds, with the quick vision to evade early contact threats, he's also proven his mettle as a pass blocker. Additionally, he's shown to split out into the slot as a receiver and run routes over the middle of the field.
Jaylen Coleman, RB
Third options don't always get a ton of run in RB rotations, but Jaylen Coleman logged over 100 carries in 2022, amassing 480 yards and four touchdowns with those opportunities. At 6'1″, 204 pounds, Coleman is more of a lean long-strider, with ample burst through open lanes. Once he gets going upfield, his constant leg churn allows him to drag solo defenders and finish runs with forward-pressing physicality.
Jalon Calhoun, WR
Catching passes from Leonard should once again be a fruitful proposition for all of Duke's wide receivers, but Jalon Calhoun might end up being the most productive. In 2022, Calhoun was a leading receiver with 62 catches for 873 yards and four touchdowns.
At 5'11", 190 pounds, he's around average stature, but Calhoun's versatile in how he can be used. He can cut stems with suddenness, and he's tougher than you'd expect in contested situations.
Jordan Moore, WR
Jordan Moore joined the Blue Devils as a dual-threat QB in 2021 but switched to WR in 2022. The returns in his first year as a full-time receiver were astonishing: 60 catches for 656 yards and five touchdowns, including a 14-catch, 199-yard outing against Pittsburgh.
At around 6'1″, 195 pounds, Moore is a lean athlete whose athleticism naturally translates in the separating phase. He also has impressive sideline and spatial awareness.
Sahmir Hagans, WR
Being a redshirt sophomore, Sahmir Hagans may ultimately elect not to declare for the 2024 NFL Draft. That ultimately depends on his production in 2023. Regardless, he's a name to watch in Duke's offense.
The 5'10", 185-pound Hagans caught 31 passes for 400 yards and five touchdowns in 2022 — a line highlighted by an eight-catch, 139-yard, two-touchdown showing versus Wake Forest. He's an incredibly natural hands catcher with lateral quickness.
Eli Pancol, WR
Eli Pancol has been an ancillary weapon for four seasons in Duke's offense. In surprisingly stable fashion, he's been a solid but unspectacular producer. Calhoun, Moore, and Hagans are all more natural separators, but the 6'3″, 205-pound Pancol provides a valuable complement with his size, length, explosiveness, and catching instincts downfield. He has very impressive feel in contested situations and can box out defenders as he snares high passes.
Nicky Dalmolin, TE
Nicky Dalmolin joined the Blue Devils as a WR recruit, but he's slowly been making the transition to more of a move TE role. Now up to 6'4″, 241 pounds, after playing closer to 220 earlier in his career, we may get to see Dalmolin take another step as a seam and middle-of-the-field threat for Duke. In 2022, he logged 21 receptions for 170 yards and four touchdowns. Perhaps there will be another uptick in 2023.
Graham Barton, OT
Aside from Leonard, who has the QB designation on his side, Graham Barton is Duke's best chance at a first-round prospect in the 2024 NFL Draft. Barton has an impressively compact 6'5″, 314-pound frame, but non-elite length, which is why some think he'll project better at guard. Wherever he plays, Barton's explosive, effortless mobility, urgency, rapid leg churn and power drive at contact, plus his finishing mentality, should all serve him well.
Jacob Monk, G
Set to return as a starting guard, Jacob Monk could be an appealing sleeper for teams to target in the 2024 NFL Draft cycle. Monk visibly lacks high-end length, but at 6'3″, 320 pounds, he carries great mass and has solid frame proportions.
Even more impressive is his refinement and intellect. Monk was an immediate starter upon arriving at Duke in 2019 and has started 45 games since. He uses active hand replacement and has sharp-angle IQ.
DeWayne Carter, DT
DeWayne Carter could enter the season as one of the most underrated DT prospects in the 2024 NFL Draft. Carter has 10 sacks and 18.5 tackles for loss over the past two seasons and added four pass deflections, three forced fumbles, and three fumble recoveries in 2022.
At 6'3″, 305 pounds, Carter is consistently the low man at contact and has the lateral twitch to take advantage of that natural leverage with stutter bull rushes and angle exploitation.
Ja'Mion Franklin, DT
Ja'Mion Franklin joins Carter as another productive lineman in Duke's interior rotation. He himself is coming off a career-best campaign with three sacks and 3.5 TFLs.
At 6'1″, 310 pounds, Franklin is a low and dense defender who can be very hard to move off his spot in run defense. While he doesn't have great length, he does have a knack for occluding throwing lanes on passing downs — as evidenced by his five pass deflections in 2022.
Aeneas Peebles, DT
It's exciting that Aeneas Peebles will have another chance to play alongside super senior Carter because Peebles has similar upside with his 6'1″, 286-pound frame. Peebles has the coveted natural leverage and proportional length combination that many teams seek. On top of that, he's a fleet-footed, amped-up mover who can channel that energy into violent hand moves like swims and clubs.
R.J. Oben, EDGE
The son of Roman Oben — a Super Bowl-winning offensive tackle who started 130 games in a 12-year NFL career — R.J. Oben may also have a future at the professional level.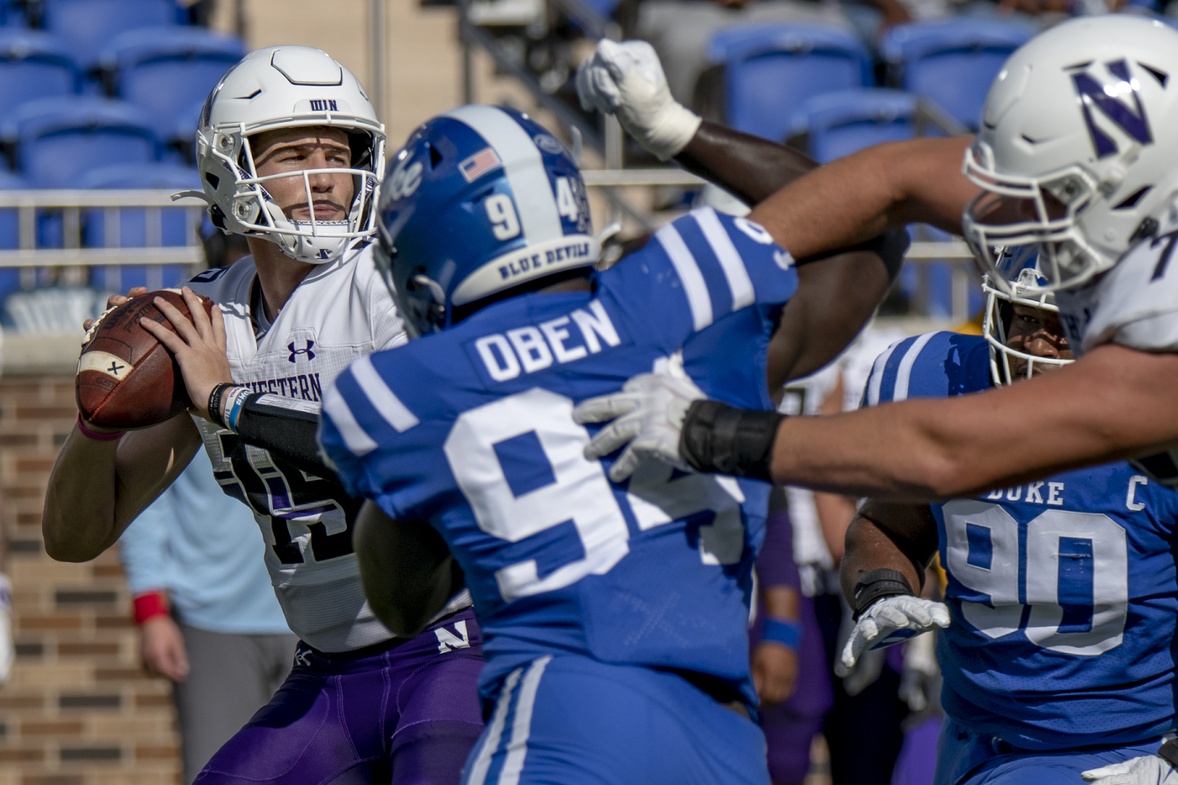 The 6'4″, 260-pound edge rusher is still seeking out greater consistency, but he's flashed his promise with 8.5 sacks and 12.5 TFLs over the past two years. Oben isn't explosive, but he has the necessary twitch and agility to off-set tackles, and he can capitalize with violent hands and a hot motor.
Dorian Mausi, LB
In the wake of Joiner's departure, Mausi will be relied upon to make a greater impact on the second level. Mausi has seen playing time in all three of his years thus far, with 131 total tackles, 6.5 TFLs, and two sacks over that span.
But now, the 6'2″, 233-pound LB will have his highest volume yet. Mausi's a good athlete and a natural mover in coverage, but he needs to improve his gap discipline and get stronger against blocks.
Cam Dillon, LB
After a distinguished career at Columbia, Cam Dillon transferred to Duke and made an early impact at LB, amassing 61 tackles, five TFLs, and three sacks in his first season at the Power Five level. Dillon's best outing — a two-sack performance — came in the team's bowl game against UCF.
Dillon will be a 25-year-old rookie after the 2024 NFL Draft cycle, but with his explosiveness, he has enough appeal as a run-and-chase LB to earn PFA interest.
Joshua Pickett, CB
Though the Blue Devils invested in veteran CB help in the transfer portal, there'll be no changes to their starting unit. Sophomore Chandler Rivers will man one side, and Joshua Pickett will have the other.
The 6'0″, 180-pound Pickett secured seven pass deflections in a breakout 2022 campaign. He has a wide disruption radius with his frame but is also a loose, malleable athlete who can sink easily and drape receivers from the boundary.
Myles Jones, CB
It's hard to see a scenario where Myles Jones is drafted, seeing that he'll turn 26 years old during his rookie season and has an extensive injury history. But the seventh-year senior does at least provide an infusion of size, length, playmaking ability, and starting experience to Duke's secondary.
If the 6'4″, 194-pound cover man can get back to the form that allowed him to accrue four picks and 28 deflections from 2017 to 2021, he could earn PFA interest.
Al Blades Jr., CB
Al Blades Jr. started his career on a tear, picking up four interceptions and 13 deflections in his first two seasons as a full-time starter at Miami. Then his 2020 season was cut short when he was diagnosed with myocarditis. Blades then missed most of the 2021 campaign after undergoing surgery for a sports hernia. He hasn't gotten back to 100% yet, but one last year at Duke may allow Blades to do so and get back to his playmaking ways.
Brandon Johnson, DB
You always need a good utility defender, and that's what Brandon Johnson is. Set to once again be Duke's starting nickel DB, Johnson is coming off a career year in which he amassed 55 tackles, 7.5 TFLs, 5.5 sacks, two picks, seven deflections, two forced fumbles, and two fumble recoveries. Johnson won't fit every team's size mold at 5'10", 180 pounds, but he's an explosive closer and an instinctive, physical playmaker.
Jaylen Stinson, S
It remains to be seen how Jaylen Stinson will be viewed as a prospect. At 5'8″, 177 pounds, he'll fall well below most teams' size thresholds. Still, Stinson is a solid football player.
He's flashed his playmaking chops more than once, and he's a high-energy athlete on his backpedal with impressive play pace and range on the back end. As expected, Stinson doesn't always hold up as a solo tackler, but he has redeeming qualities.
Porter Wilson, P
If the Blue Devils' offense is as good as many think it can be in 2023, Porter Wilson won't have to do too much. But seeing that he's been a starting punter for three seasons and counting, his experience could earn him fans as a potential punter prospect.
At 6'5″, 233 pounds, Wilson has a big leg, and that's corroborated by his career-long punt of 70 yards. In 2022, he downed three punts inside the 20-yard line, flashing precision downfield.
Duke Blue Devils Schedule
Week 1
BYE
Week 2
Sept. 4: vs. Clemson Tigers
Week 3
Sept. 9: vs. Lafayette Leopards
Week 4
Sept. 16: vs. Northwestern Wildcats
Week 5
Sept. 23: at UConn Huskies
Week 6
Sept. 30: vs. Notre Dame Fighting Irish
Week 7
BYE
Week 8
Oct. 14: vs. NC State Wolfpack
Week 9
Oct. 21: at Florida State Seminoles
Week 10
Oct. 28: at Louisville Cardinals
Week 11
Nov. 2: vs. Wake Forest Demon Deacons
Week 12
Nov. 11: at North Carolina Tar Heels
Week 13
Nov. 18: at Virginia Cavaliers
Week 14
Nov. 25: vs. Pittsburgh Panthers
Week 15
BYE
Listen to the PFN Scouting Podcast
Listen to the PFN Scouting Podcast! Click the embedded player below to listen, or you can find the PFN Scouting Podcast on iTunes, Spotify, and all major podcast platforms.  Be sure to subscribe and leave us a five-star review! Rather watch instead? Check out the PFN Scouting Podcast on our Scouting YouTube channel.