The Seattle Seahawks entered this offseason with a top-10 offense, bringing the majority of their talent back for 2023. Instead of staying complacent, the Seahawks aggressively added more playmakers to the unit. Seattle selected wide receiver Jaxon Smith-Njigba and running back Zach Charbonnet in the first two rounds of the 2023 NFL Draft.
Both players can provide a major boost to a unit that was otherwise lacking depth. Smith-Njigba, the team's 20th overall pick, is sure to have a considerable role right away. With him lining up between DK Metcalf and Tyler Lockett, do the Seahawks now have the best receiver room in the NFL?
Did Adding Jaxon Smith-Njigba Give the Seahawks the Best WR Room?
While the Miami Dolphins hold the mantle of having the best two-man receiver tandem in the NFL with Tyreek Hill and Jaylen Waddle, the Seahawks weren't too far behind with Metcalf and Lockett. Metcalf has averaged over 1,000 yards and eight touchdowns in his first four seasons, and Lockett has broken the 1,000-yard and eight-score mark every year since Metcalf joined the team.
The duo was already in competition to be the second-best in the league, along with A.J. Brown and DeVonta Smith in Philadelphia, Mike Evans and Chris Godwin in Tampa Bay, and Ja'Marr Chase and Tee Higgins in Cincinnati. Of those teams, only the Bengals have had a notable third playmaker to augment them, as Tyler Boyd has held down the slot position.
The Seahawks moved toward embracing a more aggressive passing offense with their selection of Smith-Njigba. The former Ohio State star was the most productive player on a Buckeyes roster that featured two immediate NFL studs in Garrett Wilson and Chris Olave. But he did it differently, as he was used almost exclusively in the slot. In 2021, JSN led the nation in yards per target (14.2) and yards run per route (4.4), per Sports Info Solutions.
Unfortunately, a hamstring injury cost him the majority of the 2022 season, and he finally got "100% healthy" shortly before the NFL Combine. After playing in the slot almost 89% of snaps, we never saw his role expand. Buckeyes offensive coordinator Kevin Wilson planned on Smith-Njigba seeing more time outside with Wilson and Olave gone, but it never became a possibility.
MORE: FREE Mock Draft Simulator With Trades
It may not matter that Smith-Njigba isn't a proven, refined outside receiver despite showing excellent route-running skills, catch radius, and hand strength. If he stays in the slot, he's likely the best slot prospect to be drafted since Godwin.
That doesn't mean he's a lock to reach Cooper Kupp's peak, but few prospects have his level of production and won in such a dominant way throughout his career.
Seattle may feel more comfortable using Smith-Njigba and Lockett interchangeably. Last year, Metcalf logged only 11% of his snaps in the slot, and Lockett was there 24% of snaps. The offense rarely used third receiver Marquise Goodwin, though he stepped up and played well when Lockett was banged up.
Seahawks offensive coordinator Shane Waldron didn't fully tip his plans for how to expand the offense without losing their efficient running game, but he did praise Smith-Njigba after the rookie minicamp. Waldron lauded JSN's ability to "pick the offense up right away" and his "natural feel for the defense." Neither of those things is surprising based on the film.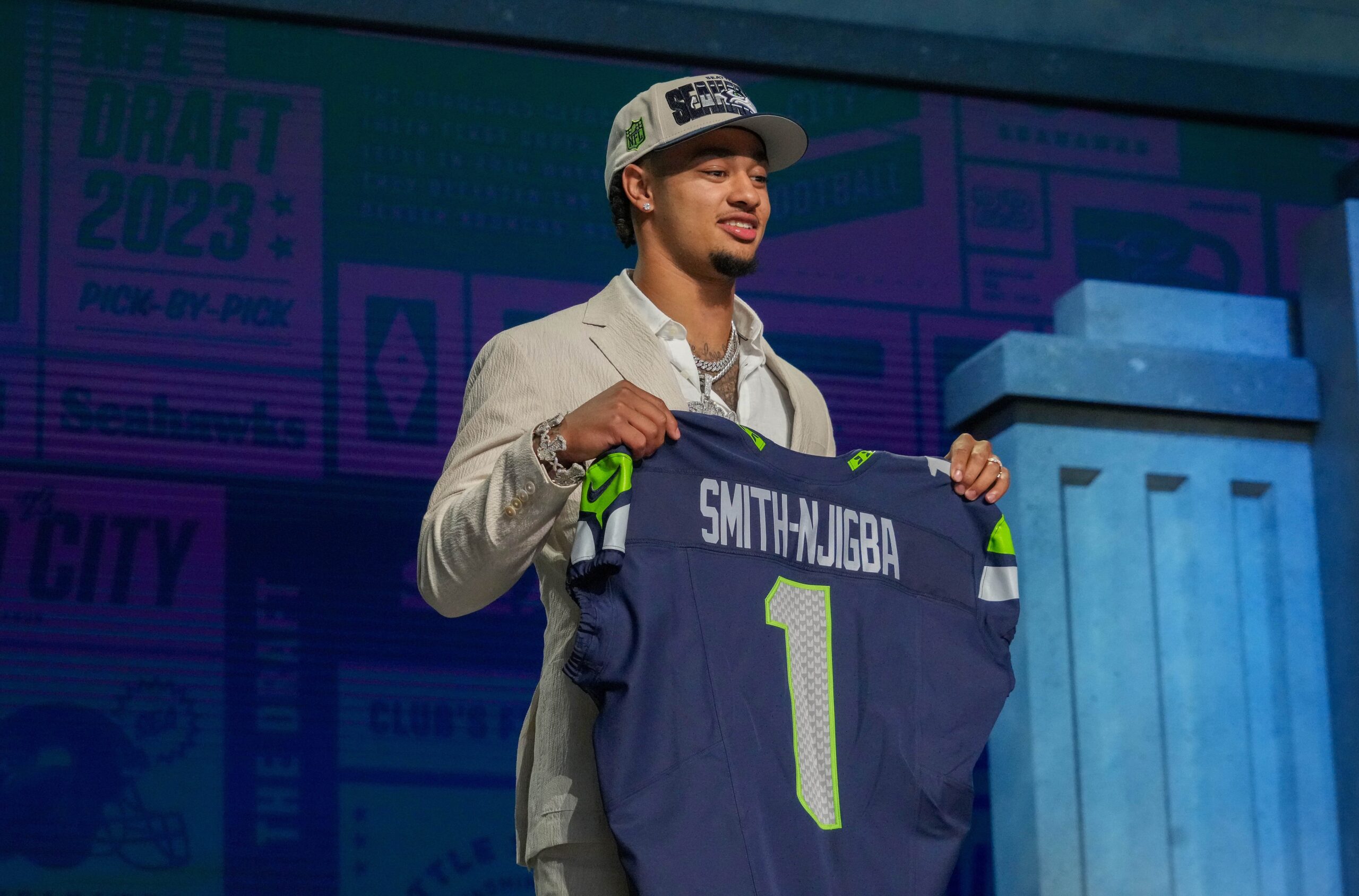 Why Seattle's WR Trio Is Special
The best argument for why the Seahawks have the best receiving room, especially with their top three stars, is how they complement each other.
Metcalf is one of the premier bully-ball receivers in the NFL, ranking 10th in air yards, second in red-zone targets, and 15th in receiving yards despite only being 47th in yards after the catch. He's a good route runner for someone so bulky, but he wins in ways few others can.
MORE: Seattle Seahawks 2023 Schedule
Lockett is a much different WR despite also being a fantastic deep threat. He's lightning quick and fast, able to play inside or outside, and is a more physical presence on jump balls than anyone would expect based on his size. He has that dog in him, and defenses treat him that way.
His efficiency numbers are absurd. He's fifth in target separation despite defenders giving him the ninth-most average cushion off the line. Lockett was seventh in expected points added, fifth in route win rate, and sixth in production per target against man coverage.
Smith-Njigba isn't a downfield burner, but the rest of his game is maximized to his abilities. It's not an accident or just a product of the system that he ripped off eight straight games in 2021 with at least 97 receiving yards. Quarterback Geno Smith is a similar type of passer as C.J. Stroud, so it won't be surprising if Smith also finds solace in relying on Smith-Njigba in high-pressure situations.
The rest of the Seahawks' receiver depth chart isn't impressive. It's impossible to say Dee Eskridge or Dareke Young are assets, so there are deeper receiving rooms that lack the top-end talent that Seattle has. But no team has a better top trio of receivers, with the Bengals offering the closest competition.