The Kansas City Chiefs allowed JuJu Smith-Schuster — their most-targeted receiver in 2022 — to sign with the Patriots in free agency, and they haven't really replaced him. Sure, the Chiefs signed Richie James to a modest deal and drafted Rashee Rice in the second round, but it would be a surprise if either of those players suddenly emerged as a WR1 next season.
As Kansas City aims to defend its Super Bowl title, do they need to add another pass-catching option? Or can they get by with their current depth chart?
Patrick Mahomes and the Chiefs Don't Need a WR1
The Chiefs clearly don't believe that their offense needs a true No. 1 wide receiver in order to function. They proved that by trading Tyreek Hill to the Dolphins before the 2022 campaign, depriving Patrick Mahomes of his most explosive option.
Things worked out pretty well without Hill in town. Mahomes led the NFL in passing yards and touchdowns en route to winning his second MVP award. No offense scored more points or was more efficient than Kansas City's as they won their second Lombardi in four years.
Of course, having one of the greatest tight ends in league history on your roster is an outstanding way to overcome wide receiver deficiencies. Travis Kelce led all tight ends in yards per route run (2.27) and finished 11th among all pass catchers. He's entering his age-34 season, but he hasn't shown any signs of slowing down, posting new career highs in targets, receptions, and touchdowns in 2022.
Mahomes and Kelce are more than enough to make the offense hum. But Kansas City's decision-makers are excited about the young holdover wideouts who remain on the club's roster, especially Kadarius Toney, whom they acquired from the Giants in exchange for a third-round pick at last year's trade deadline.
MORE: NFL Offense Rankings — Where Do the Chiefs Land?
"We have a lot of high hopes for him," Chiefs general manager Brett Veach said earlier this month. "I mean, he was a first-round pick for a reason. There's a reason why we traded for him. We felt like he was a first-round talent, and I think if he stays healthy and continues to spend that chemistry with the coaching staff and with Pat, which I think he is doing a great job at, I think the sky is the limit for him."
Including the playoffs, Toney only received 27 targets after joining the Chiefs, which he turned into 21 receptions, 221 yards, and three touchdowns. Toney looked dynamic at times (as he did during spurts with the Giants in 2021), but his fit within Kansas City's offense is still mostly projection.
"He's predominately been a guy that is a slot receiver, returner, runner, gadget guy if you will, but I don't know if there is a limit on his game because he has a vertical game," Veach said. "… I mean, it's a fair question to say, 'Has he ever played with a quarterback that likes to push the ball down the field?'
"Now we got him in here in the middle of the season, and so there's only so much you can do with him. I don't think he's limited to a specific role, and just like it is with all these players, just staying healthy and getting through camp. He's extremely smart, though, so it's not going to be anything (with) grasping ideas or concepts."
With both Smith-Schuster and Mecole Hardman gone, there's also room for a pair of recent second-rounders –Skyy Moore and Rice — to step up next season. Moore, who head coach Andy Reid said "will have a bigger role" in 2023, handled only 33 targets in his rookie campaign but profiles as a deep threat; Rice could be more of a possession receiver as he acclimates to the NFL.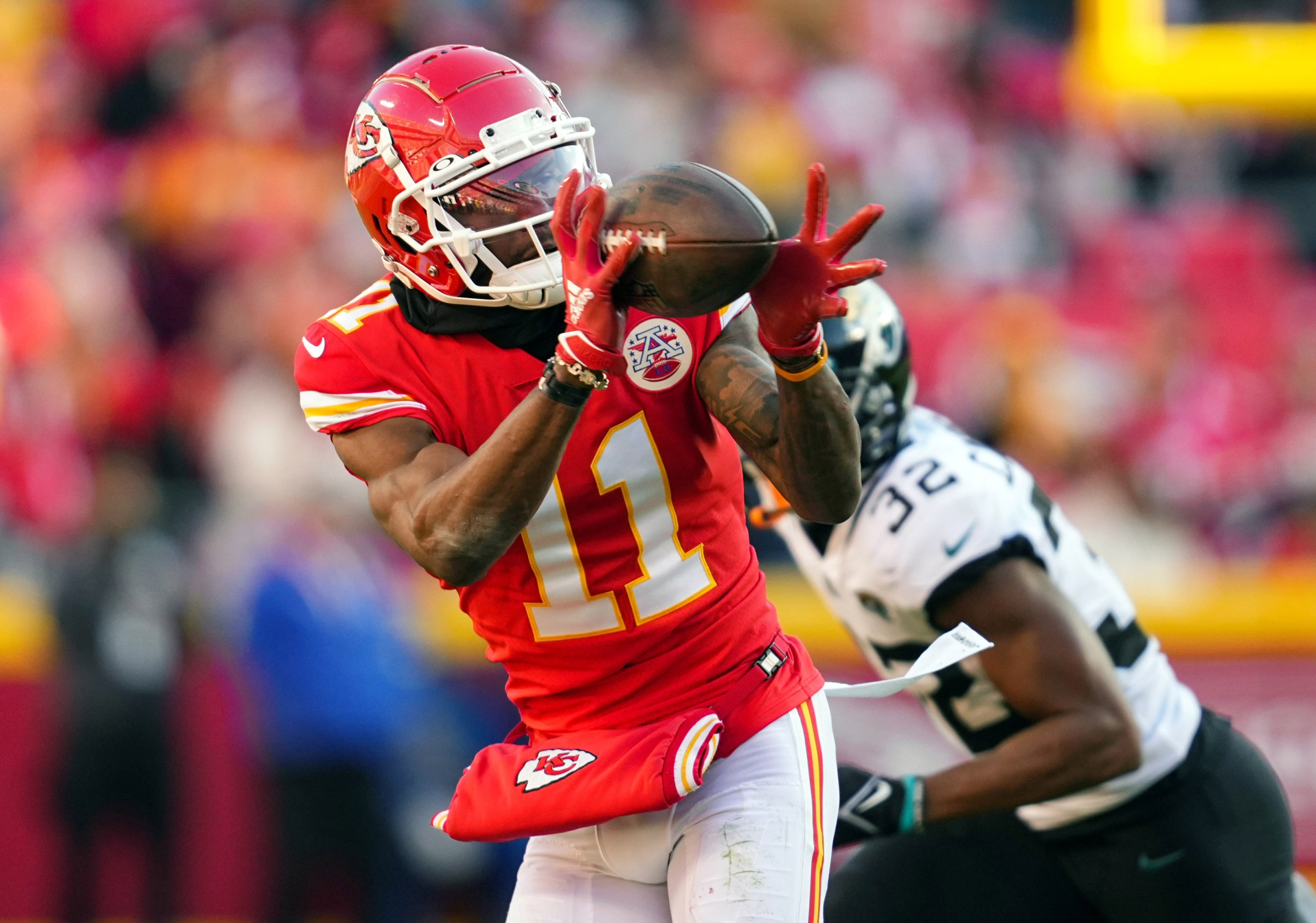 Kansas City's Options Are Limited
The Chiefs could afford to extend Hill or add free agents like Sammy Watkins at $16 million per year when Mahomes was still on his rookie contract. But now that Mahomes is one of the highest-paid quarterbacks in the NFL, K.C. has had to re-evaluate how they spend their resources.
Having seemingly decided that Mahomes can elevate whatever wide receiving corps he's presented with, the Chiefs have devoted their cash and cap space to other positions on the roster.
MORE: Kansas City Chiefs 2023 Schedule
This offseason, Kansas City's spending came primarily at offensive line. The Chiefs found two new tackles for Mahomes, handing Jawaan Taylor a four-year, $80 million deal to play right tackle before landing former Buccaneers left tackle Donovan Smith on a one-year, $3 million pact with incentives that could bring it to $9 million.
Even if Veach and Reid had wanted to invest in wide receiver this offseason, they would have had trouble. Smith-Schuster was one of the options in a weak free agent class that also included Jakobi Meyers, Allen Lazard, Adam Thielen, and DJ Chark. The top four receivers in the 2023 NFL Draft came off the board in succession from pick Nos. 20-23, well before the Chiefs picked at No. 31.
With free agency and the draft in the rearview mirror, Kansas City doesn't have many other avenues to pursue wide receivers. A trade for DeAndre Hopkins is seemingly off the table after Cardinals general manager Monti Ossenfort said he doesn't "foresee" moving the veteran pass catcher.
Courtland Sutton and Jerry Jeudy could conceivably still be on the trade block, but the Broncos would probably be loath to do a deal with a division rival. Maybe the Chiefs could consider a minor trade for the Eagles' Quez Watkins or the Patriots' Kendrick Bourne, but those receivers are unlikely to move the needle more than K.C.'s incumbent options.
More likely, the Chiefs are set up to roll with their current crop of receivers and hope Mahomes can again drag the unit to competency. Based on his history, that shouldn't be much of a problem.