After one of the most disappointing seasons in team history, the Denver Broncos, now led by Sean Payton, will look to improve in the competitive AFC West but must navigate a tricky 2023 NFL schedule. Can Russell Wilson prove he can lead this franchise, or is Denver staring down another disappointing season?
Denver Broncos Schedule and Opponents
With the full NFL schedule for 2023 officially released, here is the Broncos' complete regular-season schedule.
Broncos Preseason Schedule
Preseason Week 1: at Cardinals
KTVD | 10 p.m. ET (Friday, Aug. 11)
Preseason Week 2: at 49ers
KTVD | 8:30 p.m. ET (Saturday, Aug. 19)
Preseason Week 3: vs. Rams
KTVD | 9 p.m. ET (Saturday, Aug. 26)
Broncos Regular-Season Schedule
Week 1: vs. Raiders
CBS | 4:25 p.m. ET (Sunday, Sept. 10)
Week 2: vs. Commanders
CBS | 4:25 p.m. ET (Sunday, Sept. 17)

Week 3: at Dolphins
CBS | 1 p.m. ET (Sunday, Sept. 24)

Week 4: at Bears
CBS | 1 p.m. ET (Sunday, Oct. 1)

Week 5: vs. Jets
CBS | 4:25 p.m. ET (Sunday, Oct. 8)

Week 6: at Chiefs (TNF)
Amazon Prime | 8:15 p.m. ET (Thursday, Oct. 12)
Week 7: vs. Packers
CBS | 4:25 p.m. ET (Sunday, Oct. 22)
Week 8: vs. Chiefs
CBS | 4:25 p.m. ET (Sunday, Oct. 29)
Week 9: BYE

Week 10: at Bills (MNF)
ESPN | 8:15 p.m. ET (Monday, Nov. 13)
Week 11: vs. Vikings (SNF)
NBC | 8:20 p.m. ET (Sunday, Nov. 19)
Week 12: vs. Browns
FOX | 4:05 p.m. ET (Sunday, Nov. 26)

Week 13: at Texans
CBS | 4:05 p.m. ET (Sunday, Dec. 3)

Week 14: at Chargers
CBS | 4:25 p.m. ET (Sunday, Dec. 10)

Week 15: at Lions
TBD 
Week 16: vs. Patriots (SNF)
NFL Network | 8:15 p.m. ET (Sunday, Dec. 24)
Week 17: vs. Chargers
CBS | 4:25 p.m. ET (Sunday, Dec. 31)
Week 18: at Raiders
TBD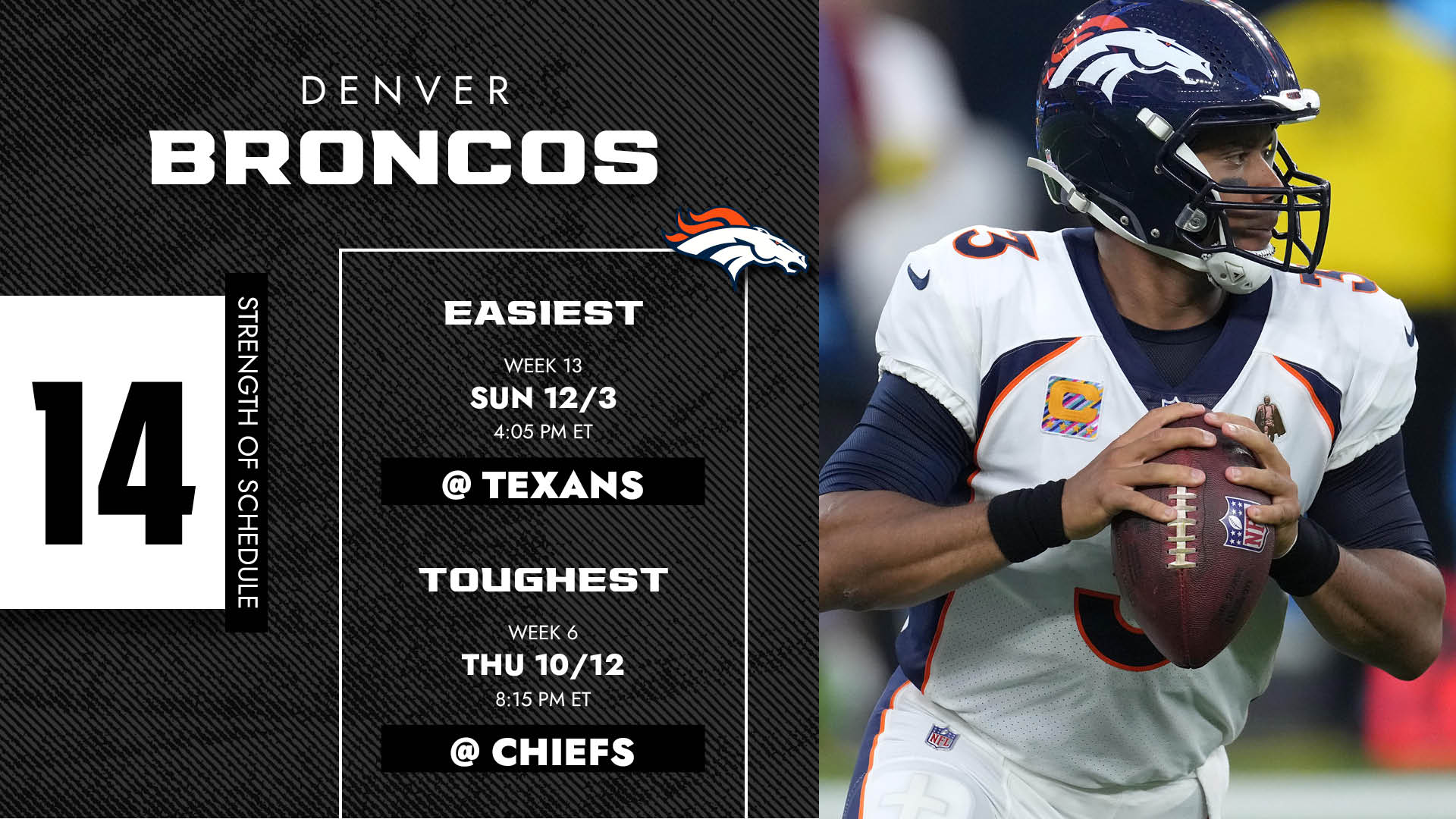 Denver Broncos Strength of Schedule
The Broncos and the AFC West, in general, have a rather difficult schedule in 2023. Based on projected win totals, Denver has the 11th-most difficult strength of schedule in the NFL. Their respective opponents combined to go 148-138-2 last season for a .517 record.
MORE: Best NFL Offenses | Best NFL Defenses
PFN Analyst Arif Hasan's own all-encompassing strength of schedule matrix is more favorable to the Broncos. His SOS projections have the Broncos with the 14th-most challenging slate of games, notably featuring the second-most matchups with their win probability falling between 45% and 55%. It's understandable why oddsmakers and projections are lacking extreme confidence in the Broncos, considering last season's struggles.
Of the four AFC West teams, Hasan found that the defending Super Bowl champion Kansas City Chiefs have the 13th-hardest schedule, with Los Angeles eighth, and Las Vegas at 16th in the league in 2023.
Denver Broncos Record Prediction
2023 could not have ended soon enough for the Broncos or their fans. Having gone all-in on Wilson, most Denver fans wanted off that ride about as quickly as the bandwagon filled.
Fresh off a season marred with poor play, led by inexperienced coaching, one-score games never falling the right way, and a myriad of injuries, Denver should be a bounce-back candidate in 2023. Head coach Sean Payton might have been the most crucial offseason acquisition for any team. But does a bounce back in 2023 mean a shot at the playoffs or just simply being slightly more competitive?
MORE: Denver Broncos 2023 OTAs Preview
Outside of things Denver can control, the biggest problem is the division. Patrick Mahomes and the Super Bowl-defending Chiefs aren't going anywhere, and if anything, they got better. Sure, the Chargers disappointed, but Justin Herbert remains one of the brightest young quarterbacks in the league. After adding Quentin Johnston, LA could become one of the most explosive offenses in the NFL under new OC Kellen Moore.
With the likelihood of a Kansas City sweep, a 3-3 divisional record is on the table, but going 2-4 is just as likely, assuming home wins against the Chargers and Raiders. But as noted with Los Angeles, that won't be an easy matchup by any means.
While Denver does have some games against projected lower-half teams, Houston has a high-upside QB in C.J. Stroud, the Bears got better and added weapons for Justin Fields, plus the Commanders feel confident in Sam Howell. Those are games Denver will need to win, as it's hard to imagine the Broncos walking away from Minnesota, Buffalo, Miami, Detroit, and the Jets with a winning record.
Given the difficult strength of schedule and questions surrounding where Wilson is at this stage in his career, I would lean towards the Broncos winning around eight games this year and, unfortunately, missing the playoffs again, which many likely did not even entertain the thought of this time last year.
Projected Record: 8-9