Danielle Hunter has decided to hold out from the Minnesota Vikings' mandatory minicamp, per NFL Network's Tom Pelissero, amidst rumors that he's been unhappy with his contract situation and could be subject to a trade.
Both Danielle Hunter and the Minnesota Vikings Caused This Holdout
In a sense, both parties have made poor decisions to get to this point. The Vikings underpaid Hunter, who ranked 13th in average annual value among edge rushers when he signed the extension. Though Rick Spielman — the general manager when Minnesota offered that contract — is no longer with the team, the Vikings are dealing with the ramifications of securing such a bargain.
Hunter has been persistently annoyed at the structure of the contract and what little it offers him for the production he provided the team when healthy. When he signed the contract, there was no reason to think Hunter's health would come into play, making it even more surprising how little security the contract offered.
MORE: Potential Landing Spots for Danielle Hunter
At the same time, Hunter and his agent agreed to an undervalued contract before he hit free agency at the beginning of the 2019 league year. Minnesota still likely would have offered him a deal as they approached the beginning of the 2019 free agency period, and it would have been substantially higher than what he was offered before the moment his leverage was at its peak.
In either instance, the Vikings are left regretting their lowball offer given their frustrated employee. Hunter, meanwhile, is left regretting accepting the deal below market value. The structure of the contract allowed the Vikings to manipulate it in order to secure themselves against his potential injury, and they did exactly that. In doing so, Minnesota further aggravated someone they consider to be a key building block to their franchise.
The Vikings Have Trouble Holding Onto Their Veterans
This holdout news comes on the heel of other news regarding Vikings veterans Za'Darius Smith and Dalvin Cook, both of whom Minnesota has moved on from after they couldn't come to a resolution regarding contract extensions. Smith was traded alongside sixth and seventh-round picks in 2025 for fifth-round picks in the 2024 and 2025 NFL drafts. Cook was released.
The fine for missing practice in mandatory minicamp is $50,000 each day per the Comprehensive Bargaining Agreement signed by the NFL and NFLPA in 2020. In that agreement, it was further stipulated that players could not have that fine money forgiven or recouped in any way — adding a barrier to their ability to use holdouts as a method of negotiating.
The 2020 CBA Eliminated Hunter's Negotiating Leverage
The NFLPA's decision to eliminate this key bargaining chip in order to secure other gains right before the 2020 season — one marked with uncertainty because of the COVID-19 pandemic — in theory, helped the majority of NFL players at the cost of bargaining power for its stars with expanded rosters, investments in retirement security, investments in safety equipment and research, a looser marijuana policy, better training camp schedules and an overall increase in the total revenue share they receive from the league, one of the first times that percentage has increased rather than decreased.
MORE: What Could Justin Jefferson's Next Contract Look Like?
But the rushed process to sign the deal because of the uncertainty caused by COVID and its associated restrictions meant that the players left with much less than they could have. One of the fringe fallouts from that comes in the case of a player like Hunter, who has substantially less leverage in holdouts. Previously, players would often make it a condition of their return from holdouts that their fines be forgiven. Now, without that on the table, players risk much more financially.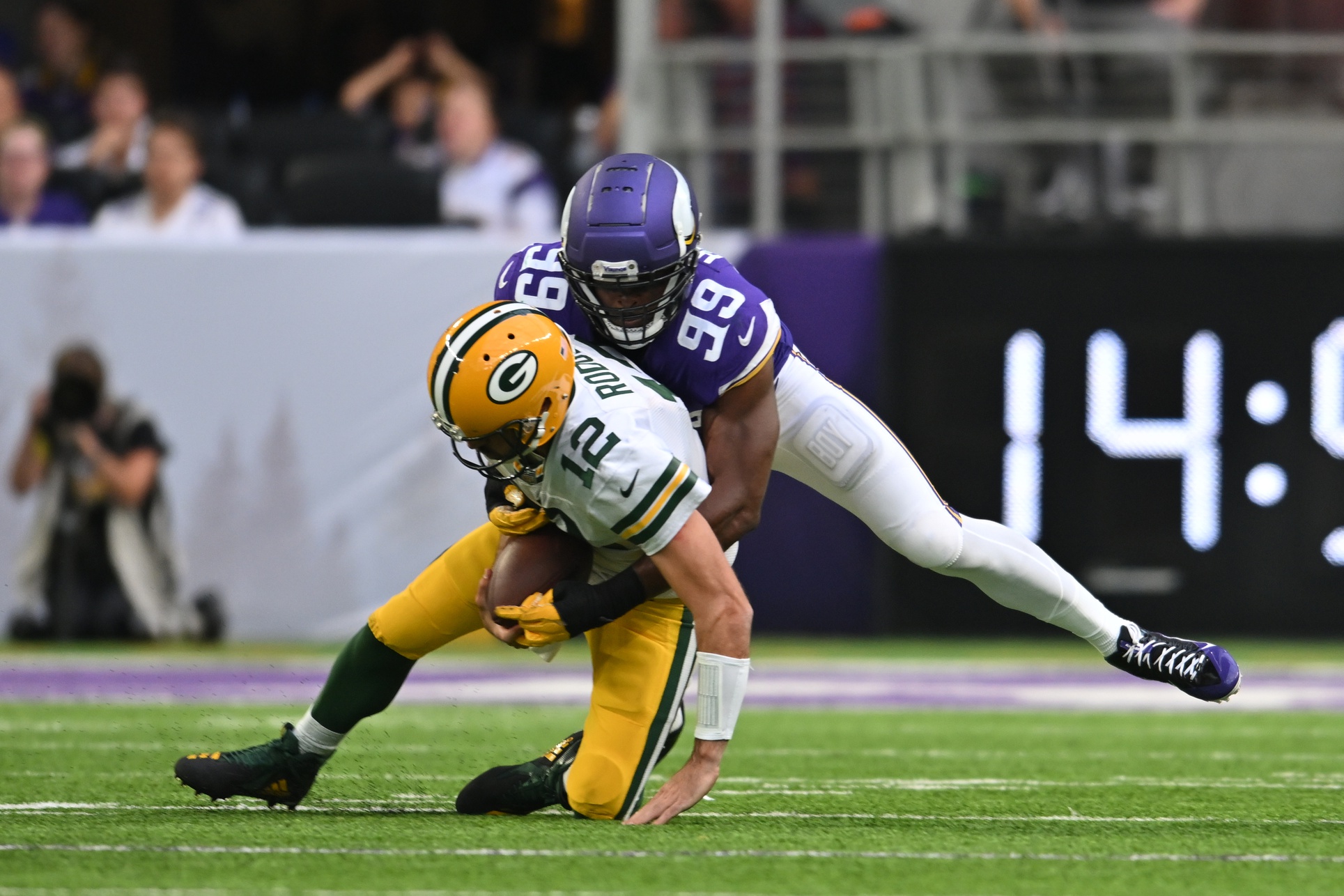 The Vikings' Contract Moves Have Frustrated Danielle Hunter
Hunter signed an extension with the Vikings in 2018 for five years, worth up to $72 million. The deal was considered by many to be friendlier to the team than the player. Since then, Minnesota has twice restructured his contract, once in 2020 to create cap space and another time in 2021 after he expressed dissatisfaction with his deal.
MORE: How Dalvin Cook's Departure Affects the Minnesota Vikings' Backfield
As a result of those restructures, Hunter's contract ties up $8.5 million of his 2023 salary in per-game roster bonuses instead of guaranteeing that money (an issue he had in 2022 as well). Without guarantees or a long-term extension, it would be difficult for Hunter, who has been plagued by injuries over the past three seasons, to have confidence he'll see all that money.
That injury history also makes it difficult for the Vikings to offer much in the way of concrete guarantees, though they may also not have as much leverage as they would like, given that they would take on $7.6 million in dead cap in 2023 and $11.2 million in dead cap in 2024. The same holds true in a trade scenario.
This still frees up about $5.5 million in net cap space this year, but those are small savings for what would likely turn out to be a downgrade should they pursue a player in free agency, such as Jadeveon Clowney or Yannick Ngakoue.
Without knowing what the Vikings have offered Hunter thus far or what deal he and his agent are looking for, it's impossible to say which side might be more unreasonable, especially given the health issues Hunter has suffered.
But the long and the short of it is that this scenario was inevitable as soon as they signed a "team-friendly" extension in 2018.