For the first four seasons of his career, Cooper Kupp was viewed as a good-but-not-great wide receiver. But the arrival of quarterback Matthew Stafford in Los Angeles has changed everything. Kupp is having not just the best season of his career but one of the best produced by a wide receiver in NFL history. Let's use advanced metrics to look back at Kupp's spectacular year and see if he is deserving of the NFL MVP award.
Cooper Kupp is on the verge of making history
To say that Kupp is having a breakout season would be the understatement of the century. The fifth-year wide receiver leads the league in receptions, receiving yards, and receiving touchdowns. And his numbers in each category are among the best ever.
His 138 receptions rank third all-time, and his 1,829 receiving yards rank fifth. And while his 15 touchdowns don't rank as highly, they are still tied for 22nd with several other players. With only one game left in the season, the only player who could reasonably catch him in any of those categories is Ja'Marr Chase, who has 13 touchdowns.
If Kupp's lead holds, he will win what is informally known as the "wide receiver triple crown," becoming the fifth player since 1966 to lead the league in all three categories, joining Lance Alworth, Jerry Rice, Sterling Sharpe, and Steve Smith.
Of course, none of them won NFL MVP, so that alone likely won't be enough for Kupp to take home the award. However, Kupp also has some excellent advanced metrics on his side.
Cooper Kupp's advanced metrics are spectacular
To help us further evaluate Kupp's play, let's turn to the Offensive Value Metric (OVM). The OVM is a grading system created by the (Bx) Movement to measure how much of a player's statistical production they were actually responsible for.
Through the first 17 weeks of this season, Kupp's overall grade sits at 36.07. That ranks fifth among all qualifying wide receivers. In other words, not only has Kupp been the NFL's most statistically successful wide receiver this season, but he has also been one of the league's most effective players at his position.
The numbers behind Kupp's grade
If we want to understand why Kupp has earned such a high overall grade this season, we need to look at the advanced metrics involved in calculating it.
Unlike some players, who earn high grades with spectacular numbers in one particular category, Kupp performs at a high level in most relevant areas.
His best statistic is his catch percentage. This season, he has caught 75% of his targets, tied for sixth-most among all qualifying wide receivers. Kupp is also averaging 3.7 yards of separation when targeted, tied for eighth. Even his worst statistics, which came after the catch, are still reasonable. He is averaging 6.2 yards after catching the ball, which ranks 12th. According to the NFL's projections, that number is 1.3 yards higher than expected, tied for 15th.
There isn't an area where Kupp is struggling, as you would expect from a wide receiver competing for the NFL MVP award.
Examining Kupp's weekly statistics
For a more in-depth examination of Kupp's performance in 2021, let's take a look at how he has performed on a weekly basis.
You can see his weekly grades in the chart below, marked by the black dots. For comparison, the yellow line represents the average OVM grade for wide receivers this season.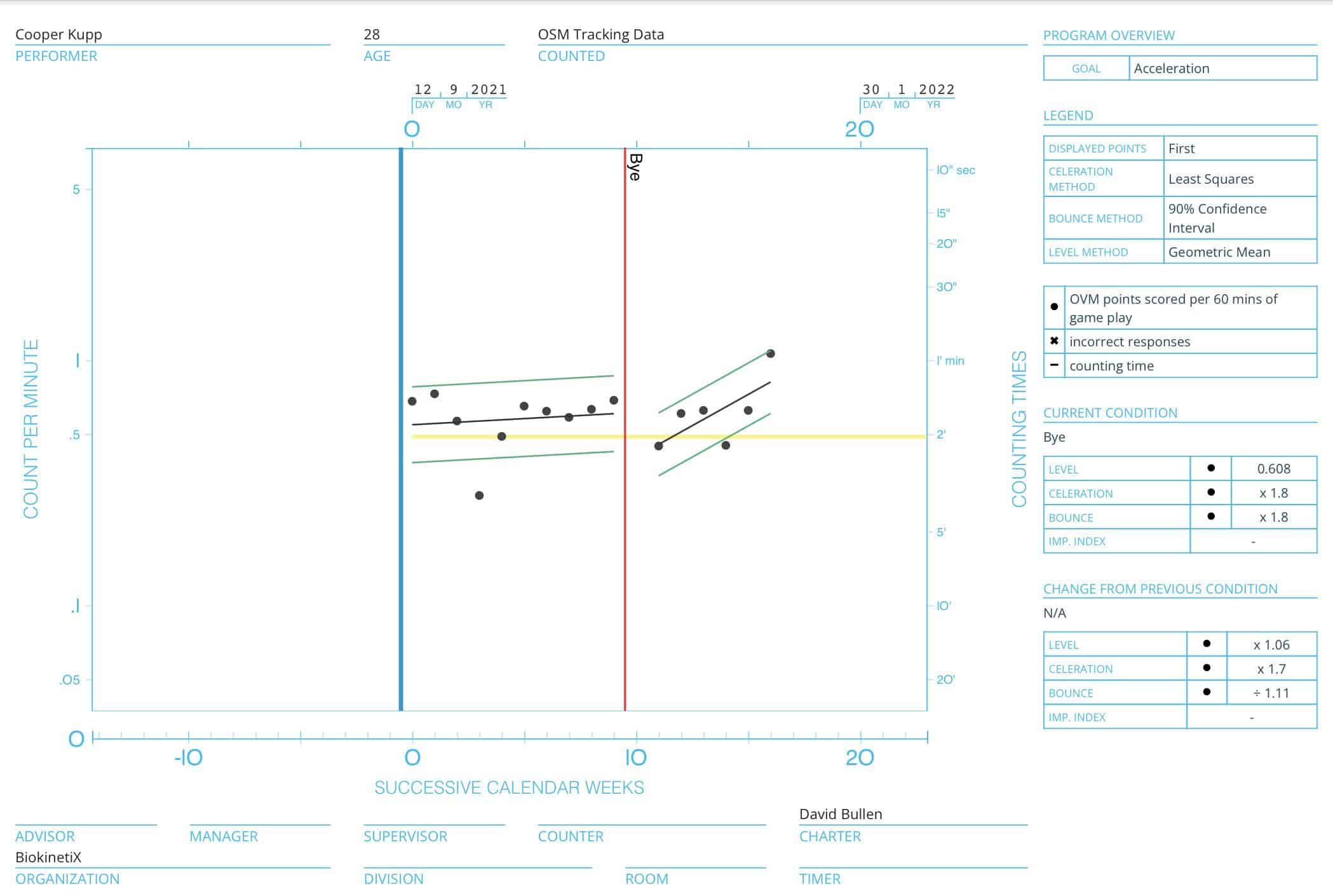 Kupp has been extremely consistent; his only grade that came in significantly below the league average was a 16.84 grade in Week 4. On the other end of the spectrum, Kupp has earned four grades above 40 points and many others in the high 30s.
His most impressive performance, though, came just last week, earned an astonishing grade of 63.86. That's the second-highest OVM grade on record. The grade stands out even in an already impressive season, so it is worth taking a closer look.
A deep dive into Kupp's phenomenal Week 17
In the Rams' most recent game — a nail-biting victory over the Baltimore Ravens — Kupp received one of the highest grades the OVM has ever given out.
From a box-score perspective, it wasn't Kupp's most impressive game, as he only totaled 95 yards and a touchdown. Those are more than respectable numbers, but they pale in comparison to some of his other performances this season.
However, Kupp's advanced metrics were spectacular. He caught 85.71% of his targets, the eighth-highest among qualifying wide receivers that week. He also averaged 10.7 yards after the catch, tied for third, 1.2 yards higher than expected.
On their own, those numbers would give Kupp a solid OVM grade. However, where he truly excelled was in his ability to create separation. Kupp was given an average of 3.5 yards of cushion at the snap in Week 17, tied for the third-lowest on the week.
Despite that, he averaged 7.3 yards of separation when targeted, the highest number by more than two yards. Creating more separation than the amount of cushion you were given isn't particularly common — doing so by almost four yards is practically unheard of. In fact, Kupp's differential of +3.8 is the fourth-highest since the NFL started tracking these statistics.
The Rams receiver was practically uncoverable on Sunday.
Can Kupp win the NFL MVP award?
Kupp has put together historic statistics this season, both in terms of his box score and in his advanced metrics. Despite that, he remains a long shot to win the league's most prestigious on-field individual honor.
The award has historically been dominated by quarterbacks and running backs, with winners at other positions being few and far between. In fact, a wide receiver has never won the award.
It is difficult to imagine Kupp being the first, even with such spectacular numbers. With running back Jonathan Taylor also having an incredible year — and both Aaron Rodgers and Tom Brady in the mix as well — Kupp might not win Offensive Player of the Year, either.
That would be a real shame, given how incredible his statistics have been. Of course, the Rams are still in contention for a Super Bowl, so Kupp might end his season holding a Lombardi Trophy, which would be quite the consolation prize.