Since arriving at the FBS level in 2017, the Coastal Carolina Chanticleers have quickly evolved into a consistent competitor, and the program has several NFL Draft picks to show for it as well. What does Coastal Carolina's 2024 NFL Draft class look like off of initial viewings?
Coastal Carolina Chanticleers NFL Draft Prospects
Arguably, the biggest change for the Chanticleers' football program comes at the very top. After going 31-7 over the past three seasons, head coach Jamey Chadwell left for Liberty, leaving an opening on Coastal Carolina's staff. He was ultimately replaced by long-time FBS coordinator and position coach Tim Beck.
Beck will enjoy the return of Grayson McCall, his three top receivers, and a veteran-laden blocking unit on the offensive side of the ball. On defense, the Chanticleers lost several primary contributors, including Jerrod Clark and Lance Boykin. But with the help of several names below, Coastal Carolina should be able to stay afloat amidst turnover.
Grayson McCall, QB
McCall has been Coastal Carolina's starting QB since 2020, and over that time, he's been one of college football's most efficient passers. He's completed 555 of 788 attempts for 8,061 yards, 77 touchdowns, and just eight interceptions. He's also rushed for over 1,000 total yards and 17 scores.
McCall's arm is below average, and his offensive scheme creates a lot for him. Still, McCall's mobility and competitive toughness could earn him an NFL backup opportunity.
CJ Beasley, RB
The Chanticleers have a solid one-two punch at running back with CJ Beasley and Reese White. At 5'10", 215 pounds, Beasley is more equipped to take heightened volume out of the backfield, and we saw that with his 2022 production.
As a redshirt sophomore, Beasley accumulated 719 yards and five touchdowns on 140 carries, as well as 19 catches for 193 yards and a score. He's built powerfully but can also use shocking bouts of vertical athleticism and agility in space.
Reese White, RB
For two years now, White has been on the radar as a potential NFL Draft sleeper. He's coming off a career-best 2022 campaign in which he logged 544 yards and five touchdowns on 99 carries.
He doesn't have the workhorse size that Beasley has, but White, at 5'10", 205 pounds, is a smooth, explosive runner who can snake through congested areas. And in a small sample size, he's proven to be very efficient and dynamic as a receiving threat.
Sam Pinckney, WR
Sam Pinckney distinguished himself as a vertical threat at Georgia State, then transferred to Coastal Carolina in 2021. It took him a year to become fully acclimated to the Chanticleers' offense, but Pinckney emerged as a primary receiving threat in 2022, racking up 71 catches for 996 yards and three touchdowns.
The 6'4″, 220-pound Pinckney has impressive body control, toughness, and catching instincts, but he also has enough in his toolbox as a short-range separator to move the chains.
Jared Brown, WR
Pinckney is the X-receiver in Coastal Carolina's offense, but Jared Brown might have a more expansive projection to the NFL. The 6'0″, 190-pound Brown put up 49 catches for 789 yards and nine touchdowns in 2022 and tacked on 20 carries for 187 yards and an additional score to his totals.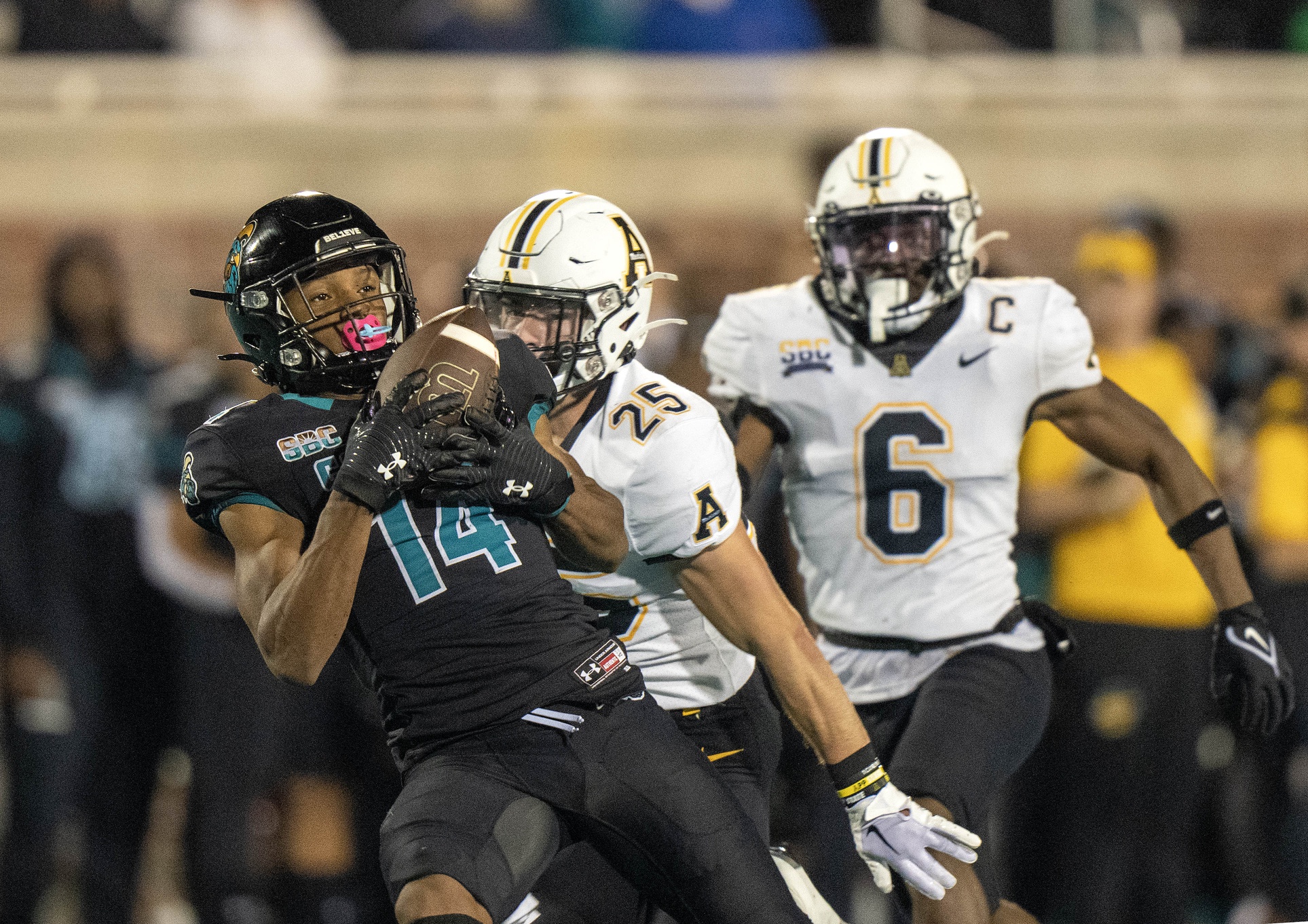 Brown's smooth athleticism makes him an asset on schemed touches of all kinds, and he has legitimately formidable speed and burst in open space.
Tyson Mobley, WR
Along with Pinckney and Brown, Tyson Mobley also bears watching as a potential fringe 2024 NFL Draft prospect. The 6'0″, 180-pound Mobley produced at a respectable clip in 2022, with 40 catches for 490 yards and five touchdowns. He doesn't have Pinckney's size or Brown's athleticism, but Mobley has proven to be an efficient route runner in the short and intermediate ranges, and he can make smooth catching adjustments in-stride.
Ja'Quon Griffin, EDGE
The Chanticleers may have lost Josaiah Stewart to the transfer portal, but they still have a presence on the edge with Ja'Quon Griffin.
Griffin was a transfer from Georgia Tech in 2022 and did his part to acquire 5.5 sacks and eight tackles for loss. Griffin has some experience with alignment versatility from his time with the Yellow Jackets, and he has the frame density to sustain that versatility at 6'0″, 270 pounds, even without elite tools.
JT Killen, LB
JT Killen will aim to reprise his role as Coastal Carolina's most productive defender in 2023. The 6'3″, 230-pound linebacker paced the team with 96 tackles in 2022 and supplemented that tackle total with 6.5 TFLs, 2.5 sacks, four pass deflections, a forced fumble, and three fumble recoveries.
Killen's energy as a defender is indisputable, but he has respectable range when he's able to open up his strides, plus he can use his length to envelop runners.
Jacob Proche, CB
With Boykin and D'Jordan Strong moving on to the NFL, the Chanticleers will need a new cornerback to step up, and that may be super-senior Jacob Proche.
Proche doesn't have Boykin's size, but the 5'10", 185-pound defender put up respectable numbers in 2022 — among them 31 tackles, 1.5 TFLs, a pick, and four deflections. Proche is the younger brother of NFL wide receiver James Proche, who was drafted by the Baltimore Ravens in Round 6 of the 2020 NFL Draft.
Tavyn Jackson, DB
Being a seventh-year senior, Tavyn Jackson's age may dilute his NFL Draft stock. But as a natural nickel defender with special-teams experience, he's worth keeping tabs on in the PFA pool.
The 5'11", 195-pound Jackson began his career at South Carolina before resetting at Coffeyville Community College. Last year, in his second season at Coastal Carolina, he racked up 29 tackles, two picks, and four deflections as the team's slot DB.
Charles Arnold Jr., S
For a secondary experiencing some turnover, it's important for the Chanticleers that they return redshirt sophomore Charles Arnold Jr. As a redshirt freshman in 2022, Arnold exploded onto the scene with 54 tackles, an interception, six pass deflections, and a forced fumble.
It's clear the 5'10", 185-pound defender is still learning and upping his play strength, but he flashes playmaking instincts and impressive fluidity as a zone coverage DB.
Other Notable Names
Donnell Wilson, OT
Will McDonald, G
Dillon Luther, G
Evan Jumper, C
Allen Henry, DT
Kennedy Roberts, DT
Clinton Anokwuru, EDGE
Carlos Hatcher, EDGE
Shane Bruce, LB
Jahmar Brown, S
Coastal Carolina Chanticleers Schedule
Week 1
BYE
Week 2
Sept. 2: at UCLA Bruins
Week 3
Sept. 9: vs. Jacksonville State Gamecocks
Week 4
Sept. 16: vs. Duquesne Dukes
Week 5
Sept. 21: vs. Georgia State Panthers
Week 6
Sept. 30: at Georgia Southern Eagles
Week 7
BYE
Week 8
Oct. 10: at Appalachian State Mountaineers
Week 9
Oct. 21: at Arkansas State Red Wolves
Week 10
Oct. 28: vs. Marshall Thundering Herd
Week 11
Nov. 4: at Old Dominion Monarchs
Week 12
Nov. 11: vs. Texas State Bobcats
Week 13
Nov. 18: at Army Black Knights
Week 14
Nov. 25: vs. James Madison Dukes
Week 15
BYE
Listen to the PFN Scouting Podcast
Listen to the PFN Scouting Podcast! Click the embedded player below to listen, or you can find the PFN Scouting Podcast on iTunes, Spotify, and all major podcast platforms.  Be sure to subscribe and leave us a five-star review! Rather watch instead? Check out the PFN Scouting Podcast on our Scouting YouTube channel.