The first week of Cincinnati Bengals training camp is in the books, and while the first six practices haven't led to any massive shifts in projecting the 53-man roster, there have been some risers and fallers.
NFL teams have to trim their rosters to 53 by Aug. 29, three days after the Bengals wrap up the preseason in Washington. Here's my updated look at who should be in and who could be cut.
Cincinnati Bengals 53-Man Roster Projection | Offense
Quarterback (2)
Starter: Joe Burrow
Backup: Jake Browning
Practice Squad: Trevor Siemian
Camp arm: Reid Sinnett
Analysis: Nothing has changed here, even with Burrow suffering yet another injury that will cause him to miss time in camp. It's still way too early to call the race for the backup spot, but Browning deserves to be elevated ahead of Siemian at this point based on how Browning has performed.
Running Back (3)
Starters: Joe Mixon
Backups: Chase Brown, Trayveon Williams
Bubble: Chris Evans
Practice-Squad Prospects: Jacob Saylors, Calvin Tyler Jr.
Analysis: Mixon is running with more burst and appears fully engaged after agreeing to a pay cut that was softened with $4.1 million guaranteed this season.
Williams suffered a right ankle injury in practice Tuesday that could crack the door for Evans. Yet, until we find out more on the severity of Williams' injury, he remains on the right side of the cut.
Wide Receiver (6)
Starters: Ja'Marr Chase, Tee Higgins, Tyler Boyd
Backups: Trenton Irwin, Charlie Jones, Stanley Morgan
Bubble: Andrei Iosivas, Trent Taylor, Kwamie Lassiter II
Practice-Squad Prospects: Shedrick Jackson, Malachi Carter, Mac Hippenhammer
Analysis: Iosivas has made some nice catches, particularly on 50-50 balls and back-shoulder throws. The rookie sixth-round pick had a chance to work in some reps with Burrow before the quarterback went down, but he's still trending toward a spot on the practice squad.
Lassiter, as was the case in camp last year, has performed well enough to be bumped onto the bubble. But if the Bengals go with seven, it looks as though Iosivas would be the pick.
Tight Ends (4)
Starter: Irv Smith Jr.
Backups: Drew Sample, Mitchell Wilcox
Bubble: Devin Asiasi
Practice-Squad Prospects: Tanner Hudson, Nick Bowers, Christian Trahan
Analysis: Wilcox remains on the physically unable to perform (PUP) list but has been out on the field doing rehab work every day. If he's not cleared to practice soon, it could be a signal the team plans to have him start the year on PUP and come back at some point after Week 4. However, he's more athletic than Asiasi, and that's something the Bengals need among this group of blocking, plodding tight ends outside of Smith.
Offensive Line (10)
Starters: LT Orlando Brown Jr., LG Cordell Volson, C Ted Karras, RG Alex Cappa, RT Jonah Williams
Backups: Jackson Carman, D'Ante Smith, Trey Hill, Max Scharping, Hakeem Adeniji
Bubble: Cody Ford
PUP: La'el Collins
IR: Devin Cochran
Practice-Squad Prospects: Ben Brown, Nate Gilliam, Jaxson Kirkland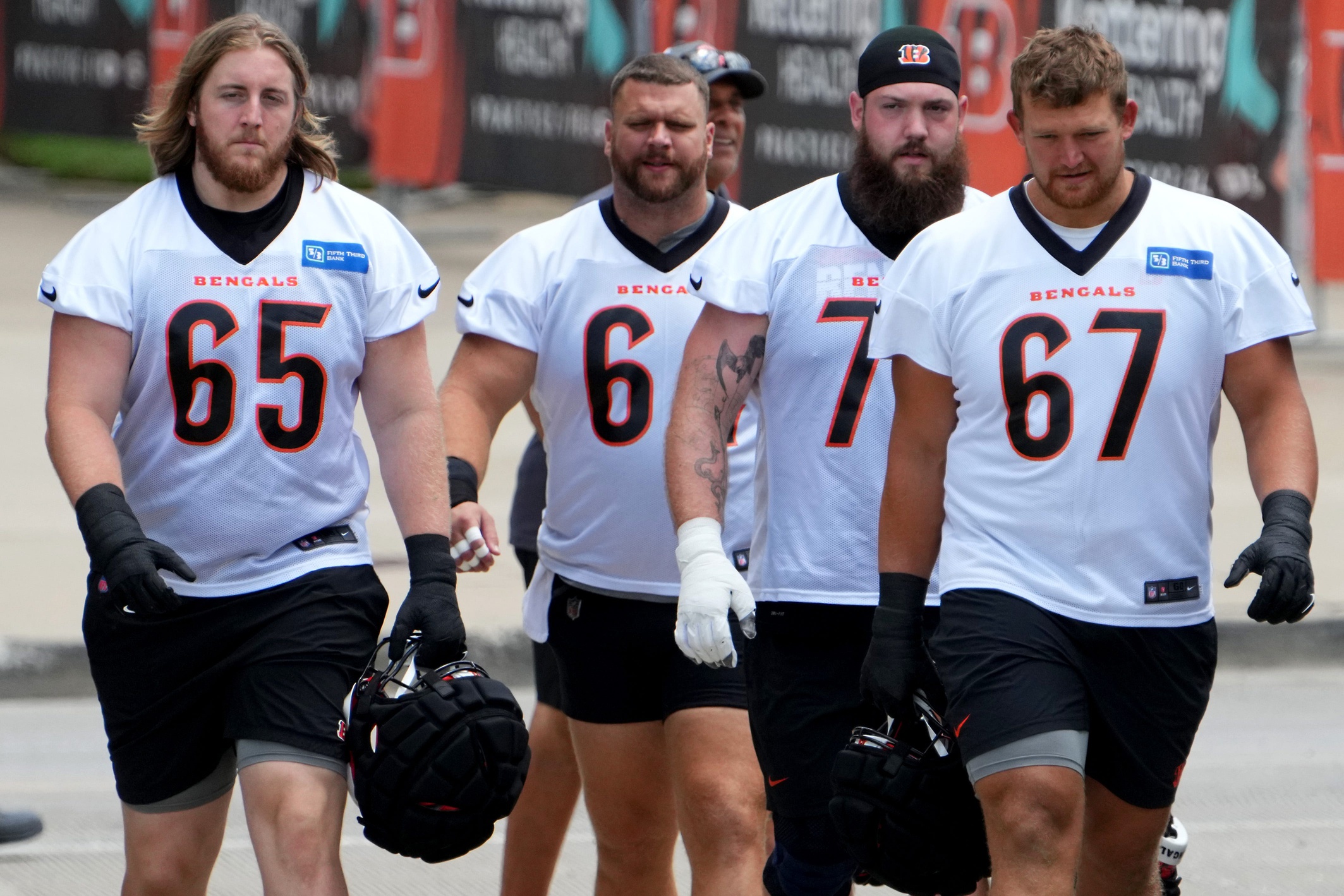 Analysis: Carman has split the first-team reps equally with Williams, but this is still Williams' job to lose.
My initial 53-projection had Ford in and Scharping out, but Scharping has not only been getting more quality reps, but he's also been working a lot at center as well as guard, while Hill has been doing the same, which indicates the coaches have designs on those two being their interior backups and need them to be able to fill in at either position.
Cincinnati Bengals 53-Man Roster Projection | Defense
Defensive Line (9)
Starters: Trey Hendrickson, DJ Reader, B.J. Hill, Sam Hubbard
Backups: Joseph Ossai, Myles Murphy, Cam Sample, Zach Carter, Josh Tupou
Bubble: Jeff Gunter, Tarell Basham, Jay Tufele
Practice-Squad Prospects: Owen Carney, Raymond Johnson III, Domenique Davis, Devonnsha Maxwell, Tautala Pesefea Jr.
Analysis: Basham was the best bet to crash the party, but he suffered an injury and was carted off the same day as Burrow and has yet to return to practice.
Gunter, the seventh-round edge rusher from the 2022 draft, has been in a heavy rotation on all four special teams, which could make him a candidate to take the 10th spot if the Bengals go heavy here.
Linebacker (5)
Starters: Logan Wilson, Germaine Pratt
Backups: Akeem Davis-Gaither, Joe Bachie, Markus Bailey
Bubble: Keandre Jones
Practice-Squad Prospect: Jaylen Moody, Shaka Heyward, Tyler Murray
Analysis: No position group has fewer variables than this one. Among the backups, Bailey has made the most splash plays through the first week of camp.
Cornerbacks (6)
Starters: Chidobe Awuzie, Cam Taylor-Britt, Mike Hilton
Backups: DJ Turner II, Sidney Jones IV, Allan George
Bubble: Jalen Davis, DJ Ivey
Practice-Squad Prospect: Marvell Tell III, Yusuf Corker
Analysis: Seventh-round rookie Ivey has earned a spot firmly on the bubble with some impressive plays that have earned him more reps. Awuzie still has yet to do any work in team drills, but he looks great running and cutting, and head coach Zac Taylor said they are intentionally bringing him along slowly. They know what they have in Awuzie, and they like what they've seen from the backups, so getting a chance to see more is not a bad thing.
Safeties (5)
Starters: Dax Hill, Nick Scott
Backups: Jordan Battle, Tycen Anderson, Michael Thomas
Practice-Squad Prospect: Larry Brooks
Analysis: It's been interesting to see Battle running with the 3s behind Thomas after some initial thought that the rookie third-round pick could challenge for a starting job. Players and coaches have praised Battle's understanding of the scheme, and his athleticism is obvious.
This could just be about not wanting to disrupt the bonding phase for Hill and Scott, and the desire to have a veteran presence on the back end for those second-team reps in the early going.
Special Teams
Starters: K Evan McPherson, P Brad Robbins, LS Cal Adomitis
Bubble: Drue Chrisman
Analysis: It always felt as though Chrisman would have an uphill battle to win the job, and the unfortunate timing of his medical emergency has only made the task tougher.
Listen to the PFN Bengals Podcast
Listen to the PFN Bengals Podcast! Click the embedded player below to listen, or you can find the PFN Bengals Podcast on iTunes, Spotify, and all major podcast platforms.  Be sure to subscribe and leave us a five-star review! Rather watch instead? Check out the PFN Bengals Podcast on our NFL YouTube channel.