Buccaneers wide receiver Chris Godwin had been on the fantasy football radar long before his breakout 2019 season. Having shown improvement each season dating back to his Penn State days, Godwin was one of my most-drafted fantasy players in 2019, but does the Tampa Bay wide receiver maintain the same value when it comes to fantasy football in 2020?
With an average FleaFlicker ADP of 19.3, Godwin is currently the WR5 in half-PPR leagues behind only Michael Thomas, Davante Adams, Julio Jones, and Tyreek Hill. Is that too rich for the wide receiver now paired with the aging Tom Brady or is that a steal for a player that finished 2019 as the consensus WR2 in every scoring format available on FantasyData? Let's dive in and find out!
Before we look ahead to the 2020 NFL season, we must first look at the process of how we got here. In this article, we will examine Godwin's Consistency Score in his breakout 2019 season, as well as examining his Relative Athletic Score (RAS) to demonstrate the former Penn State standout's athletic traits.
Fantasy Leagues on FleaFlicker
Looking for a fantasy platform that is infinitely customizable yet simple and easy to use? At FleaFlicker, you can join an existing league, begin your own league, or import a league with access to cheat sheets, PFN analysis, and much more. No-nonsense user experience and a caring, committed development and support staff.
Click here to get started!
Chris Godwin's Relative Athletic Score (RAS)
After flashing big-play potential throughout his Penn State career, Godwin had a massive breakout game in the Nittany Lions 52-49 Rose Bowl loss to the USC Trojans. Even though Penn State suffered a tough loss, the exposure from his 9 reception, 187 yards, and two touchdown performance was enough to diminish any doubts and send Godwin into the 2017 NFL Draft after his junior season.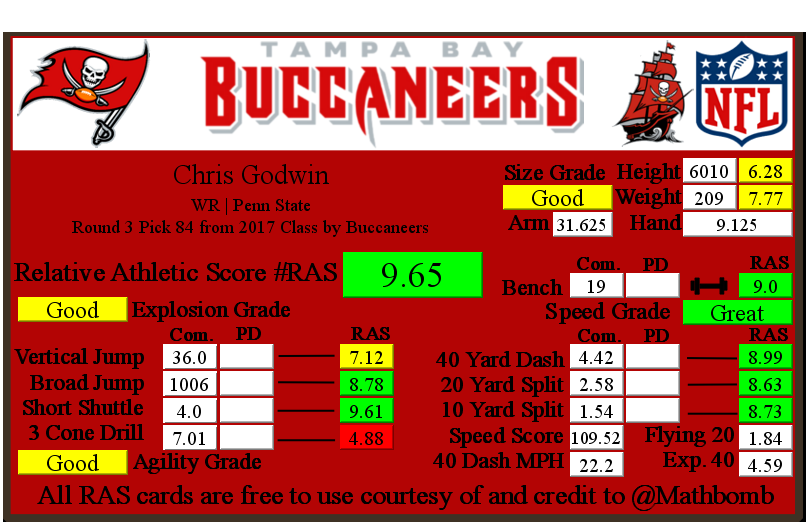 At the 2017 NFL Combine, Godwin posted an impressive 9.65 Relative Athletic Score with great speed, good size, good explosion, and good agility. Even with Godwin's impressive athletic display, there were enough questions around his game to push the former Nittany Lions standout down to the third round of the 2017 NFL Draft.
Chris Godwin's Fantasy Football Consistency Score
A metric created by Pro Football Network fantasy analyst Phillip Caldwell, Consistency Score doesn't look at overall points scored, but instead looks at how consistent each player is throughout the season. More consistent fantasy-producers are better season-long investments than inconsistent boom/bust prospects as they produce more starter-quality weeks.
Not only was Godwin great in terms of fantasy points scored in 2019, but the wide receiver was also consistent, with a 6.02 Consistency Score. Godwin finished as the WR3 in Caldwell's Consistency Score, behind only Michael Thomas and Julio Jones. In 2019, Godwin finished as a WR1 (Top-12) in 36% of games and at least a WR2 (Top-24) in 50% of games. Godwin's 2019 numbers are much more comparable to Jones' numbers (WR1 43%, WR2 57%) than the lofty stats Thomas (WR1 60%, WR2 93%) accumulated last season.
A look at Godwin's breakout 2019 season and a look ahead to 2020
Godwin averages just a shade over 15 yards-per-reception for his career, but he finally earned a full-time role after the departure of Desean Jackson before the 2019 season. After a combined 93 receptions and 1367 receiving yards in his first two NFL seasons, Godwin almost matched his career-numbers in 2019, with 86 receptions, 1333 receiving yards, and nine touchdowns.
Related | A.J. Brown's fantasy outlook in 2020 after his red hot finish in 2019
Even after a breakout campaign last season, plenty of questions remain about Godwin's fantasy football stock in 2020. In 2019, Jameis Winson and his gunslinger approach were perfect for Godwin to take his production to new heights. To put some context to that, the Buccaneers averaged 7.2 net yards per passing attempt last season, which ranked fourth in the league.
However, instead of playing with the free-wheeling Winston, Godwin is now attached to the chain-moving, risk-averse 43-year old quarterback in Brady. In contrast to that 7.2 NY/A the Buccaneers averaged in 2019, the Brady-led Patriots averaged just 6.1 NY/A, 18th most in the league. While the thought of Brady having a late-career resurrection throwing to ball up to Godwin and Mike Evans has crossed everyone's minds, we have to accept the fact that the quarterback's best days are behind him.
Where should you draft Godwin in 2020 fantasy football drafts?
So, with Brady in town replacing Winston, should we be selling Godwin at his current average draft position? To quote ESPN College Gameday's Lee Corso, "Not so fast, my friend." Godwin's risk is already accounted for in his current FleaFlicker Half-PPR ADP of 19.3 (WR5), which is a reasonable discount compared to his 2019 results.
Related | 2020 Fantasy Football RB Tiers
The change in quarterbacks is an obvious volume downgrade for Godwin in 2020, but Godwin's game matches perfectly with Brady's strengths. Godwin ran 50.5% of his 2019 snaps from the slot, and it's no secret that Brady's favorite targets have been players that excel inside the numbers.
Slot wide receivers Julian Edelman, Wes Welker, and Danny Amendola have all excelled with Brady, and Godwin is a talent-upgrade over those options. While regression in some areas is almost certain for Godwin with Brady under center, his price matches where I'd have him heading into the 2020 NFL season. Take Chris Godwin in the last second or early third round of 2020 fantasy football drafts with zero hesitation.