When Justin Fields lined up against the 49ers in Week 1 of the 2022 NFL season, the top three wide receivers on the Chicago Bears' depth chart were Darnell Mooney, Byron Pringle, and Equanimeous St. Brown. Things have certainly changed over the past six months, as the Bears executed two trades to add DJ Moore and Chase Claypool to their stable of pass catchers. How will Chicago's receiving corps shake out in a make-or-break campaign for Fields?
Chicago Bears WR Depth Chart: Is DJ Moore a WR1?
The Bears acquired Moore as part of the deal that sent the No. 1 overall pick in the 2023 NFL Draft to the Panthers. Carolina wasn't excited about parting ways with its top receiver, but Chicago general manager Ryan Poles viewed Moore as a "non-negotiable" inclusion in the blockbuster trade.
A first-round pick in the 2018 draft, Moore averaged a 73-1,040-2 receiving line over four seasons with the Panthers. But those numbers were likely diminished by the rotating cast of characters Carolina was forced to deploy in recent years, including Sam Darnold, Baker Mayfield, Taylor Heinicke, Kyle Allen, Will Grier, Teddy Bridgewater, and P.J. Walker.
MORE: Bears RB Depth Chart — Will D'Onta Foreman or Khalil Herbert Start?
Moore received plenty of volume with the Panthers, but the passes thrown his way weren't always the most accurate. He ranked first in the NFL in air-yard share (48%) in 2022, working as the clear top option in Carolina's offense. However, Moore finished 90th in catchable target rate and 92nd in target quality rating, meaning he was often on the receiving end of errant throws.
Moore's best trait might be his explosiveness, which allows him to create chunk plays as a yards-after-catch threat. While his YAC numbers were down in 2022, Moore ranked inside the top 20 in yards after the catch in each season from 2018 to 2021. In 2020, he finished third in yards per reception (18.1) despite ranking just 28th in average depth of target, a testament to his ability to grind out extra yardage.
"The first thing I (noticed) is speed," Bears head coach Matt Eberflus said of Moore in May. "I just saw that yesterday, and I was like, 'Wow.' There's a different gear there, you know? That was exciting to see yesterday.
"It's rare when you've got a guy that can run the route and have the route discipline that he has and the football IQ that he has, and then also that speed and that talent he has."
Fields has been dreadful as a passer over the first two years of his career, but Moore could be the receiver the former Ohio State star has been searching for. Depending on how Moore adjusts to Fields' playstyle, the two could form a promising relationship that could redefine both of their career arcs.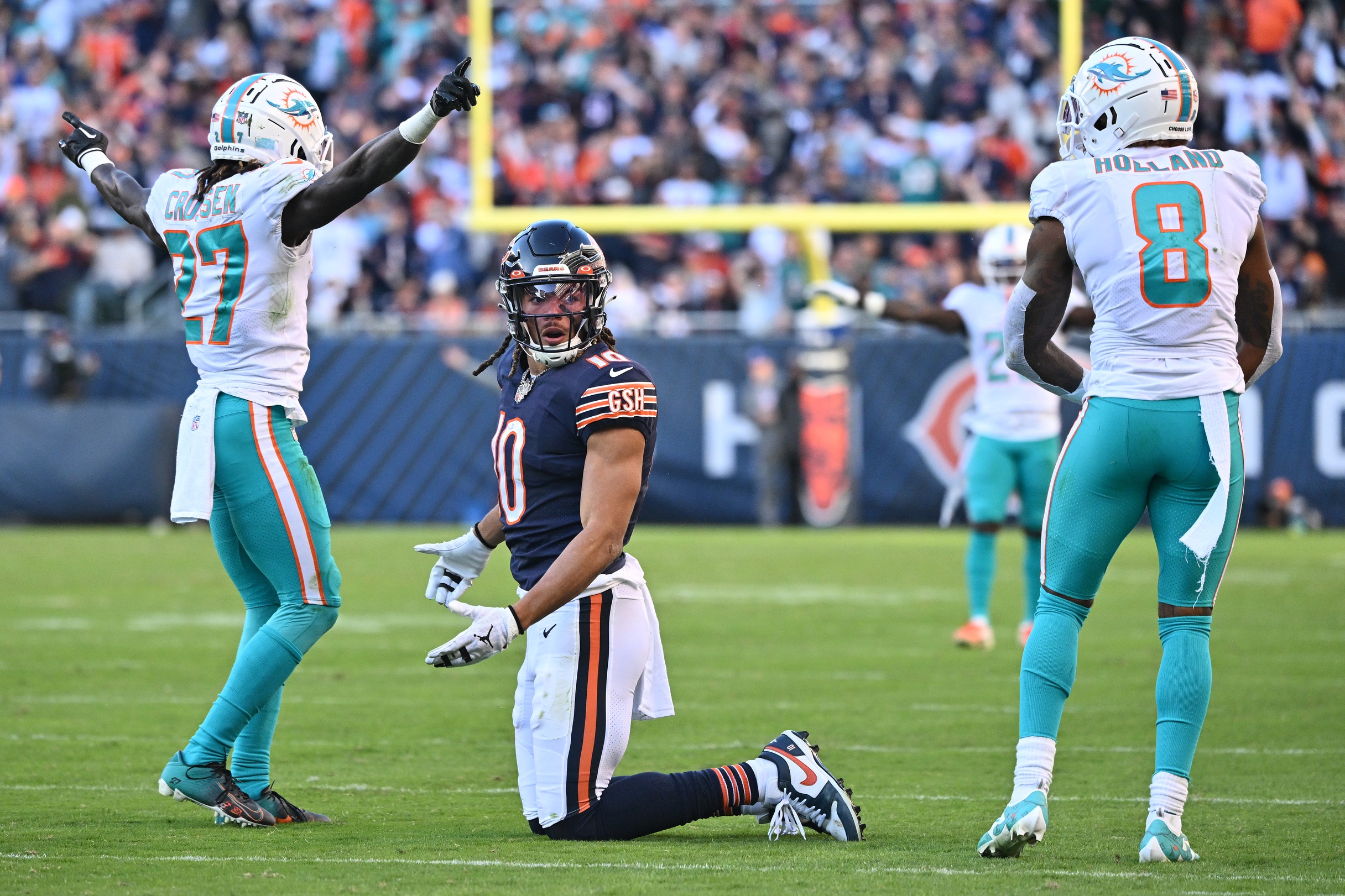 Chase Claypool and Darnell Mooney Are in Contract Years
Moore wasn't the only receiver Poles and Co. picked up over the past year. The Bears shipped their second-round pick — which became the 32nd overall selection in the draft — to the Steelers in exchange for Claypool at last year's trade deadline.
Chicago might want to undo that deal if offered the chance. In seven games with the Bears, Claypool managed just 14 receptions for 140 scoreless yards while missing two contests with a knee injury. All told, he posted only 46 receptions for 451 yards and one touchdown between Chicago and Pittsburgh.
Still, it's evident that the 6'4″ Claypool has the tools to become a dominant receiver. He scored nine touchdowns during his breakout rookie campaign in 2020, then posted almost identical reception and yardage production (59/860) the following season but scored just twice.
Changing cities, schemes, and quarterbacks in the middle of an NFL season is never a simple task, and it's fair to give Claypool the benefit of the doubt. Fields said in May that Claypool has "improved tremendously" over the offseason, while Bears offensive coordinator Luke Getsy said earlier this year that the fourth-year receiver could take a leap in 2023.
MORE: Chicago Bears 2023 Schedule
"… I see him getting a lot of opportunities," Getsy said. "He's someone that we need to play at a really high level, and he's capable of that. He's done that in the past. We've got to get the most out of him, and he wants that, too. The best thing is that he kind of got his feet wet in Chicago, he knows what we're doing now."
As the Bears continue to assess Claypool's role, he could theoretically see more time in the slot to take advantage of specific matchups where he could have a significant size advantage. However, Mooney will also likely play the slot after spending slightly more than 50% of his snaps inside in 2022.
Mooney posted 631 yards as a fifth-round rookie in 2020, then exploded to cross the 1,000-yard threshold the following season. Still, he was likely miscast as a No. 1 WR and was the benefactor of the Bears' woeful WR depth chart, receiving a 25.2% target share in his second NFL campaign.
While Mooney earned a similar target share in 2022, Chicago's offense passed the ball at a league-low rate. Mooney also missed the last five games of the season with an ankle injury, leading to his production falling off a cliff.
Both Claypool and Mooney are entering the final seasons of their rookie contracts, and the Bears are probably in a position to extend only one of them. The current Chicago regime sacrificed draft capital to acquire Claypool, while Mooney is a holdover from the Ryan Pace days, so Claypool likely has a leg up. But how Claypool and Mooney produce during the 2023 campaign will ultimately decide which receiver will stick with the Bears for the long haul.
Listen to the PFN Scouting Podcast
Listen to the PFN Scouting Podcast! Click the embedded player below to listen, or you can find the PFN Scouting Podcast on iTunes, Spotify, and all major podcast platforms.  Be sure to subscribe and leave us a five-star review! Rather watch instead? Check out the PFN Scouting Podcast on our Scouting YouTube channel.