After finishing with the NFL's worst record in 2022, the Chicago Bears will enter their organized team activities (OTAs) with improvement on the brain. Having added multiple impact players through free agency, the draft, and the trade market, could the Bears go from worst to first next season?
Chicago will have nine OTA sessions over the next three weeks before holding a mandatory minicamp from June 13-15. Let's break down the top storylines from Bears OTAs, including whether their third-year quarterback can take the leap.
2023 Chicago Bears OTAs Preview
Can Justin Fields Develop as a Passer?
Justin Fields' abilities as a rushing threat can't be denied. He led all quarterbacks with 1,143 rushing yards a season ago, coming within 70 yards of breaking Lamar Jackson's QB running record. Fields posted more than 130 rushing yards three times and topped 60 yards in eight of his final nine games.
Fields' work on the ground gives him a remarkably high floor, but the Bears' offense won't be able to take another step forward unless the former first-round pick progresses as a passer. The former Ohio State star finished dead last among 33 qualifying quarterbacks with just 4.63 adjusted net yards per attempt in 2022.
MORE: QB Power Rankings 2023 — Where Does Fields Rank?
Chicago has taken steps to cajole development from Fields, including reinforcing their offensive line and adding new playmakers. But Fields also worked with Bears offensive coordinator Luke Getsy and Andrew Janocko to observe how other quarterbacks play inside similar offensive systems.
"It starts with our film study," Janocko said earlier this month. "We watch a lot of stuff. We watch our stuff, and we evaluate it. We watch guys around the league. We watch a lot of that, so just seeing stuff be successful — similar offenses, different offenses, but seeing them be successful. So we always have an open dialogue on what we're studying and just looking at different ways to approach things.
"His studies, his studies with guys around the league, I think that that helps. Seeing guys play within this offense, within this footwork, around the league, different guys — this offense is pretty prevalent throughout the league — seeing those guys do it and then just being able to mimic some things, but put your own way, what he does well."
The Bears acquired receiver DJ Moore from the Panthers as part of their trade back from No. 1 overall in the 2023 draft, and they also picked up fellow pass catcher Chase Claypool from the Steelers at last year's trade deadline. Along with Darnell Mooney, Moore and Claypool will give Fields the best set of weapons he's had at the NFL level and should be able to help Chicago's passing game become more productive and sustainable.
How Will the Bears' RB Rotation Work?
Last season, David Montgomery led the Bears with 201 rushing attempts, but he's gone after signing a free agent deal with the division-rival Lions. Fields will remain a critical part of Chicago's rushing attack, but the club also has three backs ready to contribute.
Khalil Herbert handled 232 carries over his first two NFL seasons as Montgomery's backup and is now poised to take on a larger role. Viewed as potentially a better fit for the Bears' zone scheme than Montgomery was, Herbert has the talent to ascend. However, in order to become an every-down back, he still needs work as a receiver and pass protector.
MORE: Chicago Bears Season Preview — Projected Depth Chart, Rosters, and Predictions
Chicago's current regime didn't draft Herbert, but general manager Ryan Poles did sign free agent D'Onta Foreman and use a fourth-round selection on Roschon Johnson. Foreman posted a breakout season as an early-down grinder for the Panthers last year, while Johnson was buried behind Bijan Robinson at Texas but profiles as a bell cow.
None of Herbert, Foreman, or Johnson has demonstrated an ability in the passing game, so the Bears' RB rotation could become four-deep if Travis Homer is forced to become the team's third-down back.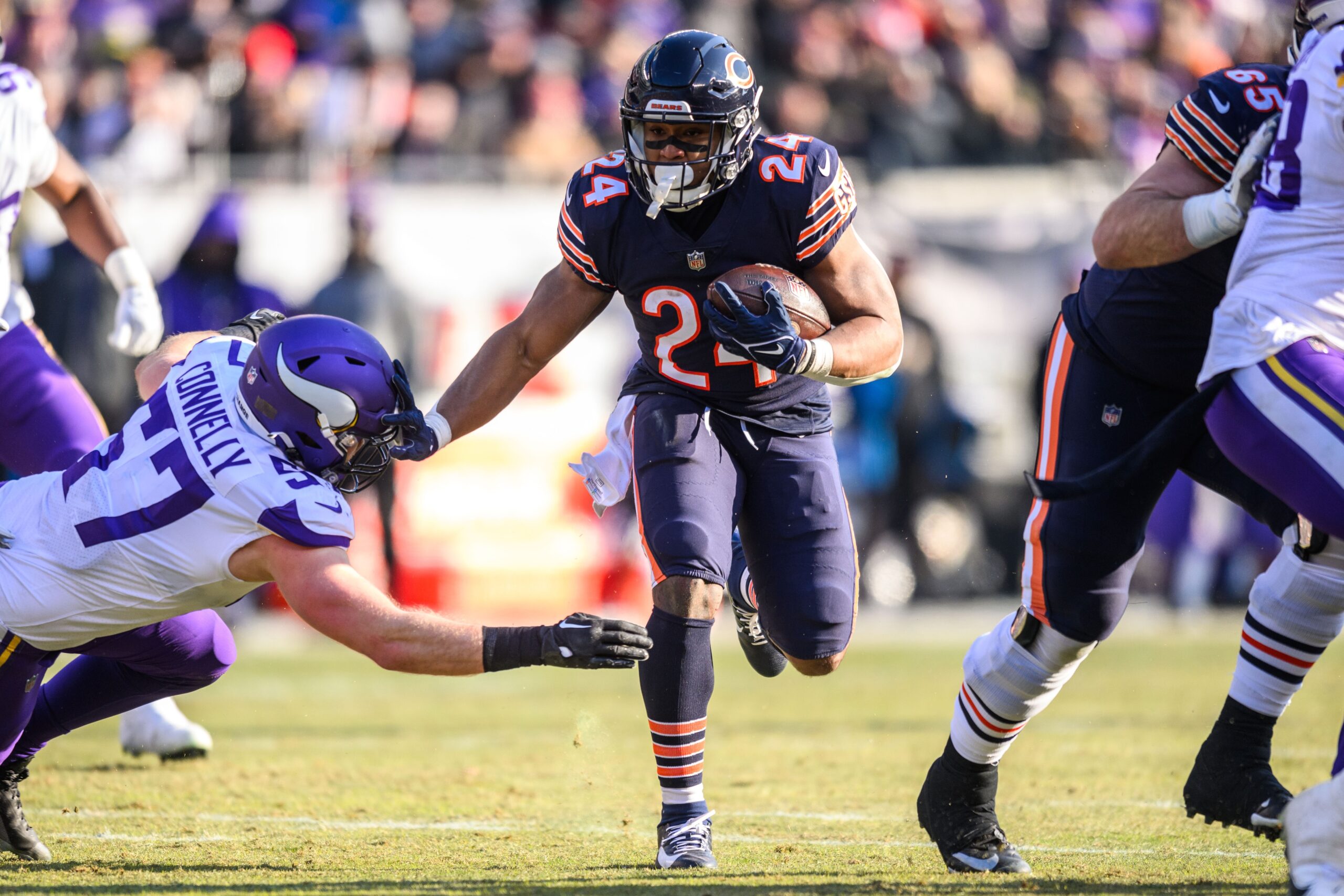 Is Chicago's Offensive Line Set?
The Bears' offensive line figures look quite different in 2023. Although Chicago only added two new players up front, several other projected starters are switching positions.
Braxton Jones, last year's fifth-round steal of a left tackle, will be the only player remaining in the same spot year-over-year. At right tackle, the Bears will deploy rookie Darnell Wright, whom they selected out of Tennessee after trading back one spot in the first round.
MORE: How the Chemistry Between Justin Fields and DJ Moore Can Work for the Bears
"(Wright) has put some really good stuff on tape from college," offensive line coach Chris Morgan said after the draft. "He knows what he's doing. The game is kind of slow for him. That's one of the things we really liked about him.
"Some guys, when the ball is snapped, they just play. Things look slow for him. He puts his hands where he wants to put them. He's very controlled in his sets. He's got good tempo. He does some really nice things."
Meanwhile, Chicago will insert veteran Nate Davis at right guard after he signed a three-year, $30 million deal. Davis' addition will force Teven Jenkins — a former second-round pick who thrived after moving inside — to left guard. Cody Whitehair, the longest-tenured player on the Bears' roster, is scheduled to slide back to center after not having played there full-time since 2018.
Where Will the Pass Rush Come From?
The Bears have spent much of the offseason attempting to rectify a defensive unit that ranked dead last in scoring and efficiency last season. They used early draft picks at defensive tackle and cornerback and spent heavily to sign free agent linebackers Tremaine Edmunds and T.J. Edwards.
The one area of the defense that hasn't been addressed? Defensive end.
Sure, Chicago signed veterans like DeMarcus Walker and Rasheem Green to help fill out the roster. And they can hope that young players like Trevis Gipson or Dominique Robinson can show signs of progression. But given that the Bears managed the second-lowest pressure rate (15.9%) in the league in 2022, they could stand to make another addition.
Luckily, high-quality free agent defensive ends are still available on the board. Veterans like Jadeveon Clowney, Yannick Ngakoue, Justin Houston, Frank Clark, and old friends Robert Quinn and Leonard Floyd are freely available. It shouldn't be a surprise if Chicago signs a member of that group in the coming weeks.