They didn't have much choice in the matter, but you have to imagine the Kansas City Chiefs weren't happy to lose Tyreek Hill to the Miami Dolphins. It's always difficult to let go of such a great player. However, there is one Chiefs player who will benefit from Hill's departure: Mecole Hardman, who has been a high-caliber backup in Kansas City for the last several seasons. Let's look at the advanced metrics to see if he can step up and fill the massive void left by Hill's departure.
Hardman's advanced metrics were even better than his traditional numbers
Hardman doesn't get as much media coverage as his more famous teammates like Hill, Travis Kelce, or especially Patrick Mahomes. However, even with Hill and Kelce each getting well over 100 targets last season, Hardman still totaled 693 receiving yards and 2 touchdowns. He also added 121 yards and a touchdown in the playoffs. Those are great numbers for a receiver playing third fiddle in his offense.
While Hardman had a larger impact than your average backup, it seems reasonable to suppose that he could have done better in a more prominent role — the kind of role he might have next season.
To help us gauge his impact on the Kansas City offense last season, let's use the Offensive Value Metric (OVM). The OVM is a grading system created by the (Bx) Movement to evaluate players based on how much of their statistical production they were actually responsible for.
Hardman earned the fourth-highest OVM grade of any wide receiver in 2021, at 36.14.
The Chiefs actually had several high-quality role players last season. Hardman wasn't even the highest-graded receiver on his team; that was Byron Pringle, with a grade of 39.32. Interestingly, both Hardman and Pringle ranked above Hill, though he wasn't too far behind them. He ranked 16th with a grade of 34.27.
Regardless, it's clear that Hardman was an incredibly valuable component of the Chiefs' offense. And given a larger role, he might be able to do even more.
Examining Hardman's weekly grades
To help us get a better look at Hardman's impact, it will help to look at how his performances changed from week to week.
You can see his weekly grades in the chart below, marked by the black dots. For comparison, the yellow line represents the average grade for wide receivers last season.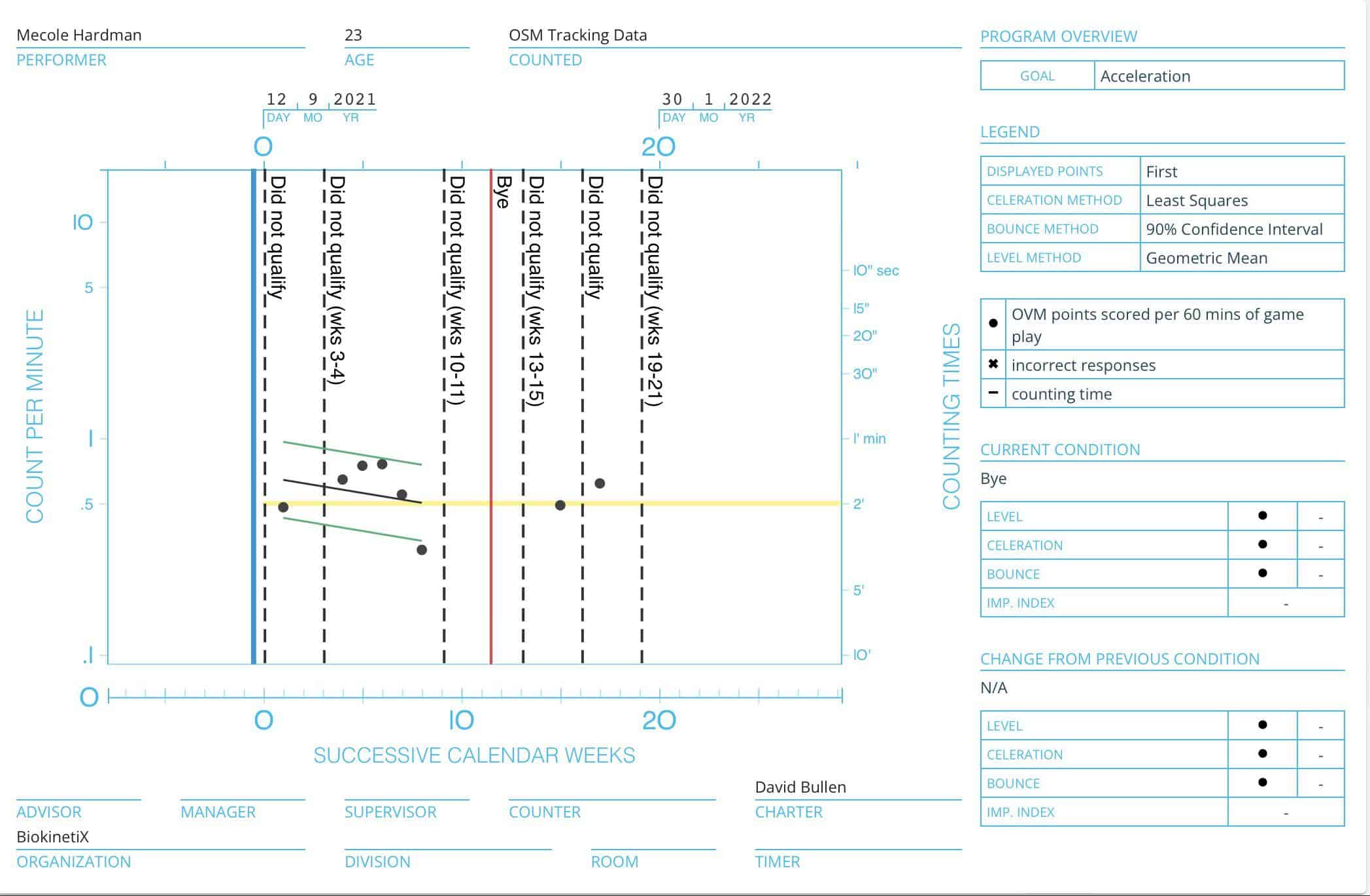 As you can see, the majority of Hardman's grades were above the league average. Even his worst grade of the season, an 18.28-point performance in Week 9, wasn't that bad. That game also appears to be the exception; it was a full 10 points lower than Hardman's next-lowest grade.
Across the season, Hardman had more grades above 40 points than below 20, which is an excellent ratio. On the whole, Hardman turned in consistently above-average performances.
The advanced metrics behind Hardman's grades
To understand why the OVM graded Hardman so highly, we need to look at the advanced statistics behind his grades. In Hardman's case, his worst statistic was his catch percentage. He caught 71.08% of his targets. However, while it is technically the worst of Hardman's numbers, it still ranked fifteenth in the NFL.
Hardman's other statistics, meanwhile, were genuinely excellent. First is his ability to create separation. He averaged 4.1 yards of distance from the nearest defender when targeted, tied for second in the NFL.
However, the impressive nature of that statistic is somewhat reduced by the fact that he was given more separation than almost any other wide receiver — 6.8 yards on average when targeted.
Hardman's best feature, though, was his ability to create extra yards with the ball in his hands. He ranked second among all players with an average of 8.8 yards after the catch. His achievement is made more impressive when you consider that, according to the NFL's projections, that number was 2.2 yards higher than expected, a differential that ranked sixth in the league.
Hardman can be a star
Replacing Hill isn't as simple as giving Hardman or some other player more targets. A significant portion of Hill's impact can't be seen on a stat sheet, and expecting Hardman to replicate that isn't reasonable.
Still, it will be exciting to see Hardman in an expanded role. He is obviously talented and earned some truly fantastic statistics last season. Even though the team overall looks worse without Hill, his departure might allow for the emergence of a new star in Kansas City.