The Philadelphia Eagles have the worst record of any of this year's playoff teams, and on paper, have the worst team to reach the postseason, aside from the Pittsburgh Steelers, who needed a miracle to get even this far. Now, the Eagles have to play against the defending Super Bowl champions, the Tampa Bay Buccaneers. Many aren't giving Philadelphia a chance. But the numbers suggest that Eagles QB Jalen Hurts might be able to lead his team to an upset.
Jalen Hurts is an unspectacular passer
It doesn't take an expert to recognize Hurts' limitations as a passer. During the regular season, the Eagles QB threw for 3,144 yards, 16 touchdowns, and 9 interceptions. Hurts did miss a pair of games this season, but even had he been available for them, he still wouldn't rank highly compared to the NFL's best players at his position.
He certainly can't compete in this area with his opponent on Sunday, Tom Brady, who leads the NFL in passing yards and touchdowns.
The OVM further highlights Hurts' inconsistencies
To further examine Hurts' passing performance from the regular season, let's turn to the Offensive Value Metric (OVM). The OVM is a grading system created by the (Bx) Movement to measure how much of a player's statistical production they were actually responsible for.
This season, Hurts earned a grade of 21.3. That ranked 23 out of 39 qualifying quarterbacks during the regular season. On the whole, he was a below-average passer.
The advanced metrics behind Jalen Hurts' grades
To understand why Hurts earned a relatively low OVM grade, we need to examine the advanced metrics involved in calculating it. Hurts' worst metric is completion percentage; he is completing 61.3% of his passes, 10th-worst among qualifying quarterbacks. According to the NFL's projections, that number is 0.2% lower than expected.
That's not ideal, but Hurts' low percentage is partly the result of the Eagles QB attempting relatively difficult passes. His throws are traveling an average of 9 yards past the line of scrimmage, tied for fourth-highest in the NFL. That number is 6.4 yards on his completions, tied for seventh. He is also throwing into tight windows on 16.2% of his attempts, which is higher than about half of the NFL's other quarterbacks. Even with those qualifiers, though, Hurts simply isn't efficient enough as a passer for the OVM to grade him highly.
Inconsistencies provide a reason for optimism
Looking at Hurts' overall numbers paints a grim picture for the Eagles' chances on Sunday. However, it isn't all doom and gloom for Philadelphia. Take a look at the Eagles QBs' weekly grades, marked by the black dots in the chart below. For comparison, the yellow line represents the average OVM grade for quarterbacks this season.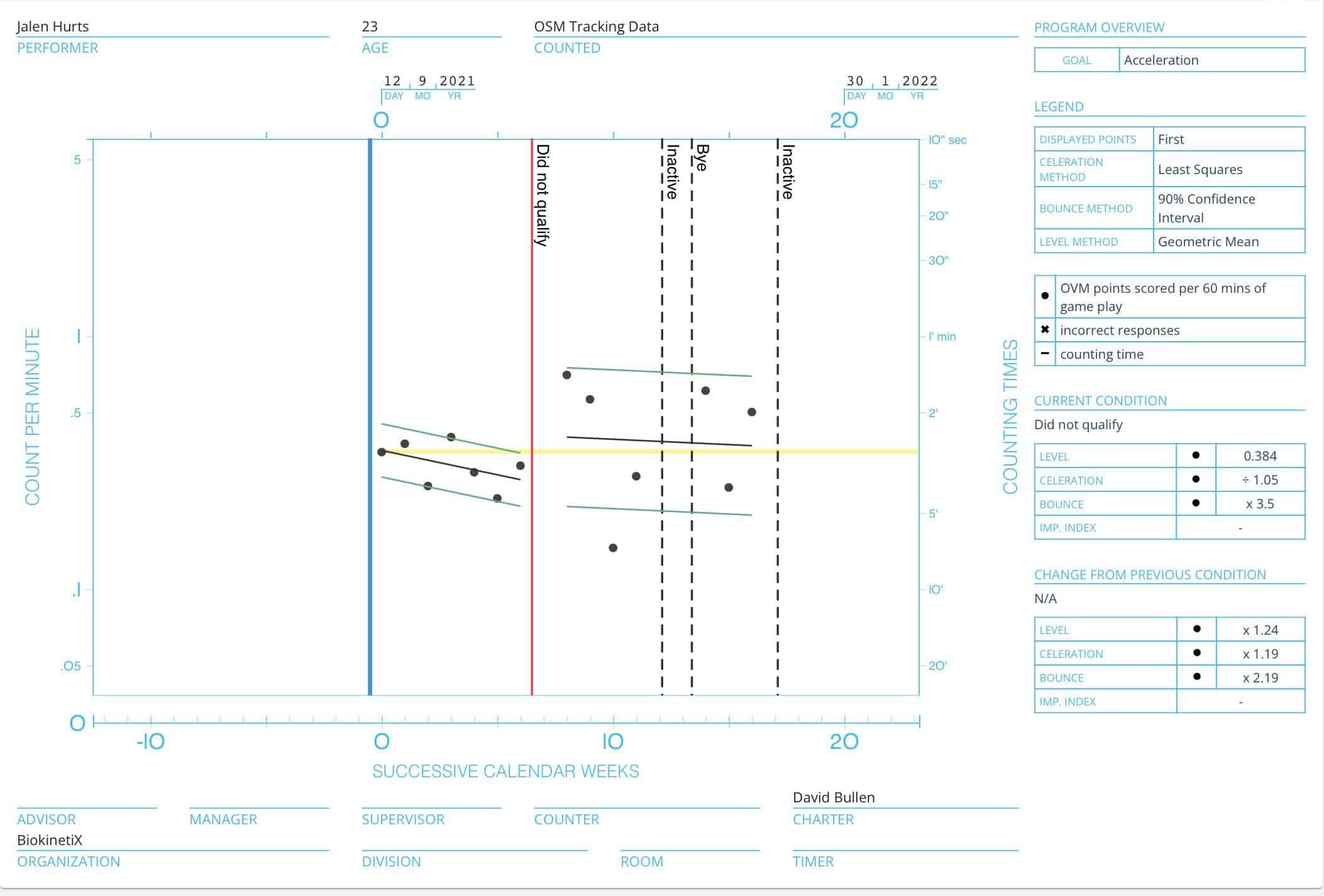 Early in the season, Hurts' grades were consistently mediocre. That includes a grade of 13.7 in Week 6 against the Buccaneers. However, after not throwing enough passes to qualify for a grade in Week 8, Hurts' grades began to swing dramatically. And while that resulted in some dreadful passing performances, Hurts also had several standout games. His grades ranged from a low of 8.73 in Week 11 to 42.11 in Week 9.
If Hurts was consistently mediocre, there wouldn't be much reason to think he would do better in a second attempt against Tampa Bay. But if he can play close to his peak, Hurts could find success against a Buccaneers pass defense that only ranks 21st in passing yards allowed.
Will Hurts gain yards on the ground?
For all of Hurts' flaws as a passer, he is one of the NFL's premier running quarterbacks. During the regular season, he led the position with 784 yards and 10 touchdowns.
You might think he would have an arduous task against the Buccaneers, who have allowed the third-fewest rushing yards in the NFL going into the postseason. However, there are a few reasons why Hurts might find success.
First, Tampa Bay's run defense hasn't been as impenetrable in recent weeks. They started the season incredibly strong, allowing just 229 rushing yards over the first five weeks, an average of just 45.8 yards per game. That includes holding the playoff-bound New England Patriots to -1 yard in Week 4. Since then, though, they've allowed opposing offenses to rush for 112 yards per game, with their opponents reaching 150 yards on three separate occasions.
Second, Tampa Bay hasn't faced many rushing QBs this season. And on a few notable occasions, they've allowed big days on the ground. Josh Allen ran for 109 yards and a touchdown against them in Week 14. Hurts, in the previous game between Tampa Bay and Philadelphia, gained 44 yards and a pair of touchdowns on the ground. If Sunday's game continues these trends, Hurts should find room to make plays with his legs once again.
Can play the hero on Sunday
Having an inconsistent quarterback hurts a team's chances of success in the long run. But if that player's peak is high enough, and they reach it at the right time, their team can make deep playoff runs.
That's how Eli Manning, Joe Flacco, and the Eagles' own Nick Foles all ended up with Super Bowl rings. None of them were consistently great, but they played well enough over brief periods to reach the promised land.
These Eagles likely don't have the firepower to make a run at the title even if Hurts plays his best. Nevertheless, an upset over Tampa Bay shouldn't be out of the question. It all depends on which version of Hurts we get.