What will Week 2 of the 2023 college football season bring for the Big Ten's top 2024 NFL Draft prospects? Here's a look at some of the most pressing matchups on deck and which games deserve the most attention.
Big Ten Players To Watch in Week 2
Wisconsin RBs Braelon Allen and Chez Mellusi
The Wisconsin Badgers have a true two-headed monster at RB with Braelon Allen and Chez Mellusi. In Week 1 against the Buffalo Bulls, Allen and Mellusi combined for 298 yards and four touchdowns on 30 carries, splitting those stats almost evenly.
It's worth noting that Wisconsin's offensive line — which includes 2024 NFL Draft prospects like Jack Nelson and Tanor Bortolini — does a lot of the dirty work. But Allen is an absolute bulldozer in space at 6'2″, 245 pounds, and Mellusi is a compact, well-built back with impressive burst, contact balance, and lateral agility.
Both Allen and Mellusi grade out as draftable prospects on my board, and they'll have a tough test in Week 2. This week, the Badgers play the Washington State Cougars. Washington State has talent at every level, but the main adversary will be safety Jaden Hicks.
Hicks — who stands around 6'3″, 201 pounds — made his mark in coverage in Week 1, nabbing a pick-six and two deflections. But with his size, play strength, closing explosiveness, and angle awareness, he's just as dangerous in pursuit and in run support.
Wisconsin's offensive line should help Allen and Mellusi reach the second level fairly consistently, but getting past the rangy Hicks will be easier said than done. Allen will need to use his dominating leg churn to get free, while Mellusi's creative instincts loom large on his reps.
Nebraska QB Jeff Sims
You can't mince words: It wasn't a great debut for Jeff Sims at Nebraska. In Week 1 against Minnesota, Sims completed 11 of 19 passes for 114 yards, a trick-play touchdown, and three interceptions — one of which directly led to Minnesota's game-winning field goal.
Sims did rush for almost 100 yards, showing off his creation capacity and value as a runner, but his work in the passing game is still very rough. Sims stared down targets, struggled to anticipate consistently, and was very unsteady outside of the quick game.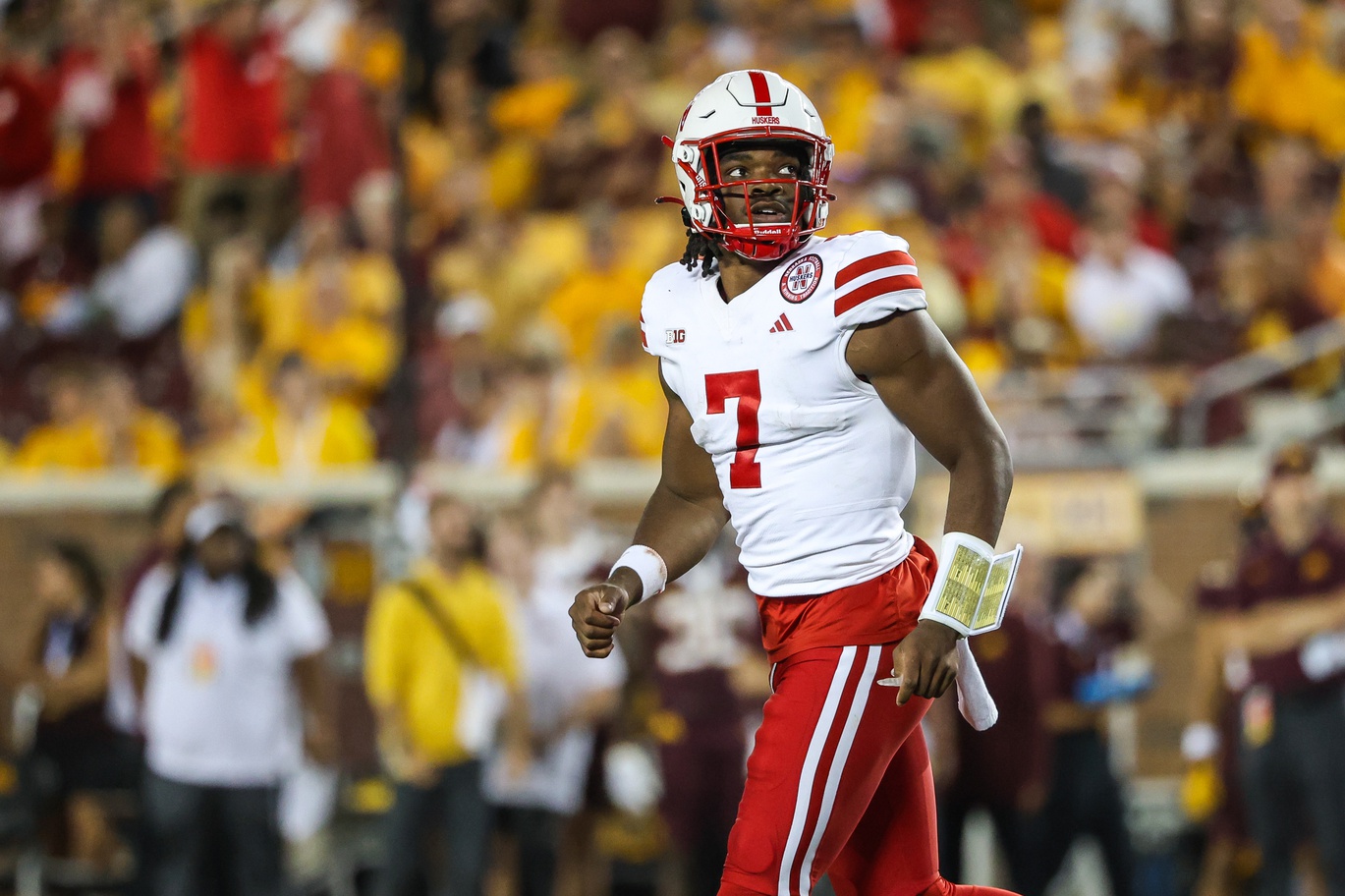 Minnesota's defense is superb — with top prospects like Tyler Nubin — but Colorado's defense won't pose the same threat in Week 2. Yet, it'll be just as difficult for Sims to keep up with the Buffaloes' explosive passing offense, led by Shedeur Sanders and Travis Hunter.
Sims will need to up his game in-structure if he wants to give Nebraska a fighting chance. If he can maintain his composure in the pocket more consistently, he has the arm talent and quick release to keep things moving.
Iowa CB Cooper DeJean
Iowa and Iowa State both had easy matchups in Week 1 with Utah State and Northern Iowa. But the battle for the Cy-Hawk Trophy is always hotly contested. And particularly on defense, the Hawkeyes will need their top players to be on their A game.
The Hawkeyes' top 2024 NFL Draft prospect, in particular, might have a lot on his plate in both phases. The Cyclones, with tumult at QB, ran the ball 27 times in Week 1, but they also have a dynamic WR threat in Jaylin Noel, who can be a handful with his explosiveness and twitch.
Cooper DeJean, at 6'1″, 207 pounds, has already proven himself to be an asset in run support with his size, strength, awareness, and gap discipline. And in coverage, his gliding athleticism, spatial awareness, and ball skills stand apart. He may be asked to help keep the Cyclones' gains to a minimum in both phases this week.
Purdue WR Deion Burks, CB Markevious Brown
The loss to Fresno State wasn't an ideal outcome in Week 1 for the Purdue Boilermakers, but they did experience a few standout performances at the skill positions — one from wide receiver Deion Burks and one from cornerback Markevious Brown.
Brown, an Ole Miss transfer, got burned a couple of times in coverage, but he was very active all day, securing nine tackles, a tackle for loss, and a pass breakup. Brown is wiry at 6'0″, 170 pounds, but extremely fast and physical in support, and his closing speed showed up in off-man alignments at times as well.
Given Purdue's history of NFL WR production, Burks is even more intriguing as an emerging prospect. He caught four passes for 152 yards and two scores in Week 1, including a long TD on which he showed off crisp separation ability, natural catching instincts, explosiveness, and size-defying contact balance for his 5'11", 185-pound frame.
Both players will draw tough matchups in Week 2 against Virginia Tech. Burks could see either Derrick Canteen or Dorian Strong, depending on where he lines up. And Brown will face off against Ali Jennings — a contested-catch savant who can outmatch DBs with his body control and focus.
Maryland OT Delmar Glaze
On the surface, Maryland should have an easy run in Week 2 against the Charlotte 49ers. But if Maryland isn't able to take control of the game script early, Charlotte's talented pass-rushing unit could give the Terrapins trouble.
Within that outcome, there's an intriguing prospect matchup at hand between Maryland tackle Delmar Glaze and edge rushers Eyabi Okie and Demon Clowney.
MORE: FREE Mock Draft Simulator With Trades
Okie and Clowney are both former highly-touted recruits who stood out in their Charlotte debuts last week. Clowney logged a half-sack, while Okie — a 6'5″, 250-pound athletic freak — notched a sack and two tackles for loss.
Glaze is a massive multiphase blocker at 6'5″, 328 pounds, who flashes good lateral athleticism. He's also extremely powerful with his punches, and he can render rushers into submission with combative hand usage while matching to the apex. If he can direct Okie and Clowney in both phases, it'll be a statement.
Listen to the PFN Scouting Podcast
Listen to the PFN Scouting Podcast! Click the embedded player below to listen, or you can find the PFN Scouting Podcast on iTunes, Spotify, and all major podcast platforms.  Be sure to subscribe and leave us a five-star review! Rather watch instead? Check out the PFN Scouting Podcast on our Scouting YouTube channel.