The NFL Draft is where the dreams come true for every player hoping to embark on a pro career. Every college football prospect dreams of hearing their name called during the draft's seven rounds. Most of them probably dream of hearing their name called as a team's first-round draft pick. Unfortunately, most will not be drafted on Day 1, and many will be starting their careers as late-round draft picks.
Joining a team without the pedigree and security that comes with being a first-round pick can be daunting. Learning how to adjust to the NFL life, becoming accustomed to an NFL playbook and coaching staff, and doing it all with half the amount of coaching time the higher draft picks get.
So when a player who was a late-round draft pick goes on to have a stellar career, even a Hall of Fame career, it is, of course, noteworthy. Obstacles were overcome that high draft picks simply don't face. In fact, many of those high draft picks were leapfrogged by the late-round draft picks who found a way to beat the odds. Below is a list of the top five greatest late-round draft picks of all time.
Tom Brady: The Best Late-Round Draft Pick Success Story
Tom Brady was famously, and justifiably, the 199th pick of the 2000 NFL Draft. He was not a player teams "missed" on. By every available piece of information, Brady deserved to be drafted where he was. The sixth-round selection came to the NFL by way of the University of Michigan.
He played in 29 games and threw for 30 touchdowns against 17 interceptions combined over four years. By no means is that considered top-tier college production. He set no FBS records in college and was never considered a Heisman candidate.
His uphill climb to stardom became even steeper at the NFL Combine. By now, we have all seen the picture of Brady looking more like Lurch from the Addams Family than a first-ballot Hall of Fame quarterback.
He would end up running a 5.28 40-yard dash, which was the second slowest among every other quarterback who ran. His 24.5″ vertical jump was the shortest for any player at the Combine. His broad jump was the eighth worst of any player and second worst of any quarterback.
MORE: FREE Mock Draft Simulator With Trades
Needless to say, Brady did not have great college tape and was one of the least athletic NFL players the year he was drafted. Being taken at No. 199 is surprising only in that he was drafted at all. But, drafted he was.
The New England Patriots drafted him, and he served as Drew Bledsoe's backup up until the infamous concussion Bledsoe suffered at the hands of the New York Jets' Moe Williams. The rest, as they say, is history.
Brady would take over and help the Patriots win the Super Bowl that same year and then help the team win two of the next three Super Bowls after that. He then went more than a decade until his next championship in 2015, where he helped the Patriots win another three over a five-year span. Having been the quarterback for six Super Bowl championships, he was already the most decorated NFL QB in history.
Then he signed with the Tampa Bay Buccaneers, just as most of the league had begun to believe he was ready to be done. Yet, joining the offensively stacked Bucs, who loaded up even more by bringing in Brady's former weapons in Antonio Brown and Rob Gronkowski, led to one more Super Bowl championship.
With seven Super Bowl championships, Brady is undoubtedly the most accomplished NFL player in history and may never be caught. His rise from the No. 1999 pick NFL Draft is unrivaled and makes it one of the most improbable career arcs in sports history.
Some Other Late-Round Draft Picks That Changed the Game
Brady is not the only late-round draft pick to make an impact at the NFL level or even embark on a Hall of Fame career. The other four players on this top five list of best all-time late-round draft picks each had Hall of Fame careers and beat the odds to outperform the expectations placed upon them by their draft selection.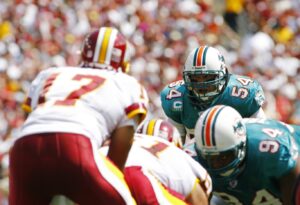 Zach Thomas, Miami Dolphins, (Fifth Round, Pick 154)
Zach Thomas has finally been voted into the Pro Football Hall of Fame. He was drafted in the 1996 NFL Draft by then-head coach Jimmy Johnson, who was also the person to let Thomas know he had finally been voted in. From 1996 to 2007, Thomas would have one of the most storied careers for any middle linebacker in the history of the league.
He was drafted later on due to concerns he was undersized. Yet, at the NFL level, he was a heat-seeking missile and posted over 130 tackles in 10 of his 13 seasons, leading the league in that category twice.
MORE: NFL All-Time QB Records
He was a five-time All-Pro, seven-time Pro Bowl selection, and finished in the top three in voting for Defensive Player of the Year three times. During his era, he was considered the second-best middle linebacker, behind only Ray Lewis.
Peyton Manning called him the toughest player he ever played against. Brady credited the Dolphins defense Thomas led as being the hardest he's ever faced. Hall of Fame center Kevin Mawae questioned in his induction speech why Thomas was not yet enshrined in Canton. There is no doubt Thomas is one of the best late-round draft picks of all time.
Jason Kelce, Philadelphia Eagles (Sixth Round, Pick 191)
Jason Kelce is a five-time first-team All-Pro selection over his 12-year career, which is still ongoing. He has been to the Pro Bowl six times and won a Super Bowl championship against fellow sixth-round selection Tom Brady in 2017. He has not missed a start since 2014 and is one of the most reliable team leaders in the sport.
Kelce famously encouraged Jalen Hurts to "own" the team en route to the Super Bowl appearance in 2022, showcasing his own leadership in the process. He has anchored some of the league's best offensive lines since coming into the league.
While he has contemplated retirement in the past, he is returning for his 13th NFL season. He has been an All-Pro selection in five of the last six seasons. He stands to go down as one the greatest centers of all time and is undoubtedly one of the best late-round draft picks of all time.
Terrell Davis, Denver Broncos (Sixth Round, Pick 196)
"TD," as he is affectionately called, is one of two Hall of Famers the Broncos drafted outside of the fifth round, joining Shannon Sharpe. Why is Davis on this list and Sharpe isn't? Davis did more in a shorter period of time. He also likely would have done even more if injuries had not stunted his career arc. There is no question he is one of the best late-round draft picks ever.
His first four years may be the greatest stretch any running back has ever had in NFL history. He ran for almost 6,500 yards and 56 touchdowns, was a two-time Offensive Player of the Year Award winner, helped win a pair of Super Bowls, and was the Super Bowl 52 MVP.
He was inducted into the Hall of Fame in 2017 after being on the ballot for 11 years. The only knock on him was longevity, but there are players who have played for much longer who couldn't dream of having the accomplished career Davis did.
Richard Sherman, Seattle Seahawks (Fifth Round, Pick 154)
Richard Sherman had quite an explosive career over 11 seasons, mostly spent with the Seattle Seahawks. Perhaps the most recognizable face from the Legion of Boom era, he was a three-time first-team All-Pro selection and five-time Pro Bowler.
He defined the underdog role as he routinely traded shots with the likes of Brady, Michael Crabtree, Darrelle Revis, and others as he became one of the most dominant corners of his era.
MORE: Oldest Drafted Players in NFL History
With 37 career interceptions and a Super Bowl championship, he has the hardware to warrant Hall of Fame consideration.
He would have had a second Super Bowl championship under his belt if not for the inexplicable play-calling of Seattle as they were one yard away from the game-winning score when Russell Wilson dropped back to pass rather than hand the ball to the bruising Marshawn Lynch.
Listen to the PFN Scouting Podcast
Listen to the PFN Scouting Podcast! Click the embedded player below to listen, or you can find the PFN Scouting Podcast on iTunes, Spotify, and all major podcast platforms.  Be sure to subscribe and leave us a five-star review! Rather watch instead? Check out the PFN Scouting Podcast on our Scouting YouTube channel.