One day after being held below 40 receiving yards for the second game in a row, Cincinnati Bengals wide receiver Ja'Marr Chase made a plea to be used differently in the offense.
Bengals WR Ja'Marr Chase Sounds Off on Offense
What would he like to see?
"Some go routes in there, just some downfield shots," Chase said. "Maybe we'll move me around some more, and we'll just see some adjustments. Who knows? I'm getting a lot of bubble screens, so definitely gotta take some more shots, like I just said."
Monday's comments were reminiscent of Chase's postgame news conference after his second career game — a Week 2 loss at Chicago in 2021 when he had two catches for 54 yards.
"We waited (until) last minute to take shots," Chase said after that 20-17 loss. "We knew they were sitting the whole game. We've got to capitalize on the stuff we see early in the game."
Chase had five catches for 31 yards in Sunday's 27-24 loss to the Ravens. That was the fourth-lowest yardage total of his career, and it came on the heels of a five-catch, 39-yard game in the season-opening loss at Cleveland, which marked Chase's seventh-lowest yardage total.
Only one of Chase's 10 receptions this season has been caught more than five yards beyond the line of scrimmage. Four of the 10 have come behind the line of scrimmage.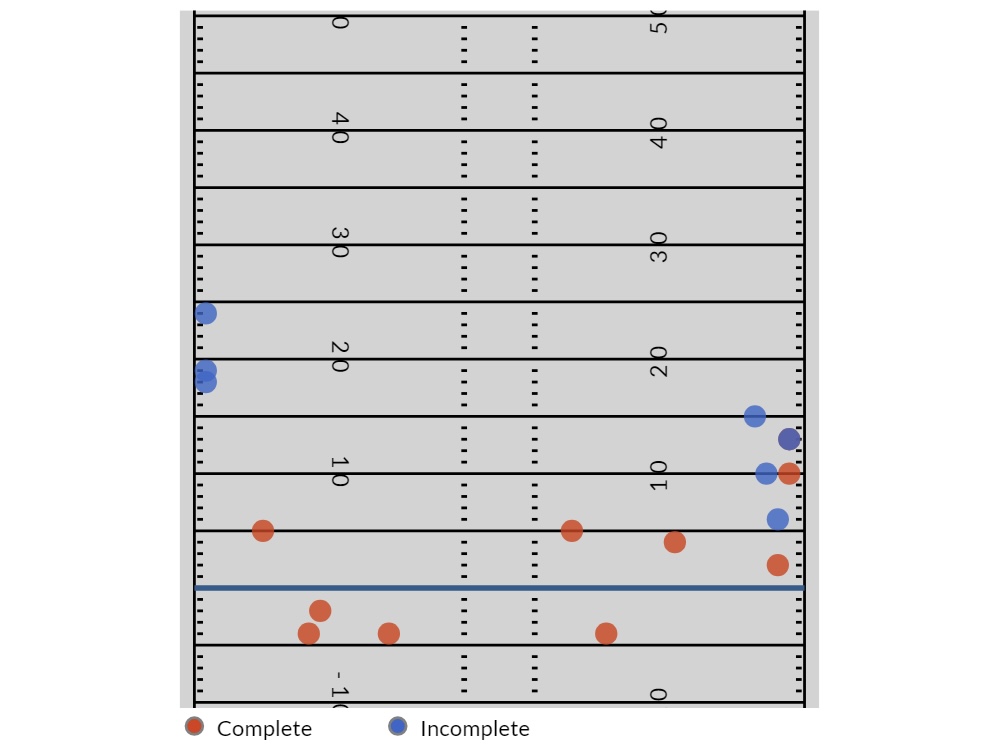 Informed of Chase's comments, which came about a half hour before head coach Zac Taylor held his weekly Monday news conference, the head coach said:
"As a player, you want the ball, especially when you're a great player. And that's what I appreciate about our guys, is they always want the ball in small moments, in big moments. That's always going to be a challenge when you have the talent that we have on the team, is finding ways to utilize everybody to their best so we can football games."
"And that's what we felt like we did yesterday," Taylor continued. "Ja'Marr's made a lot of plays down the field for us. Baltimore knows that, and they're gonna do everything they can to prevent that."
This is the slowest two-game start of Chase's career. He had 155 yards and two touchdowns of 50 and 42 yards in his first two games as a rookie. And he had 183 yards through the 0-2 start last season.
Some of #Bengals WR Ja'Marr Chase's comments today asking to open up the offense.

He also said, "We gotta take more deep shots down the field. That's why we have deep-threat guys." pic.twitter.com/FB9TZ9htSD

— Jay Morrison (@ByJayMorrison) September 18, 2023
The big difference between last year and this year is that quarterback Joe Burrow is compromised with a calf injury. But Chase said they can still make it work.
MORE: Week 3 NFL Power Rankings
"He could be a pocket passer and still be explosive, so I mean, that's just him extending a play and making a play," he said. "We really haven't taken that many shots downfield. If you look at the last two games, you don't really see that many shots downfield. We gotta take more shots downfield. That's why we have deep-threat guys. Take a chance."
Listen to the PFN Bengals Podcast
Listen to the PFN Bengals Podcast! Click the embedded player below to listen, or you can find the PFN Bengals Podcast on iTunes, Spotify, and all major podcast platforms.  Be sure to subscribe and leave us a five-star review! Rather watch instead? Check out the PFN Bengals Podcast on our NFL YouTube channel.