Day 10 of Cincinnati Bengals training camp featured one of the shortest practices yet, and it was one heavy on special teams, with the preseason opener set for Friday against the Green Bay Packers.
Cincinnati Bengals Day 10 Practice Reports
One of the drills the team worked on was running the field goal team on with a running clock. It's something they've executed a number of times during special teams coordinator Darrin Simmons' 2+ decades in Cincinnati, especially during kicker Evan McPherson's rookie season in 2021.
"It's not just for the specialist to understand how it works; it's important for the whole team — offensively and defensively," Simmons said.
"We had a bunch of those plays that came up in the '21 season. Really almost every one of Evans' game-winning kicks came down to some type of situational things like that. Even though they may seem minor to the fan, it's really comforting to know that everybody's on the same page so we can execute those things flawlessly."
In the Divisional Round battle at Tennessee, it was Joe Burrow diving into the line to get the ball on the right hash. In the AFC Championship victory at Kansas City, it was kicking the game-winner on third down in case something went awry. And in the season opener, it was running the clock down in overtime and having Burrow spike the ball to leave minimal time in case there was a miss.
"Those are all things we practice," Simmons said. "It's just comforting when those things happen to not have pandemonium on the sideline."
There weren't as many game-winning opportunities for McPherson in 2022, but Simmons labeled his season as solid as McPherson went 24 of 29 on field goals after making 28 of 33 as a rookie, including 9 of 11 from 50 yards and beyond.
"It wasn't spectacular," Simmons said of McPherson's 2022. "It was OK. I want him to continue to progress up. I view him as one of the top young guys in the league. He needs to do all the things that it takes to become that top guy, and I think that's still part of the learning process for him."
That's why even though McPherson's job is secure based on his track record and the fact that there isn't another kicker in camp, Simmons still sees a lot of value in getting McPherson some field goal opportunities in the preseason.
"It's always important to be forced to hit those kicks in preseason games. It's how he handles it, but it's also confidence for me. If you'll remember, we hit a couple of long ones (last year) in our first preseason game (56 and 58 yards).
"Then in the opener against Pittsburgh, he hits from 59. So that gives me the confidence to go ahead and pull the trigger and do it when I've seen it happen in games. I can see all I want out here in practice. He needs all the plays he can get still."
Fight Recall
With the joint practice with the Packers up next on the schedule, Bengals players have been asked questions about last year's sessions with the Rams, which devolved into a helmet-swinging melee that ended the second practice early.
"We were kind of asking for it with the matchup we had last year, right?" right guard Alex Cappa said, referencing the Super Bowl rematch with the Rams. "Most years I've had joint practices, it's usually pretty good and always good work."
That fight, with Aaron Donald and La'el Collins being the central figures on the second of two days of joint practices, is the reason the Bengals and Packers are only doing one practice this week.
One player in the Bengals locker room who had a different perspective on last year's brawl is safety Nick Scott, who played for the Rams from 2019-2022 before signing with the Bengals in March. Scott said he knows joint practices can get physical, but the helmet swinging was too much.
"I was a huge advocate of ending the fight at that point," Scott said. "It was like, 'this is about to get really dangerous.'"
Scott's recollection of the moment is limited to what he's retained because the practice video available for the players cut off as soon as the play that led to the fight had ended.
"It's not good for the league," he said. "They didn't want guys overly excited about fights. You don't want clips of it ending up on Twitter or anything. I thought it was a smart move on their part."
Scott said Rams head coach Sean McVay wasn't overtly angry, but he was disappointed by both what happened and the fact that it cost the team some valuable reps.
"We came all this way, and we didn't get as much work as we wanted to because we couldn't be adults and play football," Scott said.
Rookie Returns
Charlie Jones was back to work Monday after missing two practices with a left shoulder injury, but it's unclear how much he will participate in the joint practice with the Packers or whether he'll play Friday night.
The rookie fourth-round pick was in the rotation on punt returns, but he only did wide receiver work against air. Still, he was in good spirits to be back so soon.
"For me, it was a win to be out there today," Jones said. "Hopefully, I can do a little bit more (Wednesday)."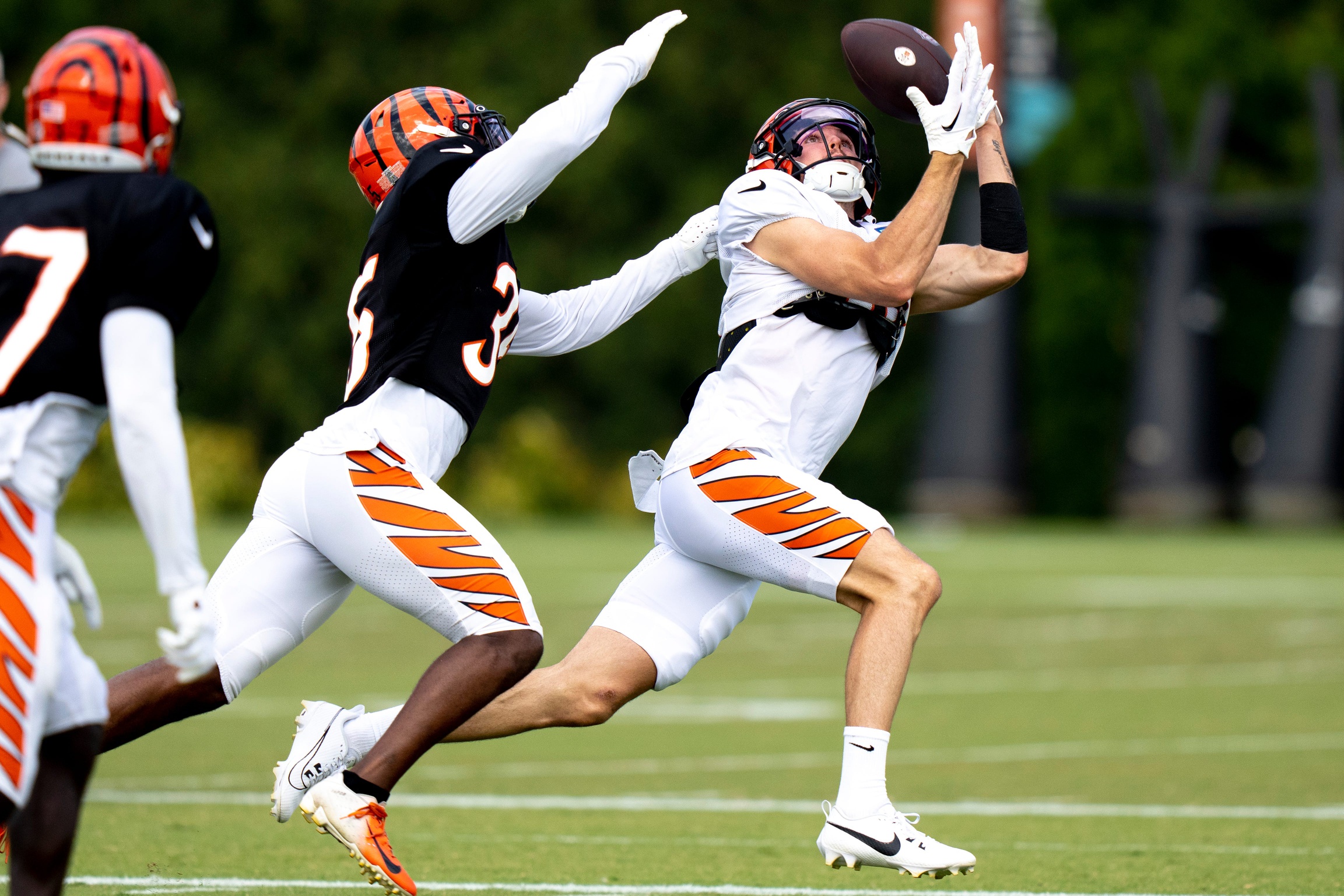 The injury came one play after Jones' best play of camp, when he got behind the defender on a deep ball up the sideline, hit a late gear to accelerate, and caught the pass going to the ground. It initially appeared it was that contact with the ground that caused the labrum injury, but Jones said he didn't feel anything until the next play when a defender swiped his hand during the route.
"Maybe it started on the play before, but it was the play after that really did it. But I didn't feel anything on the long catch."
Jones said the only injury he had in college was when he tore his right labrum in spring ball in 2019.
"I haven't missed a game since that, so hopefully, I can keep that going," he said.
Odds and Ends
One of the periods in Monday's lighter practice featured one-on-one pass-rush drills for the running backs and tight ends. Rookie fifth-round pick Chase Brown won the majority of his reps, while Joe Mixon also performed well, scoring wins against Logan Wilson and Germaine Pratt. But Markus Bailey got by Mixon on a rush late in the drill.
Rookie third-round pick Jordan Battle had an interception against Devin Asiasi in a one-on-one drill.
The only full-team period was another unscripted move-the-ball session, with Trevor Siemian taking the first reps at quarterback. After a pass to Irv Smith Jr. set up 3rd-and-1, Siemian threw a quick strike to Ja'Marr Chase, but cornerback Cam Taylor-Britt denied him the first down.
Jake Browning converted the first set of downs for the second team, hitting Stanley Morgan for a first down on 3rd-and-4. On the next play, he hit rookie Andrei Iosivas on a deep pass where the receiver went up and high-pointed the ball despite tight coverage from rookie DJ Turner.
Andrei Iosivas with a leaping catch of a Jake Browning deep ball against DJ Turner on final play of 11s.

Wrote earlier today about why Iosivas shouldn't sweat making the 53:https://t.co/X85fvYSCb3 pic.twitter.com/PWDUGtK0MD

— Jay Morrison (@ByJayMorrison) August 7, 2023
Alex Cappa sat out most drills again Monday after experiencing a strain that offensive line coach Frank Pollack called "a little strain" and "no big deal."
Punter Brad Robbins had a great day — save for one shank — drilling long, high punts that consistently were taking the returners right to the edge of the sideline.
Cornerback Chidobe Awuzie found another way to get in some field work by returning "kickoffs" in the vice-tackling drill.
In a roster move, the Bengals placed undrafted free agent Devonnsha Maxwell on injured reserve with a right knee injury, ending the defensive tackle's season.
Listen to the PFN Bengals Podcast
Listen to the PFN Bengals Podcast! Click the embedded player below to listen, or you can find the PFN Bengals Podcast on iTunes, Spotify, and all major podcast platforms.  Be sure to subscribe and leave us a five-star review! Rather watch instead? Check out the PFN Bengals Podcast on our NFL YouTube channel.