The college football (CFB) season is on its downturn and the regular season is almost over as we turn a new page to a week that is headlined by rivalries. Ole Miss and Mississippi State already proved just how heated rivalry games can be, and that they can have significant implications towards a player's draft stock. Thus, with more than a few high marquee matchups upcoming this week in CFB Week 14, there are a host of implications for players involved.
For example, Ohio State and Michigan will face off this week, and certainly, NFL scouts will have their eyes peeled to numerous prospects. These include the consensus number one overall player in the college football world right now, Chase Young. Wisconsin and Minnesota go at it up in Minneapolis, and it could be star running back Jonathan Taylor's last regular-season college football game. And since there are still spots open for the Senior Bowl and other bowl games where prospects can showcase their skills, these games can mean a lot for a lot of players looking to continue at the next level.
Matchup to Watch: Ohio State CB Jeffrey Okudah vs. Michigan WR Donovan Peoples-Jones
This seems like one of those matchups that everyone is looking forward to at this moment, and it is not just draftniks that are highlighting this matchup. Jeffrey Okudah has made a name for himself as perhaps the best cornerback in all of college football while Donovan Peoples-Jones is a former highly touted recruit and widely known receiver, even in Michigan's loaded receiving corps.
Okudah is at this point a consensus top-10 player on many big boards while Peoples-Jones has slid into the background and become somewhat of a sleeper in the draft analyst world. That does not mean he should be a sleeper, though, especially in such a deep wide receiver corps such as Michigan, Peoples-Jones might be the best out of all of them. And Okudah, who has two great running mates in Damon Arnette and Shaun Wade, is probably the best out of them as well.
For Okudah, it is plays like that which make him so good. He follows the rollout in pursuit of the play flow to the short side of the field, but the click and close on this route are fantastic. Okudah reads it right away and is in a terrific position to jump this crosser over the middle of the field because he reads this right away due to the route combination. Simply staying in the hip pocket and making the interception is the icing on top of it all.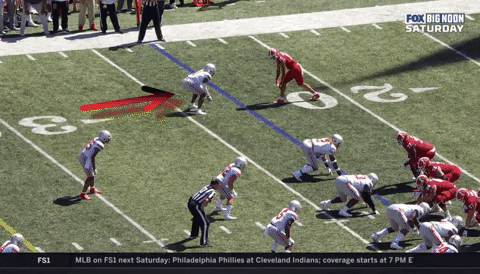 This is a peak Okudah play. He keeps his hips disciplined and mirrors every move this wide receiver makes and funnels him up to some help he has in the deep half of the field. That still does not deter him from staying right in the hip pocket here and making a great play the catch point, though. Okudah plays at the high point of the pass and plays through the receiver's hands, getting the ball out as a result.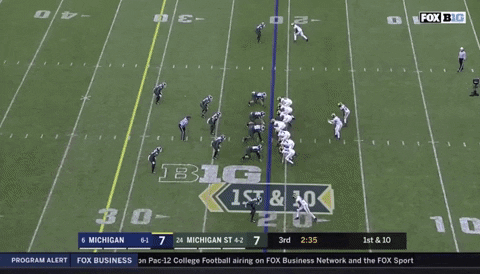 On the opposite end, there is a big reason why Donovan Peoples-Jones has gained his following in the draft community. A big reason is that Peoples-Jones has good size, but more so, his releases and footwork are top-notch. On the outside here, Peoples-Jones eats up the corner's cushion and gets on his toes to then makes a smooth cut toward the outside to gain the leverage. He then stacks the cornerback, and from there, all he has to do is break a tackle for an easy touchdown.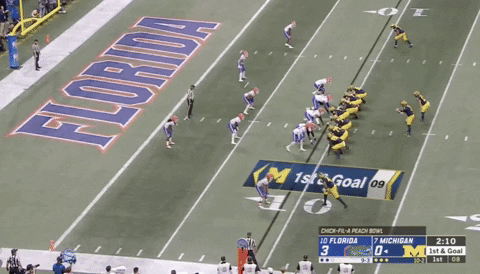 Similar play, but this is a one-on-one play in the end zone on a fade, and all Peoples-Jones has to open up here is a window for this ball to be fired in. He eats up that cushion and gets the back-shoulder window once he cuts outside. But his ability to eat up the cushion meant the cornerback had to respect the skinny post, and Peoples-Jones does a great job to open up this window. Thus, a great process to get this touchdown.
Player to Watch: Minnesota S Antoine Winfield Jr.
The Minnesota Golden Gophers are having an excellent cinderella season, even after their loss to Iowa, they are still in position for a trip to the Big Ten Championship and a true step in the right direction for this program in the Big Ten. One of the reasons they have been so good has been Antoine Winfield Jr. on the defensive side of the ball. Winfield Jr, who is the son of former Vikings cornerback Antoine Winfield, has been an absolute ballhawk and missile on the back end of the Golden Gophers defense.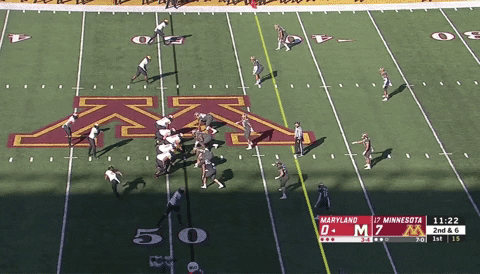 When you talk about playing fast, this is an excellent example of that. Winfield saw something pre-snap after the motion here. This could have been a quick hitter to the outside, but Winfield pre-snap got a running start to fly downhill and blow up this inside zone run. Maryland likes to run a lot out of this look, and I have a belief that this is indicative of great film study by Winfield.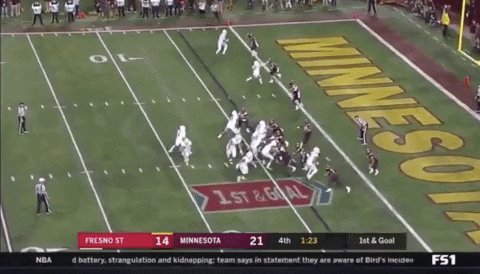 If you want to talk about ball skills, you will not get much better than this. Winfield starts heading towards the quarterback on this designed rollout, but the recognition and speed to get back and make an incredible interception is a top-notch play that not many prospects will make at this level. This is a highlight reel play that illustrates just how advanced Winfield is at this level.
Sleeper to Watch: San Jose State WR Tre Walker
He is only a Junior, but Tre Walker is already top ten in receiving yards on the year in an unheralded Spartans offense that produced Josh Oliver last year and looks to have even more talent. Walker is a guy who can play at the X-receiver or move inside to play some slot, but there is no doubt that his game is defined by the game-breaking speed that has made him one of the more dangerous deep threats around.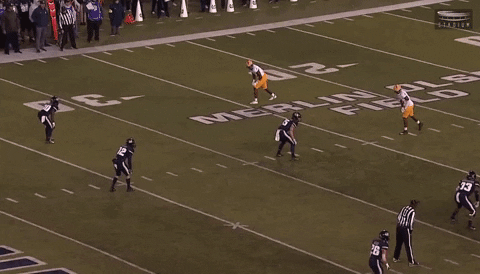 This is an example of just how dangerous Walker can be from any alignment. He works from the slot, but his sharp, defined routes that sell an outside stem and then fluidly cut back inside combined with his speed give him an undeniable advantage over any defensive back that tries to cover him. Walker understands the subtleties of being a deep threat, but even more important is that he uses deception to his advantage, just as he does above.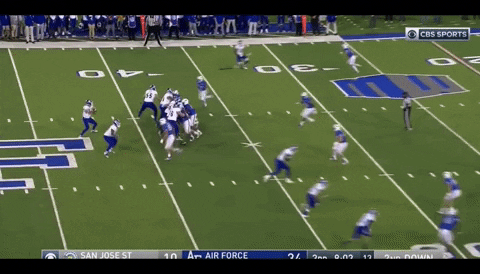 Walker combines that speed with notable yards after catch ability. He also returns punts, so this part of his game is not necessarily shocking, but it is still great to see that he can be used on screens or create yards for himself after catching the ball with his dynamic speed. Walker shows off some outstanding contact balance here, and with the hand on the ground, that shows he has reasonable body control as well. Walker has done stuff like this all year, and if he comes out, he could be a day three sleeper to watch.