With Week 12 behind us and the unfortunate revelation that Tua Tagovailoa's season is over, the College Football (CFB) landscape has been completely altered for the season. Even with Baylor and Minnesota losing to Oklahoma and Iowa, the college football playoff is completely wide open now that Alabama seems to have a taken a massive hit with Tagovailoa's injury, which will most certainly come into the discussion when Alabama's name is brought up as a possible playoff team in December. However, CFB Week 13 is now here, and there are a ton of games to take a look at this week.
For one, Ohio State and Penn State face off in a game that could very well decide who, if anyone, represents the Big Ten in the College Football Playoff when selection time comes around. Georgia faces off against Texas A&M, who have been resilient all season with a grueling schedule. Georgia running back D'Andre Swift is going to look to continue a season that is only cementing his status as a top running back prospect. Virginia Tech and Pittsburgh face off in a pivotal ACC Coastal matchup that could see the winner very well win the Coastal. Michigan and Indiana clash in the Big Ten in a contested battle as well.
Matchup to Watch: UCF WR Gabriel Davis vs. Tulane CB Thakarius Keyes
I understand this is probably not a matchup you were expecting me to pull from my sleeve. However, Keyes just got a Shrine Game invite, and this game could be massive for his draft stock with Davis ascending as a wide receiver prospect this season. As for Davis, Keys is a corner who is at least on NFL radars, and another excellent performance against a guy that the NFL has its eyes on is only good for further boosting his draft stock.
Keyes, who has some serious length at 6'1″, is going to have his hands full with the speedy and top-level deep threat that Davis already has revealed himself to be. I have already broken down Davis here on Twitter and shown off his deep threat abilities with great footwork and a great job of releasing off the line.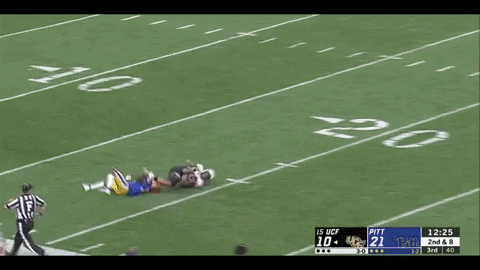 Here Davis is yet again winning deep, but this is not about what he does on the end of releasing off the line, but how he does a great job to fight off length and win at the top of this route. Not only does Davis shown off good burst and speed to burn right by this Pitt cornerback, but the subtle hand bat at the top of the route to allow him to fight back inside and stack this cornerback is a fantastic job to get open at the top of the route. This big play was all Davis and Keyes is a very similar cornerback to the one Davis beat here with his length.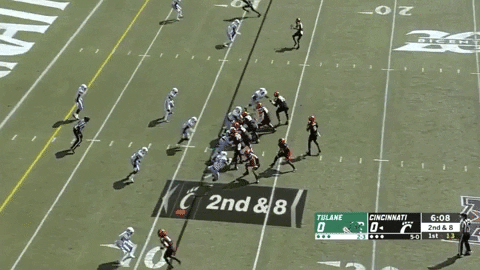 Keyes has some tremendous athletic and mental traits. The reason he can break on this slant is that he recognizes this slant right away with great click and close ability, but even more so, he has the explosiveness to get off of his feet and explode forward to come downhill and bat this away at the catch point. This is not a play every cornerback can make, but with good recognition skills and length, Keyes can make this play any day of the week.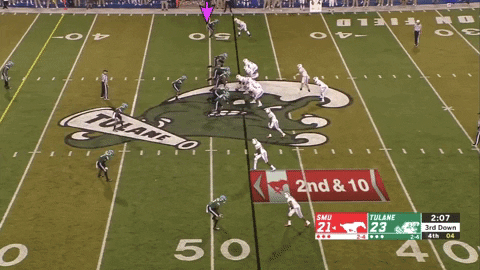 Even more so here, it showcases an issue that Keyes does have, which is his transitions. You can see how clunky he is with his footwork while getting back. That could be a sign of some hip tightness or be that he has to work on his footwork, but he does mirror this well aside from the inefficiencies he shows when coming back to this football. Keyes will need to be spotless to shut down Davis, and he will be pivotal in Tulane's hopes of winning this game.
Player to Watch: Georgia RB D'Andre Swift
There is a good chance that if your team needs a running back, you have heard of who D'Andre Swift is, especially after watching him torch Alabama last year in the SEC Championship game. Swift, who is the top running back on many draft boards, is a dynamic playmaker who gets to prove his worth as an all-around three-down running back again this week against Texas A&M. '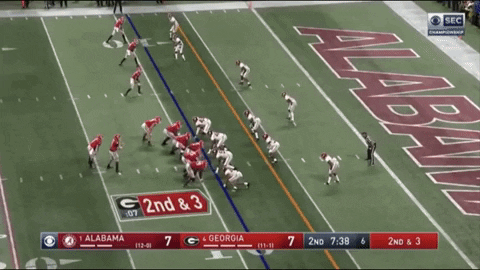 Plays like against Alabama are the norm on Swift's tape throughout his entire college career at Georgia. Georgia runs inside zone here, and Swift does a great job of keying onto the linebackers. There is a slight hesitation step as if he going to cut back to the left to freeze the defenders in their gaps, and then he uses his burst and elusiveness to get into the end zone on this play. Whether it is that little, sharp cut that is such a signature of his, or the proficient leg churn to get into the end zone, this is an all-around fantastic play by Swift.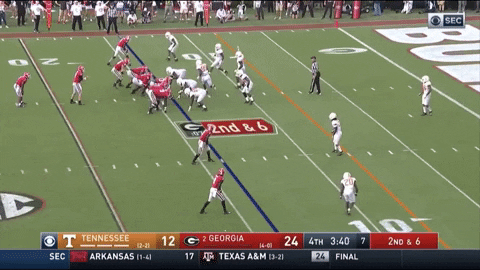 This one is far more of a vision run on an outside zone run. Swift sees nothing open to the short side of the field, but before cutting back towards the long side of the field, he takes two steps left to get the linebackers to key that way and turned that way towards the blocking scheme. He essentially opens up the cutback scheme, and from there, he does his magic in the open field. Swift has some of the best footwork, elusiveness, leg churn, and contact balance in this class, and it is why he is my top-rated running back in the 2020 class. Look out for this Saturday as he and Georgia face Texas A&M.
Sleeper to Watch: Pitt IDL Jaylen Twyman
There is a tremendous defensive line class in front of us this year, but even in the power five, there are some sleepers that are not getting the love that they truly deserve. Pitt's Jaylen Twyman is one of those, as he has racked up 9.5 sacks on the year and consistently disrupts pressure on a very underrated Panthers defense. Twyman is only a redshirt Sophomore, but from what he has shown thus far, Twyman could be well on his way to being a highly touted defensive line prospect once the NFL gets their collective eyes on him.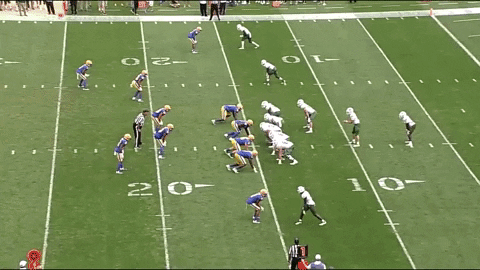 Twyman, who wears 97 to honor his idol Aaron Donald, has a fantastic rep here against Ohio. The first step he has is explosive, and when complemented with proper hand usage and pad level, this is an easy win for Twyman. He goes with a chop-swim combination as the offensive lineman gets too antsy and leans forward off of his base. This is as good of a pass rush rep, though, as it is bad for the Ohio offensive lineman.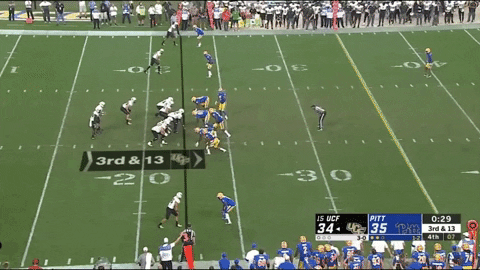 Twyman had a game-clinching sack against UCF as well simply through power and a great counter move to shed and stack his blocker. Twyman comes off with a good get-off but lacks the pad level and his pad level swells, causing the defensive lineman's hands to get inside of him. Still, Twyman does an excellent job of batting down the offensive lineman's hands with a club move and gets his hands reset with the club-rip combination that allows him to make this sack after he is in pursuit. A good rep that shows that he is not stonewalled after an offensive lineman gets the better of him at the beginning of the rep.