It has been a long, tumultuous college football season. But, we have finally reached the apex of the college football mountaintop as we have arrived at the National Championship. The big game will be played in the Mercedes-Benz Superdome this Monday between LSU and Clemson, who defeated Oklahoma and Ohio State two weeks ago, respectively. With that in mind, the 2020 National Championship looks to be a hard-fought game between two teams with great quarterbacks in Joe Burrow and Trevor Lawrence. However, while most fans know of those guys as stud quarterback prospects that both may be the top overall pick in these next two drafts, these teams have a myriad of other talents as well.
They will have multiple underclassmen declare for the draft this year, such as Justin Jefferson and Travis Etienne, and they will also have multiple players heading to the Senior Bowl, NFLPA Bowl, and Shrine Game in the coming weeks. It is a game that features various NFL caliber guys going up against each other, and it should be an enjoyable one for fans and evaluators alike.
Matchup to Watch: LSU WR Justin Jefferson vs. Clemson CB A.J. Terrell
This is the matchup to watch in terms of what Clemson plans on doing with Terrell. Terell has not gotten a ton of work from the slot, and with Ja'Marr Chase also being a threat, I do not expect Terrell to shadow Jefferson. Make no doubt about it, these two are going to have an absolute heavyweight fight on the outside when they are matched up. Both have eaten up on the lesser competition and can slide into this year's draft as potential top-50 picks if they end up testing well. The film both of them have put out is quite impressive.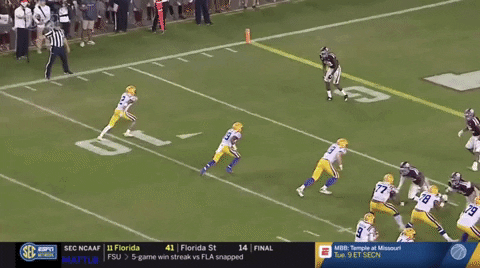 Jefferson has a way of winning with his quickness and route-running ability. He does get this corner turned around as he makes a fluid stutter-stop to threaten the in-route, but instead goes in and up once the corner commits and gets turned around. However, the point of this clip is to show that Jefferson is not just all finesse but that he can climb the ladder and get that ball in contested situations too. Terrell has a ton of length, but Jefferson does a great job to adjust to this ball and high point this thing, and that is why he comes up with it.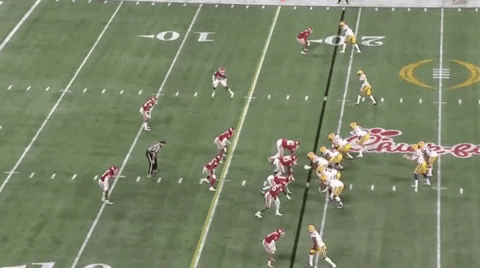 Here he is last week working out of the slot, which is his true home. Jefferson has made a living out of dusting safeties and slot corners out of the slot because of the quickness on his cuts. And what that does is open up the vertical aspect of the field for him as well since he is always threatening something underneath that has already burnt guys earlier that game. It is the same old story here. Jefferson knows the cushion he has, cuts early enough so he can flatten this slant out towards the open field to split the two defenders and then just wills his way after the catch. He will create a lot of havoc after the catch, too. He is dynamic.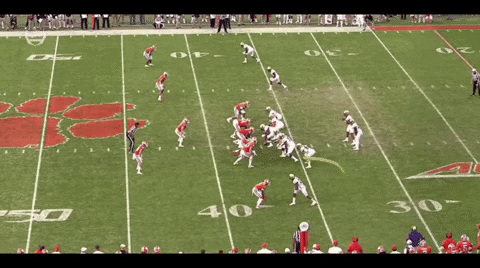 Terrell, on the other hand, plays with his length and physicality exceptionally well. On a rep like this, the most impressive thing to me is his patience off the line. He lets the receiver commit to him before he flips his hips and starts running with him on the go. There is no overaggressiveness in his game, he is calculated and very disciplined. Then, at the top of the route, a precise stab to disrupt the flow of this route really gives Terrell complete control of the leverage and catch point. That is why he can make this interception look so easy. He plays a bully.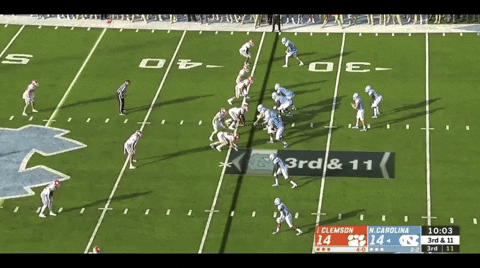 Still, Terrell is not limited to just being a good coverage defender, but he also likes to bring the heat underneath and in run support. You want to talk about a guy that can read route combinations and close on them quickly? Terrell can do just that, which is precisely what he does here as he reads the whip route and comes right underneath to make a solid open-field tackle on third down. Terrell is a good tackler in space and against these LSU skill position players, which is invaluable.
Player to Watch: LSU EDGE K'Lavon Chaisson
After a torn ACL last season, K'Lavon Chaisson needed a big year to bounce back and show NFL evaluators that he really had it. And while the 2020 National Championship is another opportunity to prove that to scouts, Chaisson has already proven that he has the juice to be a special player at the next level. A guy who had unreal athleticism coming into LSU, Chaisson has proven that the torn ACL has not sapped one bit of that athleticism. He still makes ridiculous tackles in the open field that pass rushers should not be able to make. Chaisson is far too good in coverage for what an edge rusher should be. And somehow, he looks more natural in space than a lot of the inside linebackers in this class. Chaisson is a do-it-all wildcat of a player that will cause havoc for teams, just like he did last week against Oklahoma.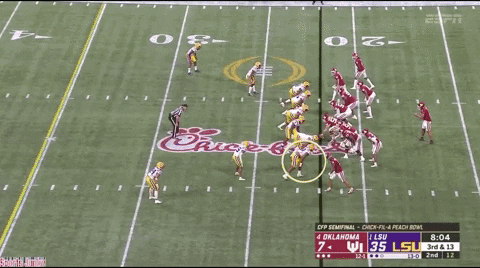 Remember I was talking about that freakish athleticism? He drops back in coverage after disguising the blitz off the edge. And he looks really fluid and natural dropping out and into coverage. That does mean he could potentially play off-ball at the next level, but I genuinely think he is the best fit as a 3-4 outside linebacker due to his athleticism and ability to move in space. Not many guys can turn and run down CeeDee Lamb like this and make a strong attempt to rip this ball out while we are at it here. This is an impressive play showing off some serious range.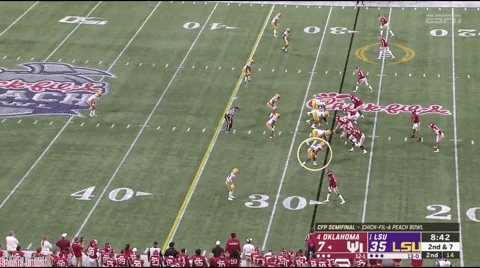 Still, this is why he is best fit as a pass rusher. His ceiling with the athleticism I mentioned earlier is fantastic. He has an explosive first step that allows him to eat up ground quickly, and he does have some more strength this year than he ever had before. He wins the leverage battle, and bullrushes here and then rips across the tackles face to shed the block for the sack. Chaisson has traits upon traits, and if he can put it all together, he is going to be a special player.
Sleeper to Watch: Clemson S K'Von Wallace
Wallace is an unknown player to the casual fan, and he is even being slept on among the draft media right now. Even though he has notched a Senior Bowl invite and Senior Bowl director Jim Nagy has praised him, he is still flying under the radar when I believe he is a legitimate top-five safety in this class. He is physical, instinctual, and athletic. Those are three traits that make him an excellent safety at the next level. And for a league that has shifted so much into the nickel and dime packages on defense, Wallace's versatility is going to be valuable. He is a guy that has played nickel corner, strong safety, and free safety at different points this year, which speaks volumes to his football IQ and ability to learn the game.
One thing Clemson loved to do with Wallace was to use him as a blitzer, which is almost certainly what they wanted to do with him here if this was not a designed quarterback outside zone run. Wallace reads the flow of the offensive lineman towards the weak side of the field and immediately begins scraping over the top of the play to get to the quarterback on the other side of the field. It shows excellent range, first off, but even more so, to have that awareness to key in on what you are seeing and flow to the play like that is no easy feat. But Wallace has that mental game to do just that.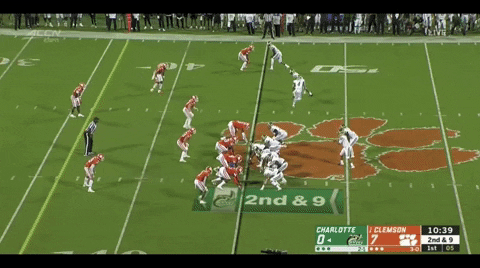 Here is being deployed over the middle of the field, now in a deep safety role. This is a horrific decision by the Charlotte quarterback, but Wallace is keying in on that slot receiver from the jump, and he is ready to make a play on that ball if that receiver is targeted in any way. So, instead of flaring out towards the sideline and leaving his linebacker in a tough position over the middle of the field, Wallace instead bluffs that Cover 2 concept and fans back down over the middle of the field for this interception. A good example of a subtle hint of deception that nets Clemson six points just because of his smarts on the back end.