After seeing two of their players selected in the 2023 NFL Draft, will Shawn Clark's Appalachian State Mountaineers have similar success in the 2024 NFL Draft cycle? Here's a closer look at the top eligible prospects on the roster.
Appalachian State Mountaineers NFL Draft Prospects
2023 features more change than desired for the Appalachian State football program. On offense, the team lost its all-conference quarterback in Chase Brice, as well as Camerun Peoples, Henry Pearson, and three starters on the offensive line.
On defense, Nick Hampton, Trey Cobb, Steven Jones, and Dexter Lawson Jr. exhausted their eligibility, and stalwart pass rusher Jalen McLeod transferred to Auburn.
There are a number of key returners — among them running back Nate Noel, linebacker Andrew Parker, and safety Nick Ross. But at the QB position and in the trenches, the Mountaineers will be conducting a hard reset. Those are two very important areas, and with that uncertainty, Appalachian State may take a few lumps early on.
Nate Noel, RB
Camerun Peoples had his fans in the 2023 NFL Draft cycle, but his counterpart Nate Noel was actually the more efficient member of the Appalachian State RB room over the past two seasons.
Noel logged over 1,000 yards in 2021, and in 2022, he exceeded Peoples' total by 11 yards, despite having 14 fewer carries. Noel's efficiency stems from his stellar initial vision and dart-like run style. Though he's not oversized at 5'10", 190 pounds, he has a dynamic skill set.
Christian Horn, WR
Appalachian State's top returning receiver is Christian Horn, a redshirt junior who hauled in 34 passes for 620 yards and four touchdowns in 2022, averaging almost 20 yards per reception. As his high average implies, Horn has some big-play ability with his long-strider mold. Now, the question is whether or not he can sustain a higher volume over a full season of play.
Kaedin Robinson, WR
Kaedin Robinson is another intriguing big-play WR who joins Horn in the Mountaineers' receiving room. At 6'2″, 205 pounds, Robinson has more ability as a RAC threat with his frame, and he's flashed promise before.
He was a dominant producer in high school, who then racked up 879 yards at almost a 24-yard average as a JUCO player in 2019. He played for a year at UCF before transferring to Appalachian State in 2022, where he then put up 27 catches for 419 yards and two scores.
Dashaun Davis, WR
A lot depends on how the Mountaineers fare at the QB position, but if they can get competent play under center, they could have multiple NFL Draft-worthy wide receiver prospects.
Dashaun Davis rounds out the starting trio. At 5'9″, 175 pounds, he fits the mold of a separator from the slot, and he's coming off his best year yet. In 2022, he caught 36 passes for 421 yards and three touchdowns.
Isaiah Helms, C
Appalachian State had one offensive lineman selected in the 2023 NFL Draft in Cooper Hodges, and another — Anderson Hardy — was signed as a UDFA. Naturally, the team's offensive line bears watching again in 2023, with center Isaiah Helms at the top of the list.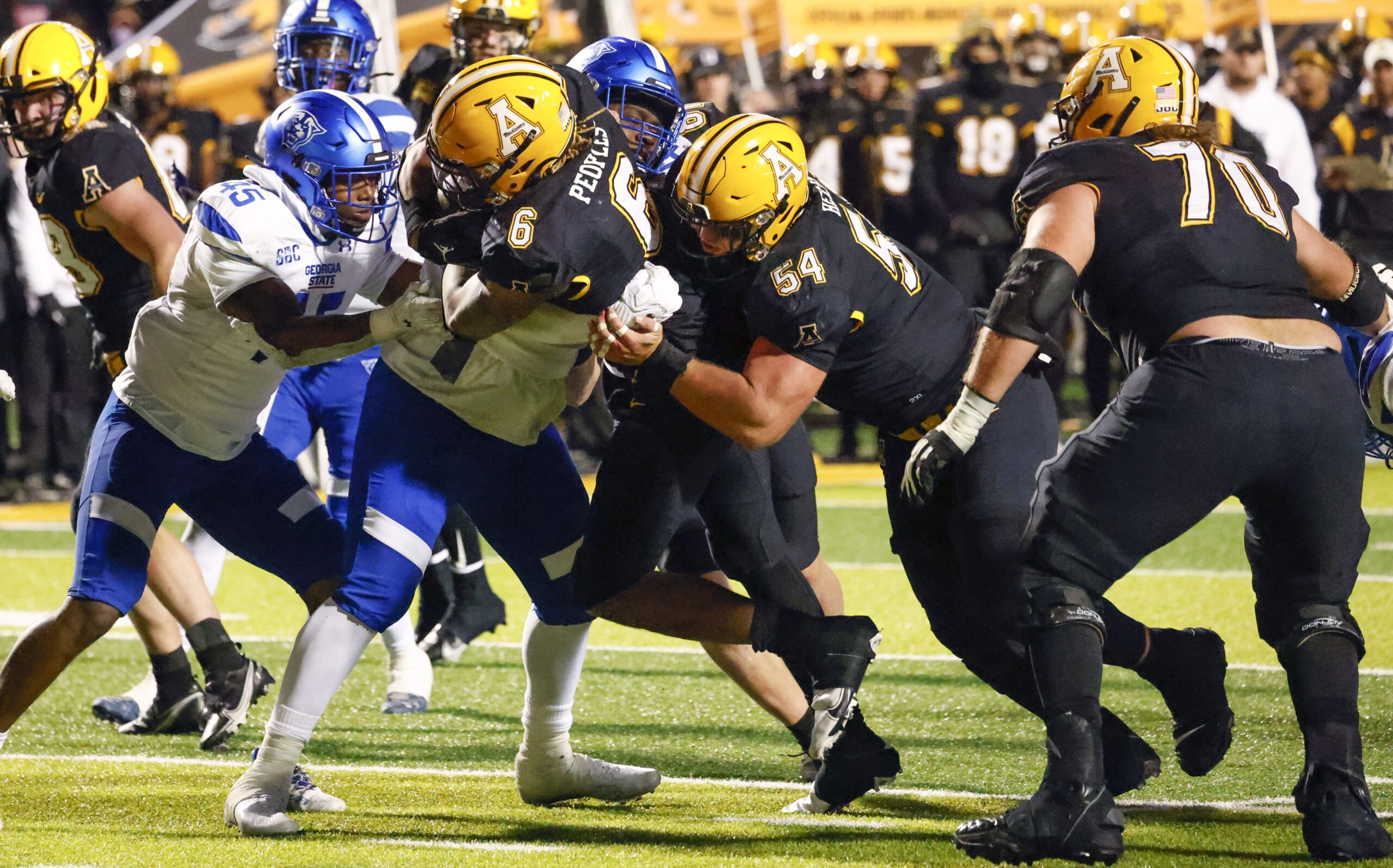 The 6'3″, 295-pound Helms has experience at both guard and center and was a third-team All-Sun Belt selection at the conclusion of the 2022 season.
Andrew Parker, LB
The Mountaineers have to be thankful they won the allegiance of Andrew Parker in the 2022 offseason. Parker was a 6'2″, 235-pound transfer from Arkansas who joined up with the Mountaineers after a quiet three-year SEC career.
He broke out in 2022 with 68 tackles, 3.5 tackles for loss, a sack, a pass deflection, and a forced fumble. Coverage technique and overall polish remain areas of emphasis for Parker, but he's a well-sized and physical second-level defender who plays with urgency.
Tyrek Funderburk, CB
After losing Steven Jones in the 2023 NFL Draft cycle, the Appalachian State Mountaineers need a new presence on the boundary at cornerback. They'll rely partly on sixth-year senior and Richmond transfer Tyrek Funderburk to fill that void.
The 6'0″, 185-pound Funderburk was a track star in high school who became a standout CB with the Spiders. He's coming off a career-best 2022 campaign, complete with four interceptions, 14 deflections, and two forced fumbles.
Nick Ross, S
Ever since he arrived on campus in 2019, Nick Ross has been a fixture for the Mountaineers. And as he's amassed experience, he's evolved into a versatile defensive piece on the back end.
At 5'11", 190 pounds, Ross is a bit light, but he's a twitched-up and fluid athlete who's very smooth on his backpedal in two-high. He can manage space and route transitions or hover in off-man as a nickel defender, and he has good playmaking range as well.
Other Notable Names
Ahmani Marshall, RB
Dalton Stroman, WR
Miller Gibbs, TE
Michael Fletcher, DT
Deandre Dingle-Prince, DT
Kevon Haigler, EDGE
Shawn Collins, EDGE
Jarrett Paul, S
Appalachian State Mountaineers Schedule
Week 1
BYE
Week 2
Sept. 2: vs. Gardner-Webb Runnin' Bulldogs
Week 3
Sept. 9: at North Carolina Tar Heels
Week 4
Sept. 16: vs. East Carolina Pirates
Week 5
Sept. 23: at Wyoming Cowboys
Week 6
Sept. 30: at Louisiana-Monroe Warhawks
Week 7
BYE
Week 8
Oct. 10: vs. Coastal Carolina Chanticleers
Week 9
Oct. 21: at Old Dominion Monarchs
Week 10
Oct. 28: vs. Southern Miss Golden Eagles
Week 11
Nov. 4: vs. Marshall Thundering Herd
Week 12
Nov. 11: at Georgia State Panthers
Week 13
Nov. 18: at James Madison Dukes
Week 14
Nov. 25: vs. Georgia Southern Eagles
Week 15
BYE
Listen to the PFN Scouting Podcast
Listen to the PFN Scouting Podcast! Click the embedded player below to listen, or you can find the PFN Scouting Podcast on iTunes, Spotify, and all major podcast platforms.  Be sure to subscribe and leave us a five-star review! Rather watch instead? Check out the PFN Scouting Podcast on our Scouting YouTube channel.