Once viewed as a potential Day 2 prospect in the 2022 NFL Draft, how does the 2023 NFL Draft scouting report of Texas A&M WR Ainias Smith compare? Smith has an incredibly intriguing background and skill set. And if all goes well in his senior season, it could be a skill set that vaults him into the early rounds next April.
Ainias Smith NFL draft profile
Position: WR
School: Texas A&M
Current Year: Senior
Height/Weight: 5'10", 190 pounds
Smith already projects as one of the most versatile players in the 2023 NFL Draft. So it won't surprise you that this man did literally everything as a high school football player. At Dulles High School in Sugar Land, Texas, Smith played WR, CB, FS, and ran the ball as well.
Smith's stat lines from high school reflect his all-around impact as a player and talent. At running back, he put up 161 carries for 1,232 yards and five scores. In his senior season alone, he caught 55 passes for 717 yards and 10 touchdowns. Meanwhile, on the defensive side, he put up three interceptions and 15 pass deflections.
MORE: FREE Mock Draft Simulator With Trades
In spite of his production and strong athletic testing — which included a 4.51 40-yard dash and a 36.4″ vertical — Smith was a mere three-star recruit. But Texas A&M saw his potential and signed him as a versatile WR/RB hybrid.
To this point, Smith has played at both spots extensively. In total, he's amassed 112 catches, 1,321 yards, and 15 touchdowns, along with 64 carries for 373 yards and four scores on the ground. But there's still a sense that his breakout at receiver is still to come. Perhaps it will finally happen in 2022.
Ainias Smith scouting report
An unconventional receiving threat with an unconventional upbringing at the position, Smith is a fascinating prospect in the 2023 NFL Draft cycle. What does the Texas A&M WR bring to the table, and how do his traits project in the NFL?
Positives
At 5'10", 190 pounds, Ainias Smith brings an exhilarating brand of athleticism to the fold. The Texas A&M WR is an outstanding lateral athlete who can levy quick cuts in rapid succession. He possesses quantifiably elite twitch, and he's an amped-up player who carries an immense amount of potential energy on every play.
Smith is a jittery athlete with superb change of direction, and his loose hips allow him to manipulate angles with rare suddenness. On top of that, Smith also has field-stretching speed and explosiveness in space. He can accelerate very quickly upfield but also has high-end short-area explosiveness. He's shown he can cover large amounts of ground with each cut. His burst also shows up at the catch point, where he has the vertical athleticism to rise and high-point passes.
Smith's brand of athleticism translates very well in multiple phases. But the potential is especially alluring after the catch. A former RB, Smith is an incredibly versatile prospect who can line up in the backfield, in the slot, or out wide. He brings dangerous potential as a motion man and thrives when he gets schemed the ball in space. Smith displays impressive field vision and awareness with the ball in his hands, and his effervescent twitch enables him to work defenders off-balance.
As a runner, Smith can effectively lower his center of gravity and maintain his balance through cuts when accruing run-after-catch yards. He has a surprising degree of contact balance for his frame, as he's able to absorb hits at times. But his chief defining trait is his mix of elusiveness and agility. That mix enables Smith to swim through congested areas and get into space, where his burst can then be maximized.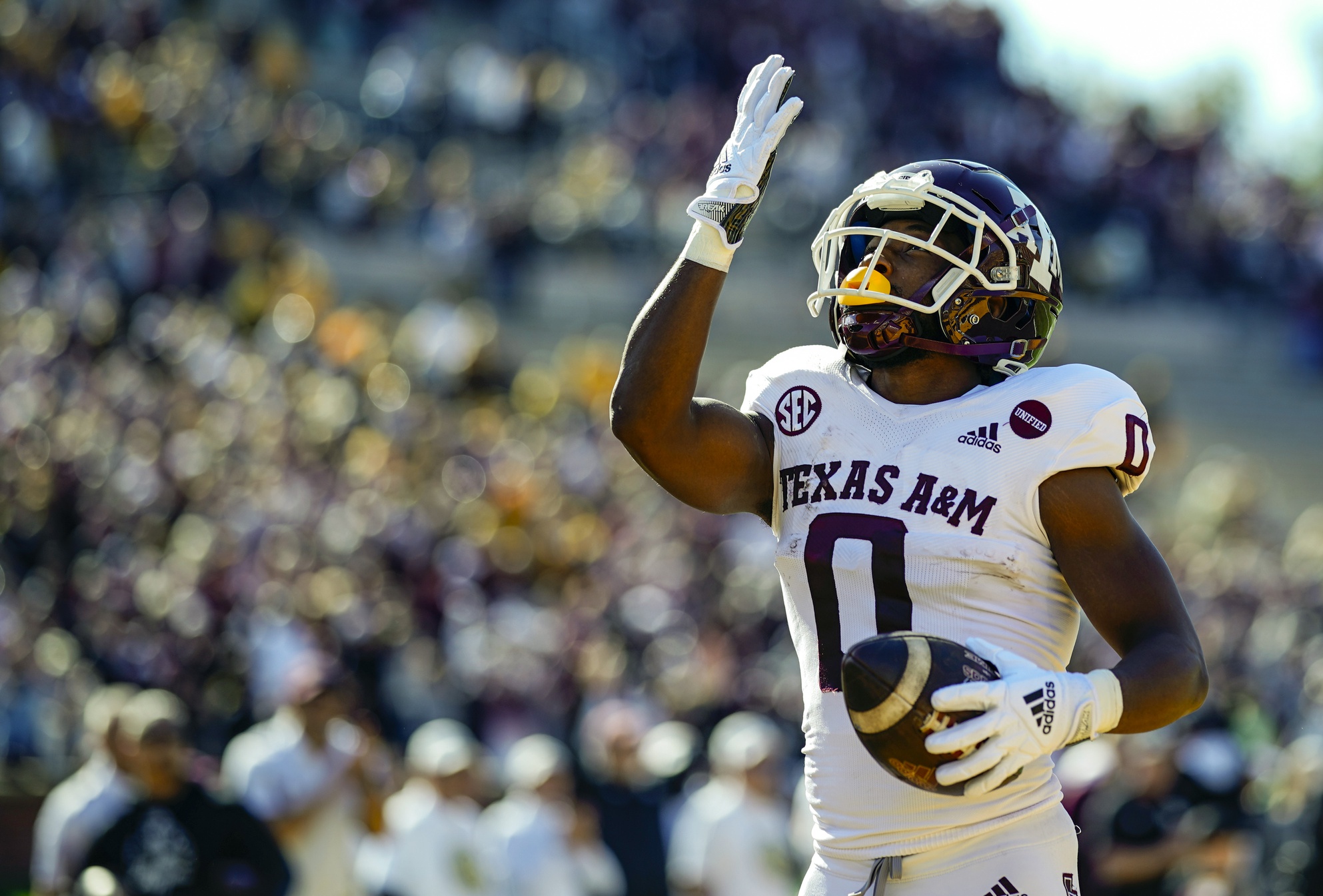 Smith is already a venerable RAC threat, but his traits grant just as much upside as a route runner. The Texas A&M WR can seamlessly transition and divert course with his change-of-direction ability. He has incredibly fast feet as well. He can hold defenders at the stem with abrupt bursts of lightning-quick footwork, then explode upfield and gain separation instantly.
Smith has shown bright flashes with his work at stems. He has the urgent feet and throttle control to manipulate space and create leverage for himself against defenders. Beyond that, he's flashed excellent use of eye manipulation. He can use his eyes to bait defenders into playing the ball ahead of breaks. Additionally, he can throttle up into stems, stop on a dime, redirect, and use targeted bouts of physicality.
MORE: 2023 NFL Draft Big Board
Smith has a lot of hybrid appeal, but he has shown glimpses of legitimate receiving chops in a relatively small sample. Smith flashes effective body control at the catch point, showing he can be proactive in working toward the ball. The Texas A&M WR can track the ball over his shoulder and guide it in with his hands. He's also shown he can haul in passes over the middle of the field amidst contact.
Among other things, Smith carries an active, combative disposition as a blocker and is a high-energy competitor in all phases.
Areas for improvement
At his size, Smith is naturally a smaller athlete with a shorter wingspan and lacks elite frame density. His wingspan limits his catch radius when imprecise targets come his way. Furthermore, he's not as consistent working through contact at the catch point. With his smaller frame and lesser play strength, he can be outmuscled at times.
Going further, Smith can work to more consistently employ physicality at route stems to compound separation. He doesn't always run his routes to full capacity and can be more exhaustive when employing his athletic traits.
Additionally, Smith can better leverage his routes downfield and can more efficiently use space. He runs with his pad level too high too often, which can be an issue when attempting to sink hips or sow deception at stems. Overall, he has room to keep expanding his route tree and maximizing his arsenal as a separator.
Elsewhere, Smith has room to become more comfortable extending beyond his frame for passes and using the diamond hand technique. He is prone to occasional focus drops, especially when threatened with immediate contact. In space, Smith should use varied stride lengths more often, as his short strides don't always cover ground efficiently in space. With his shorter strides, he also lacks elite surefire breakaway speed.
Finally, Smith can more consistently withstand arm tackles sweeping at the legs, and his size can impede his ability to sustain blocks downfield or delay blitzers in the backfield.
Current draft projection for Texas A&M WR Ainias Smith
Ainias Smith could ultimately fall to Day 3, depending on how his 2022 season plays out. But he does have top 100 potential, and maybe even early-to-mid Day 2 potential at his max projection.
Smith remains a very intriguing case study at the wide receiver position. He's a positional convert who's only recently transitioned to WR full time. And his production metrics likely won't endear him on the analytical spectrum. But on tape, there's plenty of reason to be excited about the potential that Smith holds.
2022 will be the year for Smith to lock in his stock. But right now, it's easy to be bullish on the traits that are there. Despite being undersized, Smith has a supremely energetic play style, mixing explosiveness, agility, and twitch into a very dangerous concoction.
MORE: 2023 NFL Draft WR Class
His suddenness and twitch are elite and grant him sky-high potential as a RAC threat. To that end, if he can keep working on employing his traits efficiently as a separator, he could be a nightmare for defensive backs one-on-one.
The area of concern for Smith is the phase at the catch point. His wingspan is shorter, he's visibly been outmuscled on several occasions, and drops are a notable concern at this point. But there's reason to believe that, as Smith accrues more reps as a natural WR, he'll gain greater comfort for the role.
Still just 21 years old, Smith remains a young, high-upside option in the 2023 NFL Draft class. A lot hinges on his performance in 2022, but Smith has Day 2 upside. And for teams that value playmakers who specialize in space, Smith can be a true offensive catalyst at a good value.
Listen to the PFN Scouting Podcast
Listen to the PFN Scouting Podcast! Click the embedded player below to listen, or you can find the PFN Scouting Podcast on iTunes, Spotify, and all major podcast platforms.  Be sure to subscribe and leave us a five-star review! Rather watch instead? Check out the PFN Scouting Podcast on our Scouting YouTube channel.