As quickly as it arrived, the 2023 NFL Draft has concluded. And we're not wasting any time looking ahead to the 2024 NFL Draft. What storylines will the 2024 class bring 12 months from now, and how might the board shake out?
2024 NFL Mock Draft | Round 1
The draft order for this 2024 NFL Mock Draft was determined using 2024 Super Bowl odds.
1) Arizona Cardinals: Marvin Harrison Jr., WR, Ohio State
After picking up the Houston Texans' 2024 first-rounder in a trade that landed Houston Will Anderson Jr., the Cardinals are projected to have a stranglehold on the first round in 2024. Current odds give Arizona the No. 1 and No. 2 picks. One pick might be used to trade down with a QB-needy team and add even more capital, but the choice here is easy.
MORE: FREE Mock Draft Simulator With Trades
The Cardinals have a hemorrhaging receiving corps. The addition of Michael Wilson in the 2023 NFL Draft is a marginal help, but Arizona will need a new blue-chip WR for Kyler Murray when DeAndre Hopkins leaves. Marvin Harrison Jr. can be that WR. At 6'4″, 205 pounds, he has the size, athleticism, route nuance, and otherworldly instincts to be a star.
2) Washington Commanders (from ARI via HOU): Caleb Williams, QB, USC
In a projected trade, the Cardinals move down to eighth overall, adding capital in future years, while the Commanders rise up to take Caleb Williams. If the Commanders are picking eighth, we can assume the Sam Howell experiment didn't work out. Williams gives Eric Bieniemy the elite arm that Howell lacks, and he's a special creator out of structure.
3) Indianapolis Colts: Kool-Aid McKinstry, CB, Alabama
The 2023 NFL Draft doesn't have a cornerback prospect better than Kool-Aid McKinstry. He could end up being a top-10 pick. He has the short-area twitch, foot speed, and disciplined technique to start right away, and his 15 deflections reflect his ball skills. He's also exceedingly physical and long at 6'1″, 188 pounds, sharing those traits with Julius Brents.
4) Tennessee Titans: Olumuyiwa Fashanu, OT, Penn State
The Titans came away from the 2023 NFL Draft with a QB, and now the focus shifts to ensuring they're protected. Olumuyiwa Fashanu is a blue-chip OT prospect, who would have decisively been my OT1 in the 2023 class. His combined mobility, strength, and leverage overwhelm opponents, and Peter Skoronski can slide to guard alongside Fashanu.
5) Chicago Bears (from CAR): Brock Bowers, TE, Georgia
With Cole Kmet and Robert Tonyan both scheduled to hit free agency in 2024, the Bears add a weapon in Brock Bowers. It's particularly fun to think about Brock Bowers joining forces with Justin Fields. Bowers is a high-energy athlete at 6'4″, 230 pounds, with elite ability over the middle of the field. He's a dual-sided catch-point and RAC savant.
6) Atlanta Falcons: Emeka Egbuka, WR, Ohio State
The Falcons pair Drake London with another top-10 WR here, adding Ohio State's Emeka Egbuka. With London manning the boundary and Kyle Pitts acting as a big slot and move TE, Egbuka can be a versatile movement Z receiver with his nuance, play strength, smooth catching ability, and explosive strides as a RAC threat.
7) Tampa Bay Buccaneers: Drake Maye, QB, North Carolina
After a 2022 campaign that saw him complete 342 of 517 attempts for 4,321 yards, 38 touchdowns, and seven interceptions, Drake Maye has drawn comparisons to Justin Herbert. The 6'4″, 220-pound QB has unnatural mobility for his size, and he also effortlessly layers high-velocity throws with his arm. He helps Tampa reset at the QB spot.
8) Arizona Cardinals (From WAS): Dallas Turner, EDGE, Alabama
After trading back with Washington, Jonathan Gannon adds a new threat at EDGE — an athletic specimen to complement BJ Ojulari. At 6'4″, 245 pounds, Dallas Turner is another supremely explosive, bendy rusher with exceptional length. He has a working arsenal of moves, a red-hot motor, and his closing speed in pursuit is jaw-dropping at times.
9) New England Patriots: Quinn Ewers, QB, Texas
Entering his redshirt sophomore season, the stars may be aligning for Quinn Ewers to have his breakout campaign. The Texas offense has weapons and supporting talent. And Ewers himself has the experience to build on. Once the game starts slowing down for him, he has the live, elastic arm and gunslinger mentality to entice a team like New England.
10) Los Angeles Rams: Rome Odunze, WR, Washington
The presence of the Ohio State WRs in the 2023 NFL Draft sometimes blots out another legitimate early first-round candidate in Rome Odunze. Odunze caught 75 passes for 1,145 yards and seven scores in 2022. He's reportedly up to 215 pounds at 6'3″ and dominated spring camp. Size, athleticism, separation ability, hands, physical RAC — he has it all.
11) Green Bay Packers: Joe Alt, OT, Notre Dame
Between David Bakhtiari and Yosh Nijman, the Packers might not have a long-term solution at tackle on their roster. Joe Alt does things you'd never expect a 6'8″, 315-pound blocker to do on the football field. His recovery athleticism and short-area burst for his size are uncanny, and he's shown he can keep his hands tight and acquire leverage as well.
12) Chicago Bears: J.T. Tuimoloau, EDGE, Ohio State
If he has the season he's capable of having, J.T. Tuimoloau could be the first EDGE off the board. At 6'4″, 277 pounds, Tuimoloau provides a rare mix of size, burst, flexibility, and power — something Matt Eberflus would covet — but his best trait might be his penchant for playmaking. He logged 3.5 sacks and 10.5 TFLs in 2022. The best is still yet to come.
13) Pittsburgh Steelers: Malik Nabers, WR, LSU
Pittsburgh has a solid rotation of pass catchers, but there's still one thing missing. Speed is a quality that could help unlock the Steelers' offense, and Malik Nabers has the speed to both elevate his stock and elevate the passing attack. He can effortlessly stack DBs, his coordination at the catch point is elite, and he has strong RAC ability as a bonus.
14) Minnesota Vikings: Michael Penix Jr., QB, Washington
The Vikings will have to meaningfully address the end of the Kirk Cousins era at some point, and the 2024 NFL Draft will offer a good opportunity to do so. Michael Penix Jr. could be a first-round candidate if his medicals check out. He's a lefty with a laser, who blends together athleticism, competitive toughness, field vision, and fearlessness as a prospect.
15) Las Vegas Raiders: J.C. Latham, OT, Alabama
J.C. Latham is a natural right tackle who has enough refinement to start right away. And at 6'6″, 335 pounds, he's unnaturally well-leveraged, with flashes of scary short-area correction and power.
16) Houston Texans (from CLE): Maason Smith, DT, LSU
An injury kept Maason Smith off the field for nearly the entirety of the 2022 season, but he's working his way back and is expected to once again become a force on the LSU interior in 2023. He's a rare athlete with absurd top-end burst at 6'6″, 292 pounds, and his combination of length and quickness could be an asset in DeMeco Ryans' variable scheme.
17) Denver Broncos: Michael Hall Jr., DT, Ohio State
Zach Allen and D.J. Jones should play off each other well on the interior, but the Broncos need another dynamic talent at 3-technique to soften the blow of losing Dre'Mont Jones.
MORE: Top 50 2024 NFL Draft Prospect Watchlist

At 6'2″, 290 pounds, Michael Hall Jr. is an extremely well-leveraged DL with elite burst off the snap and heavy hands at contact. His 4.5 sacks in 2022 exhibit his pass-rushing upside.
18) Los Angeles Chargers: James Williams, S, Miami (FL)
Nasir Adderley retired this past offseason, and the Chargers are due to lose Alohi Gilman in 2024. They'll need a new running mate alongside Derwin James, and who better than a 6'5″, 224-pound obelisk in Miami's James Williams? Williams, alongside James, would be nightmare fuel for opposing offenses, given his length, athleticism, and physicality.
19) Seattle Seahawks: Donovan Jackson, G, Ohio State
The 2023 NFL Draft brought a slight dip in guard talent, but the 2024 cycle should bring the position back up to par. Donovan Jackson, in particular, is a first-round sleeper to watch. He's a former five-star recruit who earned second-team All-Big Ten honors in 2022, using his athleticism, shock in his hands, and strength at 6'4″, 320 pounds to stand out.
20) New York Giants: Denzel Burke, CB, Ohio State
Off his 2022 tape, Denzel Burke isn't guaranteed to go Round 1. But we're banking on a resurgence for the highly-touted recruit who made waves as a true freshman in 2021. He's still relatively new to the CB position, and at 6'1″, 190 pounds, he has the same high-energy athleticism, length, and tenacity that sold the Giants on Deonte Banks.
21) New Orleans Saints: Jared Verse, EDGE, Florida State
The Saints softened the blow of their defensive line deterioration by adding Bryan Bresee and Isaiah Foskey in the 2023 NFL Draft, but they still need more talent to prepare for additional departures. At 6'4″, 249 pounds, Jared Verse has the burst, bend, power, and active hands to be a factor, and he's on track to exceed his nine sacks and 17 TFLs in 2023.
22) Miami Dolphins: Jer'Zhan Newton, DT, Illinois
Jer'Zhan Newton was a dominant defender on a dominant Illinois defense in 2022, amassing 61 tackles, 14 tackles for loss, and 5.5 sacks. At 6'2″, 280 pounds, he's a bit light, but he has great natural leverage, and he's incredibly flexible. He can flex to absorb power in run defense, and he's a multifaceted pass rusher with precise hands.
23) Jacksonville Jaguars: Andrew Mukuba, S, Clemson
The Jacksonville Jaguars are gearing up to be competitors in the AFC for a long time. One of the few remaining pieces left to add is an elite slot defender. Andrew Mukuba has the tools to fill that role. He's already proven his versatility at the collegiate level, and he has the fluidity, short-area athleticism, and playmaking ability to be a mainstay in coverage.
24) Baltimore Ravens: TreVeyon Henderson, RB, Ohio State
The Ravens are finally giving Lamar Jackson weapons, having added Zay Flowers and Odell Beckham Jr. Their long-term RB situation is trepidatious, but TreVeyon Henderson could be the final piece. At 5'10", 214 pounds, he's a dense, explosive runner with dynamic speed in space, and he also has the receiving ability to be a versatile offensive weapon.
25) Detroit Lions: Bralen Trice, EDGE, Washington
Bralen Trice was one of the nation's most prolific sack-getters in 2022, and he offers one of the most appealing power profiles in the 2023 NFL Draft EDGE class. He's 6'4″, 260 pounds, with tremendous straight-line explosion and heavy hands. And for a team that may lose Romeo Okwara and Charles Harris in 2024 free agency, he'd be a welcome addition.
26) Green Bay Packers (from NYJ): Kalen King, CB, Penn State
The Jets are currently projected to pick 26th overall, according to Super Bowl odds. If they pick this high, it's likely that Aaron Rodgers played more than 65% of snaps. Thus, this pick conditionally shifts hands from the Jets to the Packers.
The Packers tend to be anticipatory when it comes to needs at cornerback. Eric Stokes' long-term future is unclear, and slot CB Keisean Nixon is a free agent in 2024. With his 5'11", 188-pound frame and fleet-footed playstyle, Kalen King projects well into the slot, and he has the combined ball skills and gritty playstyle to complement Jaire Alexander.
27) Dallas Cowboys: Jason Marshall Jr., CB, Florida
After a 2022 campaign that saw him log a pick and eight pass deflections, Jason Marshall Jr. is gearing up to emerge in the 2024 NFL Draft. At 6'1″, 198 pounds, he has great size and length to go along with effortless burst out of transitions and high-end recovery speed. Opposite Trevon Diggs, he'd present quarterbacks with a formidable challenge.
28) Buffalo Bills: Ruke Orhorhoro, DT, Clemson
There was talk that Ruke Orhorhoro might declare for the 2023 NFL Draft after a standout 2022 campaign. He instead returned, but he's an early candidate to crack the early rounds in 2024. Orhorhoro, at around 6'4″, 300 pounds, has elite length and explosiveness. His violent energy wears down blockers, and he can line up everywhere from 1-tech to 5-tech.
29) Cincinnati Bengals: Oronde Gadsden II, WR, Syracuse
Tee Higgins and Tyler Boyd are both free agents in 2024. Oronde Gadsden II can help fill the void if they lose one of those two. In fact, he exudes elements of both in his game.
MORE: 2023 NFL Draft Team Grades

At 6'5″, 216 pounds, Gadsden has the size and length of a move tight end, but he has the foot speed and hip looseness of a true WR. And at the catch point, his sense of timing and coordination is near the top of the 2024 class.
30) Philadelphia Eagles: Xavier Worthy, WR, Texas
If Ewers has a good enough season to go top-10 overall, odds are Xavier Worthy is a big part of that season and helps his own stock in the process. Worthy is a bit of an outlier with his undersized frame, but he's an elite speed threat who tracks vertically with rare proficiency. He'd be an upgrade over Quez Watkins if the Eagles move on from the latter.
31) San Francisco 49ers: Bo Nix, QB, Oregon
Kyle Shanahan has proven he can almost win a Super Bowl with any quarterback, but there's still a sense that the 49ers need a talented starter before they can go the distance. Bo Nix brings that talent with his high-level creation capacity and arm elasticity, and he's become much more measured and accurate as a pocket operator in recent years.
32) Kansas City Chiefs: Barrett Carter, LB, Clemson
With Willie Gay and Drue Tranquill scheduled to be free agents in 2024, Kansas City might need LB help. Barrett Carter isn't just an LB, of course. He's a defensive weapon. His 10.5 TFLs and 5.5 sacks from 2022 highlight his value as a 6'1″, 225-pound homing missile in the box, but he also has the skills to be a vulture over the middle of the field in coverage.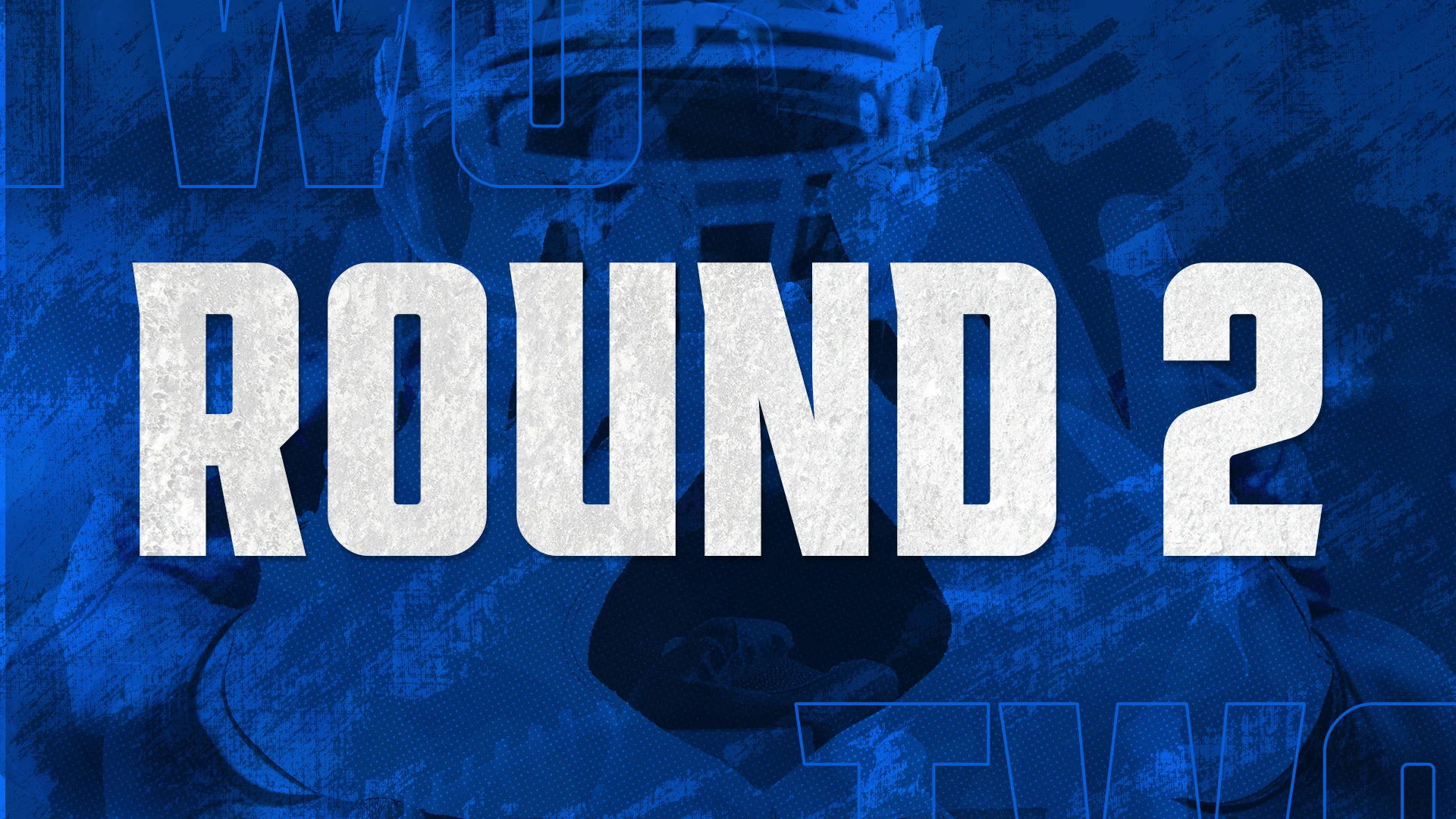 2024 NFL Mock Draft | Round 2
33) Arizona Cardinals
Fabien Lovett, DT, Florida State
34) Houston Texans
Blake Fisher, OT, Notre Dame
35) Indianapolis Colts
Will Shipley, RB, Clemson
36) Tennessee Titans
Cooper DeJean, CB, Iowa
37) Carolina Panthers
Princely Umanmielen, EDGE, Florida
38) Atlanta Falcons
Sedrick Van Pran, C, Georgia
39) Tampa Bay Buccaneers
Will Sheppard, WR, Vanderbilt
40) Washington Commanders
Jack Sawyer, EDGE, Ohio State
41) New England Patriots
Jalin Conyers, TE, Arizona State
42) Los Angeles Rams
Tony Grimes, CB, Texas A&M
43) Green Bay Packers
Raheim Sanders, RB, Arkansas
44) Chicago Bears
Keon Coleman, WR, Michigan State
45) Pittsburgh Steelers
Kris Abrams-Draine, CB, Missouri
46) Minnesota Vikings
Khordae Sydnor, EDGE, Purdue
47) Las Vegas Raiders
Leonard Taylor, DT, Miami (FL)
48) Cleveland Browns
Calen Bullock, S, USC
49) New Orleans Saints (from DEN)
Cooper Beebe, G, Kansas State
50) Los Angeles Chargers
Seydou Traore, TE, Colorado
51) Seattle Seahawks
Barryn Sorrell, EDGE, Texas
52) New York Giants
Tyleik Williams, DT, Ohio State
53) Philadelphia Eagles (from NO)
Jaylen Harrell, EDGE, Michigan
54) Miami Dolphins
Brandon Dorlus, EDGE, Oregon
55) Jacksonville Jaguars
Graham Barton, OL, Duke
56) Baltimore Ravens
Jalen McMillan, WR, Washington
57) Detroit Lions
Quinton Newsome, CB, Nebraska
58) New York Jets
Troy Franklin, WR, Oregon
59) Dallas Cowboys
Kingsley Suamataia, OT, BYU
60) Buffalo Bills
Jaden Hicks, S, Washington State
61) Cincinnati Bengals
Ja'quan Sheppard, CB, Maryland
62) Philadelphia Eagles
MarShawn Lloyd, RB, USC
63) San Francisco 49ers
Rod Moore, S, Michigan
64) Kansas City Chiefs
Mekhi Wingo, DT, LSU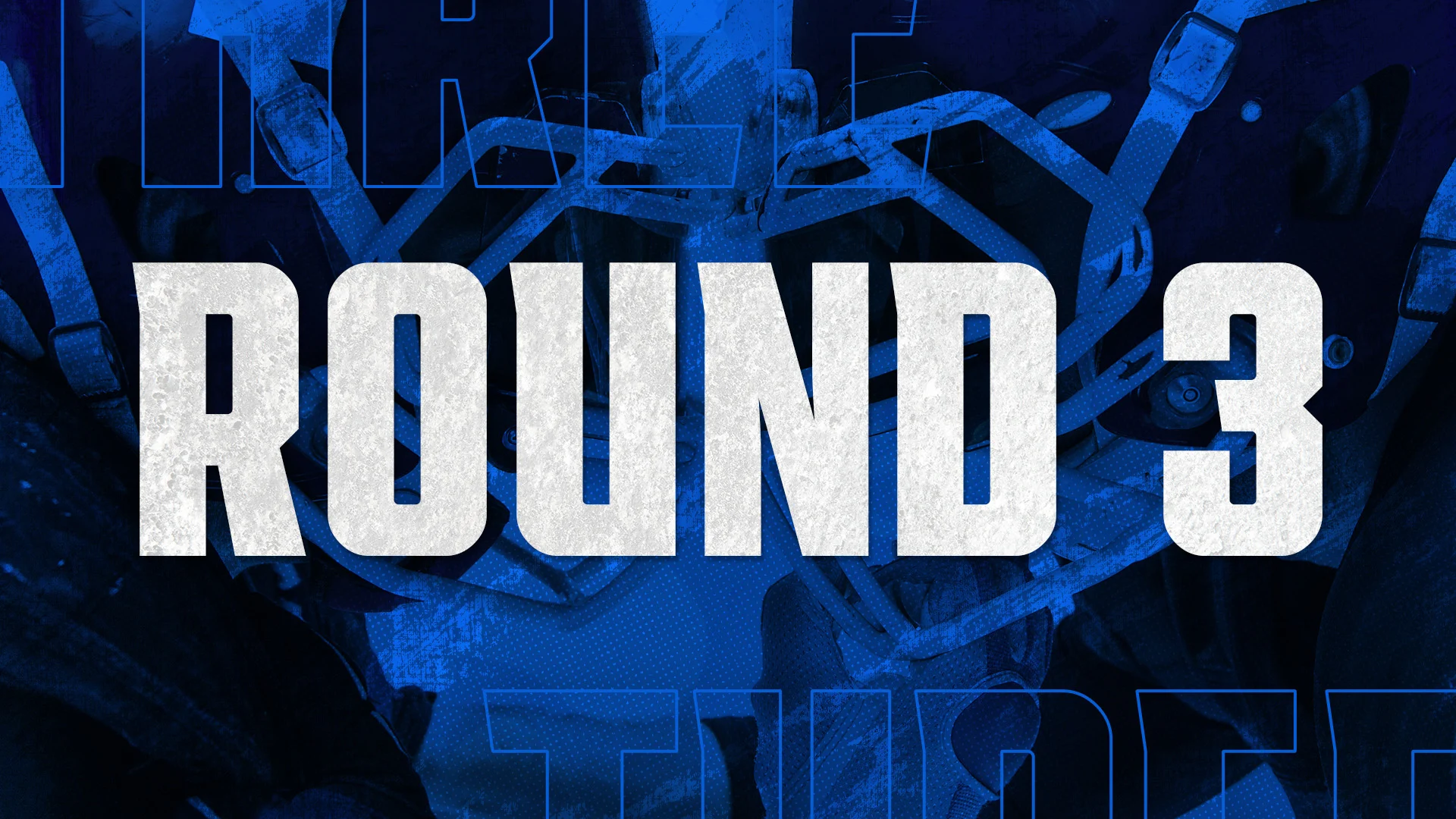 2024 NFL Mock Draft | Round 3
65) Arizona Cardinals
Tyreek Chappell, CB, Texas A&M
66) Arizona Cardinals (from HOU)
Blake Corum, RB, Michigan
67) Indianapolis Colts
Braden Fiske, DT, Florida State
68) Arizona Cardinals (from TEN)
Matthew Lee, C, Miami (FL)
69) Carolina Panthers
Adonai Mitchell, WR, Texas
70) Atlanta Falcons
Paris Shand, DT, LSU
71) Tampa Bay Buccaneers
Braelon Allen, RB, Wisconsin
72) Washington Commanders
Danny Stutsman, LB, Oklahoma
73) New England Patriots
Omar Speights, LB, LSU
74) Los Angeles Rams
Jordan Morgan, OT, Arizona
75) Green Bay Packers
Braiden McGregor, EDGE, Michigan
76) Chicago Bears
Devin Kirkwood, CB, UCLA
77) Pittsburgh Steelers
Tyreem Powell, LB, Rutgers
78) Detroit Lions (from MIN)
Darius Robinson, DT, Missouri
79) Las Vegas Raiders
Jeremiah Trotter Jr., LB, Clemson
80) Cleveland Browns
Devontez Walker, WR, North Carolina
81) Denver Broncos
J.J. McCarthy, QB, Michigan
82) Los Angeles Chargers
Fentrell Cypress III, CB, Florida State
83) Seattle Seahawks
Jeff Sims, QB, Nebraska
84) New York Giants
Carson Steele, RB, UCLA
85) Denver Broncos (from NO)
Mario Williams, WR, USC
86) Miami Dolphins
Pick Forfeited
87) Jacksonville Jaguars
Jaylin Noel, WR, Iowa State
88) Baltimore Ravens
Jestin Jacobs, LB, Oregon
89) Detroit Lions
Dorian Singer, WR, USC
90) New York Jets
Ja'Tavion Sanders, TE, Texas
91) Dallas Cowboys
Devin Neal, RB, Kansas
92) Buffalo Bills
LaDarius Henderson, OL, Michigan
93) Cincinnati Bengals
Jaheim Bell, TE, South Carolina
94) Philadelphia Eagles
Terrance Ferguson, TE, Oregon
95) San Francisco 49ers
Micah Pettus, OT, Ole Miss
96) Kansas City Chiefs
Trikweze Bridges, DB, Oregon
97) San Francisco 49ers
Chop Robinson, EDGE, Penn State
Listen to the PFN Scouting Podcast
Listen to the PFN Scouting Podcast! Click the embedded player below to listen, or you can find the PFN Scouting Podcast on iTunes, Spotify, and all major podcast platforms.  Be sure to subscribe and leave us a five-star review! Rather watch instead? Check out the PFN Scouting Podcast on our Scouting YouTube channel.