In the year 2023, a lot will be proven of our prospective 2024 NFL Draft picks. Before we get some games played, let's take the Pro Football Network Mock Draft Simulator for a spin and see what some of the landing spots for your favorite draft prospects are.
Latest 2024 NFL Mock Draft
Using PFN's Mock Draft Simulator — and avoiding trades — here are the selections for every team in the first round of the latest 2024 NFL Mock Draft.
1) Arizona Cardinals: Jared Verse, EDGE, Florida State
Get to know the name Jared Verse if you are an Arizona Cardinals fan. The big man off the edge from Florida State more than proved naysayers wrong in 2022 and returns to college football as the top defensive player in 2023.
Verse has explosive strength and a pass-rushing skill set to back up a first-overall selection. He's got the length, balance, and high motor you'd expect to come with the No. 1 overall pick as well, and he has all of these requisite skills in spades.
2) Arizona Cardinals (From HOU): Kool-Aid McKinstry, CB, Alabama
Backing up not only his nickname but his recruiting pedigree, Kool-Aid McKinstry was all but avoided in coverage toward the end of the season for Alabama. Still, McKinstry led the nation in pass breakups and was a dominant force in coverage for the Crimson Tide a year ago.
With another season firmly entrenched in Nick Saban's defense, the sky is the limit for McKinstry. He has an elite size and speed combination and perhaps some of the best coverage instincts we've seen in some time.
3) Indianapolis Colts: Dallas Turner, EDGE, Alabama
The second Alabama defender off the board in the first three picks, Dallas Turner's place among the best players in college football was confirmed last year. Turner has terrific change of direction for a man his size and always rushes the passer with a plan.
He's dynamic with his hands and has some of the best balance through contact in the game. Turner will radically change the Colts' defensive front with this pick.
4) Tennessee Titans: Marvin Harrison Jr., WR, Ohio State
Marvin Harrison Jr.'s place as the top wide receiver and top skill player in college football is not in question. Harrison is so good that he may even be better than his former first-round teammates Chris Olave, Garrett Wilson, and Jaxon Smith-Njigba, as well as his current teammate Emeka Egbuka.
He has every skill a true WR1 needs at the NFL level and has shown off some of the craftiest routes in college football memory. Harrison is a mismatch on the outside and can beat any defender in coverage.
5) Chicago Bears (From CAR): JT Tuimoloau, EDGE, Ohio State
Large and in charge, JT Tuimoloau showcased what made him such a high-profile recruit in flashes last season for Ohio State. Single-handedly able to take over games, Tuimoloau can rush the passer with precision, defend the run incredibly well, and has a knack for disrupting passing lanes when he drops in coverage. He can do it all.
6) Atlanta Falcons: Caleb Williams, QB, USC
While highly unlikely we have to wait until pick No. 6 to see Caleb Williams drafted, without the ability to trade in our MDS run, the first QB-needy team in the top 10 makes the easiest decision they've ever made as a franchise.
Pro-ready right now, Williams is not what the general public is calling a "refined Mahomes," and instead, Williams is his own quarterback. He makes throws that even Mahomes himself would be in awe of. Williams is that talented.
7) Tampa Bay Buccaneers: Drake Maye, QB, North Carolina
With Baker Mayfield in the building for 2023, the Tampa Bay Buccaneers are likely employing the gap-year quarterback plan. The Bucs select Drake Maye in a no-brainer kind of decision that helps radically transform their franchise in 2024.
Maye has elite arm strength and is a master creator from inside the structure of an offense. He'll be tested in 2023 with a new offensive scheme at UNC, but after what he's put on tape thus far in his career, he's more than ready to adapt and exceed expectations.
8) Washington Commanders: Barrett Carter, LB, Clemson
With an explosiveness to his game, Barrett Carter announced himself to the college football world last season. The Clemson linebacker is a true do-it-all 'backer, readymade for today's NFL. Carter is big and fast and runs the alley incredibly well while possessing elite coverage abilities.
9) New England Patriots: Emeka Egbuka, WR, Ohio State
The second-best receiver on his own team is no indictment of the caliber of player that Emeka Egbuka is. A former high-profile recruit slid quietly into the No. 2 role last season for Ohio State and exploded in return. Egbuka has dynamic routes and a suddenness to his game, well-equipped to slide into any role on an NFL offense.
10) Los Angeles Rams: Olumuyiwa Fashanu, OT, Penn State
The top tackle on the board slides to 10 here, as the Los Angeles Rams may be in the market for any number of positions in the first half of the first round. LA grabs Olumuyiwa Fashanu to shore up the left side of their offensive line after Fashanu spurned the 2023 NFL Draft to return to Penn State.
Fashanu has terrific strength and perhaps even better balance through contact. He's the complete package and is the best offensive lineman in college football this fall.
11) Green Bay Packers: Joe Alt, OT, Notre Dame
Right behind Fashanu is Notre Dame's Joe Alt. The world will get a first-hand look at Alt when Notre Dame takes on Navy in Dublin, Ireland, during the college football Week 0 slate, and they'll be given a glimpse at why he's in the running to be the top tackle taken.
Alt is a powerful force on the edge and can move equally well in all facets. The Notre Dame offense finally has a signal-caller worth protecting, and that's where Alt shines.
12) Chicago Bears: Rome Odunze, WR, Washington
When discussing dynamic receivers, the conversation has to include Rome Odunze. Overshadowed no more by his Pacific time slot, the Washington receiver made mincemeat of defenders in 2022.
Odunze sliced through defenses with speed and brings to the table a potential mismatch with his athletic profile. For such a big man, he plays a smaller game once he's caught the ball and is a threat to take every reception the distance.
13) Pittsburgh Steelers: Kalen King, CB, Penn State
Another Penn State cornerback in the house, this time, it's Kalen King for the Pittsburgh Steelers. King is a fierce, lockdown cornerback with some of the best instincts we've seen in college football recently.
He'll pass off his receiver with ease to make plays on throws not even in his coverage and, when it comes down to it, he may be the best cornerback against the run in all of college football.
14) Minnesota Vikings: Malik Nabers, WR, LSU
Announcing himself on the big stage last year, Malik Nabers got better as the season went along for LSU. Now, the crafty route runner and speed threat is out to prove 2022 was no fluke. If he does so, LSU wins some serious games, and he lands easily in the top half of the first round.
15) Las Vegas Raiders: JC Latham, OT, Alabama
The tackle market begins to thin out after the top three, but JC Latham is no slouch compared to Fashanu and Alt. Latham has a high pedigree following him to Tuscaloosa and has backed that up with dynamic blocks in all facets. He's best on the move, but Latham can handle himself in pass protection against any kind of pass rusher.
16) Houston Texans (From CLE): Xavier Worthy, WR, Texas
One of the top big-play threats in college football, Xavier Worthy brings a WR1 mantra with him wherever he goes. He'll line up outside and defeat cornerbacks at the line of scrimmage with an elite release, or he'll simply run them over or run by them in the open field.
17) Denver Broncos: Maason Smith, DT, LSU
Had Maason Smith not gone down in the first game of the season, LSU's 2022 season would've been much different. A game-changing defender on the inside, Smith moves incredibly well for his size and offers up elite hand usage for such a big man. He'll chase down running backs from the backside and influence every passing lane he can.
18) Los Angeles Chargers: Cooper DeJean, CB, Iowa
The Iowa production line offers up yet another cornerback with Cooper DeJean. A fierce, physical cornerback, DeJean has great instincts and can play well both with his back to the ball and within his backpedal. When it boils down to it, DeJean has a great burst and some of the best ball-tracking in this cornerback class.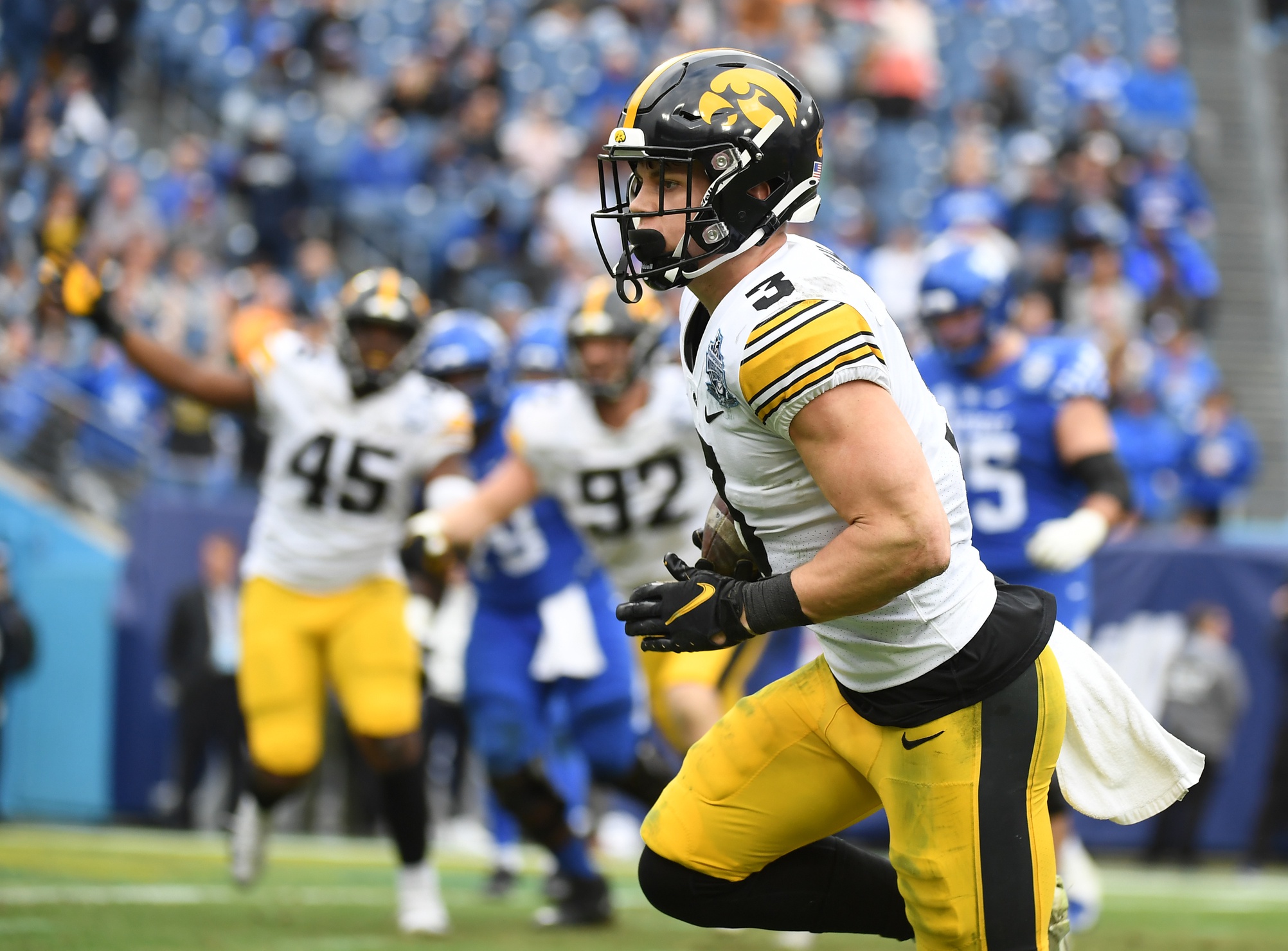 19) Seattle Seahawks: Donovan Jackson, G, Ohio State
One of the most underrated players in all of college football, Donovan Jackson didn't allow his high recruiting platform to guide him, and he's exceeded expectations so far in his career. Yet, he goes unnoticed on a dynamic Ohio State offense.
Unnoticed and underrated no more, Jackson is far more capable than the general public gives him credit and is absolutely worthy of a first-round pick as an interior offensive lineman.
20) New York Giants: Andrew Mukuba, S, Clemson
The New York Giants make the sensible pick, tightening up their coverage unit with the selection of Andrew Mukuba. The Clemson safety has terrific range and can arguably play either free or strong safety for the Giants. With versatility, Mukuba has the flexibility to land in any number of roles throughout his journey as a professional.
21) New Orleans Saints: Brock Bowers, TE, Georgia
Perhaps the best offensive player in the entire country, Brock Bowers is a mismatch waiting to happen in the NFL. Bowers has elite speed for such a big man and has a George Kittle-esque ability after hauling in receptions. What separates Bowers from recent "good tight ends" is the fact that he's more than capable as a blocker in all facets as well.
22) Miami Dolphins: Michael Hall Jr., DT, Ohio State
The defensive tackle class is an interesting group in the 2024 NFL Draft, and Michael Hall Jr. is a testament to that. The big man from Ohio State showcased his ability to single-handedly wreck offensive gameplans a year ago and is absolutely a three-down defensive tackle who can play all across the defensive front.
23) Jacksonville Jaguars: Denzel Burke, CB, Ohio State
Another Ohio State defender is off the board, this time, it's CB Denzel Burke. A physical presence on the outside, Burke has had an up-and-down career so far but has given us more than enough tape to showcase his elite abilities. He can cover any kind of receiver in his wake and has great burst and instincts before and while the ball is in the air.
24) Baltimore Ravens: Oronde Gadsden II, WR, Syracuse
Listed as a wide receiver, let's face it, Oronde Gadsden II is simply a "pass catcher" — a very good one at that. He plays a hybrid tight end role for Syracuse and could factor into any spot in the NFL.
The upside for Gadsden is the simple fact that he is an elite receiver and can line up anywhere. You don't necessarily have to fit him into a box, and rather, the Baltimore Ravens can line him up at any position and prosper.
25) Detroit Lions: James Williams, S, Miami (FL)
They don't make safeties much bigger than James Williams, and the big man plays to that size on every down. Williams has great coverage chops and brings the lumber on every hit. He can come downhill like a linebacker or track the football in space like a true free safety.
26) New York Jets: Sedrick Van Pran, C, Georgia
As recent drafts have shown, NFL teams value centers higher than the general public, and Sedrick Van Pran is on the rise. The big man from Georgie spurned the 2023 NFL Draft and is set to return to Athens for one more season of dominance for the Dawgs. He's fully equipped to lead an NFL offense right now, but the Jets have to wait until next year to get him in their lineup.
27) Dallas Cowboys: Jer'Zhan Newton, DT, Illinois
Physically dominant in the middle of their defense, Jer'Zhan Newton wreaks havoc for Illinois. The big man plays a feisty game with an elite get-off at the line of scrimmage. He has great strength and a better motor. Newton is a three-down interior lineman capable of changing the Dallas Cowboys defense as early as Year 1.
28) Buffalo Bills: Tony Grimes, CB, Texas A&M
Tony Grimes transfers to the SEC, where he can put his coverage skills to the test. The former North Carolina defensive back put on a display during his time with the Tar Heels and has great ball skills. He'll cover wide receivers well with his fluidity and offers perhaps an even better burst to the football in coverage.
29) Cincinnati Bengals: Bralen Trice, EDGE, Washington
Going largely underappreciated for his efforts last year, Bralen Trice was unstoppable for Washington in 2022. He's back to prove it wasn't a one-year wonder as the Huskies are poised to compete for the Pac-12 this fall, thanks to their dynamic offense and Trice's elite abilities off the edge.
30) Philadelphia Eagles: Jason Marshall, CB, Florida
Jason Marshall may be a bit of a reach — at this time — in the first round, but the cornerback class should be in high demand. With a great season of utilizing his elite athleticism, Marshall can prove to be worthy of a first-round selection with no trouble.
31) San Francisco 49ers: Tyreek Chappell, CB, Texas A&M
Tyreek Chappell has proven to be a reliable cornerback during his time at Texas A&M so far. He's got good coverage instincts and plays the run well near the line of scrimmage. With his length and speed, Chappell is a sound option for a team needing a reliable CB2 in this draft.
32) Kansas City Chiefs: Ruke Orhorhoro, DT, Clemson
Ruke Orhorhoro is still an ascending player. Relatively new to the game of football, Orhorhoro has a frame to mold and a motor that won't quit. He'll dominate smaller interior linemen with his strength and has proven to be quicker than fast, and that's proven nearly unstoppable against slower passing attacks.
Listen to the PFN Scouting Podcast
List to the PFN Scouting Podcast! Click the embedded player below to listen, or you can find the PFN Scouting Podcast on iTunes, Spotify, and all major podcast platforms.  Be sure to subscribe and leave us a five-star review! Rather watch instead? Check out the PFN Scouting Podcast on our Scouting YouTube channel.