The 2023 college football season is the next chapter in the 2024 NFL Draft cycle, and it's finally here. But before we dive head-first into the collegiate action, let's take one more look at how the early rounds of the 2024 NFL Draft might play out with this mock draft simulation.
2024 NFL Mock Draft | Round 1
1) Arizona Cardinals: Caleb Williams, QB, USC
At this point, everything that can be said about Caleb Williams ahead of the 2023 season has already been said. He's one of the best QB prospects in recent memory with his extraordinary off-platform feel and creation ability, and the tanking Cardinals can position themselves to reset with him at the helm.
2) Arizona Cardinals (From HOU): Marvin Harrison Jr., WR, Ohio State
Projected to have the top two picks in the 2024 NFL Draft, the Cardinals can create one of the most fearsome QB-WR tandems on Day 1 with Williams and Marvin Harrison Jr. Harrison is a near-generational WR prospect at 6'4″, 205 pounds, with dominating catch-point instincts and surgical separation ability.
3) Indianapolis Colts: Emeka Egbuka, WR, Ohio State
No two WRs from the same school have ever gone in the top three of the same NFL Draft. That changes in this 2024 NFL Mock Draft, with Emeka Egbuka heading to the Colts at third overall. Colts fans would prefer the legacy pick, but Egbuka's explosiveness, zone dissection ability, and RAC value would fit perfectly in Shane Steichen's offense.
4) Tampa Bay Buccaneers: Drake Maye, QB, North Carolina
The Buccaneers named Baker Mayfield their starting quarterback ahead of the 2023 season, but that isn't likely to last long term. Tampa Bay will more likely than not be seeking out a franchise QB in 2024, and Drake Maye is just as viable as Williams as a QB1 candidate with his arm talent, size and athleticism, and rare layering ability.
5) Las Vegas Raiders: JC Latham, OT, Alabama
Regardless of whether or not Las Vegas' commitment to Jimmy Garoppolo ends up being a multi-year one, they'll need a long-term starting right tackle to shore up the line. JC Latham is the best natural right tackle in the 2024 NFL Draft. At 6'6″, 330 pounds, he's an explosive road grader in the run game and a balanced, controlled pass protector.
6) Chicago Bears: Brock Bowers, WR/TE, Georgia
On paper, the Bears drafting Brock Bowers doesn't make as much sense now that Chicago has extended Cole Kmet. But with his profile, Bowers is more likely to fill the Chase Claypool role than serve as a traditional tight end. He can be a destroyer over the middle of the field as a big slot with his devastating RAC ability and dominating wingspan.
7) Los Angeles Rams: Olu Fashanu, OT, Penn State
For a short while, the Rams appeared to have their long-term starting tackle duo with Joseph Noteboom and Rob Havenstein. But Noteboom's recovery from injury has complicated his outlook, and there's reason to believe the Rams can upgrade with Olu Fashanu. Fashanu has rare synergy and balance to go with his athleticism and strength.
8) Tennessee Titans: Kool-Aid McKinstry, CB, Alabama
Kristian Fulton and Sean Murphy-Bunting will both hit free agency in 2024. Luckily for the Titans, Kool-Aid McKinstry is available in the 2024 NFL Draft, and he's a perfect fit for Mike Vrabel.
MORE: Top 50 2024 NFL Draft Prospect Watchlist
Vrabel's mantra is to terrorize QBs with diverse pressure looks and suffocate WRs in man. McKinstry has that suffocating ability with his length, crisp technique, and ball skills.
9) Green Bay Packers: Kingsley Suamataia, OT, BYU
It's widely accepted already that the Green Bay Packers are going to target an offensive tackle early in the 2024 NFL Draft. The only question is, which one? Joe Alt is a good option here, but Kingsley Suamataia also holds merit. Suamataia has superlative explosiveness at 6'6″, 320 pounds, with the power and tenacity to maul defenders through reps.
10) New England Patriots: Bo Nix, QB, Oregon
The Patriots have quietly done a decent job reworking the offense around Mac Jones this offseason. So if Jones doesn't improve under Bill O'Brien's oversight in 2023, New England might have to pivot in the 2024 NFL Draft. Bo Nix would give the Patriots a massive upgrade both with his athleticism and arm talent, as well as his savvy versatility.
11) Washington Commanders: Joe Alt, OT, Notre Dame
Let's imagine an outcome where the Commanders truly have something with Sam Howell under Eric Bieniemy. They still need to invest further in his protection unit. The team's blocking front is middling across the board, but Joe Alt can help change that with his rare mix of quickness, movement freedom, flexibility, and length on the blind side.
12) New York Giants: Maason Smith, DT, LSU
The New York Giants locked down Dexter Lawrence long-term, but they might not be able to keep Leonard Williams alongside him. If he departs, the Giants can add another high-upside talent on the line in Maason Smith. Smith's blend of awe-inspiring burst, power, and flexibility gives him all-encompassing alignment versatility — all at 6'6″, 315 pounds.
13) Atlanta Falcons: Jared Verse, EDGE, Florida State
Atlanta's EDGE rotation isn't necessarily weak, but it still lacks a top dog. Jared Verse can fix that. At 6'4″, 250 pounds, Verse is a lightning bolt off the line with energized attack ability, violent and precise hands, menacing power output, and finishing ability in pursuit. He can rush from numerous stances, but as a 3-4 OLB, he'd be particularly dangerous.
14) Chicago Bears (From CAR): J.T. Tuimoloau, EDGE, Ohio State
EDGE will remain a need for the Chicago Bears heading into the 2024 offseason, and with two first-round picks, it makes sense to invest in the position during the NFL Draft.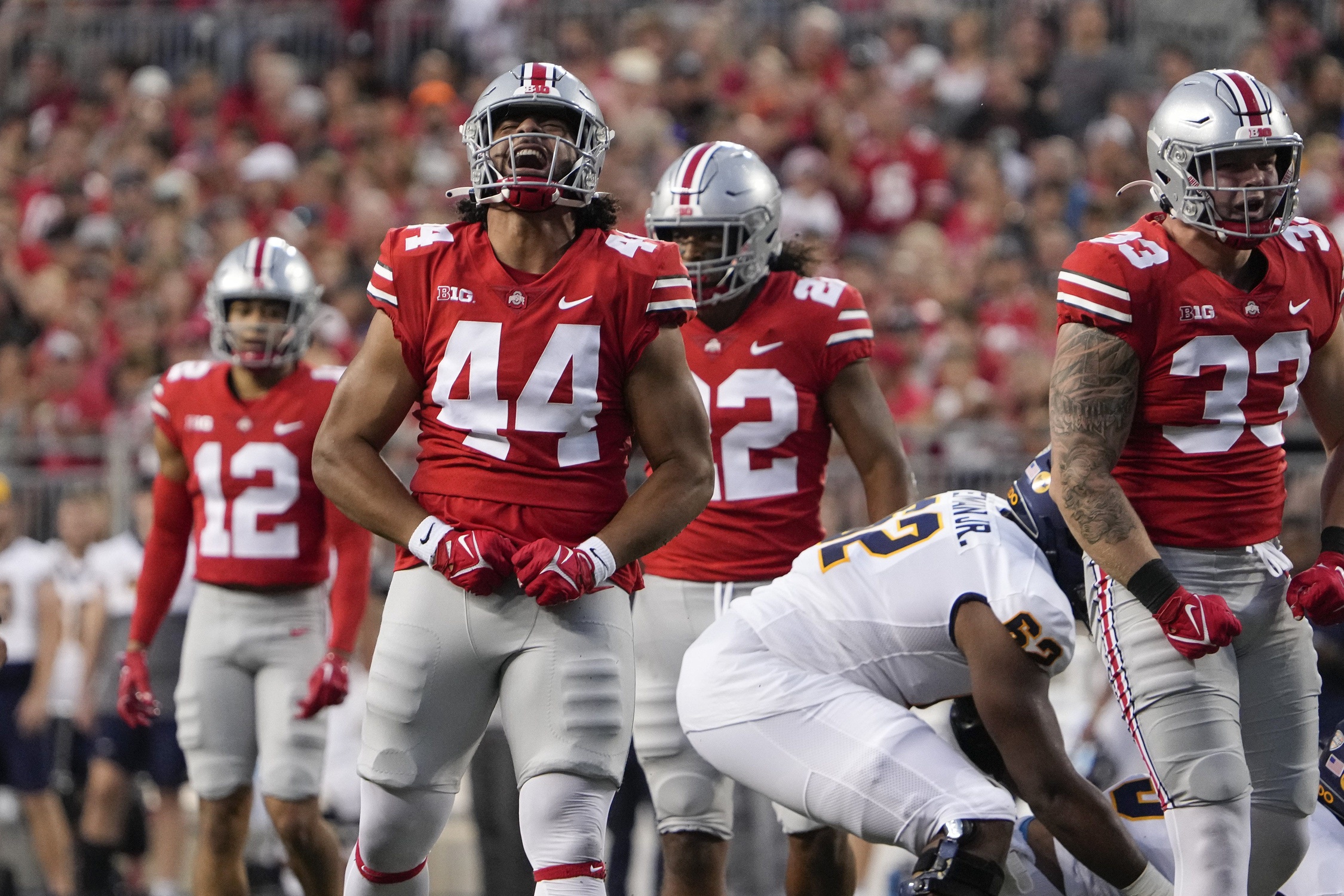 J.T. Tuimoloau has the size and length that Matt Eberflus craves at 6'4″, 270 pounds, and he has the burst, active hands, and motor to generate consistent disruption.
15) Pittsburgh Steelers: Sedrick Van Pran, C, Georgia
This is a little rich for a center, but it's one of the Steelers' most glaring needs, especially with Kenny Pickett entering a crucial range of development. And Sedrick Van Pran does have the high-level athletic ability to be considered in Round 1. His explosiveness allows him to glide to the second level, and he's a strong, physical finisher with good leverage.
16) Denver Broncos: Dallas Turner, EDGE, Alabama
At 6'4″, 240 pounds, Dallas Turner has all the hallmarks of a potentially elite finesse rusher from 3-4 OLB looks. He's incredibly explosive and bendy, as well as agile. But he also has exceptional proportional length, and he's shown he can use his burst and length in tandem to plow tackles off their base. His ceiling is one of the highest in the 2024 NFL Draft.
17) Houston Texans (From CLE): Kris Jenkins, DT, Michigan
Son of a former NFL All-Pro of the same name, Michigan's Kris Jenkins has perhaps the highest ceiling in the entire 2024 NFL Draft DT class. Now up to 307 pounds at 6'3″, he's a freak athlete with frightening explosiveness and lateral twitch off the snap. He also has the bend to carry that acceleration around blocks, and his hands are heavy and violent.
18) Los Angeles Chargers: Raheim Sanders, RB, Arkansas
There's no consensus RB1 in the 2024 NFL Draft, but Raheim Sanders has perhaps the easiest Round 1 projection if he can play to his ceiling in 2023. He's 6'2″ and reportedly up over 240 pounds, and he runs like it. He's aggressive in contact situations but also incredibly explosive through gaps, and he can dominate defenders while taking volume.
19) Minnesota Vikings: Jordan Travis, QB, Florida State
2023 could be Kirk Cousins' last year in Minnesota. With Cousins, the Vikings proved they could field a productive offense without top-end arm talent. Being tough, poised, accurate, and on schedule is just as important. Jordan Travis has all of those qualities, and he doubles as a hyper-elite creator who can add a new dimension for Kevin O'Connell.
20) New Orleans Saints: Troy Franklin, WR, Oregon
Troy Franklin is a spidery receiver at 6'3″, 180 pounds, who will assuredly need to add more mass. But he counteracts his leaner frame with exceptional body control and coordination at the catch point. Meanwhile, he's also a hyper-versatile offensive weapon with explosiveness, twitch, and the long speed to create big plays on schemed touches.
21) Jacksonville Jaguars: Leonard Taylor III, DT, Miami (FL)
It's hard to call a defender listed at 6'3″, 305 pounds "lean," but that's how Leonard Taylor III looks on tape. He has almost no bad weight and moves effortlessly for his size. He's explosive off the snap, natural at converting his momentum into power, and his quick processing ability allows him to diagnose and exploit leverage with rare speed.
22) Seattle Seahawks: Barrett Carter, LB, Clemson
Barrett Carter is listed as a linebacker, but the 6'1″, 225-pound defender is more than that. He's a hyper-elite athlete with instant closing burst, effervescent lateral twitch, and true sideline-to-sideline range. He can play overhang slot and blanket tight ends, track plays laterally with precision, and invade creases in protection with unmatched zeal.
23) Miami Dolphins: Amarius Mims, OT, Georgia
Amarius Mims is listed at a whopping 6'7″, 330 pounds, and yet, he looks like a scaled-up blocking tight end. We need a larger sample size before we can lock him into the Round 1 range, but his physical composition is incredibly imposing, and he absolutely glides as a space blocker. His athleticism and power would fit perfectly in Mike McDaniel's scheme.
24) Baltimore Ravens: Ruke Orhorhoro, DT, Clemson
Jer'Zhan Newton is graded higher than Ruke Orhorhoro on my board, but I think Orhorhoro is a better fit for Baltimore. At around 6'4″, 303 pounds, Orhorhoro has the length Newton lacks, and it's a central part of his game. He combines that length with elite explosiveness to formulate devastating power output, and he can do so from multiple alignments.
25) Detroit Lions: Keon Coleman, WR, Florida State
The Lions' offense is mostly complete, but they could use a true plus-sized weapon in the receiving core. At 6'4″, 215 pounds, Keon Coleman has the size and otherworldly catching instincts to man the boundary and win one-on-one, but he can also be a RAC weapon from other alignments with his explosiveness, agility, and contact balance.
26) Green Bay Packers (From NYJ): Kamren Kinchens, S, Miami (FL)
Assuming the Packers get the Jets' first-rounder on condition in this 2024 NFL Mock Draft, Green Bay uses their second Round 1 pick to select a versatile safety in Kamren Kinchens. At around 5'11" and over 200 pounds, Kinchens has great density and run support value, but his most marketable trait is his range and ball-hawking ability in the deep third.
27) Dallas Cowboys: Kalen King, CB, Penn State
If Stephon Gilmore is a one-year rental, the Cowboys will need a new complement to Trevon Diggs at boundary CB. The 5'11", 191-pound Kalen King isn't overly imposing at first glance, but he plays with bristling tenacity in both phases, and he ultimately has the twitch, foot speed, fluidity, eyes, and ball skills to lock down WRs in coverage.
28) Cincinnati Bengals: Malik Nabers, WR, LSU
Even if the Bengals manage to extend Tee Higgins, they'll likely have to deal with Tyler Boyd's departure. In that scenario, why not create the scariest WR corps known to man? Alongside Higgins and Ja'Marr Chase, Malik Nabers would be a nightmare. He has venerable vertical speed and burst but is also a physical separator and a grating RAC threat.
29) San Francisco 49ers: J.J. McCarthy, QB, Michigan
The 49ers have proven they can stay afloat without QB stability, but at some point, Brock Purdy may level out and force them to reconsider. J.J. McCarthy would give San Francisco a passer with superior athleticism and arm elasticity, and he's already received a vote of confidence on his mental approach from Michigan head coach Jim Harbaugh.
30) Buffalo Bills: Tyleik Williams, DT, Ohio State
Set to encounter turnover on the interior defensive line, the Buffalo Bills will have to do their due diligence with the 2024 NFL Draft iDL group. At 6'3″, 320 pounds, Tyleik Williams has the size, strength, and power to plow open lanes from 1-tech, but he also has the burst, size-adjusted flexibility, and hand violence to provide pass-rush value.
31) Philadelphia Eagles: Bralen Trice, EDGE, Washington
With Josh Sweat and Brandon Graham both entering contract years, the Eagles may need to once again address EDGE in the 2024 NFL Draft. Bralen Trice, at 6'4″, 260 pounds, has the size and length to play strong-side 5-tech while Nolan Smith and Haason Reddick rush from space. But Trice is also athletic enough to play standing up and attack with voracity.
32) Kansas City Chiefs: Rome Odunze, WR, Washington
The Kansas City Chiefs are now the NFL's evil empire, but this pick represents a sick desire to see just how far Andy Reid and Patrick Mahomes can go terrorizing NFL defenses. Alongside Rashee Rice, Rome Odunze has the size, flexibility, and route-running savvy of a young Keenan Allen, but he's arguably more athletic with untapped potential in space.
Round 2
33) Arizona Cardinals: Jer'Zhan Newton, DT, Illinois
In Jer'Zhan Newton, the Cardinals get a Top 15 talent in the 2024 NFL Draft at the top of Round 2. Newton is a bit undersized, but his torso flexibility is the best at his position.
34) Houston Texans: Quinyon Mitchell, CB, Toledo
Quinyon Mitchell is a ball hawk with game-breaking closing speed and ball skills at 6'0″, 200 pounds, but he also has the necessary foot speed and physicality to thrive in man.
35) Indianapolis Colts: TreVeyon Henderson, RB, Ohio State
Anthony Richardson is on his rookie deal. This is the time to add an explosive, dynamic, and versatile RB with volume-worthy contact balance and physicality: TreVeyon Henderson.
36) Tampa Bay Buccaneers: Tyler Guyton, OT, Oklahoma
With Tristan Wirfs moving to the left side, the Buccaneers need an RT opposite him. Tyler Guyton is a sleeper with stellar closing burst, length, and steadiness on his base.
37) Las Vegas Raiders: Cooper DeJean, CB, Iowa
A steal at this point in Round 2, Cooper DeJean gives the Raiders a freak athlete at 6'1″, 210 pounds, with stellar support ability and sharp playmaking instincts in coverage.
38) Carolina Panthers: Chop Robinson, EDGE, Penn State
Chop Robinson would be a perfect fit for Ejiro Evero's scheme in Carolina. Rushing from space, he has the compact frame, motor, and instant burst to engineer constant pressure.
39) Los Angeles Rams: Malachi Corley, WR, Western Kentucky
Malachi Corley projects well as a complementary threat to Cooper Kupp with his vertical speed, short and intermediate-range separation ability, and RAC value at 210 pounds.
40) Tennessee Titans: Brandon Dorlus, DL, Oregon
At risk of losing Denico Autry in the 2024 offseason, the Tennessee Titans can add another powerful, explosive, and alignment-versatile goblin in Oregon's Brandon Dorlus.
41) Green Bay Packers: Denzel Burke, CB, Ohio State
This pick is somewhat hedging for Eric Stokes' unclear long-term outlook. But at his peak, Denzel Burke has the explosiveness, twitch, length, and ball skills to thrive outside.
42) New England Patriots: Jordan Morgan, OT, Arizona
We'll need to see if Jordan Morgan can return to peak form after tearing his ACL, but he has the short-area athleticism, size, and foot speed to be an NFL starter.
43) Washington Commanders: Princely Umanmielen, EDGE, Florida
He'd already be a high-level run defender alongside Jonathan Allen and Daron Payne, but Princely Umanmieln has the burst, bend, and length to be a pass-rushing menace in time.
44) New York Giants: Graham Barton, OL, Duke
Set to lose Mark Glowinski in free agency, the Giants can upgrade with Graham Barton, who has the elite athleticism, powerful leg drive, and tenacity to be 2024's top guard.
45) Atlanta Falcons: Jason Marshall Jr., CB, Florida
He's still relatively green, but Jason Marshall Jr. has an enticing blend of explosiveness, speed, length, physicality, and high-energy lateral mobility if he can put it all together.
46) Chicago Bears: Jordan Burch, DL, Oregon
Double-dipping on the defensive line in this 2024 NFL Mock Draft, the Bears add Jordan Burch — an alignment-versatile five-star physical talent at 6'6″, 290 pounds.
47) Pittsburgh Steelers: Jeremiah Trotter Jr., LB, Clemson
Cole Holcomb and Kwon Alexander can hold the second level in 2023, but Jeremiah Trotter Jr. provides the most long-term stability with his instinctive ability to combat blocks.
48) New Orleans Saints: Andrew Mukuba, S, Clemson
If he can improve as a playmaker and add to his frame, Andrew Mukuba has first-round ability with his hyper-elastic tracking athleticism, swarming range, and defiant physicality.
49) Cleveland Browns: James Williams, S, Miami (FL)
While the Browns deploy Juan Thornhill over the top with his speed and range, the 6'5″, 220-pound James Williams can be a sledgehammer downhill for opposing ball carriers.
50) Los Angeles Chargers: Tyler Nubin, S, Minnesota
Alongside Derwin James, Tyler Nubin can help grant the Chargers stability at safety. The 6'2″, 205-pound defender has smooth mobility, sharp processing ability, and ball skills.
51) Minnesota Vikings: Ashton Gillotte, EDGE, Louisville
Keep an eye on Ashton Gillotte as a 2024 NFL Draft riser at Louisville. At 6'3″, 270 pounds, he has eye-catching explosiveness, bend, and seamless power generation for his size.
52) Philadelphia Eagles: Xavier Worthy, WR, Texas
This just makes sense for the Eagles, especially if they lose Quez Watkins. Xavier Worthy's speed can be game-changing, and he has the high-end body control to convert.
53) Jacksonville Jaguars: Troy Fautanu, G, Washington
Troy Fautanu has tackle and guard experience, but guard is where he translates best in the NFL.
MORE: FREE Mock Draft Simulator With Trades
He's a solid athlete with impressive density and awesome torque freedom at contact.
54) Seattle Seahawks: McKinnley Jackson, DT, Texas A&M
A favorite of the PFN scouting staff, McKinnley Jackson has the natural leverage, composite play strength, urgent leg drive, and violence in his movement to be a stalwart nose tackle.
55) Miami Dolphins: Michael Hall Jr., DT, Ohio State
Michael Hall Jr. needs to keep improving his balance and technique, but at around 6'2″, 290 pounds, he has the explosiveness, length, flexibility, and power capacity worth investing in.
56) Baltimore Ravens: Antwane Wells Jr., WR, South Carolina
Alongside Zay Flowers, the 6'1″, 208-pound Antwane Wells Jr. can give the Ravens some of the RAC utility they might lose this offseason if Devin Duvernay departs.
57) Detroit Lions: Donovan Jackson, G, Ohio State
The Lions may lose guard talent this offseason. If they want to bank on upside in the 2024 NFL Draft, no one has Donovan Jackson's mix of lateral athleticism, length, and leverage.
58) New York Jets: Dontay Corleone, DT, Cincinnati
To maintain their odd-front personnel, the Jets need a successor to Al Woods. Dontay Corleone, who stands at 6'1″, 323 pounds, has the sturdiness and attack power to qualify.
59) Dallas Cowboys: Jack Nelson, OT, Wisconsin
At 6'7″, 305 pounds, Jack Nelson needs to get stronger. But he has the explosive athleticism, bendy flexibility, length, power, and physicality to be a potential starter.
60) Cincinnati Bengals: Ben Sinnott, TE, Kansas State
Ben Sinnott is a stellar athlete and an incredibly smooth route runner and receiving threat up the seam, but his versatile blocking ability adds to his value for Cincinnati.
61) San Francisco 49ers: Jasheen Davis, EDGE, Wake Forest
Quietly, Jasheen Davis is an impressive 2024 NFL Draft prospect. He put up seven sacks and 14 TFLs in 2022 and has burst, twitch, length and power drive, and a hot motor.
62) Buffalo Bills: Reuben Fatheree II, OT, Texas A&M
If Spencer Brown doesn't ascend, Reuben Fatheree II can succeed him at right tackle. Fatheree is built like a refrigerator at 6'8″, 315 pounds, but moves incredibly well.
63) Philadelphia Eagles: Bucky Irving, RB, Oregon
Assuming the Eagles don't re-sign D'Andre Swift, Bucky Irving can help fill that void. He's a spark at 5'10", 195 pounds, with impressive hip flexibility, suddenness, and balance.
64) Kansas City Chiefs: Caelen Carson, CB, Wake Forest
You can never have too many good CBs. If Kansas City can't retain L'Jarius Sneed, they can get another feisty, fleet-footed, and quick-reacting cover man in Caelen Carson.
Ideal 2024 NFL Draft Sleeper Targets
Arizona Cardinals: Charles Turner, C, LSU
Atlanta Falcons: Tory Horton, WR, Colorado State
Baltimore Ravens: Jo'Quavious Marks, RB, Mississippi State
Buffalo Bills: Jalen White, RB, Georgia Southern
Carolina Panthers: Will Sheppard, WR, Vanderbilt
Chicago Bears: Reddy Steward, CB, Troy
Cincinnati Bengals: Joseph Evans, NT, UTSA
Cleveland Browns: Blake Watson, RB, Memphis
Dallas Cowboys: Tunmise Adeleye, DL, Michigan State
Denver Broncos: Jalon Daniels, QB, Kansas
Detroit Lions: Drew Tuazama, EDGE, South Carolina
Green Bay Packers: Tyler Baron, EDGE, Tennessee
Houston Texans: Tyrone Howell, WR, UL Monroe
Indianapolis Colts: Jowon Briggs, DT, Cincinnati
Jacksonville Jaguars: Mike Sainristil, CB, Michigan
Kansas City Chiefs: Kiran Amegadjie, OT, Yale
Las Vegas Raiders: OC Brothers, LB, Purdue
Los Angeles Chargers: Jordan Dunbar, CB, Rice
Los Angeles Rams: Sundiata Anderson, EDGE, Grambling State
Miami Dolphins: Malik Mustapha, DB, Wake Forest
Minnesota Vikings: Isaac Guerendo, RB, Louisville
New England Patriots: Chris Tyree, RB/WR, Notre Dame
New Orleans Saints: Jaylan Ford, LB, Texas
New York Giants: Jordan Brown, WR, Coastal Carolina
New York Jets: Brandon Coleman, OT, TCU
Philadelphia Eagles: Ja'quan Sheppard, CB, Maryland
Pittsburgh Steelers: Shawn Asbury II, CB, Old Dominion
San Francisco 49ers: Zy Alexander, CB, LSU
Seattle Seahawks: Prince Pines, G, Tulane
Tampa Bay Buccaneers: Khari Coleman, LB, Ole Miss
Tennessee Titans: Sataoa Laumea, OL, Utah
Washington Commanders: Tanor Bortolini, G, Wisconsin
Listen to the PFN Scouting Podcast
Listen to the PFN Scouting Podcast! Click the embedded player below to listen, or you can find the PFN Scouting Podcast on iTunes, Spotify, and all major podcast platforms.  Be sure to subscribe and leave us a five-star review! Rather watch instead? Check out the PFN Scouting Podcast on our Scouting YouTube channel.