After Kenny Pickett was the lone quarterback selected in the first round of this past season's draft, we're here again talking about another Pittsburgh QB prospect for the 2023 NFL Draft. Whether or not Kedon Slovis follows in Pickett's footsteps is not out of the question. The bigger question is, where does Slovis fit into this absolutely stacked 2023 QB class?
Pittsburgh prospects in the 2023 NFL Draft
As good as Slovis was at times at USC, he's now transferred to greener pastures following the outing of Clay Helton and the insertion of Lincoln Riley in LA. Slovis joins a cast of defensive characters that rival any defense in the country and stands behind a talented offensive line. But with Jordan Addison's transfer, will Slovis have enough weapons to throw to? Let's go through position by position with eyes toward all of Pitt's potential 2023 NFL Draft prospects.
Kedon Slovis, QB
There's an untapped potential in Slovis' game. He was able to showcase it at times during his USC tenure. But at others, he was held within the confines of an incredibly simplified, QB-friendly offense that saw him lower his average yards per attempt in each consecutive season. When Slovis was forced to air the ball out — most notably in games they were trailing — good results followed. This Pittsburgh offense is an offense that should allow more freedom to create for Slovis. As such, he could return to that fabulous freshman form that saw him light defenses on fire.
Israel Abanikanda, RB
When it comes to Israel Abanikanda, there is no denying his speed. The former 100-meter New York Mayor Cup gold medalist, Abanikanda brings his track speed to the football field with effortless precision. He loses no speed in his breaks and leaves defenders in his wake. Abanikanda has also proven to be able to take games over — just watch the Virginia Tech game a season ago. Continuing to factor heavily into the receiving game will do wonders for his draft stock.
Jared Wayne, WR
Set to receive a massive target boost, Jared Wayne is now Pittsburgh's leading returner in yards, touchdowns, and receptions after Addison's transfer. Wayne proved to be able to win anywhere on the field last year in a secondary role. If he proves he can continue that success and help elevate Slovis in the process this year, the sky is the limit for him.
Jaylon Barden, WR
Appearing in just a handful of games last season, Jaylon Barden (alongside Konata Mumpfield) is set to also see a heavy influx in targets this year. The former Georgia 3-A Player of the Year knows a thing or two about dominating games with his receiving prowess. He'll have time to showcase what made him such a highly sought-after recruit, as he has speed and deceptive routes at his disposal.
Carter Warren, OT
With a chance to challenge the top offensive tackles in this class, Carter Warren is a name to remember for college football fans and draftniks alike. Warren has plenty of skill in the run-blocking aspect, but his pass protection is a thing of beauty. He has great recovery if he's beaten but also possesses enough balance and strength to engage with a variety of pass rushers all the same. He's also incredibly experienced and durable, with 14 starts a season ago and hardly missing a series.
Marcus Minor, G
The Panthers left guard returns to pair with their starting left tackle from a dominant year in 2021. Marcus Minor can vault himself into the draft picture with another year like he had a season ago. No slouch in the passing game, Minor is at his best on the move where he can use his athleticism to pave huge rushing lanes for the Pittsburgh rushing attack.
Owen Drexel, C
Yet another returning starter from a year ago, Owen Drexel anchors the middle of the Pitt offensive line. Drexel can improve his draft stock with an uptick in production in the passing game. But like Minor, Drexel is a road-grader in the ground game.
Jake Kradel, G
By this time, you get the point: This Pitt offensive line is incredibly experienced and brings back every starter from last season, including right guard Jake Kradel. An influential member of their line over the past three seasons, Kradel is an ideal zone-blocking guard as he can move with ease and presents a challenge for defensive linemen to see coming across the middle with his quick feet.
Gabe Houy, OT
Another returning starter from last year, Gabe Houy rounds out one of the nation's most experienced units. The Pittsburgh native is a fan favorite because of his ability to drop defensive linemen with his strength in both facets of play. He can shift up and down the line when Pitt goes unbalanced, proving his worth multiple times with his hand in the dirt as well.
Habakkuk Baldonado, EDGE
The defense is where this Pitt team will be most influential in the 2023 NFL Draft, and Habakkuk Baldonado is right up there at the top of the list. The former swimmer and MMA fighter from Italy is a lean 255 pounds at 6'5″. Obviously, he possesses elite hands and uses them incredibly well. He has elite endurance and an incredibly high motor.
Baldonado also has untapped potential as he picked football back up in 2017, playing just a single season of American football in the country for Clearwater Academy International. On the field, he's proven to be too much for linemen to handle wherever he lines up. With speed (both in his feet and his hands), as well as an underrated strength element to his game, Baldanodo could be the next great international pass rusher.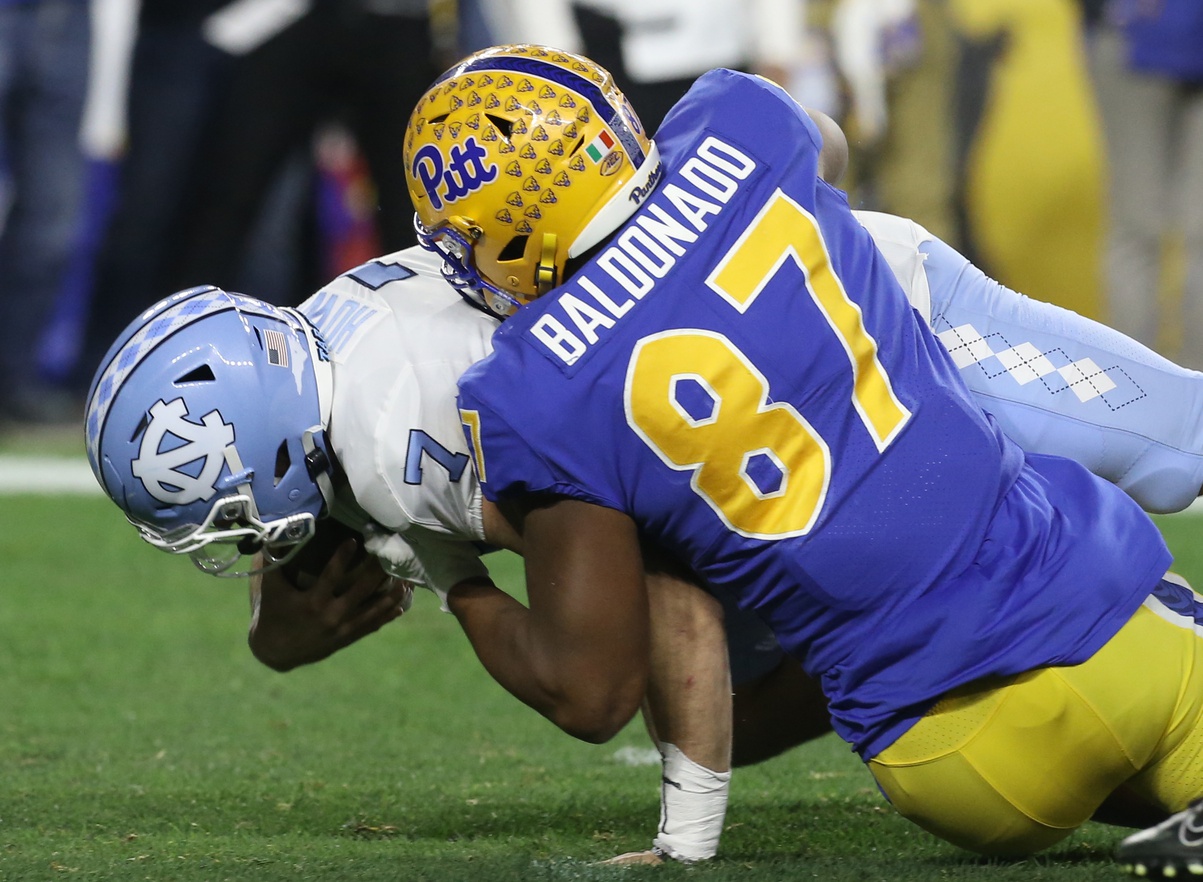 Calijah Kancey, DT
The Pittsburgh mold for an interior defensive lineman doesn't include your prototypical size parameters. Calijah Kancey fits their mold but may not fit into the NFL mold for an interior lineman as he stands 6'0″ and 275 pounds. Yet, he rarely gets backed up, and he uses his incredibly quick first step to beat linemen virtually at the snap of the ball. Kancey is dominant against slower guards and centers, while he also understands how to best use his leverage to beat those that can match his speed.
David Green, DT
Get to know the name David Green. The big man from Pittsburgh has breakout star written all over him. He's a bully in the trenches and has terrific strength as well as more than enough balance through contact. Green paves his way through rushing gaps to stop the point of attack and has a few stout pass-rush moves in his arsenal.
Deslin Alexandre, EDGE
The Pitt defensive line is as stacked as their offensive line, and Deslin Alexandre is yet another returning starter and redshirt senior on this unit. Alexandre has plenty of length and more than enough bend to get around the end. But what makes his game so impressive is his strength and versatility. It's rare to see a 280-pounder rushing from off the edge with so much speed, but that's just who Alexandre is.
John Morgan III, EDGE
Again, you get the picture, another returning redshirt senior on this defensive line. John Morgan III had a career year a season ago and will look to follow that up in 2022. If his Peach Bowl performance against Michigan State to close out the year gave us any indication, he's a player who can take over games at times and has plenty of pass-rush moves to influence the opponent's passing game at will.
Tyler Bentley, DT
Tyler Bentley is yet another redshirt senior returning to grace Heinz Field with his play for one final season. Bentley is quite experienced and has plenty of skill to his game. He can rush the passer from a variety of interior positions but thrives when he can disrupt multiple gaps. He's an excellent run stopper and could improve draft stock with some more flashes in the pass-rushing game.
SirVocea Dennis, LB
Getting to the back seven of the Pitt defense, it all starts with SirVocea Dennis. No stranger to making an impact in all facets, the All-ACC second-team defender led Pitt in tackles a season ago. He returned an interception for a touchdown a season ago, chipped in with 9.5 tackles for loss, and showcased an underrated aspect of his game when he dominated on blitzes. No matter the element of play, Dennis is a dominant off-ball linebacker.
Buddy Mack III, LB
An incredibly gifted athlete, Buddy Mack III has been a valuable contributor on the Pitt special teams over the past two seasons. He's in line for an uptick in production as well as impact on defense as he slides into a starting role. At just 6'1″ and 200 pounds, he's certainly undersized to be a three-down linebacker. Yet, he possesses enough speed to cover any number of pass catchers over the middle.
Marquis Williams, CB
With 22 starts over the past two seasons, Marquis Williams is one of the more experienced cornerbacks returning to the ACC this year. Williams didn't allow a touchdown in his primary coverage a season ago and may prove to be one of the stickiest cover corners in the country yet again. Though undersized to today's standards at 5'9″, 175 pounds, Williams is a tenacious corner who stays in his receiver's hip pockets with ease.
Brandon Hill, S
Brandon Hill is a true strong safety. He closes space in the short and underneath passing lanes easily. Hill basically runs the alley like a linebacker and shuts off big rushing lanes. He also chipped away with two interceptions a season ago andas multiple forced incompletions with his coverage skills.
Erick Hallett II, S
Roaming free in Pitt's defense, Erick Hallett II made multiple plays on the ball in 2021. He showcased an ability to take games over, most notably in the ACC Championship Game against Wake Forest. His coverage is sound, as is his ability to step up in run defense on the edge.
M.J. Devonshire, CB
An experienced defensive back despite playing in a reserve role in his first season with Pitt, M.J. Devonshire should challenge for more reps in 2022. A high school track standout, Devonshire has speed for days and great closing ability in coverage. He showed an ability to keep plays in front of him last year and came up big in the clutch with the game-winning interception against North Carolina in overtime.
A.J. Woods, CB
Getting his lone start of the season in the Peach Bowl, A.J. Woods gave a little taste of what we could expect if he was inserted into the lineup full time as the starter outside. Woods dominated against the run on the edge and blew up play after play in coverage. He is a ball hawk with great instincts and more than enough athleticism downfield.
Listen to the PFN Scouting Podcast
Listen to the PFN Scouting Podcast! Click the embedded player below to listen, or you can find the PFN Scouting Podcast on iTunes, Spotify, and all major podcast platforms.  Be sure to subscribe and leave us a five-star review! Rather watch instead? Check out the PFN Scouting Podcast on our Scouting YouTube channel.