I went back to my summer scouting, just for fun, and I was floored. My top-rated wide receiver was Jerry Jeudy, my top quarterback was Justin Herbert, and my top tight end was Jared Pinkney. Now? My top-rated receiver is CeeDee Lamb, my top quarterback is Joe Burrow, and my top tight end is Adam Trautman. Oh, and the top player on my board now is Chase Young. That is the consensus around the draft community right now. So, just who was the top-rated prospect of mine in the summer? It was, at the time, a popular pick in LSU safety Grant Delpit.
In the summer, I called Delpit an 'elite prospect' and 'S1 (top-rated safety) forever'. Now, Delpit is undoubtedly a good prospect, but an elite one? No, there are just too many puzzle pieces missing in his prospect spectrum for that one to be true. And as for my top-rated safety, that one has changed as well. Alabama's Xavier McKinney now holds that honor after a standout season in Tuscaloosa with Nick Saban.
But Delpit's case is a curious one. A guy who was hyped up as the heir to the LSU throne, wearing the number seven which the likes of Leonard Fournette and Tyrann Mathieu have dawned in recent years. All the analysts were buzzing about how good he was last draft season. He was consensus top-5 player and universally thought to be a slam dunk first-round pick in the 2020 NFL Draft and likely a top-10 pick. Now, he is no longer even the top-rated safety on some boards. What gives?
It is a weird turnaround for Delpit, who still has so much going for him. Teams will gush about his intangibles right off the bat. The LSU staff and Dave Aranda loved him, and teams will be impressed by how much of a boon he is to their team's locker room. The leader of the Tigers defense was Delpit, and he was the heart and soul of the group, even as he was battling through a nagging ankle injury in 2019. His leadership and communication skills were on display against Oklahoma when he shifted the defense pre-snap and allowed Kary Vincent to get a massive interception.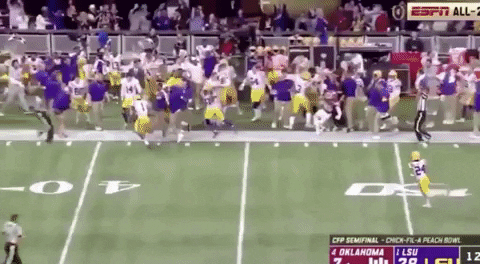 It was a play that illustrated why people were so high on him before the season. But that was not all that he brings to the table. Sure, teams will be able to sit down with Delpit and be impressed by how he breaks down film, but they will also be impressed by numerous traits on film. Namely, his elite football IQ. He has a natural feel for spacing and leverage that makes him a dangerous safety. Delpit can read the quarterback's eyes just like a ballhawk would. He can anticipate route concepts and jump those routes. Delpit has the whole mental shelf in his repertoire. And ball skills? Yeah, he has those to his name, too. Delpit had eight interceptions and 24 pass deflections in three years at LSU. He is magnetized and attracted to the football.
So, then, what about his athletic and physical tools? He has those in droves too. Delpit is going to blow the roof off of the NFL Combine in Indianapolis. He has the range to be a single-high safety and will run well. In the field drills, he has the silky smooth hips and sudden feet to impress teams just by how he moves and handles himself physically. He is a dazzling talent to watch just for what he has in his toolbox. Everything sounds great for Delpit up to this point. He has athleticism, football I.Q., intangibles, ball skills, and more. I mean, really, what more could you want?
But it is when the tackling aspect of Delpit's game comes up that the questions arise. As a safety, tackling is enormous. Notably, though, for Delpit, who has a skillset designed for versatility in the modern NFL. He could be used as a chess piece, but the tackling issues are going to make him less likely to play down in the box. And even where he likely fits best, as a single-high safety, Delpit is going to be the last line of the defense when someone misses their run fit or a big passing play happens, and he is the only one in range to make a play. He missed 20 tackles in 2019, and the tackling woes are naturally going to scare some teams away. That is a shame because Delpit is going to be a productive NFL player.
Delpit is the perfect example of what can happen when high expectations are put on players. There are exceptions to this rule, with Young being one of the obvious ones. However, Delpit shows that the draft cycle does not always turn out to be like you think it would. The shocking dip in Delpit's draft stock is the most notable fall. If we can learn anything from this, it is that nothing is absolute. Anything can happen to any prospect, positively or negatively, just ask Delpit.