Initially, he was going to go back to school, but Cole Kmet changed his mind on Thursday and officially declared for the 2020 NFL Draft. And by doing that, Kmet now tosses his hat into the ring to be the potential top tight end prospect in a class that lacks a definitive top tier guy. However, there are still impressive players like Purdue's Brycen Hopkins that will contend with the top spot with Kmet.
The Notre Dame tight end started for the first time this past year, and in an offense that heavily attacks the middle of the field, Kmet thrived and put up over 500 receiving yards. Unequivocally, he was one of Ian Book's favorite safety blankets over the middle. In an offense with Senior Bowl invitee Chase Claypool in it as well, Kmet certainly had a lot of competition for his targets. Fortunately, Kmet is not just limited to his ability to catching the football; he can also win at the point of attack as an in-line blocker.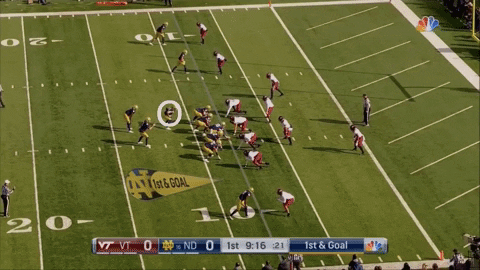 The role Notre Dame used Kmet in is interesting to me. They deployed him as an H-Back, split him out wide, and kept him in-line on other plays. In other words, if you are looking for what Kmet will do at the next level for a tight end, he will do it all, unlike some other tight ends in this class that are far more receivers than tight ends at this point. Notre Dame trusted his mobility enough to make him block defenders in space multiple times, but they also sent him up the seam more times than I can count. Kmet is going to be a seam-buster in the NFL. That is going to be one of his primary roles just because he is so effective at doing so.
His big-bodied frame makes him an ideal redzone threat at the next level as well. The various alignments he can be used out of only at to his effectiveness down in the redzone, where he can do things similar to the video above and bust the seam from the H-back look, or he can be split out wide and have a fade tossed his way. That is the beauty of having Kmet's versatility at your disposal.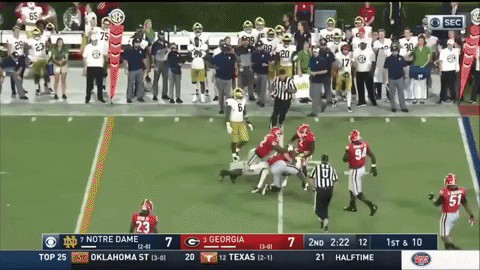 Here he is flexed out into the slot, and he is used where he is best, and that is using his athleticism in space to bust these seams in zone coverage. Kmet has a silky smooth release off the line that shows off his mobility. He is such a mismatch over the middle of the field that it is tough to guard in zone coverage up the seam or with a defender in man coverage because he can win above the rim too. This is an excellent job to secure the ball to his frame as he expects contact from the safety ranging over. Subsequently, he holds onto this football and secures it for a big gain.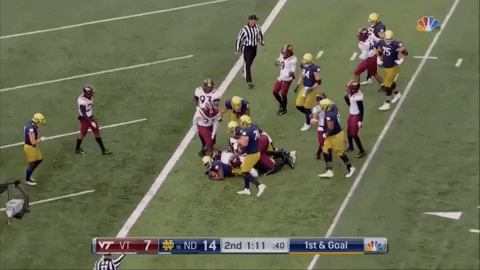 Another reason that Kmet can be used in-line and in multiple looks as a receiver is because of blocking ability. The outcome of this play is not ideal, but I love what Kmet as an individual does here. He fires off the ball quickly and gets on his man at the point of attack right away. The power he showcases to push the line back as well is quite impressive. He comes off the snap with good pad level and wins that battle, thus giving him control. Kmet ends up driving his guy into the ground and executing a solid block here, and plays like this are why Kmet can be an in-line tight end at the next level.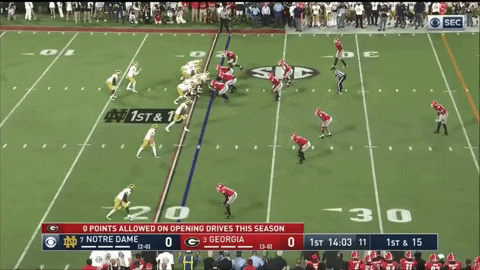 Perhaps my favorite trait of Kmet's is not his versatility that projects him to be excellent in multiple roles in the NFL. It is the energy and toughness that he plays with, especially after the catch. There are not a lot of tight ends that can drag a linebacker five yards up the field like he is a rag doll. Kmet's power and physicality are why he can be categorized as a bully in the open field. He will throw stiff arms and grind for every single last yard he can try and get. Not all guys have that type of contact balance and intensity, but it is infectious to watch on the field. It is the cherry on top of why I have Kmet as my top-rated tight end in the class, and I genuinely believe he has a chance to be a first-round pick.