We haven't even seen these NFL Draft prospects — or, more accurately, these potential NFL Draft prospects — take the field yet in 2023. However, based on summer scouting, we have a good feel for the players our trio of scouts like the most heading into the 2023-2024 NFL season.
Latest 2024 NFL Mock Draft | Round 1
For my last mock draft, I used an early prediction of the upcoming NFL season to set the draft order. This time around, we'll simply use the Mock Draft Simulator's current order.
This made things … interesting.
1) Arizona Cardinals: Marvin Harrison Jr., WR, Ohio State
If the Arizona Cardinals end up with their record-generated selection being the top pick in the NFL Draft, Kyler Murray will likely be heading to greener pastures for a second lease on an NFL life. But for this exercise, it was more interesting to see what kind of product we could select to go around the passer.
Marvin Harrison Jr. is not the biggest, strongest, fastest, or shiftiest WR prospect we have seen over the years. He is, however, the cleanest prospect we've seen at the position. He does not possess a weakness. His hands are incredibly strong, he is a great route runner, and while nobody would mistake him for Deebo Samuel after the catch, he offers a little creativity in that area.
He simply does everything well. The details have already been perfected.
2) Arizona Cardinals (From HOU): Kool-Aid McKinstry, CB, Alabama
The addition of Kool-Aid McKinstry makes for a fun camp storyline before next season. The Arizona Cardinals currently roster Antonio Hamilton Sr., Marco Wilson, Kris Boyd, and Garrett Williams on the outside. So, aside from needing a cornerback like a dehydrated man needs water, McKinstry should be a good fit in Jonathan Gannon's defense.
The thing that sticks out most about McKinstry is the same thing that came to mind watching Patrick Surtain. They're boring, and it rarely looks like they're actually trying, which is a good thing. The best trait a CB can have, to steal a line from the show "Ted Lasso," is to "be a goldfish." And while having a short memory is great, never panicking may be on that same level.
3) Indianapolis Colts: Olumuyiwa Fashanu, OT, Penn State
Never let a good player get in the way of taking a great one. Even if Bernhard Raimann is good in 2023, Olumuyiwa Fashanu will likely be a good enough prospect to still draft and replace the Colts' left tackle. The Athletic's Dane Brugler ranked him inside of his top five last November before it was known whether he'd declare or return to PSU.
Fashanu has the kind of length, body control, and gliding nature that makes NFL Draft evaluators salivate. When it comes to looking the part as a blindside blocker, few in recent years have done that the way Fashanu has. What will be most interesting will be to see how he stacks up to the incredible talent from the 2020 and 2021 NFL Draft classes.
4) Tennessee Titans: Caleb Williams, QB, USC
Please see the first sentence of the third pick for the justification of this selection. In no way, shape, or form should Will Levis get in the way of selecting Caleb Williams if somehow this exact scenario plays out. Levis might develop into a pretty good NFL QB. He's big with a big arm and good athleticism for the position.
But Williams has the uncoachable traits that take a quarterback from great to elite. While that's no guarantee he'd hit the ground at break-neck speeds at the NFL level (see Trevor Lawrence), it shouldn't take long for him to start producing at a ridiculous clip.
5) Chicago Bears (From CAR): Jared Verse, EDGE, Florida State
At this moment, the difference between Jared Verse and Dallas Turner comes down to preference. The Chicago Bears have a clear preference when it comes to EDGEs. They want bigger defensive ends with a bit of power. Verse brings more of that to the field than Turner, which is why he ends up as a Bear in this simulation.
However, Verse isn't massive for the position, either. And for the most part, the league is beginning to shift from 270+ pound behemoths on the outside for smaller defenders who can win with a quick first step and a bit of a dip-and-rip. Quarterbacks continue to get the ball out quicker, and while the power game certainly still has a place, speed affects the QB more often.
At 260 pounds, Verse has an outstanding blend of frame density and explosiveness. His hands remain active throughout reps, and he'd likely immediately push Trevis Gipson as the best rusher on the team.
6) Atlanta Falcons: Drake Maye, QB, North Carolina
I'd like to apologize to all of the Desmond Ridder fans out there. But if the Atlanta Falcons are selecting sixth overall, it's time to pull the plug on that pre-draft hope you had for the former Cincinnati Bearcat.
Drake Maye is the real deal. In fact, we're looking at a race for the top QB spot that we have not seen in quite some time. While even a year ago, with that quartet of passers, we didn't know for a long time who would be the first pick, those quarterbacks weren't on this level of prospect.
Maye and Williams have the potential to each be no-doubt-level QB prospects. Maye has the more ideal size and likely a better arm, and while he isn't as creative as the Trojans' QB, he is no slouch when working outside of structure, either.
7) Tampa Bay Buccaneers: Dallas Turner, EDGE, Alabama
Like with Verse and the Bears, Dallas Turner is a fantastic fit for the Tampa Bay Buccaneers. Turner fits into a similar mold as Shaquill Barrett and Joe Tryon-Shoyinka as someone who can play either with their hand in the dirt or from a two-point stance. Turner also has the coverage prowess to survive in the flat, in the hook, or even carrying a back out of the backfield.
But teams pay outside linebackers to rush the passer, and Turner can do that at a high level as well. While he didn't always get a chance to pin his ears back in the Crimson Tide defense a season ago, he should slide nicely into Will Anderson's role, where he will have more opportunities to show his rushing chops.
8) Washington Commanders: Brock Bowers, TE, Georgia
This is, beyond a shadow of a doubt, the best fit in this 2024 NFL mock draft. The thought of a physical talent like Brock Bowers getting to step into an offense that will likely look similar to Andy Reid's offense in Kansas City is … terrifying for the rest of the NFC East.
Honestly, it's almost disrespectful to consider Bowers a tight end. Much like Kyle Pitts (although packaged differently), Bowers is a better pass catcher than most receivers are. Bowers has a dense enough frame to survive playing in line, but he will be best utilized as a pass-catching weapon from the slot and out wide.
He's a detailed route runner with more natural route-running ability than many receivers coming from the college level, and his frame, speed, and elusiveness make him a nightmare post-catch.
9) New England Patriots: Emeka Egbuka, WR, Ohio State
Speaking of having route-running detail from the slot, everyone, give a warm welcome to Emeka Egbuka. But before we get upset about redundancy in the slot between Egbuka and JuJu Smith-Schuster, both players can play inside or out. In fact, Smith-Schuster played more snaps out wide than in the slot for KC.
Egbuka is the archetype of receiver that the Patriots seem to gravitate toward. He's a precise intermediate route runner with good frame density to work in confined spaces and possesses outstanding attention to detail. But where the Ohio State receiver sets himself apart from other Patriots receivers (not named Tyquan Thornton) is the explosiveness he plays with.
10) Los Angeles Rams: Joe Alt, OT, Notre Dame
Swap one Joe out for another. It would be nice to see Joe Alt refine his hands during the 2023 college football season, but he has the tools that make organizations select an offensive tackle very highly. At 6'8″ and 315 pounds, he's got a formidable frame and enough density to survive the onslaught of defensive pressure coming straight for him.
The Rams roster, as it's currently constructed, makes almost any direction viable. However, with the top two rushers already off the board, offensive tackle makes a ton of sense as part of the start of the team's retooling process.
11) Green Bay Packers: JC Latham, OT, Alabama
JC Latham was outstanding on the right side of the Alabama Crimson Tide offense. But don't fret, Packers fans, because Latham has that one thing that the Packers absolutely need to draft an offensive lineman; positional flexibility.
Latham played a little bit of guard in 2021, and he has the power and presence of an interior blocker. However, his outrageous athleticism would be somewhat wasted on the interior. The 330-pounder is an absolute unit, but the explosiveness he possesses off the snap is even more impressive than his frame.
12) Chicago Bears: Kalen King, CB, Penn State
The Chicago Bears are a trendy pick to win the NFC North, but until their roster improves defensively, they'll likely end up falling a bit short of that mark. There's a disturbing lack of top-end talent on the defensive depth chart, and Chicago decided to spend their money on linebackers instead of more valuable positions.
Kalen King is a defensive coach's dream. The CB craves violence, and it's clear from watching his mental trigger against the screen game that he is a film junkie. He routinely darts through WRs trying to block him on his way toward massive hits on leaking slot receivers attempting to reel in a bubble screen. But King also possesses the physical attributes necessary to play the position at a high level on the outside.
13) Pittsburgh Steelers: Maason Smith, DT, LSU
Maason Smith was once the nation's top defensive line prospect, and it's abundantly clear why when you catch him in pads. Smith has that Shawn Oakman presence to him on the defensive interior, and his 6'6″ frame brings back memories of David Irving. While those names may not harken to future Hall of Fame players, it paints a picture of presence. And let's not forget that Irving was a ton of fun to watch in 2016 and 2017.
Smith lost all but one-quarter of his season in 2022, which makes it all the more impressive that he's regarded as one of the top NFL Draft prospects still. The Steelers certainly don't need a DT at this very moment, but Cameron Heyward is no spring chicken, and it wouldn't hurt for Smith to learn behind the veteran for a year before the future Hall of Famer eventually retires.
14) Minnesota Vikings: Cooper DeJean, CB, Iowa
Your eyes do not deceive you. The last white cornerback to play regularly at the NFL level was Jason Sehorn. But the Iowa Hawkeyes may have done the impossible, producing not one but two white cornerbacks who will likely play a significant role at the next level in consecutive seasons. Riley Moss was the 83rd-overall pick in the 2023 NFL Draft, and Cooper DeJean is the better prospect.
at 6'1 ", 210 pounds, he is as prototypical as it gets from a size perspective. DeJean was recruited as an ATH who played as a quarterback, wide receiver, and defensive back in high school.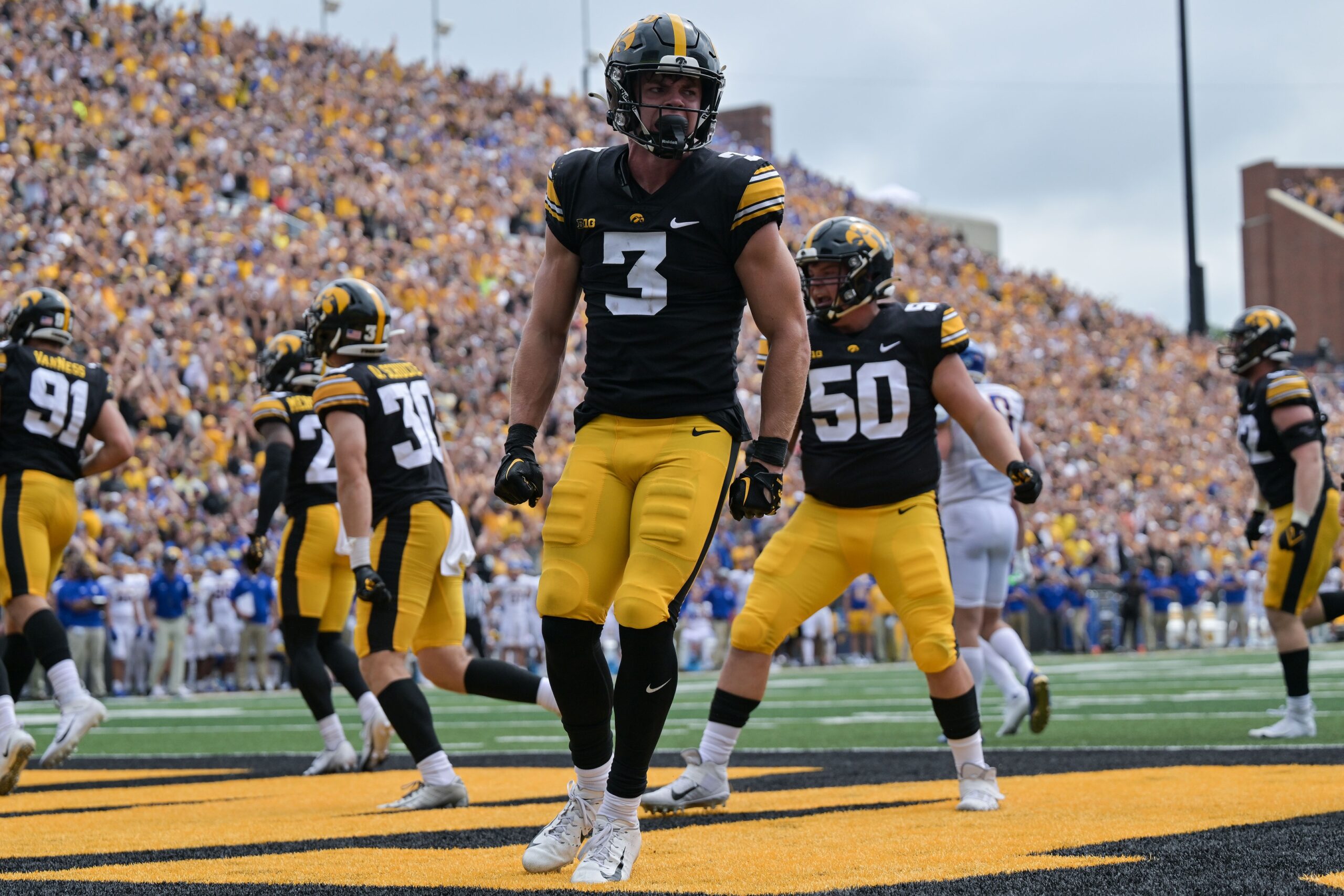 He posted a 1,000-yard receiving season as a sophomore, threw 42 touchdowns and rushed for 24 as a junior, lettered three times in baseball, basketball, and track, and also was a state champion long-jumper and 100-meter dash runner.
His length, physicality, and reactionary athleticism make him an outstanding fit for Brian Flores' defense.
15) Las Vegas Raiders: Jer'Zhan Newton, DT, Illinois
Jer'Zhan Newton brings an element to the Las Vegas Raiders defense that they've been desperately searching for throughout the years. Patrick Graham used Leonard Williams incredibly well in 2020 and 2021, and Newton's size and explosiveness are relatively comparable.
Graham would move the Illinois defender around the defensive front to attack matchups and create issues alongside what should be a dynamic edge-rushing unit with Maxx Crosby, Chandler Jones, and Tyree Wilson. A cornerback could have been in play here as well.
16) Houston Texans (From CLE): Bralen Trice, EDGE, Washington
The San Francisco 49ers' defense under DeMeco Ryans boasted a 270-pound Nick Bosa and a smaller outside linebacker type in Samson Ebukam. The Houston Texans are trying to replicate that look here with Will Anderson and Bralen Trice. Trice is more thunder to Anderson's lightning, but it's crystal clear looking at the roster and reading about the defensive philosophy as Steve Wilkes took over that the unit was built back-to-front.
The Texans were a relative wasteland of pass-rushing talent until Anderson's arrival. Jonathan Greenard is a great piece to have on the edge, but he shouldn't be the focal point of a pass rush. Trice plays with outstanding energy and twitch off the snap but with heavy hands that can displace the blocker's hands.
17) Denver Broncos: Malik Nabers, WR, LSU
The Denver Broncos didn't need a WR a few days ago, but once again, the unit has lost Tim Patrick and KJ Hamler before they were able to truly build a rapport with Russell Wilson.
Malik Nabers would immediately bring physicality and finishing ability to the outside for Denver while allowing the team to keep Courtland Sutton on the opposite side and Jerry Jeudy in the slot.
18) Los Angeles Chargers: Amarius Mims, OT, Georgia
If Kellen Moore learned anything from being with the Dallas Cowboys organization, it's to value building an offensive line to surround the franchise QB. Trey Pipkins is best fit as a swing tackle, and even a strong season from the fifth-year player should not dissuade the organization from going in this direction.
Mims may or may not end up being one of the top picks in the 2024 NFL Draft. It's not easy to properly evaluate a player with such little experience. But from what he's produced on the field so far, Mims appears to have every physical trait necessary to be a high-level OT at the NFL level.
19) Seattle Seahawks: Donovan Jackson, G, Ohio State
Donovan Jackson is an anomaly. He was a highly-recruited OL prospect coming out of high school with documented 36″ arms, and he somehow still ended up playing guard at the college level. The interior blocker should enter the league as an instant contributor, matching his outstanding reach with a violent strike and outstanding mobility for the position.
20) New York Giants: Rome Odunze, WR, Washington
The New York Giants are a roster full of slot receivers. Isaiah Hodgins is the only true outside receiver in the top six. Adding a bit of size on the outside with Rome Odunze gives Mike Kafka more options and allows him to properly use Jalin Hyatt and Wan'Dale Robinson in more niche roles to better benefit everyone involved.
21) New Orleans Saints: Cooper Beebe, G, Kansas State
The New Orleans Saints are well past due in replacing their offensive interior. An offensive line is only as good as its weakest link, and Andrus Peat and Cesar Ruiz have tag-teamed that honor. Cooper Beebe would bring the Saints a sturdy interior blocker with great size and power for the position.
22) Miami Dolphins: Sedrick Van Pran, C, Georgia
Selecting Sedrick Van Pran is incumbent upon the Miami Dolphins deciding they do not want to extend Connor Williams. Although Williams was excellent in his first season playing the position, teams tend not to value the center position the way they should. Adding Van Pran gives the Dolphins a nice long-term option at the position.
Van Pran would have competed with Joe Tippman and John Michael Schmitz as the first center off the board in the 2023 NFL Draft.
23) Jacksonville Jaguars: Kamren Kinchens, S, Miami
The Jaguars don't have too many obvious needs on the roster. Rayshawn Jenkins and Andre Cisco have been a fine duo on the back end, but modern defenses are leaning into three safety sets more and more often to replace base personnel groupings with three linebackers.
Kamren Kinchens comes off an All-American season with the Miami Hurricanes. His well-rounded game would allow the Jaguars to move him freely around the defense as a box, slot, split-safety, or single-high player.
24) Baltimore Ravens: Leonard Taylor, DT, Miami
Leonard Taylor's college production should bode well for his draft stock come April if he's able to replicate or improve upon his first two collegiate seasons. The Miami defensive tackle is still a bit of a bull in a China shop from a technical perspective, but his explosiveness and power make it difficult for interior blockers to contact him squarely.
25) Detroit Lions: Denzel Burke, CB, Ohio State
Denzel Burke is a former wide receiver who had an incredibly productive 2021 campaign and a bit of a snoozer a season ago. A bounce-back season should be in order for the talented defensive back. Getting to practice against arguably the two best receivers in college football will either get him to where he needs to be from a technical and mental perspective, or it will destroy his confidence, and we won't see him until the 2025 cycle!
But with his outstanding athleticism and prototypical size, he's the kind of cornerback one can fall in love with before having to really put them under the microscope after a draft declaration. The Lions are set at CB for 2022, but Emmanuel Moseley and CJ Gardner-Johnson are both on one-year deals.
26) New York Jets: Kingsley Suamataia, OT, BYU
If there's a weak spot on the Jets, it's the book ends of the offensive line. Duane Brown is 37, Mekhi Becton is not long for the Jets, and Max Mitchell isn't being mistaken for Lane Johnson any time soon.
Kingsley Suamataia could stand to improve the consistency in his strike placement, but he possesses outstanding power and quickness off the line. As long as Nathaniel Hackett's offense plays well enough to keep him around for 2024, Suamataia should be a seamless fit in the wide zone run game.
27) Dallas Cowboys: Barrett Carter, LB, Clemson
Cowboys fans will probably hate this mock draft, and that's a perfectly sane reaction considering what two positions the team attacks in this simulation. However, the selections may have more to do with how well-rounded the roster is already constructed.
Cornerback was a need, but the team extended Trevon Diggs recently, and DaRon Bland appears to be a legitimate stud in the slot. Leighton Vander Esch is on a deal expiring after 2024. Damone Clark could prove this selection redundant by the end of 2023, but we know the Cowboys like drafting players they feel are the best at their position in the draft, and they get LB1 here at 27.
28) Buffalo Bills: Andrew Mukuba, S, Clemson
The Buffalo Bills have the best safety tandem in the NFL. The married couple of Jordan Poyr and Micah Hyde is unbelievable. They play incredibly well off of one another and have been able to play in the same system together since 2017. However, that means neither player is 26 anymore.
Andrew Mukuba may not have to play much for a season or even two, but the time will eventually come when the Bills need to replace their pieces on the back end, and Mukuba might be the best pure coverage safety in the class.
29) Cincinnati Bengals: Michael Hall Jr., DT, Ohio State
DJ Reader has reached the end of his current deal in Cincinnati. BJ Hill's contract will follow next season, and the Bengals are in for multiple market-setting deals with Joe Burrow and Ja'Marr Chase.
Michael Hall Jr. is a bit undersized on the defensive interior, but he has the skill set to allow Lou Anarumo to be creative in his alignment and deployment in the team's even front attack.
30) Philadelphia Eagles: Jason Marshall, CB, Florida
Jason Marshall is the kind of cornerback who could end up being a top-15 pick or a fourth-round pick, a bit like Eagles cornerback Kelee Ringo. However, the two players are very different, and Marshall brings a nice yin to the yang of Ringo.
Marshall is a tried and true press-man cornerback with great length and natural mirroring ability. But if Marshall wants to be a highly-touted NFL Draft prospect, he must show improved consistency in zone coverage, especially if he wants to play in Sean Desai's defense.
31) San Francisco 49ers: JT Tuimoloau, EDGE, Ohio State
JT Tuimoloau could end up being one of the most controversial draft prospects in the upcoming class, depending on his developmental curve in 2023. There's a decent chance that his draft stock mimics closer to Zach Harrison, who went in the third round of the 2023 NFL Draft.
Tuimoloua is big, powerful, and decently explosive for being North of 270 pounds. However, he is a blank slate as a pass rusher, and he doesn't possess the kind of explosiveness and bend to consistently win around the arc. But even if he is unable to become the first-round prospect that his frame and athleticism would lend him to be, he'd still be a nice stylistic fit for the San Francisco 49ers in later rounds.
32) Kansas City Chiefs: Ruke Orhorhoro, DT, Clemson
I'm sorry. This is the third consecutive mock draft of ours with the Kansas City Chiefs selecting a defensive tackle, and two have been Ruke Orhororo. But when looking at a team with a top offensive line, the best QB we've likely ever witnessed, a strong defensive back unit, decent defensive ends, and a strong linebacking duo, there aren't many directions to go. Top that off with Chris Jones still looking for an extension from the team, and there lies an obvious need at defensive tackle.
Orhororo is a fantastic fit for a modern defensive line. At 6'4 ", 295 pounds, with outstanding length and an explosive first step, he can align anywhere from the 5-tech to being shaded off the center on pass-rushing downs.
2024 NFL Mock Draft | Round 2
The second round will continue to address team needs while giving a bit of insight into each player, but there were liberties taken on Day 2. Nobody knows what will happen in April, but it's never too early to plant some flags for players who have impressed during the summer.
33) Arizona Cardinals: Princely Umanmielen, EDGE, Florida
Monti Ossenfort has knocked this one out of the park. Getting a No. 1 WR, a No. 1 CB, and now a designated pass rusher that is an outstanding fit for Jonathan Gannon's multiple-front defense is about as good a draft haul as he and the Cardinals fanbase could have hoped for.
34) Houston Texans: Xavier Worthy, WR, Texas
Tank Ddell was proof that the Texans are willing to overlook the size and density of a wide receiver as long as they're talented. Xavier Worthy certainly has the kind of talent that would help CJ Stroud take strides in Year 2 as the Texans starter. Adding him to John Metchie II and Dell makes for a nice complementary unit.
35) Indianapolis Colts: Graham Barton, OT, Duke
Don't worry, Colts fans; we aren't looking to replace Braden Smith here. Graham Barton is a talented blocker for the Blue Devils, but he's a potential tackle-to-guard transition at the NFL level. His early transition could be tricky because he'd be moving inside and to the right side, but he has the movement skills, explosiveness, and pop to thrive on the interior.
36) Tennessee Titans: Raheim Sanders, RB, Arkansas
Derrick Henry is nearly 30 and is entering the final year of his deal. The Tennessee Titans seem set on their current offensive philosophy, so drafting the closest thing we've seen to Derrick Henry since he was selected in the second round of the 2016 NFL Draft seems like a no-brainer.
37) Carolina Panthers: Troy Franklin, WR, Oregon
The Carolina Panthers have a type. Terrrace Marshall Jr, DJ Chark, Jonathan Mingo, and Adam Thielen are all favorites on Hinge and Tinder for being over 6′ tall. The Panthers signed Thielen to a three-year deal this offseason, but he's already 32. Franklin is a long, slender receiver with outstanding hands in contested situations while also possessing outstanding start/stop ability for someone with his length.
38) Atlanta Falcons: Antwane Wells Jr., WR, South Carolina
Although Antwane Wells Jr. isn't the same caliber of post-catch weapon as former Gamecocks great Deebo Samuel, the 6′, 210-pound receiver brings a similar skill set to the pitch. He's not as thick as Samuel or Eagles WR AJ Brown, but he shows that same ability to use his frame and strength to separate as a route runner. However, he also would provide Atlanta with a vertical speed threat that is not their 6'5″ tight end.
39) Tampa Bay Buccaneers: Bo Nix, QB, Oregon
The 2024 QB class will be fascinating to watch unfold. There appears to be a ton of talent coming down the pipe, and it wouldn't be surprising to see this class contend with the 2004 class that saw 17 passers drafted. Anyone who watched Bo Nix during his time at Auburn but not since transferring to Oregon undoubtedly thinks this selection is insane, but he has improved to the point where he could end up being the third QB off the board in a great class.
40) Washington Commanders: Jeremiah Trotter Jr., LB, Clemson
This is either a fantastic fit for all parties involved, or both my colleague Ian Cummings and I are both complete dolts. Without knowing, we both selected Jeremiah Trotter Jr. with the 40th pick for the Commanders. After selecting Jamin Davis, a high-ceiling player who hasn't particularly blossomed, Trotter is the antithesis of that. He's a much safer linebacking prospect who should have no issues staying on the field for all three downs.
41) New England Patriots: Omar Speights, LB, LSU
Patriots fans should keep their eyes on Mississippi State linebacker Nathaniel Watson on Day 3 or as a priority free agent because the fit seems too good to be true, but Omar Speights should fit right into Bill Belichick's defense. Speights is a stout linebacker who has more than enough athleticism to survive in space but with the kind of power to thrive in a phone booth.
42) Los Angeles Rams: Chop Robinson, EDGE, Penn State
Chop Robinson is not the biggest pass rusher in the upcoming class, and he certainly isn't the most powerful, but the Penn State EDGE has the kind of instant torque off the line that allows him to consistently threaten the arc, a trait becoming more and more critical in pass-rush prospects heading into the NFL level.
43) Green Bay Packers: J.J. McCarthy, QB, Michigan
The Packers picked 11th in this simulation, which likely means that Jordan Love was not the next coming of Brett Favre or Aaron Rodgers. Love would still have another year to prove himself worthy of being the Packers' franchise passer, and the team would get a year to evaluate whether JJ McCarthy could be a high-level starter in the future.
44) Chicago Bears: James Williams, S, Miami
In a division with TJ Hockenson and Sam LaPorta, having a 6'5″ safety that can be used to deny space to those big pass catchers could be a huge win for the Bears. He'd play as a STAR, moving from the slot, back end, and box depending on the situation.
45) Pittsburgh Steelers: Brandon Dorlus, EDGE, Oregon
Larry Ogunjobi just inked a three-year deal with the Steelers, but Brandon Dorlus would still be a nice fit behind the veteran, getting reps in the rotation while sharpening his three-down game. Although the Oregon defensive lineman is 285 pounds, he has the burst to play on the edge or the interior.
46) Minnesota Vikings: TreVeyon Henderson, RB, Ohio State
The Vikings haven't been an organization that throws to their backs often, but TreVeyon Henderson has the three-down skill set that teams search for. But Henderson also possesses enticing contact balance and a strong burst through the first level.
47) Las Vegas Raiders: Malachi Corley, WR, Western Kentucky
Hunter Frenfrow is a fantastic option in the slot, but the Raiders are now paying a significant chunk of money to three separate receivers. Adding Malachi Corley in the offseason would give Las Vegas the option to move on from Renfrow or allow him to live out the last season on his contract as Corley gets his feet wet.
48) Cleveland Browns: Rod Moore, S, Michigan
Grant Delpit is in the final year of his rookie deal. Rod Moore fits into the modern split-field mold, boasting intelligence in coverage alongside a willingness to play physically downhill.
49) New Orleans Saints (From DEN): McKinnley Jackson, DT, Texas A&M
The New Orleans Saints don't draft players like McKinnley Jackson, so don't worry about schematic fit. It's not really there, although I think they could make it work.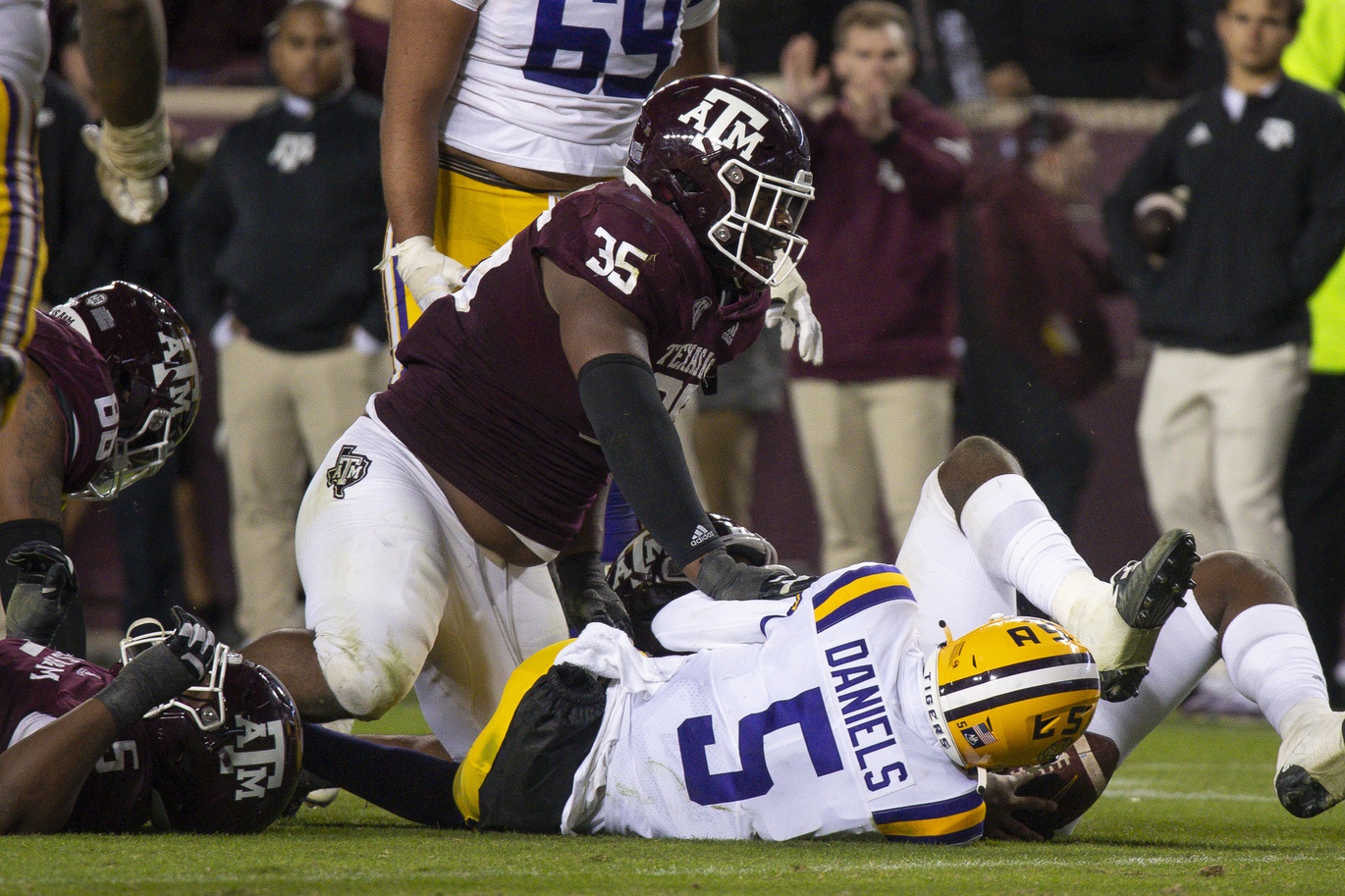 Simply put, Jackson is my favorite player in college football. The true nose tackle doesn't have the same burst as Jordan Davis or Vita Vea, but he is a certified leader on the field, an outstanding run defender, and someone with more than enough juice to shoot gaps when given the opportunity.
50) Los Angeles Chargers: Decorian Patterson, CB, UCF
The former Middle Tennessee Blue Raider heads to UCF in 2023, and he gives the Chargers a nice option on the boundary in 2024. Decorian Patterson was a late bloomer, but his tenacity and effortless footwork are abundantly clear.
51) Seattle Seahawks: Kris Abrams-Draine, CB, Missouri
The Seahawks surprised many with the selection of Devon Witherspoon in 2023 (although it was a brilliant selection), but they could still use another high-level cornerback on the roster. Kris Abrams-Draine won't wow evaluators with his frame or physicality, but his smooth work in transition makes him fun to watch in his heavy Cover 3 assignments.
52) New York Giants: Layden Robinson, G, Texas A&M
Layden Robinson had an unimpressive year with the Aggies in 2022, but everyone around him was unable to remain on the field. That lack of continuity hurt the talented guard, but he has an incredibly high ceiling. He possesses excellent power and grip strength without having to exert too much effort.
53) Philadelphia Eagles (From NO): Ty'Ron Hopper, LB, Missouri
Ty'Ron Hopper isn't getting enough love yet in this draft cycle. He isn't going to explode at the NFL Combine. He is undersized. But none of that matters a wink because, like former Missouri Tiger great Nick Bolton, Hopper is just a darned-good football player with an insane trigger and an unbelievable feel as a playmaker.
54) Miami Dolphins: Tyler Guyton, OT, Oklahoma
Tyler Guyton fits another offensive line need on the Dolphins offensive line. The haul of Van Pran and Guyton makes for an offensive line that could actually be good in 2024. Guyton doesn't yet have a ton of experience, but he has all the physical tools to be the next great offensive lineman coming from the Sooners program.
55) Jacksonville Jaguars: Tyleik Williams, DT, Ohio State
Davon Hamilton locks down the defensive interior for Jacksonville, but the addition of Tyeik Williams would help Jacksonville on multiple fronts. Despite possessing a 320-pound frame, the defensive tackle is fleet-footed and technical as a rusher, possessing the ability to beat interior blockers in isolation.
56) Baltimore Ravens: Ja'quan Sheppard, CB, Maryland
After years of playing special teams on an incredibly talented Cincinnati Bearcats defense, Ja'Quan Sheppard was able to prove his coverage chops as a Senior for the Bearcats. He'll get another chance to prove himself in the Big Ten after transferring to Maryland.
57) Detroit Lions: Jack Sawyer, EDGE, Ohio State
Jack Sawyer was one of the highest-rated recruits in the nation a few years ago, and there's no questioning why. He has an NFL-ready frame for an edge rusher, and he'll have more opportunities to prove himself as a rusher as upperclassmen have moved onto the NFL.
58) Green Bay Packers (From NYJ): Tommy Eichenberg, LB, Ohio State
Tommy Eichenberg is an instinctual linebacker with good range and intelligence as a zone defender. The Packers don't necessarily need to have buyer's remorse with Quay Walker, but the Packers could go this direction if he's unable to show marked improvements in 2023.
59) Dallas Cowboys: Blake Corum, RB, Michigan
Blake Corum will be an older running back prospect by the time he's drafted, but in a league only using the position for four years at a time, that's not a bad thing. Corum has endless reserves of explosiveness. He is a big-play threat whenever he touches the ball, and he has the balance and vision to convert on good blocking.
60) Buffalo Bills: Jalen McMillan, WR, Washington
The Buffalo Bills have been cycling through WRs in the slot for a long time now. Although they've seemingly found options here and there, nothing has stuck, and Khalil Shakir may not be the long-term answer.
Jalen McMillan could quench the team's thirst with outstanding stop/start while also having the ability to take the top off opposing defenses.
61) Cincinnati Bengals: Jo'quavious Marks, RB, Mississippi State
Sanders is the best running back in the SEC, but Jo'Quavioius Marks is the most fun to watch. He's compact, physical, and shifty in short areas.
He catches passes like a madman and has no issues stepping up and sacrificing his body in pass protection.
62) Philadelphia Eagles: Ja'Tavion Sanders, TE, Texas
Findinig a spot to fit Ja'Tavion Sanders into was paramount because he's a player that could be a lot of fun in the league if he's given the time to progress at his own pace. Being the second TE option in Philadlephia isn't a bad place to be. The organization has already shown they can do it with Zach Ertz and Dallas Goedert.
63) San Francisco 49ers: Darian Chestnut, CB, LSU
The San Francisco 49ers never seem to care too much about throwing assets at cornerback, but Darian Chestnut could make it worth their while. With a change at defensive coordinator, the organization may shift their assets toward the back end more.
64) Kansas City Chiefs: Tony Grimes, CB, Texas A&M
After spending some quality time in the Research Triangle area of North Carolina, Tony Grimes heads to College Station to test his coverage chops in the SEC. Grimes has shown the potential to be a first-round pick if things come together for him as an Aggie.
Listen to the PFN Scouting Podcast
Listen to the PFN Scouting Podcast! Click the embedded player below to listen, or you can find the PFN Scouting Podcast on iTunes, Spotify, and all major podcast platforms.  Be sure to subscribe and leave us a five-star review! Rather watch instead? Check out the PFN Scouting Podcast on our Scouting YouTube channel.