The NFL is back. Preseason games may not hit the same way as the regular season will, but there is football being played on the field between two different teams. But before Week 1 arrives, it's time to have some fun. It's time to plant some flags and throw up some shots like we're J.R. Smith. These are 11 bold NFL predictions for the 2023-2024 NFL season.
11 Bold NFL Predictions Before Week 1
Level-headed objectivity is the name of the game as an NFL and NFL Draft analyst. But every once in a blue moon, it's nice to take out the hair tie, let your hair down, and just have a bit of fun.
Micah Parsons Will Break the Sack Record
Is he chronically online? Absolutely. But the Cowboys' third-year pass rusher has remained clear in his message. He doesn't want to be good. He doesn't want to be great. Heck, he doesn't even want to just be a Hall of Famer. He wants to be one of the best of those players with busts etched out of bronze copper.
Depending on where one looks, Parsons was either first, second, or third in pressure rate a season ago. But he clearly tailed off toward the back half of the season in 2022 as minor injuries took their toll. As a rookie, he played the entire season with a minor knee injury.
So he spent the offseason trying to build a few more pounds of muscle on his frame so he could better stand the punishment that comes with playing on the edge on about 90% of his defensive snaps. It won't be easy to match or break the 22.5 sacks set by Michael Strahan in 2001, but Parsons gets there in his third year.
Lamar Jackson Wins Second MVP
A lot has gone wrong for Lamar Jackson and the Baltimore Ravens over the past two seasons. Eventually, the run of bad luck has to end, right? And if you prescribe to the thought that a person or entity creates their own luck, Baltimore surely tried this offseason.
Todd Monken is one of the few coaches in the league that knows how to properly feature a tight end like Mark Andrews in the passing attack. Adding Odell Beckham Jr. and Zay Jones on the outside to Rashod Bateman and Devin Duvernay finally resembles a legitimate receiving corps for arguably the first time in Jackson's career.
This should be the first time Jackson goes over 4,000 yards passing in his career if he remains healthy. Add in the productivity he brings in the rushing attack and the improvement from Baltimore's defense as last season progressed, and Jackson should have a second MVP by the end of the year.
The Ravens Make the Conference Championship Game
Speaking of the Ravens, they appear to be flying under the radar in the AFC. The Jets and Dolphins are somewhat new and exciting. Cincinnati and Buffalo are established powerhouses, and Kansas City is the gold standard. But it will be the Ravens facing off against the Chiefs in Arrowhead for the AFC Conference crown on Jan. 28.
The Ravens' defense allowed 0.054 EPA per play (24th) and a success rate of 46.6% (26th) from Weeks 1-9. From Weeks 10-18, they allowed -0.068 EPA per play (4th) and a 41.8% success rate (10th). It took a while for the defense to find their groove in a much different defense under Mike Macdonald than Wink Martindale. They should be even better in 2023.
Bijan Robinson Wins OPOY
That is a "P" and not an "R." Arthur Smith isn't shy about using a workhorse back in exactly that fashion. He has a young QB, a solid run-blocking offensive line, and a scheme that lives on the run game and play action.
Tyler Allgeier has earned the right to steal snaps even from someone as talented as Robinson. However, Smith has never had a back as well-rounded as the Texas RB. He will be an outstanding option catching passes out of the backfield in the screen game and as a checkdown option.
A 2,000 all-purpose-yard season shouldn't be out of the question.
No Head Coach Loses Their Job In-Season in 2023
Matt Rhule, Frank Reich, and Nathaniel Hackett all lost their jobs during the regular season last year. Urban Meyer was technically the only coach fired the year prior, but Jon Gruden resigned.
We have to go back to 2012 before finding another season where every head coach made it through the final game of the season. But none will get the ax until Black Monday this time around.
Titans Finish Last in AFC South
This will be wrong if C.J. Stroud continues staring down receivers and letting NFL safeties poach his No. 1 option. But the Titans' offensive line remains in shambles. While it's worth arguing that they were worse in that regard a season ago, that's not saying much for a team that finished the season winning zero of their final seven games.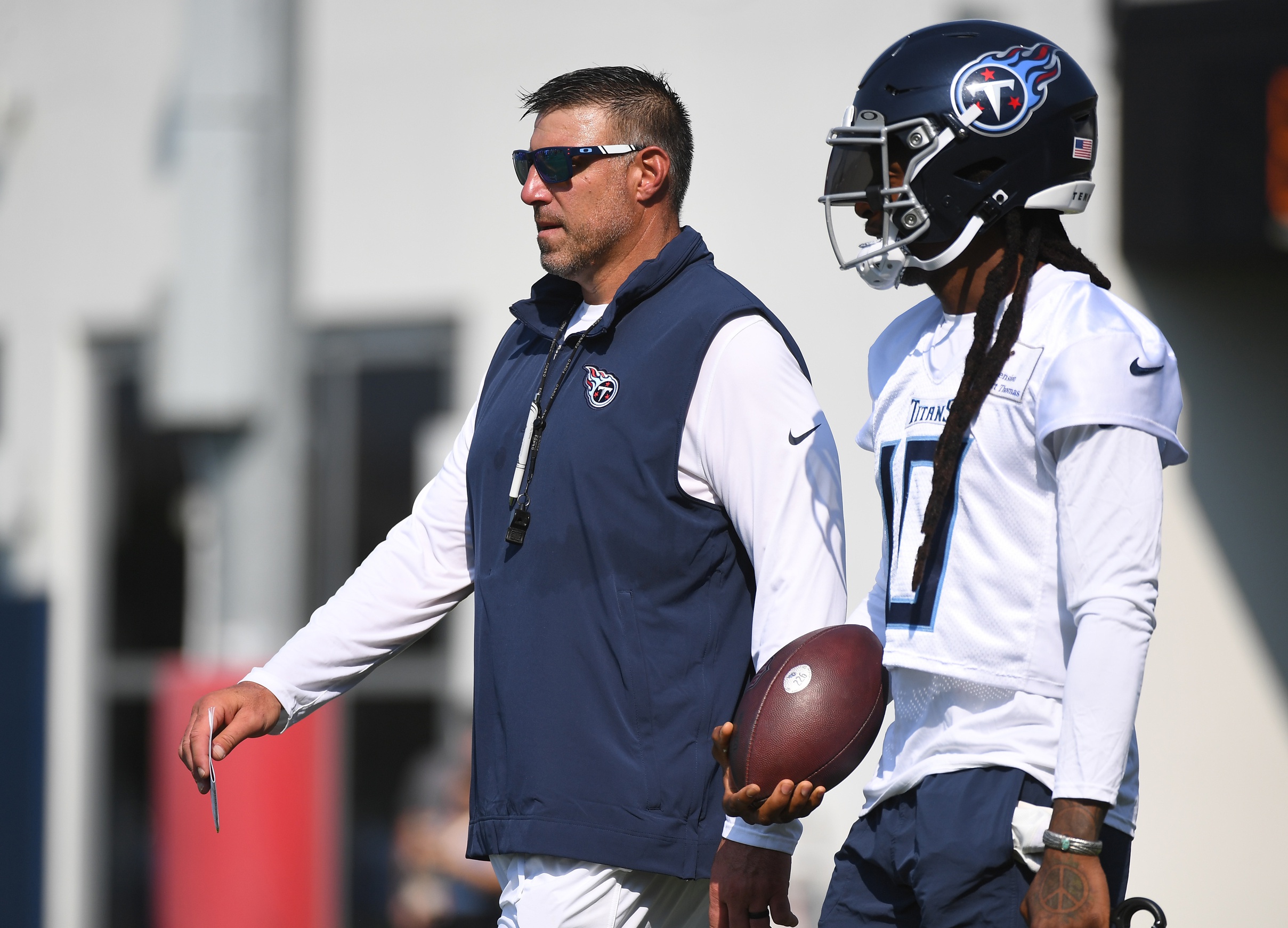 Mike Vrabel has done a great job in his first four seasons, getting the absolute most out of a decent but not outstanding roster. Securing the top seed in the AFC just two seasons ago was a miracle. But it won't be easy to make the postseason if this offensive line is unable to seriously overachieve.
Cowboys Make NFC Championship Game
It's time to click out of the article. Things have finally gotten a bit too wild. But really, this may be the Dallas Cowboys' best chance to make it where they haven't in nearly 20 years.
They have a third season of unbelievable defensive continuity. The veteran additions of Stephon Gilmore and Brandin Cooks were necessary but also about the best moves they could have made. They needed a speedy No. 2 on offense and a CB2, and they may have a CB1a and CB1b now.
The offensive line doesn't need to be healthy all season, but having Tyron Smith, Tyler Smith, Tyler Biadasz, Zack Martin, and Terence Steele healthy for a playoff run is what gets them past the elusive dragon they've chased for so long.
Justin Jefferson and Tyreek Hill BOTH Break the Single-Season Receiving Record
In this scenario, both receivers and starting quarterbacks remain healthy for 17 games. Kevin O'Connell and Kirk Cousins don't go through stretches forgetting that Justin Jefferson is the best WR on the planet and feed him as often as possible. Jordan Addison and T.J. Hockenson make things easier on him.
Tyreek Hill will have the opportunities. Hill and Jaylen Waddle will dominate over the middle of the field, and Tua Tagovailoa will throw to those two and only those two unless it's absolutely necessary to go elsewhere, if last season was any indication.
The New England Patriots Finish With a Winning Record
The narrative surrounding the New England Patriots seems flat-out foolish. This offense was a hot mess inside a dumpster fire inside a train wreck. But Bill Belichick rectified that mistake by hiring a real offensive coordinator to be the offensive coordinator in 2023.
And at the end of the day, Belichick wakes up with the ability to grow a top-10 defensive unit out of some pixie stick dust mixed in water that's been sitting in a South Texas car for three days. It won't be easy with one of the most difficult schedules in the league this year, but they squeak out a 9-8 year.
Trey Lance Starts for the 49ers in 2023
This should be very lukewarm for anyone that has loosely followed the San Francisco 49ers over the past few seasons. Yet, what if Lance doesn't get on the field because of a Brock Purdy injury but because of Brock Purdy's struggles?
It would be easy to say Lance starts games in 2023. The team lost three QBs to injury last season, and Jimmy Garoppolo was stuck at the nurse's office nearly every season with the 49ers.
Jacksonville Jaguars Finish Second in AFC
While the rest of the AFC gets to beat up on one another, the Jacksonville Jaguars get six games against the Titans, Texans, and Colts. But that's not all, folks. They also get to play the NFC South, which is likely worse than the AFC South. That gives the Jaguars 10 very winnable games on the schedule.
Trevor Lawrence heads into Year 3 after showing marked improvement as the season progressed in 2022. Adding Calvin Ridley to this offense should terrify opposing defensive coordinators. And the continuity in the coaching staff and roster should make it so they trail only the Chiefs in playoff seeding come January.