At the end of the NFL season, there are no mysteries about who next year's opponents will be — for the most part, their strength of schedule is set in stone. But the 2023 NFL schedule release contains twists and turns that can change team fortunes just from the construction of the schedule itself. Some teams get more of an advantage from this than others. Which teams benefited the most from the release of the official NFL schedule?
Winners and Losers of the 2023 NFL Schedule Release
Using our strength of schedule model, we can look at which teams were helped and hurt most by the schedule. This model accounts not just for factors internal to teams, like changes to the quarterback, sustainable types of play, fluky play, close-game record, and more, but factors external to team construction and performance — consecutive road games, traveling on the road to cold weather destinations, distance traveled for road games, opponent distance traveled for home games, international games, bye weeks, and so on.
All of those can push the needle in small but important ways in individual games, and that could be enough to swing a season.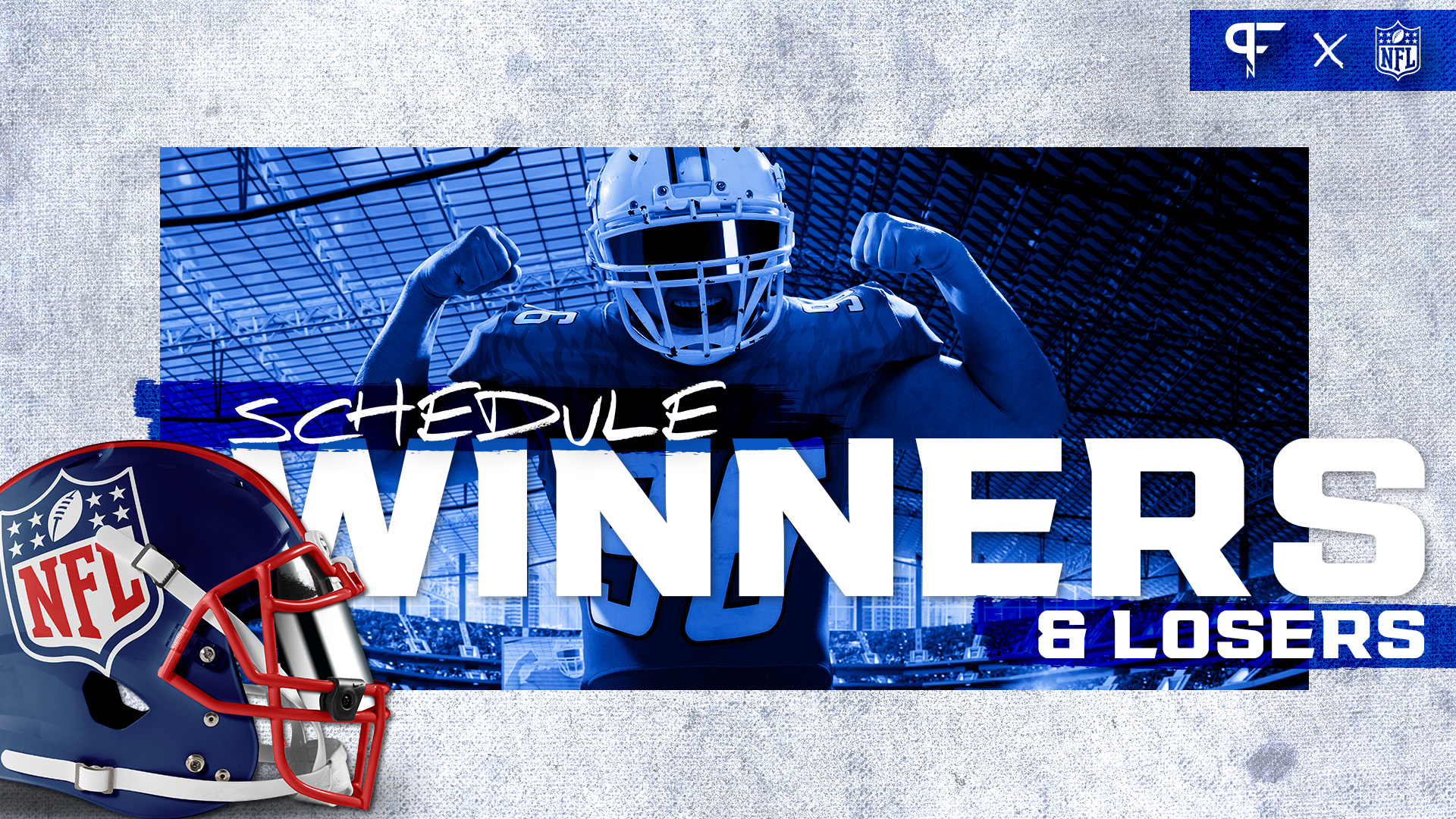 2023 NFL Schedule Winners
Jacksonville Jaguars
The Jaguars have enjoyed a functional home-field advantage in London, and this year, they benefit from two games in the city as well as consecutive weeks there. They were able to functionally steal an away game from their schedule and turn it into a home game, with the added bonus of the additional value that comes from consecutive home games.
Because their two prior contests are at home, this means the Jaguars functionally have a five-game home stretch, though there is some significant travel in the middle of it.
MORE: FREE Mock Draft Simulator With Trades
As a warm-weather team, they would additionally take a penalty if they were to play any of their outdoor cold-weather road opponents in December or January. But only one of the road opponents on their schedule qualifies for that — the Cleveland Browns on Dec. 10. They play Buffalo in London and the Steelers in October, meaning there are few opportunities for them to lose wins because of weather.
Washington Commanders
Washington had a number of lucky schedule perks bounce their way. They didn't have any three-game streaks of away games and got to host a warm-weather team in December with the 49ers. On top of that, the 49ers are traveling east for an early game, giving Washington another small advantage in this tough matchup. If they had hosted the 49ers earlier in the year for an afternoon or late game, that advantage would disappear.
Though Washington might rather not play San Francisco at all, playing them in these circumstances is a nice change. The Commanders also benefit from hosting two other cold-weather games at home, with the Dallas Cowboys coming in January and the Miami Dolphins arriving in early December.
Baltimore Ravens
The Ravens are one of the few teams who do not have a three-game road stretch but do have a three-game home stretch, with the Seahawks visiting on Nov. 5, the Browns on Nov. 12, and the Bengals on Nov. 16. Though the impact of divisional home games is fairly small, the ability to avoid travel before their Thursday night contest is a nice bonus.
Baltimore also gets to host two warm-weather teams in December, with the Rams and Dolphins coming up to visit on Dec. 10 and Dec. 31, respectively. They also, as an AFC team, benefit from an additional home bout this year. That was already baked into the schedule before the release, but they magnified that advantage by having one of their away contests turned into a neutral site game with the Titans playing "host" in Tottenham on Oct. 15.
2023 NFL Schedule Losers
Buffalo Bills
Not only did the Buffalo Bills lose their home game to the London site, but it got turned into an away game instead of a neutral one. The Jaguars' functional home-field advantage in England is perhaps overstated, but it still seems to exist in a meaningful way. As a result, the Bills lose this year's AFC home game bonus in a big way.
The Bills only get to host one warm-weather team in January (the Cowboys on Dec. 17) and don't benefit from any time-zone advantage — they host an early game against a Pacific Time Zone in Week 2 with Las Vegas but also have to play a west coast team on the road in prime time on Dec. 23 against the Chargers.
San Francisco 49ers
West coast teams bear the brunt of the travel burden and have more distance to travel than teams on the east coast every year.
MORE: Best NFL Games To Watch Each Week of the 2023 Schedule
Though that was already determined before the NFL announced the official schedule, having those miles count extra because their Eastern Time Zone games are early in the morning stings even more — at 10:00 a.m. PT, they play the Pittsburgh Steelers Week 1, Cleveland Browns Week 6, Jacksonville Jaguars Week 10, and Washington Commanders Week 17 (a cold weather outdoor match).
They do steal some of that back by hosting two prime-time games to Eastern Time Zone teams, but the net effect is still enough to disadvantage San Francisco.
Seattle Seahawks
The Seahawks don't host any prime-time teams from the east coast, making their three early game trips to the Eastern Time Zone even more of an issue — Weeks 2, 6, and 9 feature early matchups with Detroit, Cincinnati, and Baltimore. They have the same travel issues as the 49ers, but, unlike San Francisco, Seattle should benefit from hosting cold-weather contests.
Unfortunately, their indoor and warm-weather opponents visit them earlier in the season. In December and January, they either host cold-weather teams like the Steelers and Eagles or visit their warm-weather rivals, like Arizona, Tennessee, and San Francisco.