The 2023 NFL season is right around the corner. We're getting closer to the season opener between the Detroit Lions and Kansas City Chiefs, and more importantly, to our first NFL Sunday. The wait is almost over.
All the NFL betting odds at a moment's notice — visit our Betting Lines page, bookmark now, and always get the best line and bang for your buck. Our FREE Parlay Calculator and Betting Odds Calculator are also available for your betting process!
Predicting Every Team's Win-Loss Record in 2023
After evaluating each team's roster, assessing their strength of schedule, and other various factors, here are the win-loss predictions for all 32 NFL teams this season.
Take advantage of these sportsbook sign-up offers by clicking directly on the widget!
Arizona Cardinals: 4-13 (Under 4.5 wins)
This might be a #TankForCalebWilliams season for the Arizona Cardinals. New head coach Jonathan Gannon and general manager Monti Ossenfort inherited a horrible situation from the last regime and are approaching this season as Year 1 of a long rebuild.
Given the direction of this team, I don't expect them to rush quarterback Kyler Murray back from the torn ACL injury he suffered in December of last season. I mean, what's the point? Unless they're miraculously fighting for a playoff spot, they're better off letting Murray sit out the season and then deciding how to approach their QB situation in the offseason.
This is probably the worst roster in the NFL, and they have a brand-new staff that has no pressure to win right away. Give me the under at 4.5 wins.
Atlanta Falcons: 9-8 (Over 8.5 wins)
The Atlanta Falcons are sort of a preseason darling for 2023 for a variety of reasons.
They finished 11th in offensive success rate last season, despite ranking 31st in passing yards per game. Adding RB Bijan Robinson to a set of young-and-talented playmakers that already includes WR Drake London, TE Kyle Pitts, and RB Tyler Allgeier gives QB Desmond Ridder several weapons to work with.
The only thing holding me back from projecting this team for double-digit wins is Ridder, however. He's still completely unproven after four starts last season, but he just needs to be a game manager in Atlanta's offense to win football games.
On the other side of the ball, safety Jessie Bates III was a big pickup in free agency. They still have many questions on defense, but Bates should help improve a pass defense that ranked in the bottom 10 a year ago.
The biggest reason for optimism for the Falcons this season is their favorable schedule, playing against the two weakest divisions in football — their own in the NFC South and the AFC South. Of their 14 opponents this season, only four are projected to make the postseason.
Baltimore Ravens: 10-7 (Under 10.5 wins)
Baltimore's offseason started off as chaotic, to say the least. But the prayers of Ravens fans everywhere were answered.
Lamar Jackson was extended, they made a change at offensive coordinator in Todd Monken, and they finally bolstered their WR corps, signing Odell Beckham Jr. and Nelson Agholor in free agency, then drafted Zay Flowers in the first round. TE Mark Andrews will still be Jackson's No. 1 target, but unlike a year ago, Baltimore has enough depth at wide receiver to better withstand an injury at the position.
MORE: NFL Player Props 2023 — Predictions, Longshots, and More
Defensively, the Ravens improved dramatically last season with the addition of LB Roquan Smith. Entering 2023, however, there are some questions on that side of the ball.
CB Marlon Humphrey is expected to miss the first month of the season with a foot injury, a big blow to their secondary. They're also very thin at edge rusher, as they'll be heavily relying on Odafe Oweh, David Ojabo, and Tyus Bowser to get after the quarterback this season.
Buffalo Bills: 11-6 (Over 10.5 wins)
The AFC East is as competitive as ever, but the Buffalo Bills are still the cream of the crop in this division.
Josh Allen should have a better season after playing with an elbow injury for the second half of last season and has a new weapon in first-round pick TE Dalton Kincaid. The Bills were too reliant on Stefon Diggs in 2022, and even if Kincaid isn't an elite tight end right away, his versatility in the passing game should provide them with a much needed boost.
The schedule is tough, but elite teams led by quarterbacks like Allen prevail.
Carolina Panthers: 6-11 (Under 7.5 wins)
The Carolina Panthers made a very aggressive move in the draft by trading up to get QB Bryce Young, but they gave up a lot in the process, including their best offensive weapon in DJ Moore.
Now, Young is surrounded by an uninspiring offense whose best playmaker is 32-year-old Adam Thielen. Not to mention Carolina's offensive line has looked very shaky in the preseason.
The defense is very underrated, though, with standout players all over, including Brian Burns, Derrick Brown, Jaycee Horn, and Jeremy Chinn. They also hired one of the best defensive minds in football — former Broncos defensive coordinator Ejiro Evero.
The Panthers finally solidified their QB position, but I'm expecting some growing pains for Young and this new coaching staff led by Frank Reich.
Chicago Bears: 7-10 (Under 7.5 wins)
On paper, the Chicago Bears are much improved after finishing last season with the worst record in the NFL. It starts on offense with the additions of Moore and then OT Darnell Wright in the first round of the NFL Draft.
They also signed six new starters on defense in free agency, most notably LB Tremaine Edmunds, LB T.J. Edwards, and DE DeMarcus Walker.
But Chicago still has a long way to go in improving from three wins to a playoff team. For one, their pass rush is still a major question mark after recording just 20 sacks last season.
Most importantly, how much has Justin Fields developed as a passer? If he has a similar trajectory to Jalen Hurts, this team will be in the playoffs. But Hurts' development is more of an exception and less the rule and would require a major step forward from Fields.
Cincinnati Bengals: 10-7 (Under 10.5 wins)
I expect the Cincinnati Bengals to be a playoff team for the third-consecutive season in 2023 and a Super Bowl contender, but it wouldn't surprise me to see them have a slightly worse regular-season record.
For one, I have some concerns about Joe Burrow's injury. While he isn't expected to miss any time, it's the type of injury that can easily be aggravated, causing him to miss at least a few weeks. If you've watched any of the Bengals' preseason games, you would know that their backups are far from inspiring.
Secondly, Cincinnati plays in a very tough division. I'm projecting both the Browns and Ravens to make the playoffs this season as well, plus their two games against the Steelers won't be easy.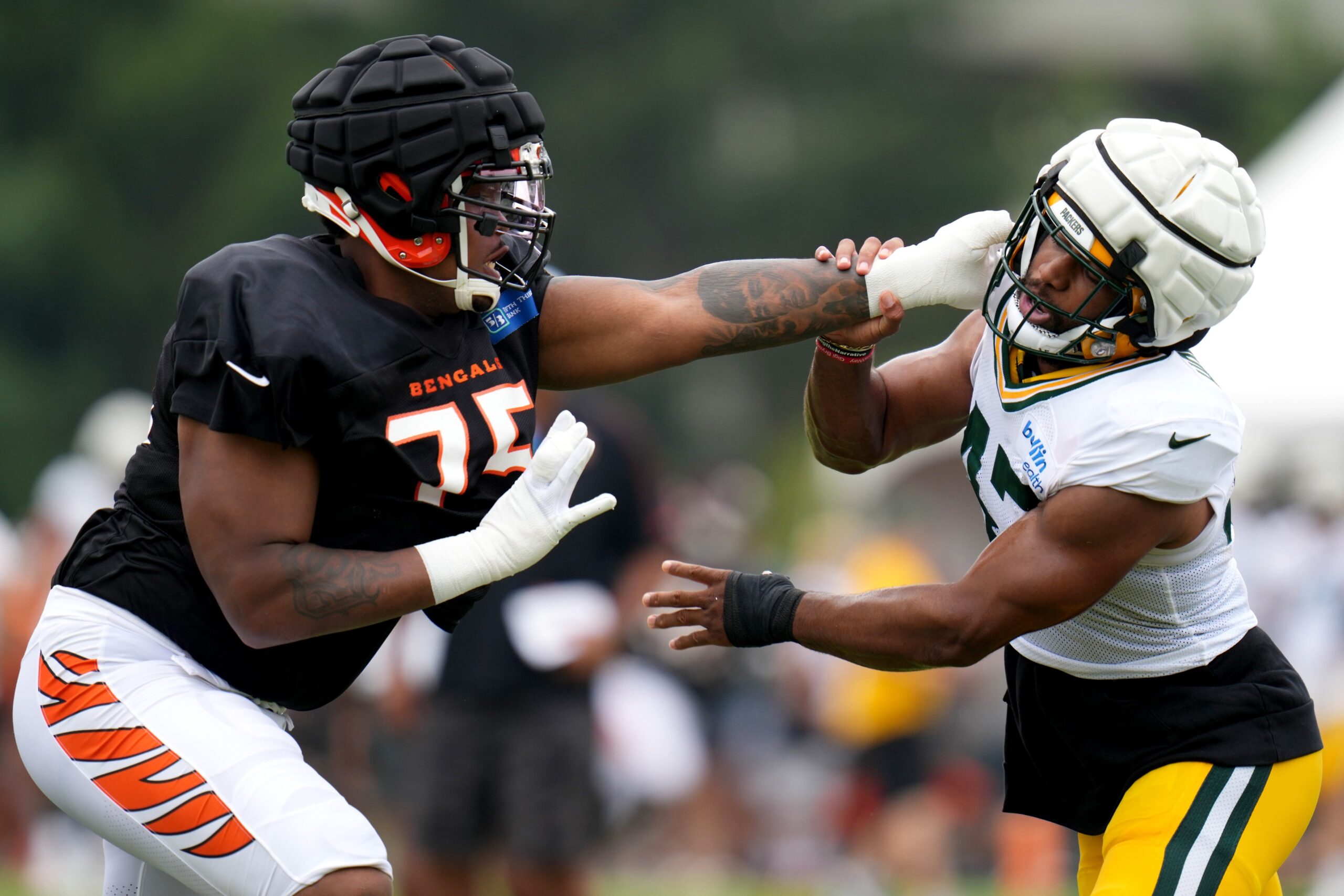 Offensively, OT Orlando Brown was a nice pickup to finally solidify Cincinnati's OL. On defense, however, their starting safeties from last season in Bates and Vonn Bell, both walked in free agency, which are two big losses.
There is also some concern about the Bengals' pass rush that recorded just 30 sacks last season. They drafted DE Myles Murphy in Round 1, but will he be an immediate contributor, and is that enough?
Cleveland Browns: 11-6 (Over 9.5 wins)
I'm very high on this Cleveland Browns team in 2023, my pick to win the AFC North. On paper, this is a roster with very few, if any, holes on either side of the ball.
The biggest question mark is probably Deshaun Watson, who, just a couple seasons ago, was a top-five quarterback in the league. Much of his struggles last season could be attributed to rust and getting acclimated to a new team.
Since then, he's had a full offseason to try and get back to the player he once was, who threw for 4,823 passing yards and 33 TDs in 2020.
I'm also very bullish on Cleveland's defense, with Jim Schwartz now leading this unit as defensive coordinator. Schwartz historically gets the most out of his talent, especially on the defensive line, so I expect big things from Myles Garrett in his wide-9 scheme.
The Browns' over/under is only below 10 wins because of how bad Watson was last season, which was probably an aberration. I'm taking the over and predicting they go 11-6 this season.
Dallas Cowboys: 12-5 (Over 10.5 wins)
This is another roster that is very talented on both sides of the ball with very few weaknesses. But don't we say that every year about the Dallas Cowboys, and they never make it past the Divisional Round?
WR Brandin Cooks and CB Stephon Gilmore were solid pickups for the Cowboys this season. With Micah Parsons moving to DE full-time, he should be an even more dangerous pass rusher than ever. The selection of DT Mazi Smith in the first round should be a nice boost to Dallas' run defense.
The Cowboys' ceiling depends on QB Dak Prescott and head coach Mike McCarthy. Can Prescott cut back on the turnovers after leading the league in interceptions a year ago, despite only playing in 12 games? And how will the offense look with McCarthy calling plays in place of Kellen Moore?
Denver Broncos: 9-8 (Over 8.5 wins)
I have confidence in Sean Payton bringing the Denver Broncos back to competence after a disastrous 2022 season.
The Broncos are coming off a season in which everything went wrong. They had horrific coaching, were the most penalized team by yardage, and led the NFL in adjusted games lost due to injury, per Football Outsiders. The coaching will obviously be much improved, and they should see some positive regression in the other two areas as well.
Denver was very aggressive in free agency, signing OT Mike McGlinchey, G Ben Powers, RB Samaje Perine, and DE Zach Allen, to name a few.
With one of the best defenses in the NFL and a solid group of playmakers offensively, the Broncos' ceiling is all dependent on Russell Wilson. I don't expect him to be close to as bad as he was last season, given everything I've mentioned. But does Wilson have enough left in the tank to lead them to a playoff run?
Detroit Lions: 10-7 (Over 9.5 wins)
The Detroit Lions are definitely a rising team after a two-year rebuild under head coach Dan Campbell. After starting 1-6 last season, the Lions went 8-2 the rest of the way, finishing with a 9-8 record.
While this is a new season, Detroit has the makings of a playoff team in 2023. They retained offensive coordinator Ben Johnson, who helped lead the sixth-most efficient offense last season and play in a rather-weak NFC North.
Detroit's defense is a question mark, but signing C.J. Gardner-Johnson and Cameron Sutton should help improve their 30th-ranked pass defense from a year ago. If there's anything holding back the Lions in 2023, however, it will certainly be this side of the ball.
Green Bay Packers: 8-9 (Over 7.5 wins)
We're going to see a much different Green Bay Packers team in 2023, and it starts at quarterback with Jordan Love.
With Aaron Rodgers no longer in town and having influence on the offense, I'm expecting Green Bay to be more run-heavy and rely on the defense under head coach Matt LaFleur. I'm not expecting a very efficient offense led by Love and inexperienced wide receivers, but there's a lot of talent on this defense.
Houston Texans: 5-12 (Under 6.5 wins)
The future is far brighter in Houston than it was this time a year ago, with head coach DeMeco Ryans, QB C.J. Stroud, and DE Will Anderson Jr. in the fold. Houston's long rebuild is finally paying dividends for the future, but I'm expecting growing pains for Stroud and company this season.
The Texans do play in an easier division and have no incentive to tank with their pick being owed to Arizona, but I'm still taking under 6.5 wins for them.
Indianapolis Colts: 6-11 (Under 6.5 wins)
The Colts may have finally solidified their quarterback position for the long term since Andrew Luck abruptly retired before the 2019 season. But how effective will QB Anthony Richardson be as a rookie?
MORE: Where Is Jonathan Taylor Playing This Season? A Look at the Betting Odds
Head coach Shane Steichen is taking over a team that had playoff expectations this time a year ago and play in a very weak division. Still, I think this Colts team is too young and has too many holes on both sides of the football to be competing in Year 1 of the Steichen-Richardson era.
Jacksonville Jaguars: 12-5 (Over 9.5 wins)
Despite the Jacksonville Jaguars' questionable offensive line and defense heading into this season, I'm very bullish on their 2023 outlook.
QB Trevor Lawrence took a major step forward last season and should be even better in his third season with WR Calvin Ridley now inserted in the offense. Lawrence's set of playmakers around him is one of the best in the league and should help him continue to elevate.
Most importantly for the Jaguars this season, they play in the worst division in football (AFC South). If Jacksonville's young defensive players — particularly 2022 No. 1 overall pick Travon Walker — take another step forward this season, and their offensive line holds its own, I think the Jaguars will be one of the best regular-season teams in 2023.
Kansas City Chiefs: 12-5 (Over 11.5 wins)
I mean, what is there to say? The Kansas City Chiefs have finished with 11+ wins in every season Patrick Mahomes has been their starter. Unless he gets injured, I'm not expecting this streak to end in 2023.
Las Vegas Raiders: 4-13 (Under 6.5 wins)
Despite having one of the best RB-WR combinations in the NFL, I'm betting on the Raiders to be one of the worst teams in the NFL this season.
This is a bet against Josh McDaniels and Jimmy Garoppolo. McDaniels is 17-28 as a head coach and 7-24 since his 6-0 start in his first season in Denver. Jimmy G, on the other hand, is very injury prone, and how effective will he be away from Kyle Shanahan?
Despite having Maxx Crosby, this was the 30th-ranked unit in defensive efficiency last season. Vegas made some additions this offseason, most notably S Marcus Epps, CB Marcus Peters, and drafting DE Tyree Wilson in the first round, but will that be enough? Especially in the AFC West?
Los Angeles Chargers: 10-7 (Over 9.5 wins)
This is a make-or-break season for head coach Brandon Staley, who has too talented of a roster, led by Justin Herbert, to finish another season without a playoff win.
But the Los Angeles Chargers are a team that should be even better offensively in 2023. Joe Lombardi, who was highly criticized for his conservative passing offense, is gone and replaced by former Cowboys OC Kellen Moore. Herbert is also completely healthy after playing the majority of last season with a fractured rib cartilage.
Drafting WR Quentin Johnston in the first round also gives L.A. another downfield weapon at wide receiver and insurance if Mike Williams and Keenan Allen miss time again in 2023.
The Chargers' difficult schedule, combined with my lack of trust in Staley, is holding me back from projecting this team to win more than 10 games. But this is a very talented football team.
Los Angeles Rams: 6-11 (Under 6.5 wins)
The Rams are built like an NBA team — stars and scrubs. Except in the NFL, you have 11 starters on both sides of the football and 53-man rosters.
After winning the Super Bowl, the Rams' injury luck finally ran out in 2022, having the second-most adjusted games lost due to injury, according to Football Outsiders.
If this team hopes to compete in 2023, the Rams can't afford to have any injuries. Outside of their star players, this might be the most inexperienced roster in the NFL.
Will they shop Aaron Donald at the trade deadline if they're out of the playoff picture early? How healthy are Matthew Stafford and Cooper Kupp entering this season?
Miami Dolphins: 9-8 (Under 9.5 wins)
The Miami Dolphins made two big splashes on the defense this offseason — hiring DC Vic Fangio and trading for CB Jalen Ramsey. Unfortunately, Ramsey is already injured and is expected to be out of the lineup for a while.
If not for Tua Tagovailoa's lack of ability to stay healthy for an entire season and Miami's difficult schedule, I would be much more optimistic about the Dolphins going over their win total. But these are two critical factors that cannot be ignored.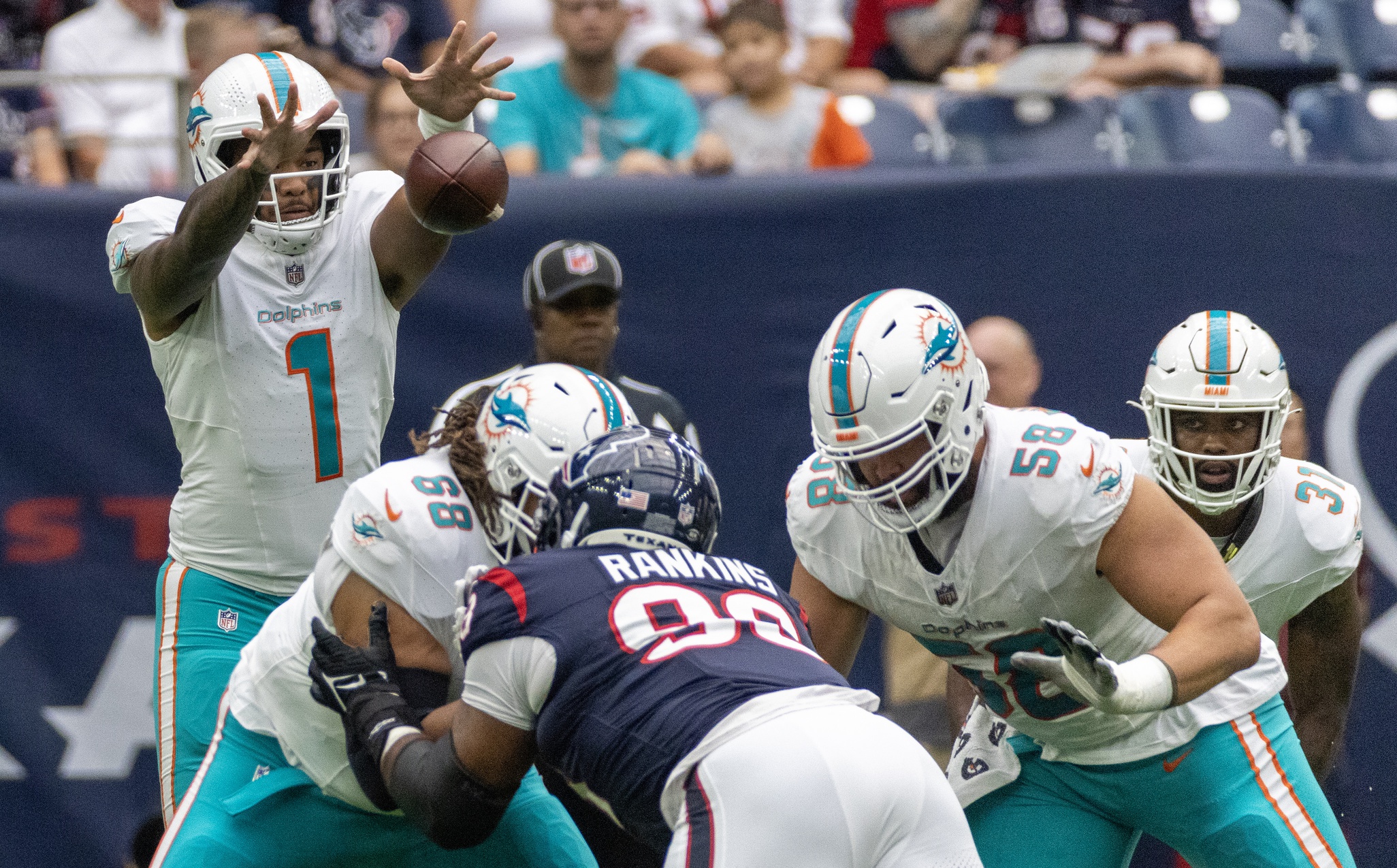 There is also some evidence that defenses last season may have figured out Mike McDaniel's offense. After starting 8-3 and having the second-most efficient offense by EPA/play, they dropped all the way down to 21st in their final six games.
Given the explosive duo of Tyreek Hill and Jaylen Waddle, there's still plenty of reason to believe this will be one of the best offenses in 2023, as long as Tua stays healthy.
Minnesota Vikings: 7-10 (Under 8.5 wins)
The Minnesota Vikings had a lot of luck in 2022. They went a remarkable 11-0 in one-score games, an NFL record, and 2-4 in all other contests. This is a stat that historically indicates at least some regression in the win-loss column the following season, especially if you won all but two games by just one score.
In some alternate universe where the NFL playoff seedings were based on point differential instead of win-loss record, the Vikings would've been the No. 7 seed last year as opposed to No. 2.
Going into this season, Minnesota has a strong offensive nucleus with Justin Jefferson, rookie Jordan Addison, and T.J. Hockenson around Kirk Cousins. But their 31st-ranked defense in yards allowed per game from a year ago might've gotten even worse, plus they have a more difficult schedule.
New England Patriots: 7-10 (Over 6.5 wins)
The Patriots will actually have a qualified offensive coordinator this season in Bill O'Brien, and they should have one of the best defenses in the NFL. But is that enough to overcome their other deficiencies?
If New England played in a less competitive division, I would be more bullish on their 2023 outlook. But they have the third-most difficult schedule this season, with one of the worst sets of skill-position players in the NFL.
New Orleans Saints: 11-6 (Over 9.5 wins)
Going chalk in making preseason NFL predictions is 1) boring and 2) never works out. Expect the unexpected in this league, and this prediction isn't even that crazy.
The New Orleans Saints have the easiest schedule in the NFL this season, favored in 11 of their 17 games, a one-point dog in three more, and an underdog of no more than three points in any game. This is a byproduct of being in the NFC South and playing against AFC South teams this season.
Besides their schedule, New Orleans is also due for some positive regression in turnover differential this season. In 2022, they were tied for the second-fewest takeaways with 14, and the Saints' defense is too talented with too easy of a schedule of opposing QBs not to exceed that number drastically.
Derek Carr should also be an upgrade over Andy Dalton. Even if Carr were to miss time, Jameis Winston is one of the best backups in football.
New York Giants: 7-10 (Under 7.5 wins)
The New York Giants were a surprise playoff team last season and look like an even better team on paper in 2023. So why do I have them projected for two less wins?
Although I think very highly of Brian Daboll and the Giants' coaching staff, I think they're due for some regression in 2023. They have the most difficult schedule this season after having a very easy one in 2022 and went 8-4-1 in one-score games last season. Despite having a 9-7-1 record, New York had a point differential of -6, which was just the eighth-best in the NFC.
On the flip side, the Giants had several injuries a year ago, most notably to their skill-position players. They made a big splash this offseason by trading for TE Darren Waller. Even still, relying on this set of playmakers and Waller to stay healthy is a tall order, as is getting at least 16 games from Saquon Barkley again.
While QB Daniel Jones had a breakout campaign after not having his fifth-year option picked, will he have the same success in 2023? Daboll and OC Mike Kafka did a brilliant job of building the offense around him, but will Jones continue to limit the turnovers, or was 2022 an aberration compared to the first three years of his career?
New York Jets: 9-8 (Under 9.5 wins)
This is the toughest win-loss record for me to predict this season, as no outcome would surprise me for the 2023 New York Jets.
Although their defense is one of the best in the NFL, the Jets had a very favorable schedule last season, facing seven backup quarterbacks. This season, besides the typical AFC East QBs, they're facing Dak Prescott, Patrick Mahomes, Jalen Hurts, and Justin Herbert.
One sign of positive regression for this defense, however, is that they had just 17 takeaways last season, tied for the fifth-fewest in the NFL. Expect that number to go up with how talented this unit is.
The Jets do finally have hope at the QB position with Aaron Rodgers. But while Rodgers is a seismic upgrade over Zach Wilson, are we sure he's still an elite quarterback?
After two consecutive MVP awards, Rodgers had a 39.3 QBR last season, by far the lowest of his career. He'll also be turning 40 years old this season, giving us more reason to believe he'll be worse, not better.
Tom Brady was a rare breed and has a lot of people forgetting how quickly quarterbacks can age. I'm not saying Rodgers can't play anymore, I'm just not totally sold on him lifting this team into Super Bowl contention.
Philadelphia Eagles: 12-5 (Over 11.5 wins)
The Philadelphia Eagles have a lot going against them in 2023. They're coming off a Super Bowl loss, both of their coordinators left for head coaching jobs, their schedule is far more difficult, and it's unlikely they'll have the same injury luck as last season, with all 22 starters from Week 1 being healthy for the Super Bowl.
But this team is too talented to endure a Super Bowl hangover. GM Howie Roseman did a fantastic job this offseason of replenishing the team despite losing five starters on defense.
MORE: Super Bowl 58 Odds
Although we should expect some regression for this unit, Philadelphia's offense should continue to be one of the best in the NFL. Hurts is still surrounded by an elite group of skill-position players and the best offensive line in football, which gives me enough confidence in this team.
Winning the division might be rather difficult, though, as the Cowboys are one of the best teams in the NFL, and there hasn't been a repeat winner of the NFC East since 2004.
Pittsburgh Steelers: 8-9 (Under 8.5 wins)
Is this going to be the first losing season for Mike Tomlin in Pittsburgh?!
Tomlin has a very young team, particularly on offense, that should continue to get better this season. But the Pittsburgh Steelers are in arguably the most competitive division in all of football and are a distant last in overall talent among teams in the AFC North.
There is still definitely a path for the Steelers to go over their win total and make the playoffs. It would require major growth from QB Kenny Pickett in Year 2, Diontae Johnson and George Pickens emerging as one of the best WR duos in the NFL, and T.J. Watt staying healthy after missing seven games last season.
San Francisco 49ers: 11-6 (Over 10.5 wins)
The San Francisco 49ers are defying the conventional wisdom that quarterback is the most important position in football.
Brock Purdy was a revelation for the 49ers last season, but is there possible regression coming in 2023 coming off a devastating elbow injury? Even if his play from last season isn't 100% sustainable, Purdy has an elite play-caller in Kyle Shanahan and perhaps the best set of skill-position players around him in the NFL.
As long as Christian McCaffrey, Deebo Samuel, Brandon Aiyuk, and George Kittle stay healthy, he should be just fine.
San Francisco's defense remains one of the best in the NFL, but they'll have a new defensive coordinator for the second time in three years, with Steve Wilks replacing DeMeco Ryans. Wilks is also an outside hire and will be implementing a new defensive scheme in San Francisco for the first time in the Shanahan era.
Seattle Seahawks: 10-7 (Over 9.5 wins)
This is a very talented Seattle Seahawks team that got even better this offseason.
As much recognition as he got for his 2022 breakout season, Geno Smith still might be a bit underrated. Last season, he was the seventh-most efficient QB, according to EPA per play + completion percentage above expectation.
With Jaxon Smith-Njigba now added to a WR corps already featuring DK Metcalf and Tyler Lockett, what reason do we have to believe Smith will regress?
Seattle's defense was a concern last season, but drafting CB Devon Witherspoon, as well as getting S Jamal Adams and LB Bobby Wagner back, should all be a huge boost.
Tampa Bay Buccaneers: 5-12 (Under 6.5 wins)
This is another team that could be tanking for Caleb Williams or Drake Maye, with them signing Baker Mayfield to be their starting quarterback in 2023 as a major sign.
There isn't much to be excited about with this Buccaneers team after they went 8-9 last season and barely made the playoffs with Tom Brady. Tampa Bay has maybe the worst quarterback situation in the NFL, a below-average offensive line, and a head coach with a 34-50 record.
The Buccaneers have no incentive to win, even in a weak NFC South, and will most likely be entering a massive rebuild after the season. The biggest Buccaneers optimist would be a big believer in their defense that was a top-10 unit last season.
Tennessee Titans: 7-10 (Under 7.5 wins)
This is another difficult team to project because the Titans were expected to rebuild this season before signing DeAndre Hopkins late in the summer. History says to back Mike Vrabel, who has a 48-34 record as Tennessee's head coach, but I can't get on board.
Ryan Tannehill and Derrick Henry are going to be playing behind an offensive line that might be the worst in the NFL. They're both also aging and aren't as reliable as they used to be to stay healthy for all 17 games.
The Titans have a strong defense and play in a weak division, so they have far from an impossible path to return to the postseason. But my concerns about their offensive line and overreliance on Henry give me pause in having much belief in this team.
Washington Commanders: 7-10 (Under 7.5 wins)
You would think Jeff Fisher has been the Washington Commanders' head coach because they've won 7-8 games in five of the last six seasons. In Year 4 of the Ron Rivera era, I'm expecting a similar record in 2023 as they have had the last three seasons.
This is a team with a pretty talented roster across the board, with one major question mark at quarterback. Sam Howell is completely unproven and will be learning a new offense under offensive coordinator Eric Bieniemy. No outcome would disappoint Commanders fans this season, however. They already got their wish in Dan Snyder finally selling the team.