Cedrick Wilson wasn't the name a lot of Miami Dolphins fans were hoping to see join their team this offseason. However, the advanced metrics suggest that Wilson could provide a lot of value to Mike McDaniel's new offense.
Cedrick Wilson was far more successful than your average fourth-string wide receiver
Part of the reason Dolphins fans weren't excited for the Wilson signing was that he didn't feature heavily in the Dallas offense, having only the fourth-most yards among the Cowboys' receivers.
And while that is true, we must remember that the 2021 Dallas offense was absolutely stacked with talent. The players in front of Wilson were CeeDee Lamb, Amari Cooper, Dalton Schultz, and Michael Gallup.
Waiting behind players of that caliber doesn't mean Wilson wasn't an excellent receiver in his own right last season; far from it. His statistics reflect that. Despite his position in the Cowboys' offense, Wilson still totaled 602 yards and 6 touchdowns.
Frankly, the fact that Wilson was as productive as he was is remarkable, although he almost certainly wouldn't have been if Gallup hadn't torn his ACL. However, an unfortunate circumstance for Gallup meant an opportunity for Wilson, who took full advantage.
Wilson's advanced metrics played a major role in his success
Wilson managed to find success in Dallas' offense despite a relatively low usage rate. To find out why, let's turn to the Offensive Value Metric (OVM). The OVM is a grading system created by the (Bx) Movement to evaluate players based on how much of their statistical production they were actually responsible for.
Wilson earned the ninth-highest OVM grade of any wide receiver last season, at 35.58. That is was almost 10 points higher than Cooper, the other wide receiver to leave the Cowboys this offseason, and who several Dolphins fans wanted to see join their team. The discrepancies in their grades suggests that, while Cooper played a larger role in the Cowboys' offense, Wilson had a larger relative impact.
How Cedrick Wilson's grades varied across the season
Let's look now at the weekly grades to see how Wilson's grade shifted as the season progressed. You can see those grades in the chart below, marked by the black dots. For comparison, the yellow line represents the average grade for wide receivers during the regular season.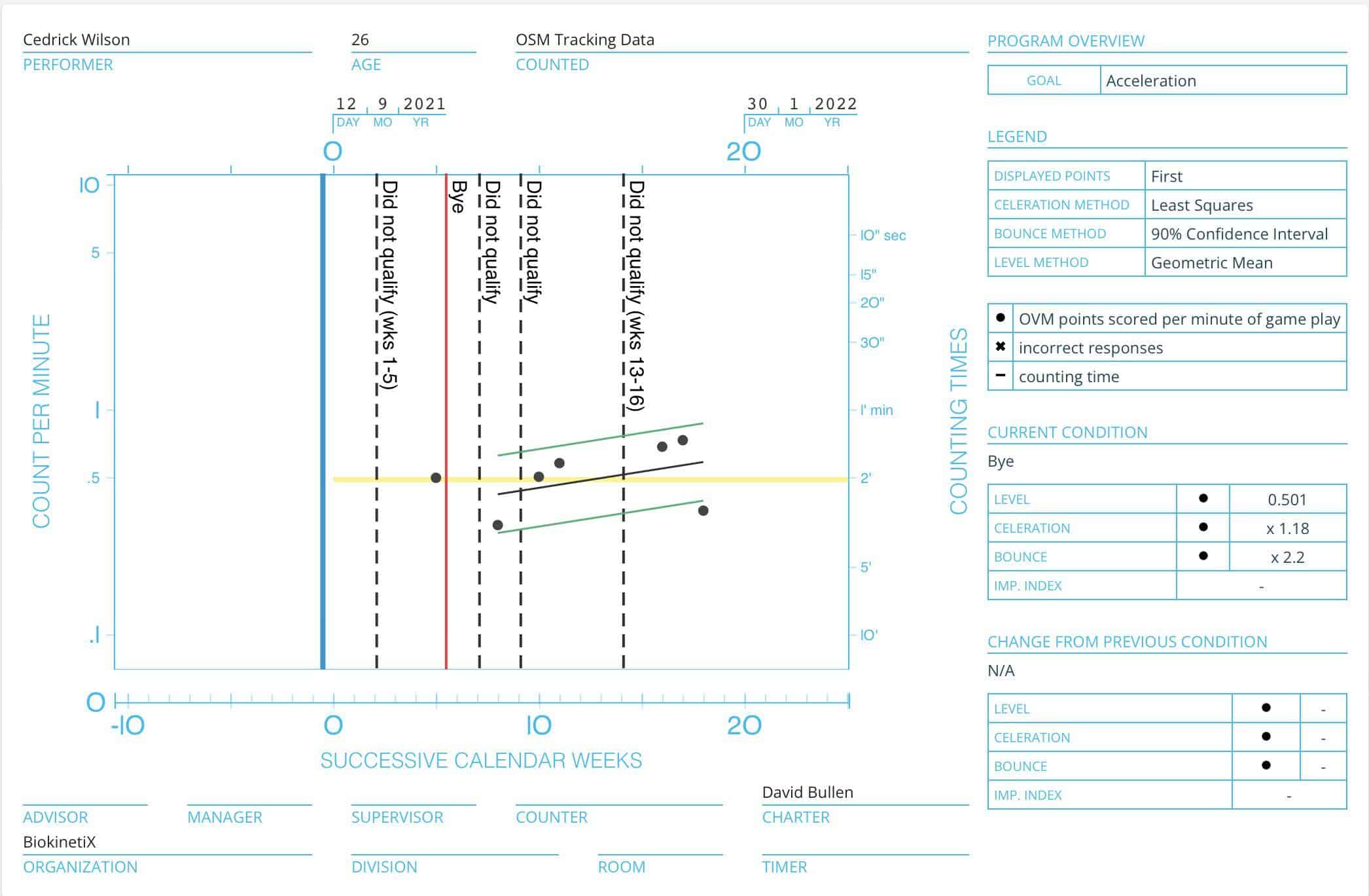 Wilson did not qualify for a grade during the first five weeks of the season and was only a sporadic contributor after that. However, the majority of his grades were above the league average.
It's unfortunate that one of his worst games came in Dallas' Wild Card loss to the San Francisco 49ers. Yet, most of the team underperformed in that game, so it's hard to hold that against him.
The statistics behind the grades
You might reasonably wonder what Wilson was doing that earned him such a high OVM grade. To find out, we need to look at the advanced metrics involved in calculating it. To start with, Wilson caught 73.77% of his targets last season. That would have ranked second for Miami, just behind Jaylen Waddle and far ahead of anyone else of note.
Wilson was also better at creating separation than anyone on the Dolphins' roster, averaging 3.5 yards of distance from the nearest defender when targeted while being given 6.3 yards of cushion.
DeVante Parker was the only player to best Wilson in either category, being given less cushion, at 5.2 yards. However, Parker also averaged a league-low 1.7 yards of separation, so the numbers don't exactly work in his favor.
Perhaps most importantly, Wilson averaged 6.2 yards after the catch. According to the NFL's models, that number is 1.2 yards higher than expected. Both of those numbers ranked in the top 20 among wide receivers and were better than any player on the Dolphins.
Wilson is immediately Miami's best YAC threat. That's important because Mike McDaniel's offense relies heavily on players like that.
His 49ers team last season had three of the top 12 players in YAC, most notably Deebo Samuel, who led the league in the category by almost two yards. Wilson obviously isn't a one-to-one replacement for Samuel, but if McDaniel is going to replicate the success he had in San Francisco, the team needed to add players who could create yards with the ball in their hands. Wilson does precisely that.
Signing Wilson looks like a slam dunk
Despite the lukewarm reception, the more you dig into Wilson's signing, the better it looks for the Dolphins. Going into the offseason, the team had significant holes at wide receiver, and Wilson's skill set fills many of them.
It also helps that he lacks the significant injury concerns that have plagued current Dolphins receivers Parker and Preston Williams for most of their careers. Taking a chance on an injury-prone player came back to bite Miami last season when they signed Will Fuller, who barely saw the field during his single season with the team.
Wilson should be far more reliable, and his presence should take some of the pressure off of Waddle, who had a record-setting rookie year. The Dolphins' offense still has other problems they need to fix, but adding Wilson was a great step towards revamping one of last season's most ineffective units.