As NFL fans brace themselves for the slow months of the offseason, Best Ball drafts featuring some of the top rookies are taking place by eager fantasy football managers. With the NFL Draft not long ago and rookie minicamps taking place, which 2023 NFL rookies could be valuable during your fantasy football Best Ball draft?
Which Rookies Could You Draft for Best Ball in 2023?
Bijan Robinson, RB, Atlanta Falcons
Yes, I know, it's low-hanging fruit. I and anyone else who can get near a microphone have been screaming that Bijan Robinson will be incredible. That was before the draft even happened.
But when we add in the landing spot, goodness gracious, Robinson will go ballistic. Atlanta running backs last year were first in yards, yards per carry, and rushing first downs. They were second in EPA/rush and third in success rate while being first in downs/rush and TDs/rush.
MORE: FREE Mock Draft Simulator With Trades
The Falcons were 31st in passing rate over expectation, and while Desmond Ridder should be an upgrade over Marcus Mariota, they are a run-first offense.
Although you will need to pay a premium in your Best Ball drafts for Robinson, the cost is absolutely worth it if you want to stack some early RB depth.
Jahmyr Gibbs, RB, Detroit Lions
Once again, this is not much of a shock as Jahmyr Gibbs walked away as one of the biggest winners of the NFL Draft. Not only did he get incredible draft capital at No. 12 overall, but Detroit also traded away D'Andre Swift for pennies on the dollar.
Gibbs did measure a bit smaller at 5'9″ and 199 pounds, with a 4.36 40-yard dash and a 33 1/2″ vert. Yet, he is as dynamic as it gets. Gibbs is a true pass-catching weapon, commanding a 17% career market share of the receiving yards, including 23% as a true freshman.
Detroit has a top-three offensive line, and Gibbs has the upside to assert himself in the backfield quickly, even if David Montgomery receives some of the goal-line work. Remember, Swift was fourth in fantasy points per touch last season, even with Jamaal Williams scoring 17 touchdowns, because he saw 70 targets.
That upside is going to go directly to Gibbs. At cost, Gibbs is likely a better value than Bijan for your Best Ball drafts and is a rookie who I would be willing to pay higher than the current ADP price to secure.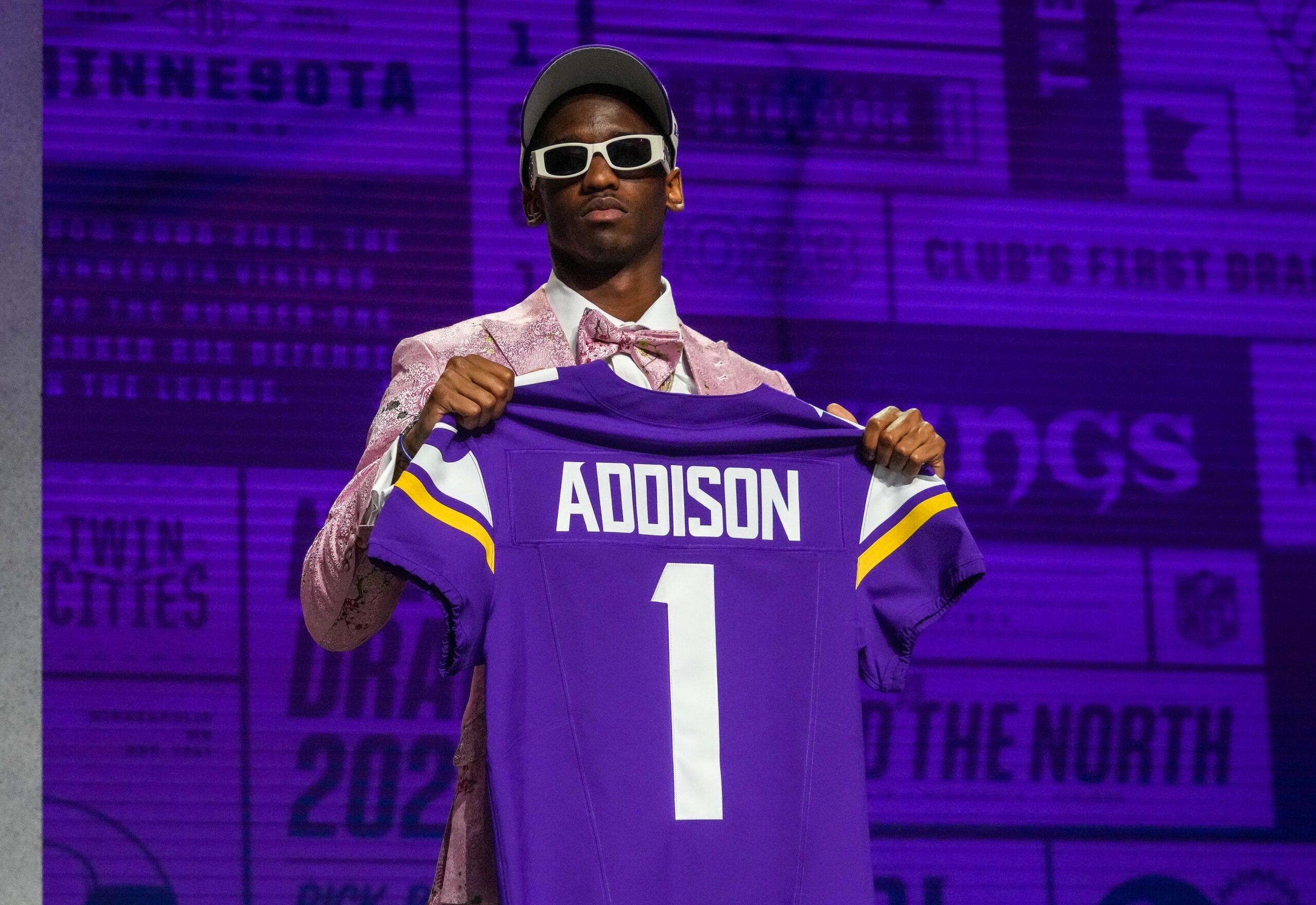 Jordan Addison, WR, Minnesota Vikings
If it was not Los Angeles, Minnesota was my favorite landing spot for a wide receiver this offseason. Adam Thielen is gone, and Vikings head coach Kevin O'Connell opened up the offense last season by turning it into a more pass-heavy one. Not only did Minnesota add a receiver, but they drafted former Biletnikoff Award winner Jordan Addison.
I love this. For one, Addison is one of the most complete receivers in his class. At 5'11" and roughly 173 pounds, he profiles similar to DeVonta Smith or Tyler Lockett, who are both route-running technicians and can generate YAC once the ball is in their hands.
But how are defenses going to stop Addison when they're so worried about Justin Jefferson? Last year, Jefferson was in the top five most-targeted receivers against double coverage, and as the season went on, he faced a ton of bracket coverage.
Meanwhile, Thielen saw 107 targets (28th), but, due to his age, he did very little, ranking 16th lowest in yards per route run while also finishing outside the top 50 in both points per route run and targets.
If Addison sees similar volume to what Thielen did last year, he will flirt with the top 25. In Best Ball, where the overall potential output outweighs the risk of inconsistency, few rookies from the 2023 class can match Addison's Best Ball fantasy upside.
Quentin Johnston, WR, Los Angeles Chargers
You can't have a Best Ball article not talk about a Chargers receiver. While I expect Mike Williams and Keenan Allen to see the leading target shares, Quentin Johnston's upside is tantalizing. At 6'3″ and 208 pounds, he has a size advantage over 99% of the corners he will match up against.
He's a home-run hitter and can win in both contested-catch situations and through a physical rushing style once the ball is in his hands. What makes this so appealing for Best Ball is the landing spot.
Not only does he have Justin Herbert as his quarterback, but Kellen Moore is also the offensive coordinator. Looking at what worked in Dallas and how Moore's vertically attacking style with beater concepts worked with Dak Prescott, I expect Herbert to have his best season yet — don't be surprised if he's in the MVP conversation.
I prefer Johnston in Best Ball compared to redraft simply because he is likely the No. 3 receiver, so the volume could be sporadic, but if I want nothing but upside from a rookie on my Best Ball team, Johnston fits the bill perfectly. In any week where for some reason Allen or Williams are absent, Johnston would have mid-WR2 upside, if not more, depending on the matchup.
Jalin Hyatt, WR, New York Giants
Jalin Hyatt was not someone I was extremely high on during the draft process, as the Tennessee scheme, which helped him record 15 touchdowns on 67 receptions for 1,267 yards, was also not reflective of what the NFL is like. Josh Heupel could maneuver players around and maximize the width of the field to get Hyatt open in a one-on-one situation with a slot choice where all he had to do was read the leverage and let his wheels do the rest.
However, Hyatt is more than just a burner. He's a little thinner at 6'0″ and 176 pounds, but I think he's a better route runner than people give him credit for, and we shouldn't simply punish receivers for doing what the offense asked them to do. I'd also contend he has some of the best hands in this class, even extending out to catch deep passes.
New York is a mess regarding pass catchers, as it seems as though they have 14 different slot options. But Hyatt is the one who intrigues me the most, as I feel he will take the Darius Slayton role, which is more valuable than you might think.
Last year, Slayton was 12th in deep targets, 15th in yards per target, and 10th in yards per reception. Those deep posts will now go to Hyatt, who will have a far better time maximizing the per-opportunity upside of those looks coming his way. He should become the No. 1 receiver eventually, but until then, he makes perfect sense as a home-run Best Ball pick in his rookie year.
Roschon Johnson, RB, Chicago Bears
Roschon Johnson is going to be my guy this season. I can tell you this one already. If not for being behind the best rusher in the last three years, he would be a slam-dunk prospect and would have started at any other college.
I view Johnson as the Bears' starting running back by, at the latest, Week 5. At 6'2″, 223 pounds, he didn't blow the doors of the NFL Combine, but he still tested well for his size, posting an 8.67 RAS with an elite 10-yard spit of 1.54 seconds, matching the burst and acceleration he shows coming out of cuts hitting holes.
Johnson, along with Robinson, Kendre Miller, and Zach Charbonnet, were the four RBs who I felt could be workhorse RBs at the NFL level.
MORE: 2023 Dynasty Rookie Rankings
Who on the Bears' roster is standing in Johnson's way? You have a 27-year-old D'Onta Foreman on a cheap one-year deal and coming off a 203-carry season, and then there is Khalil Herbert, who has flashed but is not attached to the new regime. Throw in the fact both Herbert and Foreman have maxed out at 14 receptions in a season, and Johnson has multiple paths for an opportunity.
Chicago was 31st in passing rate over expectation last year and fifth in ESPN's run-block win rate. The OL will likely only get better following the first-round selection of Darnell Wright to pair with Teven Jenkins and Nate Davis. I am all-in on Johnson as not just a factor in the backfield as a rookie but as a potential RB2 on my Best Ball team by Week 4.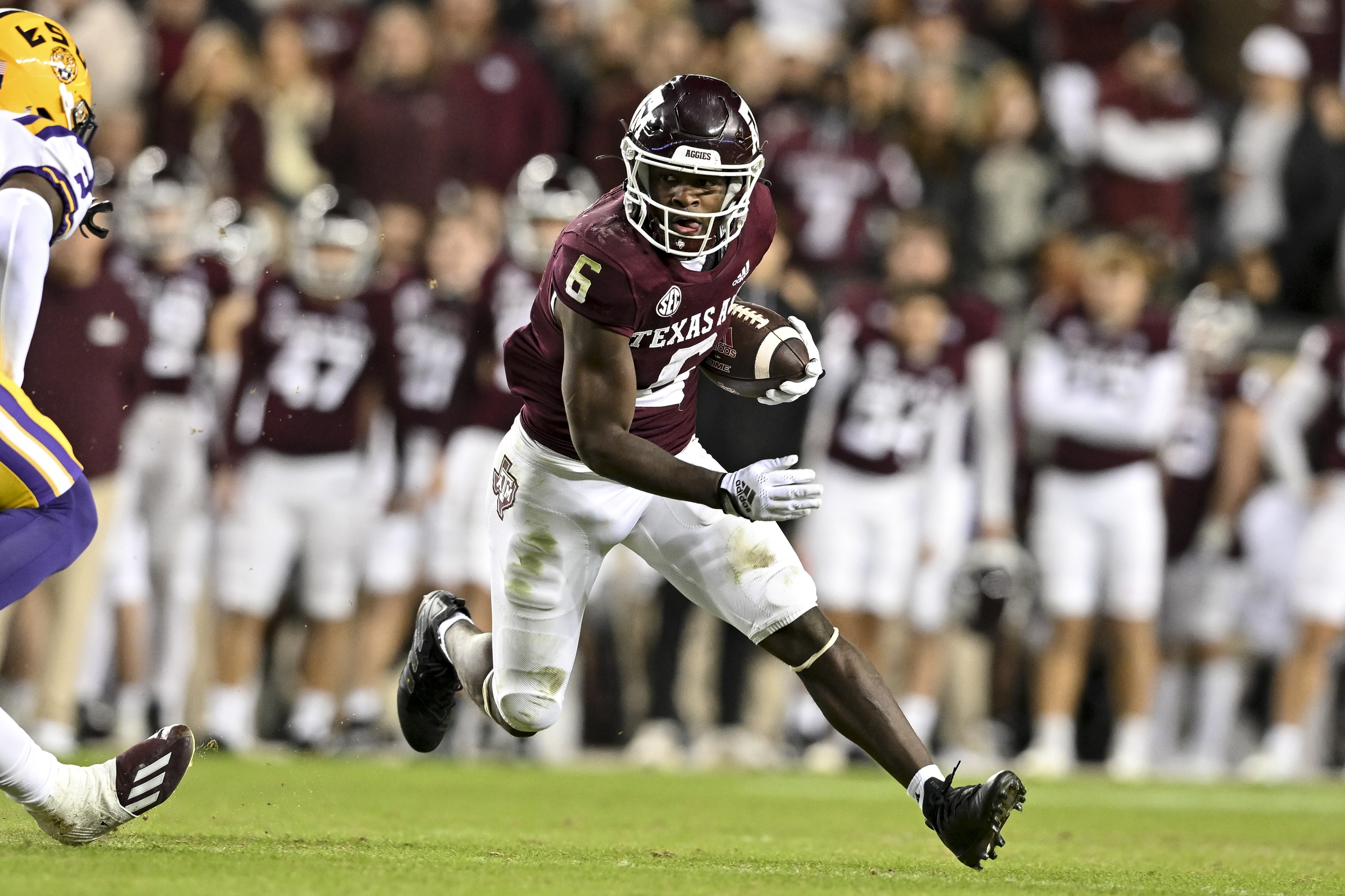 Devon Achane, RB, Miami Dolphins
Devon Acahne was made for the Miami Dolphins. He was also made for Best Ball. Coming off the board as the No. 84 overall pick and listed at 5'9″ and 185 pounds, Achane has world-class speed that can't be denied. Miami re-signed Raheem Mostert and Jeff Wilson Jr. this offseason on one-year deals, but I don't see that stopping Achane from making an impact right away.
With that said, I do expect this to be a brutal backfield on a week-to-week basis as Mike McDaniel will rotate bodies, and deciphering who will see the valuable reps will be difficult. That's why Achane makes perfect sense in Best Ball, as the rookie is being so heavily prized for his home-run ability, and to us, that's all that matters.
All you need is a few weeks for Achane to pop off, and the pick is worth it. If he can take over a larger chunk along the way, even better, but I would be more than content with 12 or so opportunities for Achane in this dynamic Miami 4×100 relay … I mean offense.
Rashee Rice, WR, Kansas City Chiefs
At this point, the only pass catcher you can trust in Kansas City is Travis Kelce for redraft. It's simply too difficult to predict who will get the ball from week to week as Patrick Mahomes spreads it around like few others. Heck, at the end of last year, the best player to roster if you wanted a share of the passing success was RB Jerick McKinnon.
I have a soft spot for SMU wide receivers, but Rashee Rice is objectively just good at football. He is also a perfect fit for Mahomes after leading the FBS with catches of more than 20 yards downfield in 2022 while also posting the third-highest YPRR vs. zone coverage.
I'd rather not mess with deciding who to start between Marques Valdez-Scantling, Skyy Moore, Kadarius Toney, Justin Watson, and maybe even Justyn Ross and just bet on Rice's upside in Best Ball.
Jonathan Mingo, WR, Carolina Panthers
The Panthers clearly had a plan when they made their blockbuster trade before the draft. That plan was to select Bryce Young first overall and find their replacement for DJ Moore. They drafted that player in Jonathan Mingo.
Although Mingo's college production wasn't elite, he can make plays all over the field. He's a big target at 6'2″ and 220 pounds and plays like someone of that size. Mingo's separation can be a bit inconsistent, but if you get the ball in his hands, he can be an electric playmaker. Mingo also saw a lot of manufactured touches, with screens accounting for 18% of his targets in 2022.
Head coach Frank Reich already talked about all of the different ways Mingo would be used in Carolina's offense, and with the primary competition coming from DJ Chark — who is on a one-year deal — plus a 33-year-old Thielen, he remains one of the best values across the board, rookie or not, as the current WR58 in Best Ball with a 132.9 ADP.
Puka Nacua, WR, Los Angeles Rams
Puka Nacua might not receive all the hype in the world, but he deserves more praise than he's likely getting in the Best Ball community as a rookie who could surprise a lot of people.
Nacua can be LA's new Robert Woods, essentially. He ranked 17th in contested-catch rate in 2021 and was BYU's fifth-leading rusher last season, averaging 8.4 yards per carry with five touchdowns.
MORE: What Is a Dynasty Rookie Draft? How It Works, Tips, and More
In his two seasons at BYU, Nacua rushed 39 times for 357 yards with five scores. Nacua also brings good size (6'1″ and 210 pounds) and can get yards after the catch, working well at multiple levels of the defense due to his physicality.
Outside of Cooper Kupp, who should be back to his unbelievable self, Nacua is battling Van Jefferson, Ben Skowronek, and Tutu Atwell. None of them can match his overall skill set. If we do see Nacua involved in the rushing game at all, his WR102 ranking will be a laughable bargain in Best Ball.
Jayden Reed, WR, Green Bay Packers
Best Ball players don't just need to be relegated to guys looking for a shot but might not be consistent from a fantasy standpoint. In fact, we need some level of consistency out of our players. Not only do I think Jaydeen Reed will be consistent, but he'll push Christian Watson for the No. 1 spot on the Packers' depth chart as a rookie.
Reed could be the gem of the middle rounds. Despite being held back by a lackluster Spartan passing game, Reed had an impressive 2.18 YPRR and an 11.5 aDOT while drawing a target on nearly 25% of his passing downs. He's not the biggest at 5'11" and 185 pounds, but Reed's a more polished receiver right now than Watson is.
Reed's ceiling is closer to a Terry McLaurin, who is always wide open (even when covered) and has a "my ball" mentality. If there is one rookie on this list I want to make sure is on as many Best Ball teams as possible, it's Reed.
Listen to the PFN Fantasy Podcast
Listen to the PFN Fantasy Podcast! Click the embedded player below to listen, or you can find the PFN Fantasy Podcast on iTunes, Spotify, and all major podcast platforms.  Be sure to subscribe and leave us a five-star review! Rather watch instead? Check out the PFN Fantasy Podcast on our Fantasy YouTube channel.