The 2023 NFL Draft features some of the top stars from the college ranks over the last few years. All attention starts with a deep crop of quarterbacks. But make no mistake, the top defenders in the class are just as worthy of the limelight.
Alabama pass rusher Will Anderson Jr. was able to accomplish as much as any one defender can in the modern football landscape. After totaling 34.5 sacks, 58.5 tackles for loss, and finishing fifth on the 2021 Heisman Trophy ballot, the 6'3 1/2″, 253-pounder has the chance to be drafted as high as No. 2 overall.
We're breaking down what separates Anderson from his peers, and why the Houston Texans, Arizona Cardinals, and Seattle Seahawks must consider drafting him.
Will Anderson Jr. Remains Top Pass Rusher in 2023 NFL Draft
Even with legitimate "generational"-level prospects, there's an inevitable shift that occurs throughout the offseason leading up to the draft. We saw it with Myles Garrett, Aidan Hutchinson, Joey Bosa, and numerous other defenders over the last 10 years of social media. People get bored with players who are already the total package and instead pivot to better athletes who are hotter, more recent names.
MORE: FREE NFL Mock Draft Simulator With Trades
Despite Anderson's accolades, we've seen Texas Tech's Tyree Wilson rise in the betting market and in recent mock drafts. ESPN's Todd McShay went as far as to say that Houston could be deciding between the two defenders with the No. 2 overall pick and that it's the "most likely outcome" instead of drafting a quarterback. Wilson, who has over two inches in height on Anderson and 1.5″ in length, qualifies as the new, shiny object.
Though Wilson is a massively gifted athlete, he pales in comparison to Anderson as a football player. It's eerily reminiscent of what we saw in the 2022 NFL Draft with eventual No. 1 overall pick Travon Walker and Hutchinson. The Jaguars took the better athlete, but Walker produced six fewer sacks as a rookie.
Though an impressively hulking figure, Wilson produced less than half the sacks Anderson did throughout his career between Texas A&M and Texas Tech. He's more of a projection than a sure thing. For teams picking in the top five who have their choice of a good athlete who is a great player, and a great athlete who is a good player, the former is the better choice.
Anderson has a similar résumé and skill set to Hutchinson. Coming from a Blue Blood program that boasts the best college football coach in history, Anderson is as polished as you'd expect. Head coach Nick Saban has emphatically supported Anderson, saying, "He understands the game, he's got power, speed, initial quickness, and turns speed to power in the pass rush."
Saban, of course, is right.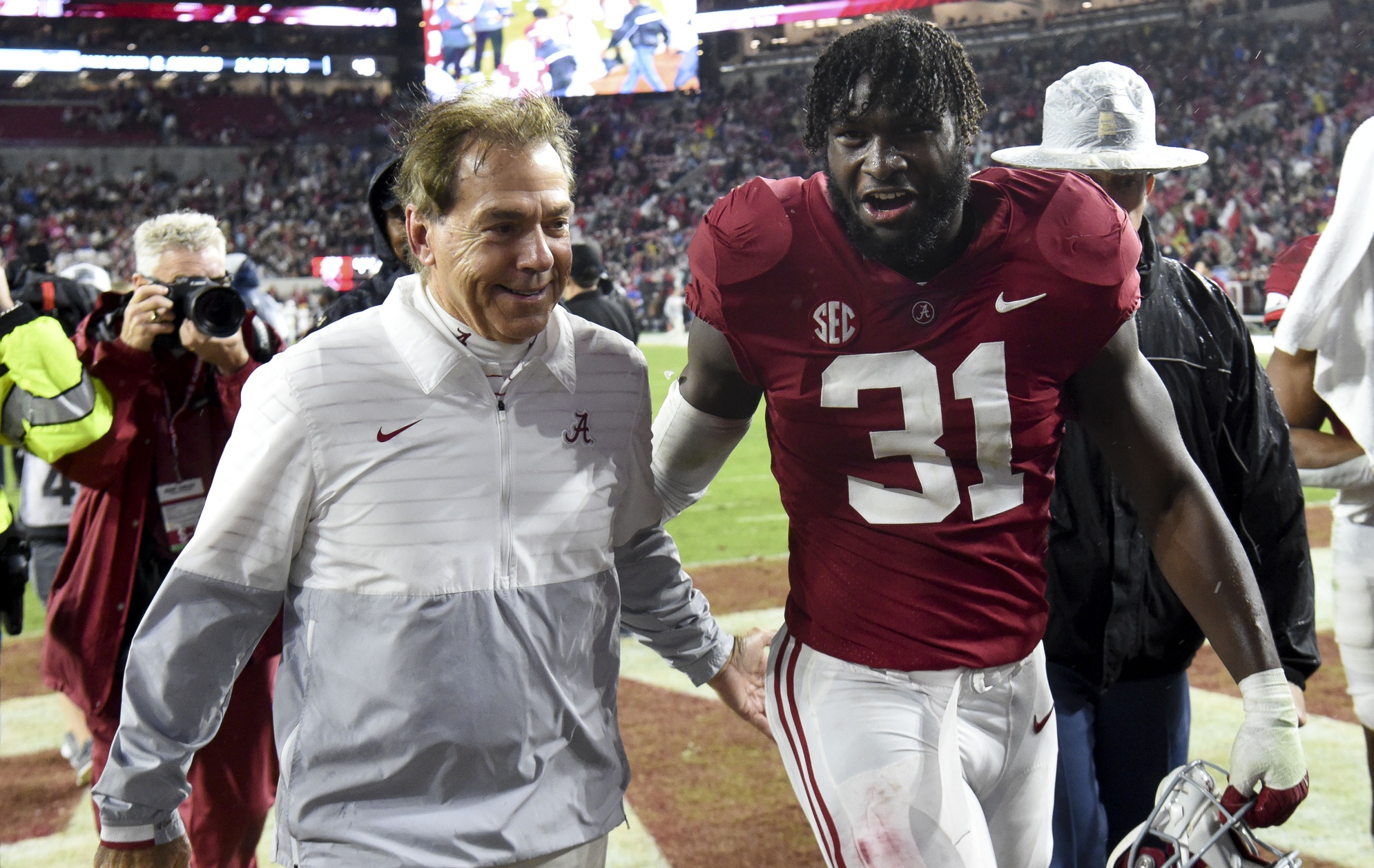 Anderson doesn't quite have the exceptional burst or density of Garrett, but he knows his limitations have developed a deep array of pass-rush moves and comfort navigating through contact. There are certain matchups Anderson will struggle with as he can be overpowered, and his lack of experience as a defensive end with his hand in the dirt can be a knock for traditional 4-3 fronts.
However, as we saw in Detroit last year, a competent coaching staff can adjust for this by sliding their defensive alignment and widening Anderson's stance to give him a better angle off the edge.
How Anderson Fits With Texans, Cardinals, and Seahawks
The difference between a 4-3 DE and a 3-4 EDGE often features different physical characteristics. There's a bigger priority on strength and bend for 4-3 ends, and essentially every top 4-3 sack producer is a legendarily good athlete.
Pass rushers in a 3-4 are often as well, but there are schematic workarounds in order to create advantageous angles and negate some of the inability to sink hips and drive to the same degree.
Houston, Arizona, and Seattle each have defensive-minded head coaches. Texans head coach DeMeco Ryans coached Nick Bosa in his traditional 4-3 front, and Wilson may be more intriguing based on Bosa's archetype and his schematic experience. But Arizona's Jonathan Gannon and Seattle's Pete Carroll have a more varied base of experience to draw upon.
Ryans can't simply go with what he's comfortable with if Houston is set on taking a defender. Drafting and developing Wilson isn't a disastrous move, but it does put the franchise at risk of overthinking a quantifiable great prospect for a theoretical one. It's also possible Anderson will be a phenomenal 4-3 end, even if we haven't seen it consistently at Alabama.
Projecting Anderson to Arizona and Seattle is simpler. Neither unit has a primary sack artist, and he directly addresses that critical need. The only more valuable position on defense is a devastatingly disruptive defensive tackle, but Georgia's Jalen Carter has endured a brutal offseason that has seemingly hurt his stock.
Houston and Seattle can, and probably should, draft a quarterback, if one is available, who they feel comfortable building around. Arizona should entertain all trade-down options from No. 3 but also be confident in the Pro Bowl-caliber talent Anderson would give them for the foreseeable future.
Listen to the PFN Scouting Podcast
List to the PFN Scouting Podcast! Click the embedded player below to listen, or you can find the PFN Scouting Podcast on iTunes, Spotify, and all major podcast platforms.  Be sure to subscribe and leave us a five-star review! Rather watch instead? Check out the PFN Scouting Podcast on our Scouting YouTube channel.