One of the most important metrics that fantasy football draft managers need to understand is average draft position (ADP) and how it can impact their draft. Knowing when a player is likely to come off the board is essential for draft preparation. As part of our Fantasy 101 series, what does ADP stand for, and how does it apply to fantasy football?
Did you get a trade offer in your dynasty or redraft league? Not sure who to start or sit this week? Make championship-winning decisions with PFN's FREE fantasy tools — the Fantasy Football Trade Analyzer and Calculator and Start/Sit Optimizer!
What Does ADP Mean in Fantasy Football?
Whenever you start a new job, start hanging out with a new group of friends, or play a new game, you can run into all different kinds of acronyms or terminologies. The acronym ADP may be the most important and influential term you will learn when talking about fantasy football.
ADP data is collected in all different types of ways. The information can be pulled from mock drafts or real fantasy football drafts, where various different websites will collect all of the different draft selections to help generate an ADP for almost every player that is draft eligible.
As we inch closer to the start of the season and more fantasy drafts are completed, the overall reliability of the data becomes improved with "outlier picks" having a smaller impact on ADP. Outliers usually include players that are third on the depth chart or a practice-squad player that could see his draft stock rise with positive reports coming from training camp.
Hence why ADP is just one of the many tools at the disposal of drafters. Sometimes fantasy football players will lean more towards recent reports from beat writers commenting on how players look in training camp or recent preseason performances that could bypass ADP data to mess with a draft day strategy.
So drafters that day/evening might lean more heavily towards that player, thinking they've snagged a rising talent. A few days later, if that news has been replaced by other news praising the No. 2 running back and reinforcing the starter's entrenched role as the bell cow, then the hype surrounding the No. 3 rookie presumably would die down.
As a result, managers likely would fade that player at his inflated ADP, thus causing it to drop in the ensuing days. At this point, he's no longer an outlier. Conversely, if the buzz surrounding that RB3 continues to grow, then the outlier phenomenon could solidify.
Isiah Pacheco in 2022 is a good example. A seventh-round pick, at first, Pacheco was simply expected to try and make the team as a backup. But the preseason hype led Pacheco's ADP to rise to No. 2 among Chiefs running backs, behind only presumed starter Clyde Edwards-Helaire. It remained there, as Pacheco went from "outlier" to "the real deal" in the span of four to six weeks.
Oftentimes, rookies often offer a great draft-day ADP, given the uncertainty of their impact in their first NFL season.
Using ADP, managers can attempt to predict when players could be drafted and whether they would be a reach at their current pick. Studying and understanding ADP also allows managers to develop a draft strategy. By paying attention to ADP, managers are able to target specific rounds or ranges (e.g. "the first two rounds") of a draft to target a position or player tier.
For example, this could be helpful when targeting a late-round QB, getting ahead of the RB dead zone, or finding WR-rich areas of a draft. Without ADP, fantasy football managers would be drafting blind with no sense of value when on the clock — and no sense of what opponents might do.
ADP Will Vary From Site to Site, Creating More Fantasy Value
Let's use an example of how ADP can vary from site to site. Knowing the ADP on the site you are playing on can be a powerful tool in a manager's belt. We'll use Denver Broncos WR Jerry Jeudy as an example.
Based on data culled from May 16, 2023, on FantasyData, Jeudy is the WR34 with an ADP of 74.5 overall. However, on DraftSharks, he's the WR25. And on 4For4, he's the WR23. The difference between snagging Jeudy in the middle of the fourth round or the mid-sixth round is substantial.
To give you an idea of how much ADP can change for a player without a single game being played, let's take another look at Jeudy nearly three months later. Based on more data pulled from Aug. 7, 2023, Jeudy's ADP jumped on FantasyData from WR34 to WR23. So making sure the ADP data you are looking at has been recently updated is extremely important.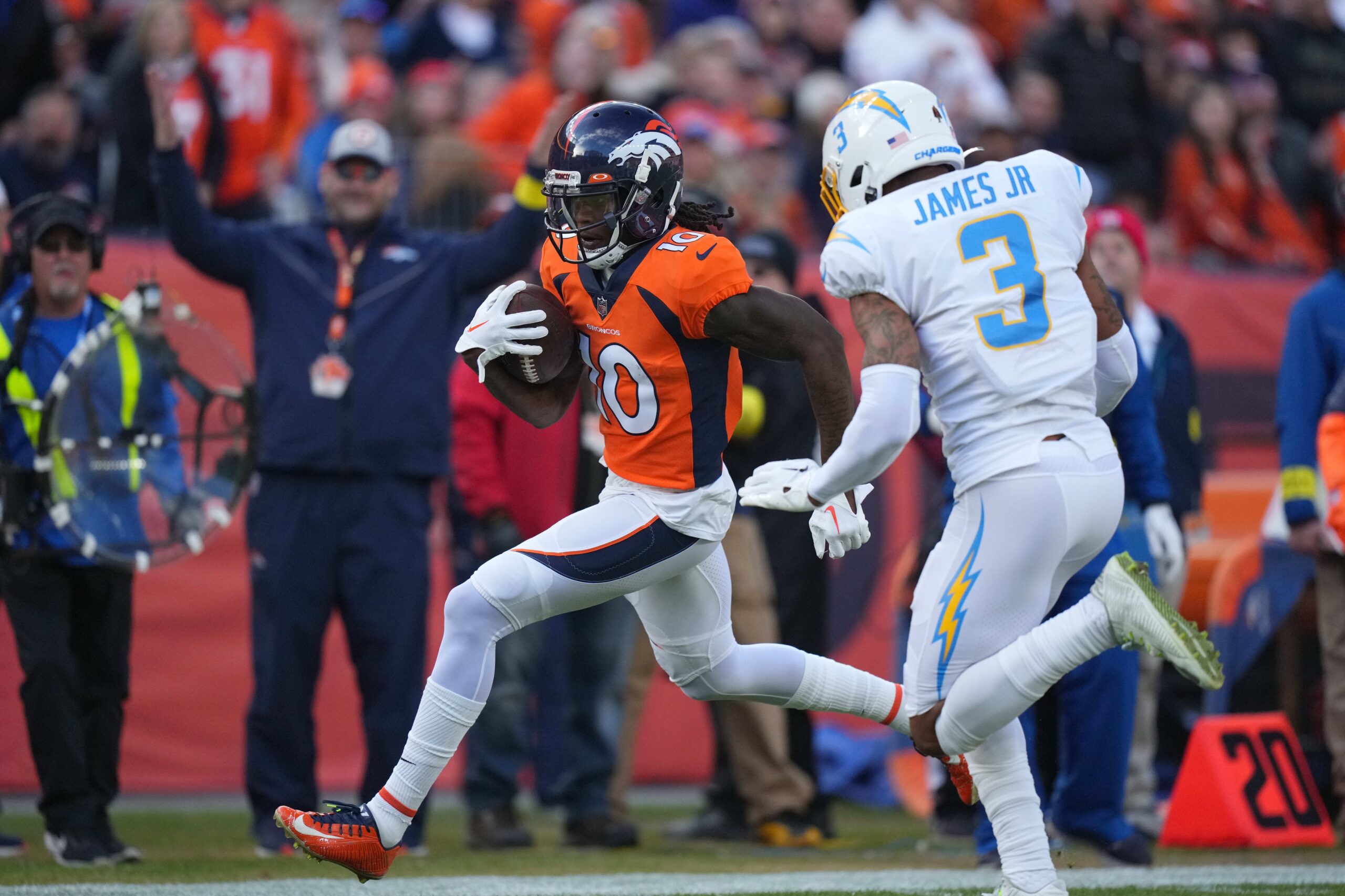 ADP can also be used to find value in certain rounds and draft players you expect will outperform their average draft position.
ESPN lists Jeudy with an overall ADP of 69, meaning, on average, he's coming off the board late in the seventh round in 10-team leagues. If you believe Jeudy will at least meet market expectations and you pick early in the seventh, then you can feel at least moderately confident about taking him then.
But if you're extraordinarily bullish about Jeudy, in that you believe he'll comfortably exceed expectations, then knowing his ADP can empower you to take him even a little earlier. As long as none of your opponents are comparably bullish, he'll likely land on your roster.
ADP vs. ECR: What's the Difference, and How Can Fantasy Managers Use Both?
ADP and ECR are two different fantasy metrics, but each tries to answer the same question: When should you draft Player X?
ADP is a specific representation of where each NFL player is being selected in fantasy football drafts. It's based on drafts that have already taken place.
ECR, meanwhile, stands for "expert consensus ranking." This represents a collection of rankings from industry experts that are mixed together to generate a consensus ranking. This composite depicts how industry analysts collectively value each player.
Using ECR means you're not banking your entire draft strategy on a single person's opinion but rather on many analysts — sometimes 100 or more, depending on the website.
Where ADP is what people are actually doing in drafts, ECR represents a suggestion. Expert rankings sometimes make up the cheat sheets you see managers print off and bring to drafts or the values you see on your favorite fantasy site.
Much like ADP, the broader the sample set, the less a single data point can skew the numbers. Moreover, by utilizing ADP and ECR in tandem, one can uncover where expectations align and diverge with actual drafting trends. At its core, this helps managers anticipate opponents' next moves, paving the way to more successful drafting.
Listen to the PFN Fantasy Podcast
Listen to the PFN Fantasy Podcast! Click the embedded player below to listen, or you can find the PFN Fantasy Podcast on iTunes, Spotify, and all major podcast platforms.  Be sure to subscribe and leave us a five-star review! Rather watch instead? Check out the PFN Fantasy Podcast on our Fantasy YouTube channel.