We got a brief taste of football being back last week, but — like an avalanche — Week 1 of the 2023 NFL preseason is about to hit us with a full slate of games. As such, there's going to be more activity happening than fantasy managers will be able to handle or keep track of, and fantasy football drafts are coming up quickly!
There are numerous questions that remain in the ether that need to be answered from a fantasy football standpoint, so who are some of the players that you should be watching as the games roll along over the next several days?
Did you get a trade offer in your dynasty or redraft league? Not sure who to start or sit this week? Make championship-winning decisions with PFN's FREE fantasy tools — the Fantasy Football Trade Analyzer and Calculator and Start/Sit Optimizer!
Week 1 Preseason Players To Watch
Deshaun Watson, QB, Cleveland Browns
All eyes will be on Cleveland as Deshaun Watson is reportedly set to play in Cleveland's game against Washington. There are numerous receiving weapons in Cleveland — such as Elijah Moore, Amari Cooper, and David Njoku — that have a very wide range of outcomes depending on what version of Watson shows up this season.
If Watson can come out on Friday evening and deliver the ball accurately and show shades of what he did on the field previously in Houston, we can feel slightly more comfortable buying into the Browns' offense. But if looks like he still hasn't shaken the rust off, then it may be a situation to be concerned about heading into your draft.
C.J. Stroud, QB, Houston Texans
Quarterback expectations can be all over the place going into rookie seasons. Some players appear to be ready to make the jump from college to the pros immediately, while others are expected to take a year or two to develop.
C.J. Stroud somehow falls right in the middle. There were times last season at Ohio State when Stroud looked like the best QB in all of college football, but there were also several moments — against strong competition — when he seemed outmatched and unprepared to compete in the NFL right away.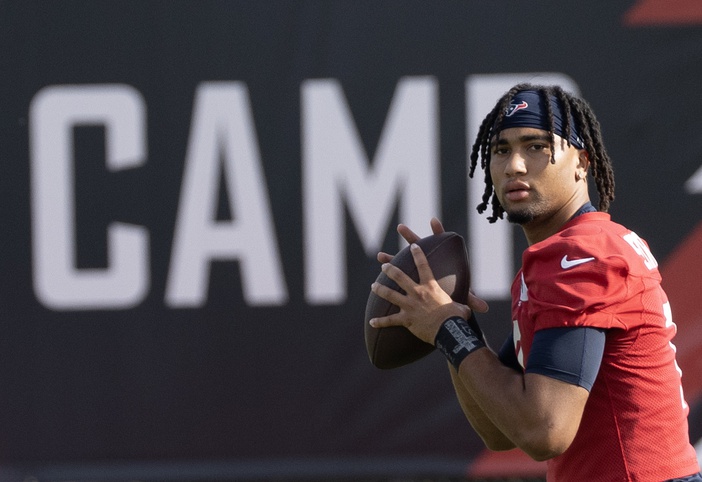 Reports have been positive out of training camp regarding the No. 2 overall selection, but this will be the first chance for fantasy managers to see Stroud matched up against NFL-caliber talent.
If he can look competent and not overwhelmed against Bill Belichick's defense, fantasy managers can start to look into selecting some of the receiving weapons for the Texans at their current ADP. However, if Stroud struggles, it might be best to let someone else in your league take the chance with Houston's offense.
Trey Lance, QB, San Francisco 49ers
Count me among the people that believe this QB competition isn't a completely solidified deal just yet. San Francisco has yet to completely declare Brock Purdy the starting quarterback — he won't be playing in this game due to his injury recovery — and Trey Lance still has a chance to prove that he's worthy of being listed as QB1 on this depth chart.
So far consensus seems to be Trey Lance only weaknesses in this camp has been he missed a few short throws… I mean, is that a fatal flaw? Let him cook. pic.twitter.com/k8fWKX9jfI

— PRIME (@NinerLogic) August 4, 2023
If Lance comes out and carves up Las Vegas' defense in his preseason debut, there will be some discussion regarding whether or not the 49ers should give him another chance to start the season. If that's the case, Lance immediately puts himself in the top-15 QB conversation for fantasy football because of his rushing upside.
Fantasy managers need to be watching his performance closely on Sunday afternoon.
Bijan Robinson, RB, Atlanta Falcons
There hasn't been a rookie RB this highly anticipated since Saquon Barkley came into the league, and it's going to be exciting to see Bijan Robinson in his first NFL action. Robinson was listed as RB3 on the first depth chart by Atlanta, which most likely signals that he'll be on the field against Miami on Friday.
Fantasy managers will get to see what Robinson looks like on an NFL field, but the usage and role will be important to monitor. When the starters are on the field, is Robinson the only RB on the field? Or has Tyler Allgeier done enough to keep his place in the rotation?
If Allgeier sees anywhere close to the same amount of playing time as Robinson while the starters are out there, it will be difficult to not hit the panic button with Robinson as a top-five RB. But if he's the only running back out there, it'll go a long way to soothing and assuaging managers' fears.
Jordan Love, QB, Green Bay Packers
We haven't seen much of Jordan Love on an NFL field since he was drafted in the first round by the Packers in 2020. Aaron Rodgers' presence kept the young QB on the sideline for the past several seasons, but Green Bay has now handed him the keys for the 2023 season to prove what he can do.
Major question marks still surround Love due to his inconsistent tape coming out of Utah State. Has that up-and-down play that was littered throughout his film disappeared? Or is he still prone to critical errors that could hold this offense back?
As fantasy managers hold their breath with excitement for players like Christian Watson, Romeo Doubs, and even Jayden Reed, it all hinges on Love's performance this season. A solid performance in the couple of drives he'll get against the Bengals defense would give fantasy managers much more confidence going into their drafts.
Listen to the PFN Fantasy Podcast
Listen to the PFN Fantasy Podcast! Click the embedded player below to listen, or you can find the PFN Fantasy Podcast on iTunes, Spotify, and all major podcast platforms.  Be sure to subscribe and leave us a five-star review! Rather watch instead? Check out the PFN Fantasy Podcast on our Fantasy YouTube channel.