The Washington Commanders were better than expected last season, winning eight games without an NFL-caliber starting quarterback. Heading into the 2023 season, it's unclear how competitive they will be with either Sam Howell or Jacoby Brissett under center. Let's take a look at the Commanders' schedule of opponents for 2023.
Washington Commanders Schedule and Opponents
Week 1: vs. Cardinals
FOX | 1 p.m. (Sunday, Sept. 10)
Week 2: at Broncos
CBS | 4:25 p.m. (Sunday, Sept. 17)
Week 3: vs. Bills
CBS | 1 p.m. (Sunday, Sept. 24)
Week 4: at Eagles
FOX| 1 p.m. (Sunday, Oct. 1)
Week 5: vs. Bears (TNF)
Amazon Prime | 8:15 p.m. (Thursday, Oct. 5)
Week 6: at Falcons
CBS | 1 p.m. (Sunday, Oct. 15)
Week 7: at Giants
CBS | 1 p.m. (Sunday, Oct. 22)
Week 8: vs. Eagles
FOX | 1 p.m. (Sunday, Oct. 29)
Week 9: at Patriots
FOX | 1 p.m. (Sunday, Nov. 5)
Week 10: at Seahawks
FOX| 4:25 p.m. (Sunday, Nov. 12)
Week 11: vs. Giants
FOX | 1 p.m. (Sunday, Nov. 19)
Week 12: at Cowboys
CBS | 4:30 p.m. (Sunday, Nov. 26)
Week 13: vs. Dolphins
FOX| 1 p.m. (Sunday, Dec. 3)
Week 14: BYE
Week 15: at Rams
CBS | 4:05 p.m. (Sunday, Dec. 17)
Week 16: at Jets
CBS | 1 p.m. (Sunday, Dec. 24)
Week 17: vs. 49ers
FOX | 1 p.m. (Sunday, Dec. 31)
Week 18: vs. Cowboys
TBD | TBD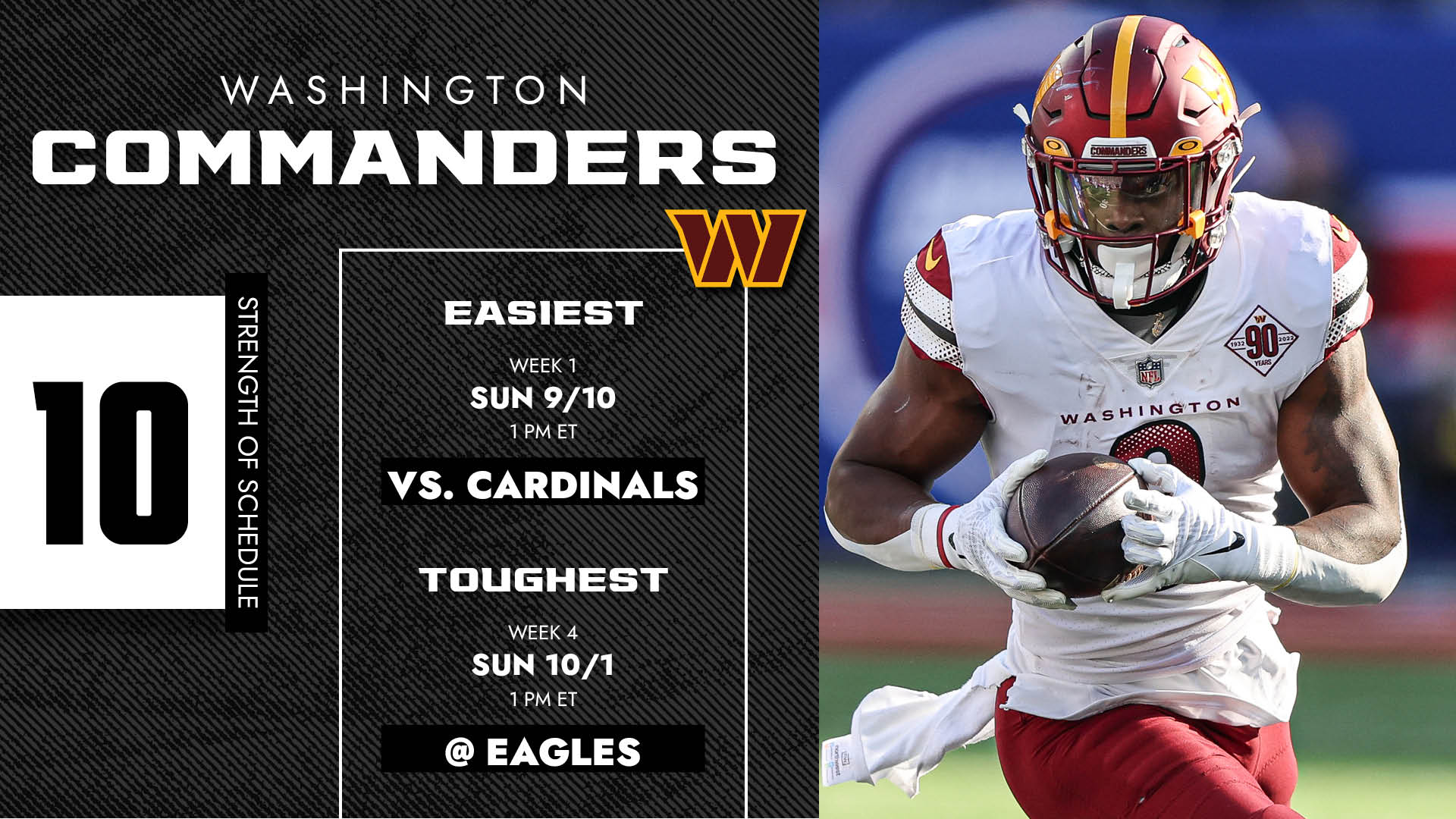 Washington Commanders Strength of Schedule
Typically, teams finishing at the bottom of their division are awarded a softer schedule. Unfortunately, that's not the case for the Commanders, as they have the sixth-toughest schedule in the league. Their opponents have a combined average projected win total of 8.85.
Washington Commanders Record Prediction
The Commanders are very much in a transitional year. After giving rookie fifth-rounder Sam Howell a showcase at the end of last season, they are giving him every opportunity to win the starting job in 2023. He will compete with journeyman backup Jacoby Brissett, who played well while the Browns awaited Deshaun Watson's return.
No NFL team enters the season preparing to lose. However, if there's ever a time for a team to be slapped with an overly difficult schedule, it's in a rebuilding year.
As we know all too well, anything can happen in the NFL. That's why they play the games. Unsurprisingly for a last-place team, there is not a single game on the Commanders' schedule that is even remotely close to a guaranteed win. On the flip side, they have about seven games that are almost certain to be losses. The rest of their games could reasonably go either way.
In previous years, facing the AFC East would mean losing to the Patriots, but either beating or having a strong chance to beat everyone else. This year, it projects to be one of the best divisions in football.
The Commanders won eight games last season, which was the most out of any last-place team. While not good enough to be a playoff team, they certainly deserved a fate better than last place, given their performance.
Their current Vegas win total is set at 6.5, with the over slightly juiced. It would be an upset if they were able to win more than seven games this season. Finishing in the 6-7 win range seems most plausible. But in terms of floor or ceiling outcomes, it's far more likely the Commanders bottom out with a mere 3-4 wins than magically put together a 9+ win campaign.
Projected Record: 7-10