Father Time remains undefeated. Every player in the NFL will inevitably decline at some point in his career. Some last longer than others, but all players lose the ability to play professional football eventually. In fantasy football, we need to avoid drafting these players. With so many of the top running backs getting older, the end is near. Here are the running backs at risk of falling off a cliff in 2023.
Which Veteran RBs Could Decline This Season?
There have been many studies done on the age at which NFL players typically decline. It varies based on position. For running backs, an overwhelming majority of RB1 seasons occur between the ages of 22 and 28.
Of course, outliers exist. Not every running back will go full Shaun Alexander the moment he turns 29. I use Alexander as the prime example because, at age 28, he carried the ball 370 times for 1,880 yards and 27 touchdowns. The very next season, he was done. His yards per carry went from 5.1 to 3.6, and he was never fantasy relevant again.
MORE: Top 250 Fantasy Football Rankings 2023
The NFL saw an influx of talent at the RB position from 2015-2017. That's where the bulk of the elite running backs over the past near-decade came from. It's now 2023. Those guys are getting older, and within a couple of years, there will be none of them left in terms of fantasy relevance.
To be clear, I'm not saying any of these backs will definitively fall off a cliff this season. This is merely a list of fantasy RBs who could be looking at a precipitous decline in 2023.
Derrick Henry, Tennessee Titans
I'm sure no one is surprised to see Derrick Henry's name front and center on this list. He is, by far, the oldest running back in the top 24, let alone the top 12.
Henry has been a sure thing ever since establishing himself as an elite rushing force in 2019. Since then, he's averaged 19.6, 20.8, 24.2, and 18.9 PPR fantasy points per game, respectively.
Henry's also amassed 1,877 career touches, 1,337 of which have come over the past four seasons, which includes his injury-shortened eight-game 2021. Henry has led the NFL in carries per game for four straight seasons. No player has touched the ball more over that span.
Henry is 29 years old with a massive amount of tread on his tires. We've seen a noticeable decline in his efficiency each of the past two seasons. He averaged 4.9, 5.1, and 5.4 ypc in 2018-2020, respectively. In 2021 and 2022, that average was down to 4.3 and 4.4.
MORE: 2023 Dynasty RB Rankings
Henry also stopped breaking tackles as well last season. His evaded tackles per touch rate went from a second-ranked 38.8% in 2021 to a 34th-ranked 23% in 2022. Just 4% of his carries went for 15+ yards. That rate was 5.6% in 2020 and 5% in 2019.
The Titans project to be a bad team this year. They have a subpar quarterback and one of the weakest wide receiving corps in the NFL. I'm not saying it will happen, but don't be surprised if Henry ends up averaging under 14 ppg this season, marking the beginning of the end for the King.
Dalvin Cook, Minnesota Vikings
For now, Dalvin Cook remains on the Minnesota Vikings. The fact that he may not stay with them is one of the many reasons he's trending downward for 2023.
Cook is 28 years old. He's not quite at the age where we expect a decline, but there are certainly warning signs.
Cook has touched the ball 1,503 times in his career. While he finally played a full season last year, it was not exactly pain-free. Cook has dealt with a medley of injuries, specifically to both of his shoulders. Those injuries have an increased likelihood of recurring each time he gets hurt, which only increases more with age.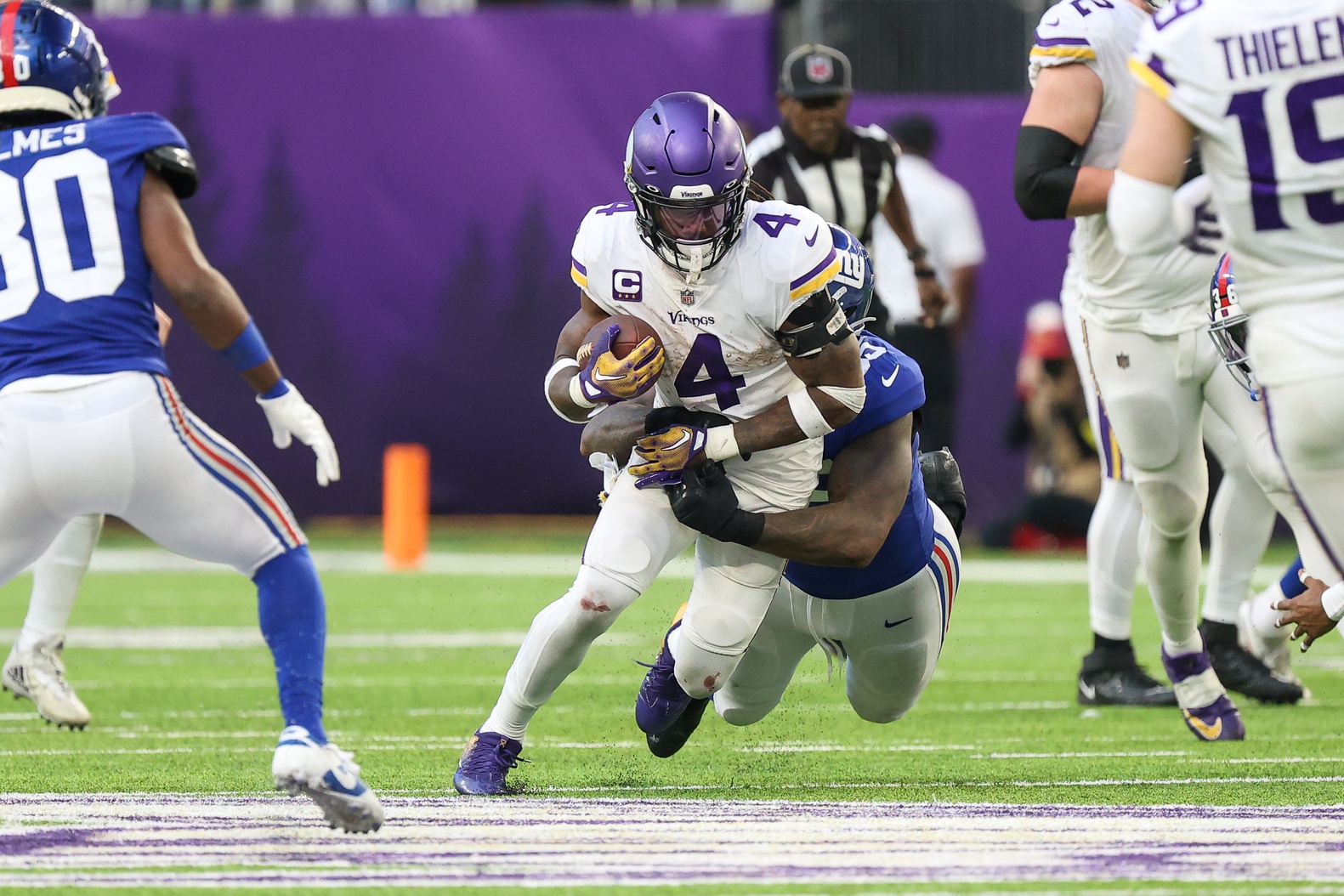 The injuries clearly took a toll on Cook's productivity last season. His 4.4 ypc was a career-low, and just 4.5% of his runs went for at least 15 yards. He even saw his passing game role decrease, setting a career-low target share of 8.9%.
Cook's 14.0 ppg was good for an overall RB14 finish, his lowest of his career (not counting his rookie season that was cut short after four games due to a torn ACL).
We've now seen Cook's efficiency decline for two straight seasons. He's had a ton of injuries and is getting older. It's possible he ends up on another team where he doesn't see the volume he did in Minnesota. All of this is to say Cook carries more risk in 2023 than he has at any point in his career.
Alvin Kamara, New Orleans Saints
Alvin Kamara comes with additional risk beyond his play. But even without the looming suspension, I would have no interest in Kamara for the 2023 fantasy football season.
Not only is Kamara getting up there in age (28), but the bigger concern is his decline in efficiency. Efficiency was Kamara's calling card his entire career. As a rookie, he averaged 6.1 ypc and then was consistently between 4.6 and 5.0 for the next three seasons. In 2021, however, we started to see signs of decline.
MORE: Fantasy Football Sleepers 2023
That's when his yards per carry dropped to 3.7, and just 2.9% of his runs went for 15+ yards. Kamara's evaded tackles per touch rate went from second in the league to 41st. By all accounts, Kamara was an awful runner, but he was able to maintain his elite RB1 status on the heels of his receiving.
In 2022, it was more of the same. Kamara averaged 4.0 ypc, with his 15-plus-yard run rate at 2.7%. His evaded tackles per touch rate also fell to 49th. This time, though, Kamara's fantasy ppg did not survive, plummeting to 14.1, by far, the lowest of his career.
After two straight years of declining play, how likely is it that Kamara suddenly rebounds at age 28? Derek Carr's addition certainly helps, as the offense should be better. But I just think Kamara is a declining player.
Even when running backs decline as runners, we've seen pass-catching backs maintain their receiving ability. This occurred with guys like Matt Forte, David Johnson, and Le'Veon Bell. Kamara's name certainly deserves to be mentioned in the same breath as those all-time greats.
Kamara will still have fantasy value because of his pass-catching. But if the rushing declines even further, Kamara may struggle even to reach the 14.1 ppg we saw last season, making him a very risky proposition in 2023.
Listen to the PFN Fantasy Podcast
Listen to the PFN Fantasy Podcast! Click the embedded player below to listen, or you can find the PFN Fantasy Podcast on iTunes, Spotify, and all major podcast platforms.  Be sure to subscribe and leave us a five-star review! Rather watch instead? Check out the PFN Fantasy Podcast on our Fantasy YouTube channel.