It has been a difficult 2021 for Tua Tagovailoa, largely due to reasons outside of his control. Let's look at the Miami Dolphins' second-year QB's season so far to see if he is playing like the star Miami desperately needs him to be.
Injuries have hampered Tua Tagovailoa's statistics
Thanks to injuries to his ribs and hand, Tua has only played in four full games so far this season. In fact, his status for Miami's Thursday Night Football game against the Baltimore Ravens is currently in doubt.
As a result, Tua's statistics haven't been fantastic, only totaling 1,040 yards, 7 touchdowns, and 5 interceptions through the air. His statistics look slightly better when you include the 62 yards and 2 touchdowns he has added with his legs.
Still, the real concern for many isn't Tua's low statistics but rather their cause. Tua struggled with severe injuries in college and has now missed five games early in his NFL career. Even if Tua were lighting up the scoreboard every game, those injuries would create serious concerns regarding his longevity in the NFL.
And while there are a myriad of other factors hurting Tua's production, including an abysmal offensive line, injuries to vital wide receivers, and questionable coaching decisions, none of those factors can even come into play if Tua can't stay on the field.
Using advanced metrics to evaluate Tua's play
Tua Tagovailoa's injuries, along with the struggles of those around him, make it difficult to properly evaluate his abilities as a passer.
Fortunately, there are other methods for evaluating players than just raw box score statistics. Let's turn now to the Offensive Value Metric (OVM). The OVM is a grading system created by the (Bx) Movement to evaluate players based on how much they contributed to the production of their statistics rather than the statistics themselves.
Related | NFL Rookie Rankings Week 10: Top five shuffles while Nate Hobbs joins the list
In his limited time this season, Tua has earned a grade of 25.13. That ranks 13th out of 37 qualifying quarterbacks. It is also a slight improvement over his grade from last season (23.55).
In other words, when he's been on the field, the Dolphins QB has been in the top of half of the league despite the many issues surrounding him.
Tua's weekly grades from the last two seasons
To further illustrate Tua's OVM improvements from 2020 to 2021, let's see how the Dolphins QB performed each week.
You can see his weekly grades in the charts below, marked by the black dots. For comparison, the average grade for quarterbacks from the respective seasons is represented by the yellow line.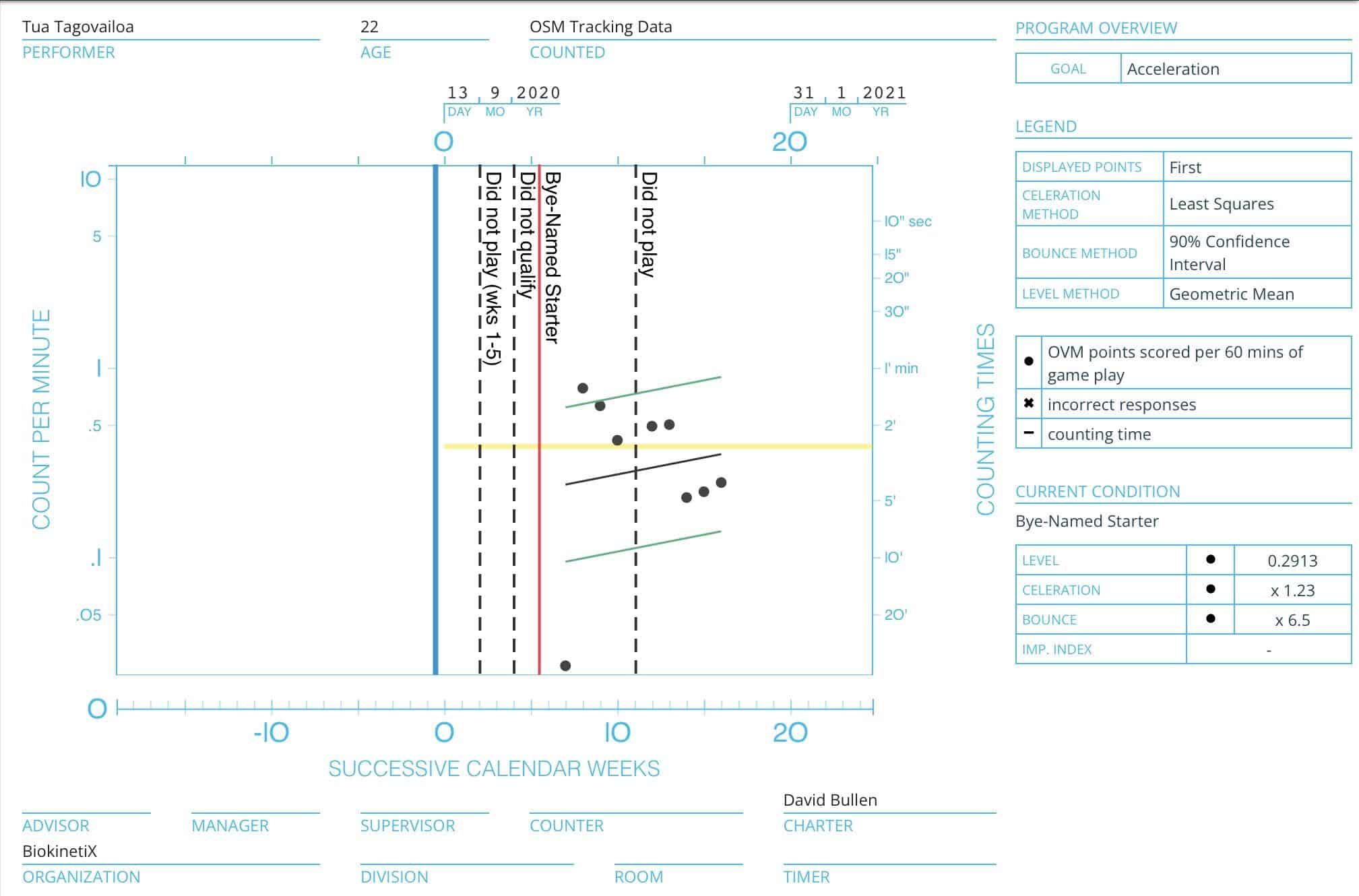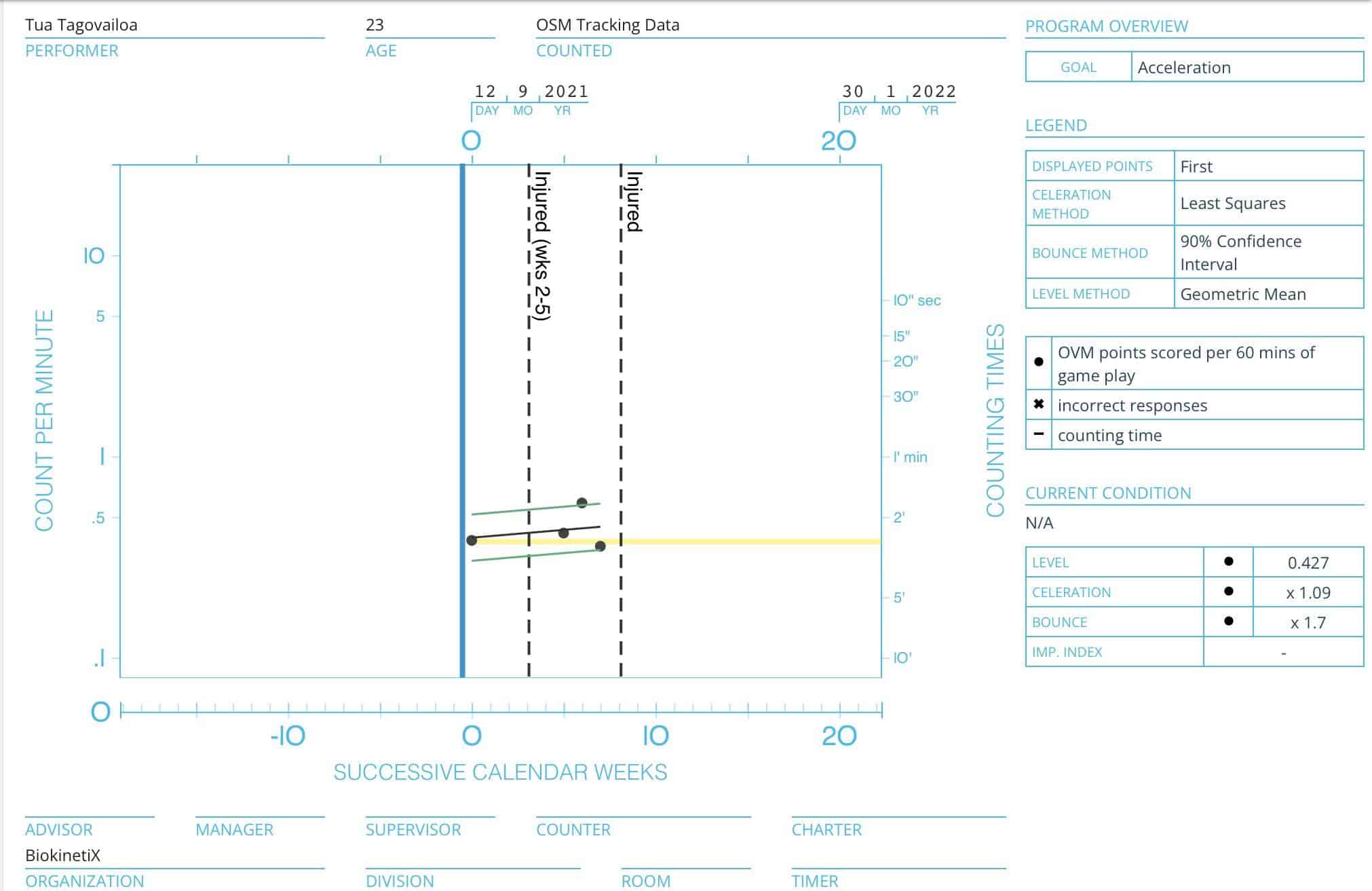 In 2020, Tua started incredibly poorly. His grade of 1.6 was one of the worst by any quarterback that season. He followed that up with a string of solid performances but fell off at the end of the season.
So far this season, though, he has managed to avoid any truly disastrous performances. None of his grades have been below 20 points, and most have been above the league average. Hopefully, he can continue that trend when he is next able to play.
The advanced metrics behind Tua's OVM grade
To understand why Tua has earned a fairly impressive grade so far in 2021, we need to look at the advanced metrics involved in calculating it.
We can start with a criticism Tua often faces — he doesn't throw deep passes. And the data shows that to be a valid complaint. Across all of his pass attempts, Tua is averaging 7.3 air yards, the sixth-lowest average in the NFL.
He fairs slightly better on his completions, though still not spectacularly, with 5.4 air yards (eleventh-lowest). Tua's completion statistics aren't anything special either; his percentage of 65.6% is lower than most of the NFL's other quarterbacks. And according to the NFL's projections, it is only 0.5% higher than expected, a differential that also ranks relatively poorly.
So, why isn't Tua's grade significantly lower? Well, despite primarily attempting shorter passes, he isn't simply throwing to wide-open running backs out in the flats. Tua is throwing into tight coverage on 19.7% of his attempts, higher than all but two other players.
Whether it is due to poor coaching or a lack of talent, Tua's receivers never seem to be open, a problem that continues from last season.
Tua must do more to prove himself
Despite playing reasonably well by many different standards, Tua hasn't been able to convince many fans (or, more importantly, his coaches) that he is the quarterback of the future in Miami.
Whether that's fair or not, all Tua can do is continue to play at a high level. Hopefully, he can play on Thursday and for the rest of the season. That way, he can continue to prove himself, either to the Dolphins or to whichever team he plays for next.