The recent controversy over contracts for elite running backs has highlighted the importance of finding valuable RB talent in the 2024 NFL Draft. Maximizing the value of a rookie contract is especially crucial for this position. Fortunately, the 2024 NFL Draft class could provide teams with the opportunity to do just that.
Ranking the Top RBs in the 2024 NFL Draft
10) Blake Watson, Memphis
Don't feel bad if you're a draft nerd or a college football savant and haven't been able to add Watson to your watchlist just yet. Watson transferred from Old Dominion to Memphis this past offseason and has immediately provided a spark to the Tigers' offense.
He has 342 rushing yards and 213 receiving yards in only four games thus far.
The electric 5'9″, 195-pounder is quite similar to former Memphis back Tony Pollard. Both have an elite change-of-direction ability, receiving talent, and better-than-expected contact balance.
He can be a high-end No. 2 back or potentially sneak into a starting role at the next level in a pass-heavy unit.
9) Blake Corum, Michigan
Few running backs were more productive than Blake Corum in 2022, and he's been right back at it again this fall. He's averaging 6.1 yards per carry with eight rushing scores through four games. Corum may only be 5'8″, but he's rocked up with an extremely dense 210-pound frame.
At that size, he's an urgent runner with good vision who can press upfield behind blocks before using his explosiveness and energy to divert into space. We'd love to see him contribute more on passing downs, but it's likely a sign of things to come at the next level that he's just not a three-down back in the modern NFL.
Corum is taking a small dip in our rankings because of that lack of upside to be more than solid at the next level. But we still love what he brings to the table and view him as a top-100 talent.
8) Audric Estime, Notre Dame
There was a lot of preseason focus on another huge running back in Wisconsin's Braelon Allen, but Notre Dame's Audric Estime has caught our attention instead. Estime isn't as large as Allen, but he's also a giant ball of muscle. Estime has better quickness and agility to make defenders miss in comparison to Allen.
MORE: 2024 NFL Draft Scouting Reports
Through five games, Estime has been the key piece of the Irish's offense. He's averaging 7.7 yards per carry and leading the country in total yards. It's incredibly easy to envision Estime slotting into a run-heavy offense and punishing defenders with his unique play strength.
7) Donovan Edwards, Michigan
Corum was more productive than Donovan Edwards, but there's an argument to make that Donovan Edwards has more upside as a 2024 NFL Draft prospect. Ultimately, they're both prospects who may garner consideration in the early-round range. However, Edwards' versatility and eye-catching efficiency — both on the ground and through the air — is tantalizing.
The 6'1″, 204-pound Edwards put up 991 yards and seven scores on 141 carries in 2022 and also brought in 200 receiving yards and two scores. But his natural talent hasn't translated as much in 2023, as he's touched the ball only 44 times for 209 yards. His ranking is more based on raw ability over production, which puts him at risk of falling soon.
6) Devin Neal, Kansas
Kansas has one of the most explosive and fun offenses in college football, thanks to their backfield combination of Jalon Daniels and Devin Neal. Neal was great in 2022, producing 1,273 yards and 10 touchdowns. He was close to making our preseason top 10 list, but narrowly missed out.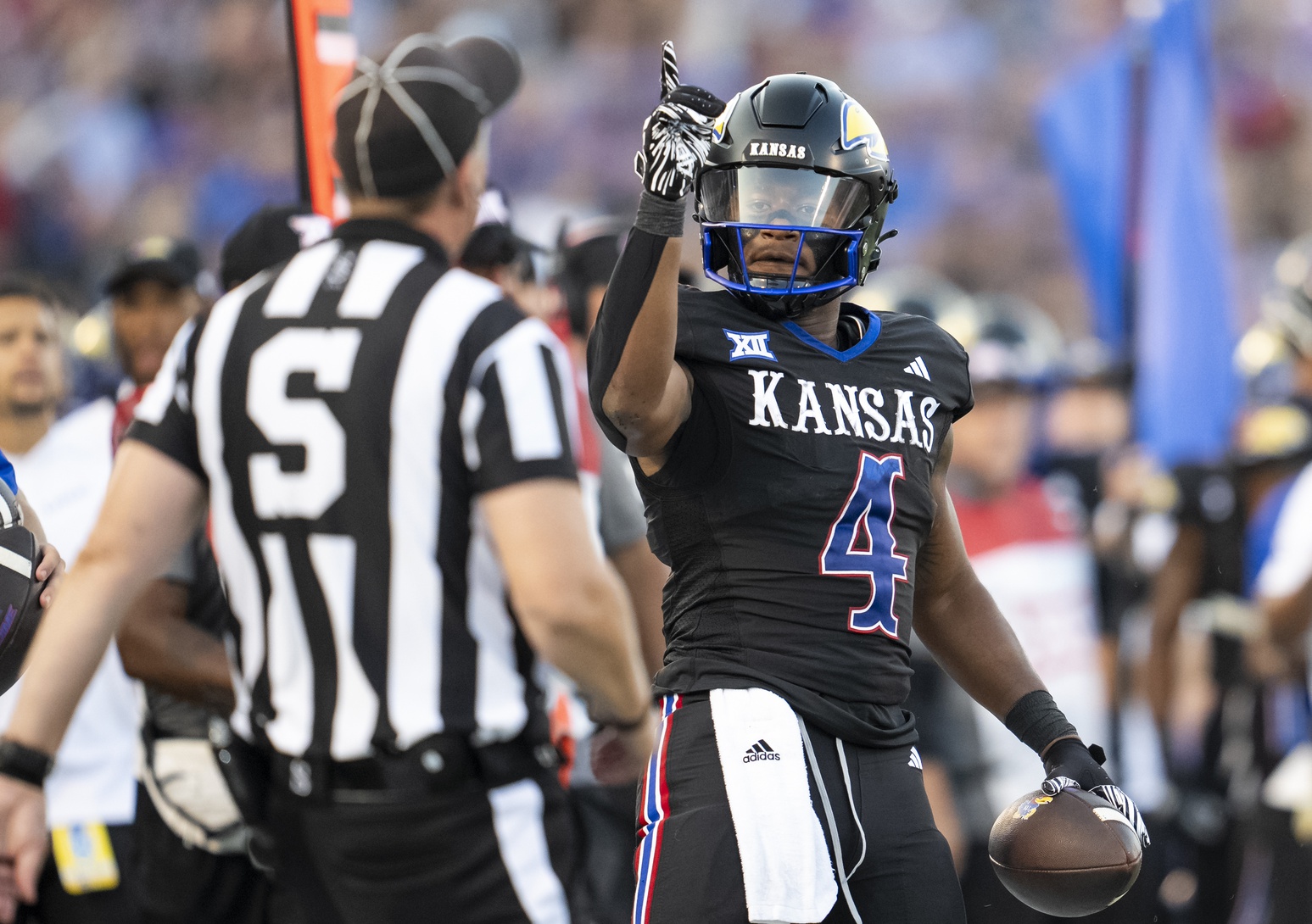 A month into the season, we can't deny Neal anymore. He's been even more productive this season, showing off incredible agility in tight spaces and more explosiveness as a receiver. He's carried this offense even with Daniels sidelined, pushing Neal's stock into the top 100 range.
5) Bucky Irving, Oregon
The Oregon Ducks have a loaded backfield for the 2024 NFL Draft. Bo Nix is PFN's current QB5 behind Caleb Williams and Drake Maye and projects as a potential first-round pick. And alongside him, Oregon has Bucky Irving — an insanely talented runner who racked up 1,058 yards and five scores on the ground last season.
Irving has been producing a true breakout season in his junior season thus far. With a ridiculous 8.2 yards per carry, Irving has been the best player on the field whenever he's given the ball. He's playing at a different speed than everyone else.
At 5'10", 194 pounds, Irving isn't the most imposing back upon initial viewing, but he catches defenders off guard repeatedly with his spry short-area burst and dangerous elusiveness in space, and he's surprisingly physical for his size. His contact balance and leverage have notably improved this year.
4) Raheim Sanders, Arkansas
Raheim Sanders is like if a Rock'em Sock'em robot learned to run. There's almost no other way to describe it. His running style sometimes appears unorthodox, but it served him well in 2022. Sanders put up 222 carries for 1,443 yards and 10 touchdowns last year, averaging 6.5 yards per carry. He also added 28 catches for 271 yards and two scores to his total.
He's versatile, and at 6'2″, 227 pounds, Sanders is a freight train in the open field. He runs with a tight but combative aura, constantly fighting off would-be tacklers with stiff-arms and bouts of domineering physicality. And as his nickname "Rocket" conveys, Sanders has the lateral burst to find lanes and the long-strider explosiveness to wash through congestion and find his way to pay dirt.
Unfortunately, Sanders has been dealing with a knee injury since the season opener. With no timetable for his return, Sanders may lose his claim as a top back in the class.
3) Trey Benson, Florida State
Volume backs will never go extinct in totality, even as the NFL trends more toward a modern, more dynamic era. Teams pass to get the lead, and they run to stay ahead. Having a back who can shoulder the load like Trey Benson is valuable. Benson's production has nosedived this year, seeing his yards per carry plummet from 6.4 to 4.7. But he's looked every bit as good despite this.
Benson is a 6'1″, 215-pound runner who has a tendency to run upright at times. However, he is very skilled at quickly navigating through seams as a north/south runner.
While he may not be very flexible laterally, his contact balance and leg movement can be quite impressive. Additionally, he has a baseline level of foot speed and micro-mobility that complements his longer strides.
2) Will Shipley, Clemson
There's not a back who has benefitted more from the NFL's further adoption of spread concepts than Will Shipley. Though Shipley is a crafty, nuanced runner who would be a solid player with much worse athleticism, he also brings a tremendous physical skill set to the table.
Shipley showed off some of that ability in amassing 210 carries for 1,182 yards and 15 scores in 2022. This year, without a running threat at quarterback, has been just as productive through four games. His consistency is remarkable, and he'll benefit from a better surrounding cast in the NFL.
He's a snappy runner with rare short-area instincts who can dart back and forth between minuscule lanes on his way to the second level. His hip flexibility is absurd, but Shipley doubles as an elite athlete with burst and speed in the open field.
Who Is the Best RB in the NFL Draft?
1) TreVeyon Henderson, Ohio State
There is no Bijan Robinson in the 2024 NFL Draft class, and there might not be an RB close to the Texas product when next April rolls around. But right now, TreVeyon Henderson has a case to be the preliminary RB1. His 2022 campaign was less productive, largely because of a torn ligament in his left foot, but now healthy, he's rebounded in 2023.
MORE: FREE Mock Draft Simulator With Trades
At 5'10", 214, Henderson's ability to offset and send defenders lurching with his lateral twitch while maintaining vertical speed is unique and deadly, and he moonlights as a modernized receiving threat as well. The moment he starts stretching defenses horizontally creates immediate fear in defender's chest, as he can house an outside stretch play in a heartbeat.
Honorable Mentions
Listen to the PFN Scouting Podcast
List to the PFN Scouting Podcast! Click the embedded player below to listen, or you can find the PFN Scouting Podcast on iTunes, Spotify, and all major podcast platforms.  Be sure to subscribe and leave us a five-star review! Rather watch instead? Check out the PFN Scouting Podcast on our Scouting YouTube channel.