The 2023 NFL free agent class is a far cry from the group of players who were available a season ago. However, the class is still strong at a few positions, including the most important position in sports — quarterback. And while running backs may not matter in 2023 to most, there is a ton of running back talent in the class.
The Bears have more money to use in free agency than they could realistically spend, and even contending teams like the Giants, Bengals, and Patriots have room. It will be fascinating to see how teams chose to build through free agency and which positions have to sit and wait out the market.
Top NFL Free Agents 2023 | 1-10
1. Lamar Jackson, QB, Baltimore Ravens
Update 3/7: The Baltimore Ravens used the non-exclusive franchise tag on Lamar Jackson. Teams may trade two first-round picks for Jackson, but the QB would have final say on contract terms, and the Baltimore Ravens can match any offer.
After being relatively healthy over his first three NFL seasons, Lamar Jackson finally bit on the injury bug in 2021 and 2022, missing five games in each regular season and missing the Ravens playoff game against Cincinnati this year.
But when it comes to Jackson, injury is a risk worth taking. Jackson is the youngest-ever Heisman Trophy winner and the youngest NFL MVP during the Super Bowl era (Jim Brown was 21 when he won it in 1957.) And Jackson's best receivers so far throughout his career have been late-stage Michael Crabtree, Marquise Brown, and…
Mark Andrews is an outstanding tight end, but the Ravens have not done anything to take their passing attack, and in turn, Jackson's efficiency, to the next level. Adding legitimate receiving weapons to a rushing threat like Jackson would look something like the Eagles' offense, which is in the Super Bowl.
2. Daniel Jones, QB, New York Giants
Update 3/7: The Giants were able to get a deal done with Daniel Jones in the waning moments before free agency. The four-year, $160 million deal also possesses $35 million worth of escalators.
Daniel Jones and Geno Smith are both in that weird state of Tier 4 QBs who are good enough to win football games with but who aren't worth resetting the QB market for. The difference between the two comes down to age. Jones is just 25 and is only now being given a fair shake at being a successful QB under Brian Daboll and Mike Kafka. Smith is 32.
The Giants decided not to pick up Jones's fifth-year option. After seeing teams make that mistake with bad QBs, they were right in doing so. But competent coaching brought out the best version of Jones we've seen, yet it is still not enough to feel comfortable paying a $40 million price tag for.
The biggest difference we saw this year was the use of his legs, a massive advantage if used correctly in QBs. He finished third in total rushing EPA and per-rush EPA among all runners with at least 100 carries.
3. Geno Smith, QB, Seattle Seahawks
Update 3/6: The Seattle Seahawks and Geno Smith were able to come to terms on an extension before the franchise tag deadline of March 7. Smith's extension is a 3-year, $105 million deal.
Like Russell Wilson before him in Seattle, Geno Smith throws one of the prettiest deep balls in the NFL. His 5.7% CPOE was the highest mark in the entire NFL. The veteran did something that many aren't able to — he proved that a player can grow into a legitimate quarterback if given enough time to progress in the shadows.
The Seahawks are in a weird spot. They hold the fifth pick in the NFL Draft and could have a chance to draft their future franchise QB with that pick. With how strong the San Francisco 49ers look, Seattle must look long and hard at how they want to attack the NFC West moving forward.
If they do not get a deal done with Smith, he should have a chance to succeed in a few spots around the league looking for competent QB play.
4. Jessie Bates III, S, Cincinnati Bengals
Update 3/13: Jessie Bates III is planning to sign a four-year contract with the Falcons worth a whopping $16 million per year, according to NFL Media.
The first non-quarterback on the list comes in at No. 4. Bates was a top-three player on last season's free agent list behind Chris Godwin and Davante Adams. Last season produced a much better list of names to choose from overall, and Bates being at the top of the list two years removed from his All-Pro season is proof of that.
However, how good a season he had in 2022 may be dependent on where you're looking. There is a 12-target difference in his coverage statistics between two major statistical sites. Sports Info Solution believes he was targeted 22 times in coverage, allowing just nine receptions and one TD while intercepting four passes.
Bates is arguably the league's best true free safety. He's outstanding as a single-high, middle-of-field-closed Cover 3 safety or a split safety responsible for a bevy of things, including being a run defender.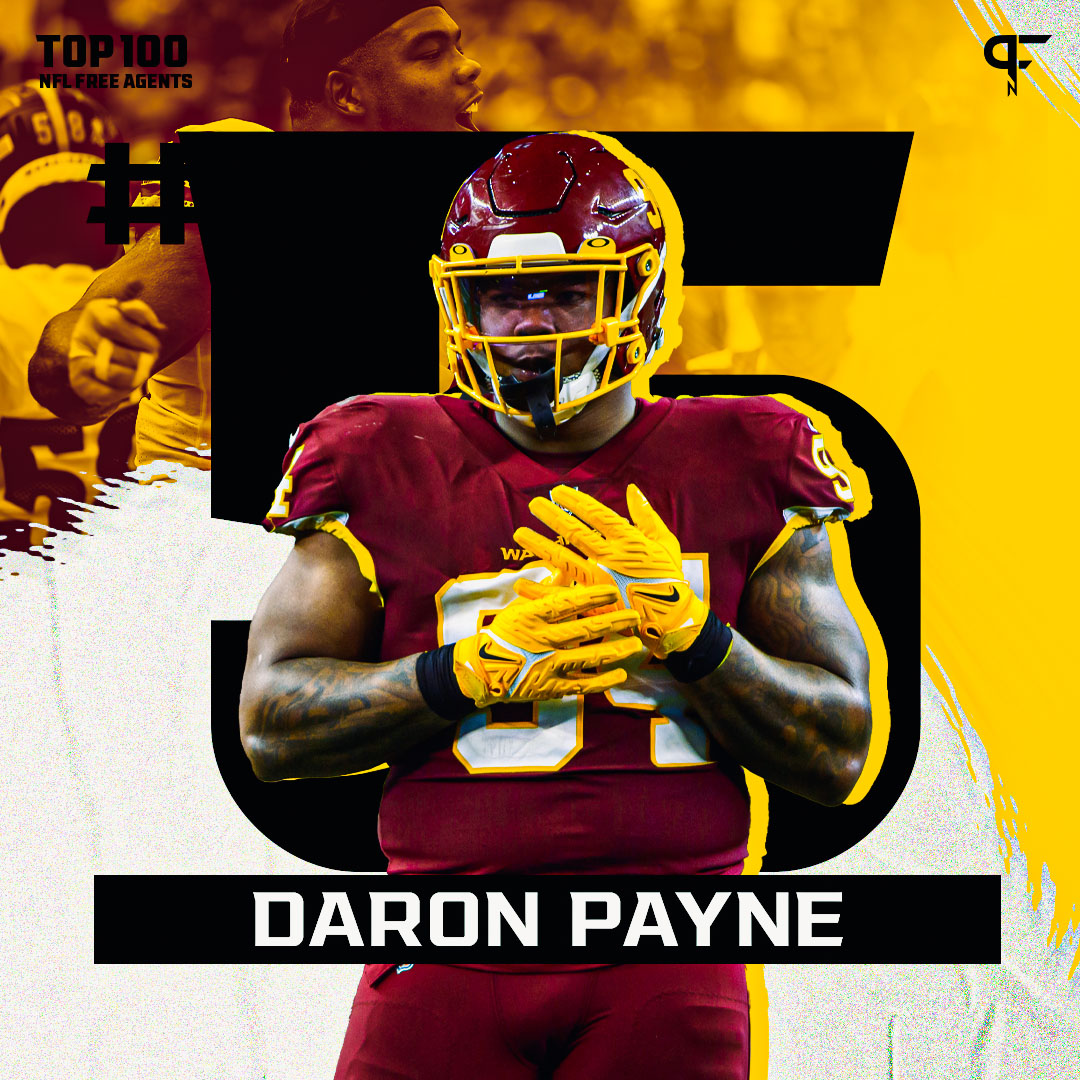 5. Daron Payne, DT, Washington Commanders
Update 2/28: The Washington Commanders are the first team to utilize the franchise tag this offseason. They opt to keep their quartet of defensive linemen intact for 2023.
Update 3/12: The Commanders reached a four-year, $90 million deal that includes $60 million in guaranteed money with Daron Payne. Washington makes him the second-highest paid interior defensive lineman in the NFL.
Daron Payne has always been in Jonathan Allen's shadows. He was a higher pick in the 2018 NFL Draft (13th) than Allen was in the 2017 draft (17th), but that's because Allen had a few health concerns. Payne then got stuck behind an outstanding interior unit for a few years before really blossoming into the player he is today.
Payne ranked in the top 10 in both pressures and stops in 2022. He played a ridiculous 86% of his team's defensive snaps, according to Over The Cap, and he will be highly sought after in free agency. His 19 tackles for loss ranked fourth in the league among interior defenders.
However, Payne doesn't get the same reception the top interior defenders get, and for good reason. He's a very good interior rusher and he splashes against the run, but he isn't a consistent run defender due to his — and the Commanders — aggressive nature on the defensive line.
6. Javon Hargrave, DT, Philadelphia Eagles
Update 3/13: Hargrave on the first day of the negotiating period agreed to a four-deal with the San Francisco 49ers worth a reported $84 million, with $40 million guaranteed.
Javon Hargrave's year a season ago was probably more impressive relative to his own individual performance. While he raised his sack total in 2022, the Eagles handed out sacks like Oprah, falling just two shy of the league record for sacks as a team.
Hargrave is one of the league's premier interior pressure players and has been since his time in Pittsburgh. And even though he's about to turn 30, it doesn't seem like he's crested the hill yet. Whoever signs him could reasonably expect him to produce at a high level for the next two seasons, if not three.
Among the 41 interior players with at least 20 pressures, Hargrave finished seventh in pressure rate and third in sack rate. But like Payne, Hargrave leaves a bit more to be desired as a run defender.
7. Jamel Dean, CB, Tampa Bay Buccaneers
Update 3/13: It's not a complete firesale in Tampa. The Buccaneers are bringing back Jamel Dean on a four-year contract worth a reported $52 million.
The Tampa Bay Buccaneers didn't have the season they wanted or expected in 2022, and they're unlikely to come across enough cash in the offseason to pay the cornerback who had the best season of any Buccaneer CB. Carlton Davis is a better cornerback, and his price tag from last offseason will show that. But Dean had himself a helluva contract year.
Among all cornerbacks with at least 20 targets against, Dean ranked seventh in points saved and 11th in points saved per play. The Buccaneers run a lot of closed coverages over the middle, and their cornerbacks must be able to survive in Cover 3 and Cover 1. But what makes Dean such an interesting candidate in the offseason is his total game.
However, Dean likely won't be sought after by every team needing a cornerback due to his skill set. He is likely resigned to teams that run similar coverages to the Buccaneers, who ran a league-high amount of Cover 3 in 2022.
8. Tremaine Edmunds, LB, Buffalo Bills
Update 3/13: The Chicago Bears had the most money to spend in free agency, and they didn't sit on it. Among their big splashes? Locking down Tremaine Edmunds on a four-year deal that ESPN reports has a $18 million AAV and $50 million guaranteed.
Did you guys know that Tremaine Edmunds is still only 24 years old? Edmunds was one of the freakiest athletes we've seen coming out of Virginia Tech, and he's still only just scratching the surface of his ceiling.
Edmunds was the league's third-youngest player ever at the time he was drafted, and whoever decides to sign him to a long-term deal could realistically expect to receive high-end linebacker play for the next eight years if he remains healthy.
Edmunds is a great coverage defender who has the size, athleticism, and physicality to play MIKE in any scheme. He still has growth potential as a run defender, but in a passing league, he should be seen as a valuable piece, even if he is an off-ball linebacker.
9. C.J. Gardner-Johnson, S, Philadelphia Eagles
Update 3/19: C.J. Gardner-Johnson agreed to a one-year, $8 million prove-it deal with the Detroit Lions after the market was softer than he expected.
C.J. Gardner-Johnson was had for a 2023 fifth-round pick and a 2024 sixth-round pick right before the NFL season kicked off. Even though Gardner-Johnson somehow fell to Round 4 in the 2019 NFL Draft, many believed he was a difference-making safety at the NFL level coming out of Florida.
He was outstanding before his injury in Week 12, and he racked up six interceptions in a five-game span beforehand. The best thing about Gardner-Johnson is his outrageous scheme versatility. He often played in the slot for New Orleans but has played more as a traditional deep safety for Philadelphia.
But there is another positive to employing Gardner-Johnson. He's arguably the league's foremost trash-talker, and he's damn good at doing it without being penalized. In 2020, he had four unnecessary roughness penalties and one unsportsmanlike conduct but only added five total penalties over the past two seasons combined.
10. Orlando Brown, OT, Kansas City Chiefs
Update 3/15: The Cincinnati Bengals made their first big splash of free agency by signing Orlando Brown to help try and protect their QB Joe Burrow.
The Ravens and Chiefs offensive tackle has been one of the better blockers in the game since entering the league five seasons ago, and he hasn't necessarily had the easiest assignments. Mahomes has improved the consistency of his drop depth, but blocking for mobile quarterbacks isn't the simplest.
Despite blocking for mobile QBs and completing one of the most underwhelming combine performances of all time, Brown has been a consistently good pass protector at the NFL level. Through five seasons, he's allowed just 14 sacks in nearly 3000 pass-blocking snaps, and he's played both left and right tackle throughout his career.
The Chiefs tagged Brown a season ago and should look to get a long-term contract done with the 26-year-old.
11. Lavonte David, LB, Tampa Bay Buccaneers
Update 3/15: Lavonte David is returning to the Tampa Bay Buccaneers on a one-year deal.
The only reason Lavonte David isn't higher on this list is that he's 33. David has spent his entire career in Tampa Bay, but with their unfortunate cap situation and his advanced age, there's a good chance the team cannot afford the star linebacker.
David ranked second in PFN's top linebacker list for 2022, and his veteran prowess is a big reason he's so successful. Being a high-end linebacker at the NFL level has more to do with what's above the shoulders as below. The best in the game are second and third-contract guys aside from Fred Warner.
David is about as good in coverage as one can find at linebacker. He's consistently in the right place at the right time, and he's always had a knack for stepping into passing lanes.
12. Isaac Seumalo, G, Philadelphia Eagles
Update 3/19: The Pittsburgh Steelers' offensive line overhaul continued over the weekend when they locked Isaac Seumalo down with a three-year deal reportedly worth $24 million.
On an offensive line filled with rockstars, relative to how popular offensive linemen can actually be, Isaac Seumalo is your "normal" interior blocker. He's the one that doesn't talk unless absolutely necessary.
Seumalo has struggled to stay healthy recently, but he played in 96.4% of the Eagles' offensive snaps in 2022. While in a vacuum, the seven-year veteran probably isn't the 12th-best player in the class, the complete lack of juice on the interior could make him a very hot commodity.
And while Seumalo has always been a competent starter on the offensive line, he had the best year of his career in 2022, sandwiched between two Hall of Fame blockers. But it also proved that he can play on the left or right side, which should only add to his value in free agency.
13. Terence Steele, OT, Dallas Cowboys
Update 3/13: The Cowboys played the second-round RFA tender on Terence Steele, meaning he's able to negotiate with other teams.
Nobody would have believed that Terrance Steele would be in this position when the Cowboys decided to cut La'el Collins. However, the Cowboys had faith in the undrafted right tackle, and he repaid them by being a legitimately good blocker in his third NFL season.
While Steele is still improving as a pass protector, he uses his length and athleticism to his full potential as a run blocker. He is technically and physically sound in the run game, and before being injured in Week 14 was showing true promise as a pass protector. He only allowed one sack in over 400 pass-blocking snaps.
Steele is a restricted free agent because of his UDFA status and likely remains in Dallas for another year before receiving his big payday.
14. Mike McGlinchey, OT, San Francisco 49ers
Update 3/13: There's no longer any position discount for a right tackle. They're getting paid like the fellow bookends now, with Mike McGlinchey agreeing to a five-year, $87.5 million deal with the Denver Broncos.
Mike McGlinchey managed much malignment during his 49ers career. The Notre Dame tackle moved from left to right, and he's still working through some issues that have kept him from ascending to the level we thought the athlete would become. His most significant issue comes against power.
But when more traditional edge rushers are the opponent and not freaks like Chris Jones and Aaron Donald, the right tackle plays well. The back half of his season was evidence of that. He allowed just one sack from Week 10 to Week 18 and only allowed 27 pressures all season.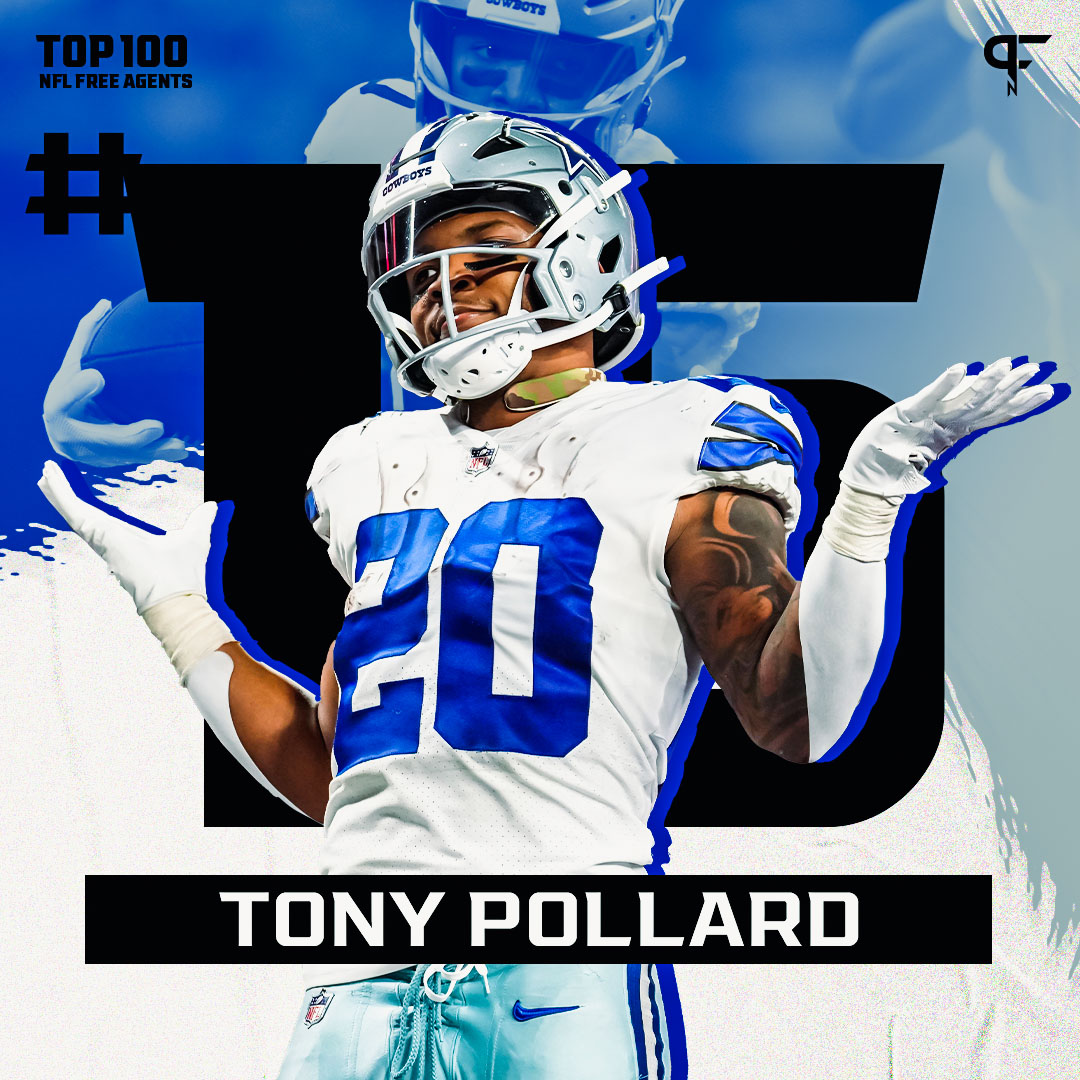 15. Tony Pollard, RB, Dallas Cowboys
Update 3/6: The Dallas Cowboys elected to use the franchise tag on Tony Pollard, who will make $10.09 million in guaranteed money in 2023.
Stacking the top three runners in the free agency class was not easy. Saquon Barkley was the highest draft pick, Josh Jacobs was also a first-round pick, but Tony Pollard has the least amount of wear on him and has consistently been one of the most elusive players in the NFL.
That is why Pollard lands at the top of the list. He probably won't be the highest-paid out of the three if he gets a long-term deal done, but he has half the career touches of Barkley and Jacobs, which matters at their position.
MORE: Can Cowboys Afford Tony Pollard Alongside Ezekiel Elliott?
Nobody in the NFL with at least 125 carries averaged more yards after contact than Pollard, and only Kenneth Walker had a higher breakaway rate than the Cowboys runner. In a league that requires explosive plays for offenses to consistently score touchdowns, that ability is imperative at the position.
But unlike Barkley, Pollard has done a much better job avoiding negative plays so far in his four-year career. He finished seventh in positive EPA rate. While that is below Jacobs, Jacobs doesn't have the explosiveness Pollard possesses.
16. Josh Jacobs, RB, Las Vegas Raiders
Update 3/6: The Las Vegas Raiders placed the franchise tag on Josh Jacobs.
Before 2022, you couldn't argue that Jacobs would lurk at the top of the free agency rankings. Things under Jon Gruden didn't go particularly well for the former Alabama running back.
But with Josh McDaniels at the helm, the fourth-year back finally blossomed into the first-round prospect he was coming out of college. While his offensive line has never been particularly talented, Jacobs himself has never been the most elusive runner. However, he showed much more as a runner and pass catcher this season.
Additionally, Jacobs has been consistent. He posted the highest positive EPA rate in the NFL this year, and he's never missed any serious time due to injury. The only thing keeping him from a higher ranking is that he still isn't a particularly explosive runner. So while consistent, he won't splash as often as other top runners.
17. Saquon Barkley, RB, New York Giants
Update 3/7: After finalizing a long-term deal with Jones, the Giants were able to save their franchise tag to keep Saquon Barkley around for a sixth season with the team.
If Saquon Barkley were either more consistent as a runner or more consistently healthy, he'd probably land inside the top five of the rankings. Unfortunately, the former Penn State standout, who resembled a much bigger Barry Sanders as a runner, has done neither.
While Barkley is undoubtedly a treat to watch as he jump-cuts from hash to hash while absolutely zooming at 230 pounds, he also consistently leaves us putting our faces into our palms. But despite Barkley's perceived injury proneness, he's averaged nearly 240 touches per season over his five-year career.
In the past, he's flashed as a receiver out of the backfield as well. However, he did not have the same impact in the passing game in Brian Daboll and Mike Kafka's offense.
18. James Bradberry, CB, Philadelphia Eagles
Update 3/14: James Bradberry agreed to a three-year deal worth $38 million to remain with the Philadelphia Eagles. There are $6 million in potential escalators, and $20 million of the deal is guaranteed.
The Philadelphia Eagles are better at this whole free agency and player acquisition thing than the rest of the NFL. The New York Giants cut James Bradberry on May 9 after they were unable to find a trade partner for the cornerback. The Eagles waited nine days and signed the Pro Bowl CB to a one-year, $10 million deal.
What did they get in return? According to SIS, a CB with 645 coverage snaps that only allowed 26 receptions on 73 targets (35.6%.) His 4.2 yards per attempt mark was also the lowest in the league, and he ranked second to K'Waun Williams in passer rating against. He ranked first in EPA and second in EPA per target.
And he did all of this playing opposite Darius Slay, an outstanding cornerback in his own right. Bradberry had one of the best seasons of any cornerback in the league, fitting like a glove into Jonathan Gannon's scheme.
At 29, Bradberry realistically has a year or two worth of high-level play left at cornerback.
19. Jimmy Garoppolo, QB, San Francisco 49ers
Update 3/13: Jimmy Garoppolo agreed to a three-year, $67.5 million contract with the Las Vegas Raiders that both allows him to continue his career as a starter and reunites him with his former offensive coordinator Josh McDaniels.
Despite the high-level production we've seen from Jimmy Garoppolo throughout the years in San Francisco, he lands all the way at No. 19 on the free agent list because of his limitations. Kyle Shanahan has always hidden those limitations, while his strengths have been accentuated by one of the league's best offensive minds.
If the Jets strike out on a trade for Aaron Rodgers, Garoppolo is a good backup plan for a franchise whose roster is ready to win now and simply needs competent QB play to compete in the AFC East. Run the ball, run play-action, and replace linebackers with throws over the middle to the many good offensive weapons New York possesses.
MORE: Jimmy Garoppolo Potential Landing Spots in 2023 
Garoppolo absolutely must be smart about his options. Any situation that puts the offensive onus on the QB for their success is a bad fit. There are few in the league less imaginative on the hoof. But he's one of the best ball handlers in the league, and he's a fine passer inside the numbers when he's able to work in rhythm.
20. David Long, LB, Tennessee Titans
Update 3/13: LB David Long has agreed to terms with the Miami Dolphins. The Score's Jordan Schultz is reporting that the deal is for two years and $11 million.
At only 26, David Long still has a lot to learn when it comes to the finer points of playing linebacker. With just one season of starting experience under his belt, it's likely he'll be a bit of a bargain option for teams looking to bolster their linebacking corps. However, if he can get compensated for how he played in 2022, he won't be a bargain.
Long is like an old-school, slashing two-guard in the NBA. He knifes through defenses on the way to the line of scrimmage. This allows the young thumper to blow plays up in spectacular fashion. According to SIS, he's the only player in the NFL with an average tackle depth below a yard (0.9.)
Improvements as a coverage linebacker are necessary, but responsibility within the Titans' defensive scheme is partially the reason why he's so gung-ho on defending the run before he frantically scoots back into his zone coverage. But even so, Long is far from a liability in the passing game, and he'll continue to grow as he adds seasoning to his NFL resume.
21. Dalton Schultz, TE, Dallas Cowboys
Dalton Schultz has caught a lot of passes from Dak Prescott throughout the years. Coming from Stanford, many believed the Cowboys were getting a technical, yet undersized blocker with okay athleticism but minimal pass-catching upside.
In reality, Dallas got an underrated athlete and route runner, but who underwhelmed as a blocker during his time in Dallas. A look at Schultz's volume might suggest he's one of the top tight ends in the NFL, but his usage might suggest otherwise.
Of the 29 tight ends receiving at least 50 targets, he ranked 20th in yards per target, 20th in yards per reception, 19th in aDOT, 10th in average depth of completion, 14th in positive EPA rate, and 28th in EPA per target.
Schultz is a good football player, but he's not good enough to be a legitimate second option in an offense. He is not Travis Kelce, George Kittle, Dallas Goedert, or Mark Andrews. But then again, none of those tight ends are hitting the open market.
22. Ben Powers, G, Baltimore Ravens
Update 3/13: Russell Wilson's pass protection should be much improved in 2023. Ben Powers will join McGlinchey on the Denver Broncos' new-look offensive line, agreeing to a four-year deal worth a reported $52 million.
Some blockers scream at you in the open field, ready to take your head off at every opportunity. They are more fun to watch, but usually less effective than the blocker who lulls a defender to sleep upon his approach. Ben Powers is a boring blocker in the most complimentary way possible.
Powers positioning is consistently perfect for the given run. His calm demeanor somehow still steers defenders so that his hips run parallel to the hole. He won't often bulldoze a defender out of the lane, but he'll allow a back to graze his rear end as he scampers by.
The same goes for when he's pass protecting. He's not perfect, but he is consistently productive as a pass blocker. Sometimes he'll even be pushed back into the pocket, but he easily re-establishes his base and anchors down.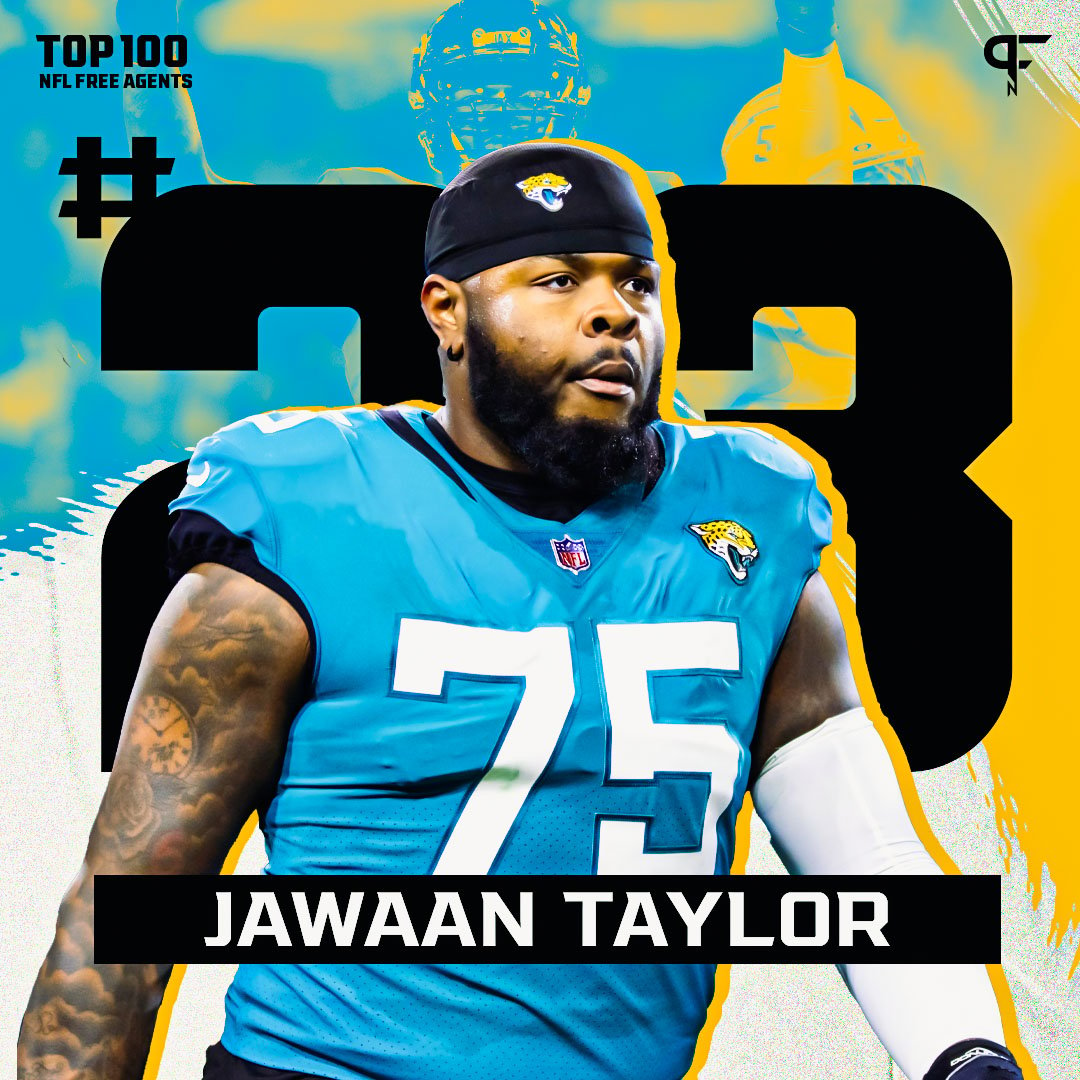 23. Jawaan Taylor, OT, Jacksonville Jaguars
Update 3/13: Confronted by the possibility of losing both of their starting tackles, the Kansas City Chiefs are reportedly signing Taylor to a four-year, $80 million contract.
The Jaguars improved drastically as a team in 2022, and Jawaan Taylor's personal growth helped them along their journey. Taylor was very young coming from the Florida Gators, so he'll be just 25 when the season starts.
The second-round pick has always been a player with a high ceiling, but he has needed and still needs seasoning. But coaches will always be impressed by a 310-plus-pound blocker who moves as smooth as butter, and that's exactly what Taylor brings.
Taylor's statistical profile could help his free agent candidacy as well. According to SIS, he led the league in Points Earned at tackle, 16th in points earned per snap, sixth in points above average, and fourth in points above replacement.
24. Arden Key, EDGE, Jacksonville Jaguars
Update 3/14: The Tennessee Titans and Arden Key have reportedly agreed to a three-year deal.
Arden Key will probably never be a down-in, down-out edge rusher. Even at his relatively low playing weight, his best work comes as an interior rusher. But among the 64 rushers with at least 30 pressures, Key ranked inside the top third in pressure rate.
While his 4.5 sacks are nothing to write home about, he affected the quarterback more in 2022 than he had in any year prior. Key played 40% of the Jaguars' defensive snaps while remaining healthy, and that's about where he should be as a designated pass rusher.
The worst thing a team could do is pay him to be an every-down player. Maybe he could progress against the run to a point where he could be a starter, but it would almost surely negatively affect his explosiveness and flexibility as a pass rusher, which is the real reason why you pay him.
25. Patrick Peterson, CB, Minnesota Vikings
Update 3/13: The Steelers reportedly have an agreement in place with Patrick Peterson. The contract terms were not immediately available.
When Patrick Peterson went from Arizona to Minnesota, the assumption was that he was on his last legs. Well, his last legs have lasted a whole lot longer than we anticipated because he was very good for the Vikings in 2022. In fact, he was about the lone bright spot in Ed Donatell's secondary.
Peterson isn't the spring chicken he was early in his career, but he's been around the block enough to know what's coming and how it's coming more often than not. Because he began as an elite athlete, his dip in athleticism hasn't overwhelmed his mental prowess for the position.
He won't be a fit for every scheme at this point, but any team needing a low-capital option as their No. 2 CB in 2023 should at least give Peterson a call. The juice is worth the squeeze at around $4 million on a short-term deal.
26. Odell Beckham Jr., WR, Free Agent
Odell Beckham Jr. can still play. That is, he can still play if he can still play. Despite claims that he was medically cleared in November, no team signed the veteran receiver, to the curiosity of many.
Injuries have taken from us what may have been one of the most impressive receivers of our time, but he proved as a Ram that he is still a valuable piece. And with injuries mounting, he wouldn't be an expensive piece to add.
Beckham can no longer separate at will using pure explosiveness and overall athleticism, but he is still loose and flexible, which helps him leave man coverage. His veteran savvy also gets him open against zone coverage.
27. Dalvin Tomlinson, DT, Minnesota Vikings
Update 3/14: The Cleveland Browns agreed to terms with Dalvin Tomlinson. He signs a four-year, $57 million deal to anchor their defensive interior, with $27.5 million guaranteed.
The third defensive tackle on the list might be as good as the first two, but his game doesn't translate the same way because he's not the feverish pass rusher that Payne or Hargrave are. No, Tomlinson is a legitimate nose tackle who also brings a splash as a pass rusher.
The 320-pound defensive tackle is the best of both worlds and the type of defensive tackle more teams at the NFL level will try to employ, as more NFL teams are two-gapping with their front four. Tomlinson is stout enough to engage with double teams and quick enough to occasionally be a problem, either shooting gaps or walking linemen back into the laps of the QB.
28. Jordan Poyer, S, Buffalo Bills
Update 3/15: Jordan Poyer is expected to return to the Buffalo Bills.
Jordan Poyer without Micah Hyde beside him is like a good wine without charcuterie for a millennial. Together, they make up what has unquestionably been the best safety tandem in the NFL over the past half-decade.
But both are now over 30, and Hyde was unable to remain healthy in 2022. Poyer still proved to be one of the best safeties in the NFL this season. He still has all the mental prowess and athleticism necessary to defend the sideline from his half-field position.
29. Evan Engram, TE, Jacksonville Jaguars
Update 3/6: The Jaguars have elected to use the franchise tag on Evan Engram. The one-year tender will pay him $11.3 million this year.
Leave it to the New York Giants organization to screw up one of the most exciting move tight ends we've seen coming from the college ranks. Things would have been different had Daboll and Kafka gotten to him earlier, but they weren't around for Engram's development.
Engram is a 240-pound receiver that can absolutely scoot from the slot. Anyone with that size and athletic ability will be a mismatch against cornerbacks and linebackers. Most safeties can't match him, either.
Engram has never offered much as a blocker, and he never will. He should be used sparingly as a pass protector, and he's better aligned in the slot or out wide to avoid matching him with an EDGE or linebacker to block in the run game.
30. Mike Gesicki, TE, Miami Dolphins
Update 3/17: Mike Gesicki is staying in the AFC East on a one-year, $4.5 million contract signed with the New England Patriots.
Arguably nobody had a more curious season than Mike Gesicki did for the Dolphins. He played fewer than half the offensive snaps for the Miami offense and was decidedly not a part of the Miami passing attack, even though it largely attacked the middle of the field.
The long, athletic tight end probably won't want to be a Miami Dolphin any longer. McDaniel is an underling of Kyle Shanahan, and we've seen Shanahan's gross negligence with George Kittle, who is arguably the most physically gifted tight end in the NFL by a fair margin.
Gesicki's season undoubtedly hurt his value in free agency, but anyone who turns on the tape can see that the lanky pass catcher is an absolute weapon for most quarterbacks in the league. He has some of the best hands in the entire league.
31. Kaleb McGary, OT, Atlanta Falcons
Update 3/15: Kaleb McGary is returning to the Atlanta Falcons on a three-year deal.
Kaleb McGary is one of the more interesting evaluations in the class. Only the Bears threw less often than the Falcons this season. According to SIS, the Falcons dropped back 491 times and attempted 415 passes. Of those 415, the Falcons used play action on 162 of them, the fifth-most in the NFL.  Most of the damage done against McGary came in those true passing sets.
It's fair to wonder how McGary would cope outside of the Falcons' 2022 offense. Except we know what that looks like because he was in such an offense just one season ago. Maybe the Falcons' right tackle truly improved that much in a single season, or maybe he improved a marginal amount, and his success was derived more from a more forgiving scheme.
A team like Chicago should be all over McGary in free agency, as should other teams looking to employ one of the better run-blocking tackles in the NFL.
32. Bobby Okereke, LB, Indianapolis Colts
Update 3/13: The New York Giants made their big splash of free agency when they agreed to a deal with LB Bobby Okereke. The talented young player will sign a four-year, $40 million contract with a whopping $22 million guaranteed.
When Shaquille Leonard went down, most believed that the Indianapolis Colts' defense was as good as dead. What those folks didn't understand is that Bobby Okereke is one of the more underrated defenders in the NFL.
Okereke was a perfect fit for Gus Bradley's defense. The fourth-year player was also productive a season ago, but he really blossomed as Leonard missed practically the entire season with an injury.
While Okereke has been a tackling machine in both years, his coverage prowess is so interesting to note. It doesn't matter if he's recovering from play-action or dropping straight back into coverage, he is consistently in the right place at the right time. Few are able to turn their heads to the QB in zone and match coverages without getting the ball thrown past their ear hole, but Okereke has shown for the past three seasons he's tough to attack in coverage.
33. Jadeveon Clowney, EDGE, Cleveland Browns
Jadeveon Clowney's second season in Cleveland might be all the evidence we need concerning why he doesn't stay anywhere for more than a year. Clowney has been a mercenary and one that famously procrastinates when choosing what job to take. He doesn't necessarily love training camp and will likely wait until August to ink his next deal.
After a productive season with Cleveland a year ago, it seemed he'd be able to parlay that with consecutive productive seasons on his way to a fatter one-year deal. That proved not to be the case, and Cleveland sent him home for the last game of the season.
Clowney is still powerful and explosive. He's continuously been an underwhelming pass rusher compared to what we believed coming out of South Carolina, but he's been a strong run defender throughout his career.
34. Jimmie Ward, S, San Francisco 49ers
Update 3/13: Jimmie Ward has reunited with DeMeco Ryans by signing with the Houston Texans.
Jimmie Ward should be one of every football nerd's favorite players. He began as a player primarily aligned in the slot but has been a stalwart on the back end of the 49ers' defense since 2019. That didn't necessarily keep him from playing in the slot; he simply played more often in the box or on the back end. Ward is one of the most versatile players in the league.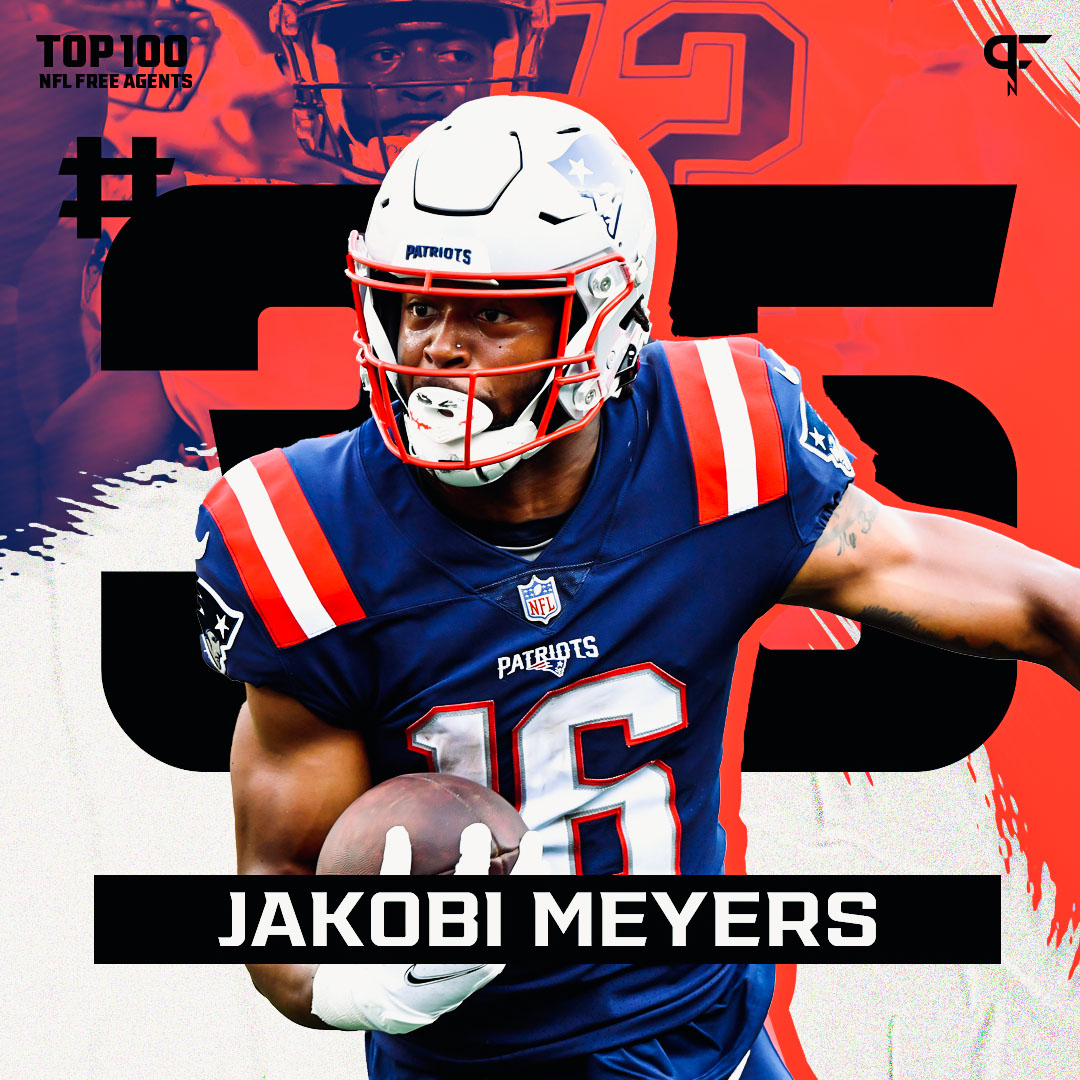 35. Jakobi Meyers, WR, New England Patriots
Update 3/14: The Las Vegas Raiders have brought in arguably one of the top WR free agents in Jakobi Meyers. After signing a new starting QB in Jimmy Garoppolo, the team has now brought in another familiar face who has worked with head coach Josh McDaniels before.
Patriots WR Jakobi Meyers is one of the most underrated pass catchers in the NFL. The North Carolina State product isn't the athletic phenom we've begun seeing at the position over the last half-decade, but he is a solid piece who makes quarterbacks better.
Some of the catches he has made over the past few seasons have been outrageous. Although he's not particularly big or explosive, he contorts his body incredibly well and high points the football as well as anybody.
The former QB isn't just a "wow" playmaker, either. Meyers has some of the more consistent hands in the league, dropping fewer than four passes in each of his four seasons. And despite his somewhat middling athleticism, Meyers is a good separator versus man coverage.
36. Zach Allen, EDGE, Arizona Cardinals
Update 3/13: The Denver Broncos continued to improve in free agency. Adding to an already elite defense, the Broncos signed Zach Allen to a three-year, $45.75 million deal that includes $32.5 million guaranteed.
It appears the time Zach Allen has spent around J.J. Watt has done him some good. The 6-foot-4, 280-pound hybrid defender has anime-broad shoulders, and his sprinter's stance often has him inside the comfort zone for opposing blockers. When paired with his outstanding length, he can be an absolute menace converting speed to power.
However, because he's undersized for the interior, when he doesn't win quickly, he struggles to counter. But because he's a large, long, and power EDGE, he can fit into practically any scheme. He can align from the three technique all the way out wide in base and can rush from a true zero in obvious passing situations.
Unfortunately, his strong season ended with hand surgery after Week 14. The Arizona Cardinals' defense is a mess. If he remains in the Southwest, he'll be all but alone on the defensive line. At just 25, he could go somewhere on a short-term deal surrounded by talent to try and really secure a bag for his third contract.
37. David Onyemata, DT, New Orleans Saints
Update 3/13: David Onyemata is following former Saints assistant and new Falcons defensive coordinator Ryan Nielsen to Atlanta. Onyemata agreed to a three-year, $35 million deal Tuesday.
The Saints defensive front had a suspiciously quiet season, including David Onyemata. Although his pressure production looked better on paper, he didn't have the same impact on the defense as a whole like he had the previous three seasons.
It's unlikely Onyemata ends up not being a Saint next season, given his dead cap hit if he does not get extended by the team. While he is technically a free agent, Micky Loomis accomplished that through four voidable years on his current deal to soften the Saints' poor cap situation in previous seasons.
Onyemata is no spring chicken, but he still has more than enough juice left to be a productive player over the next few seasons as the Saints most likely begin their rebuild. Even if the Saints need Onyemata to play fewer snaps, it may benefit the veteran, who is a creative pass rusher with accurate hands and a consistently strong pass rush plan.
38. Cam Sutton, CB, Pittsburgh Steelers
Update 3/13: The Detroit Lions are getting a much-needed talent infusion in their secondary, signing Cam Sutton to a three-year contract work a reported $33 million with $22.5 million guaranteed.
In a secondary that underwhelmed in 2022, Cam Sutton was one of the lone bright spots. Among all cornerbacks targeted at least 25 times, Sutton allowed the fifth-lowest completion percentage in the league (41.3%.)
Sutton is a former third-round pick who struggled to find the field for his first three seasons. He played more snaps in 2021 than in 2018-2020 combined. But since being inserted into the Steelers' starting lineup playing primarily on the outside, he's been one of their best defenders.
He'll almost surely be back in Pittsburgh for 2023 and beyond. He signed a two-year, $9 million deal in 2021, but Pittsburgh has used his contract to move money into the future. Sutton rounded himself into an intelligent coverage defender who wins without possessing elite physical traits.
39. Fletcher Cox, DT, Philadelphia Eagles
Update 3/15: Fletcher Cox has agreed to a one-year deal to return with the Philadelphia Eagles on a $10 million contract.
Fletcher Cox is not a young man anymore, but he's still playing a young man's game at a high level as a pass rusher. He has never taken a snap outside of Philadelphia, and it's hard to imagine he ever does. However, doing so at $14 million isn't an option moving forward with all the other mouths to feed on Philadlephia's defense.
He struggled against the run in 2022 and could probably benefit from playing fewer snaps overall. But he's still a great athlete for the position, and his hands are still a problem for interior offensive linemen to handle.
40. T.J. Edwards, LB, Philadelphia Eagles
Update 3/13: T.J. Edwards agreed to a three-year, $19.5 million with the Chicago Bears, a deal that reportedly includes $7.9 million guaranteed.
There may not be a more surprising name near the top of the free agency list than T.J. Edwards. It's not as if Edwards hadn't flashed talent before. The Eagles' linebacking situation simply hasn't been good for quite some time.
It should be no surprise that a Wisconsin linebacker ended up being a good NFL player. In fact, the UDFA was arguably the team's best defender when their unit was at the top of its game. Edwards plays with outstanding violence and the innate ability to do exactly what he is supposed to do at all times.
Although he didn't rush the passer often, like most Badgers linebackers, he also flashed in his pass-rushing opportunities. The Bears have the money to swoon the hometown kid to Chicago, should they choose to target him. His snappy processing ability and underappreciated coverage ability would do the Bears' defense a lot of good in the middle.
41. Jonathan Jones, CB, New England Patriots
Update 3/13: The Patriots aren't letting Jones leave, working out a two-year, $20 million max deal on the first day of the free agency negotiating window.
According to SIS, Jonathan Jones allowed fewer than half of his 71 targets to be caught. The Patriots cornerback had spent most of his career in the slot dating back to his rookie year in 2016. However, the 29-year-old CB moved to the outside and didn't miss a beat.
Jones isn't going to lock down the likes of Justin Jefferson or Stefon Diggs (he didn't in Week 12 or Week 18), but he is a nice piece to have either as a starting slot or No. 2 cornerback.
With bigger and smaller receivers aligning ambiguously and the league beginning to lean toward smaller and shifter receivers, Jones' size isn't nearly the same sort of issue on the outside that it once would have been.
42. Marcus Davenport, EDGE, New Orleans Saints
Update 3/13: Marcus Davenport has agreed to a one-year deal worth $13M with the Minnesota Vikings.
If the best ability is availability, Marcus Davenport is lacking a key ability. The former first-round pick has struggled to stay on the field for his entire pro career. Although Davenport has avoided serious missed time in any one season, he's missed 24 games throughout his five-year career.
Davenport has the physical talent to be one of the better pass rushers in the game. Few have a more devastating long-arm move than Davenport, and he's a tremendous athlete at the position.
However, that's sort of where the praise ends in regard to Davenport. He struggled in 2022, as did many on the Saints' defensive front compared to the previous few seasons. Davenport has the ability, but he's also struggled with self-confidence issues, which can be debilitating in professional sports. Going to a situation with strong emotional support will be his best bet at success in the coming years.
43. Jacoby Brissett, QB, Cleveland Browns
Update 3/15: Jacoby Brissett is set to sign with the Washington Commanders.
Jacoby Brissett outplayed a $250 million QB this season. If anyone would have said that Brissett would play the way he did, many probably would have earmarked the Browns as a playoff team. The defense didn't get the job done, but the offense did more than enough with Brissett taking snaps.
During his 12-week run, the Browns ranked sixth in offensive EPA per play. They were 10th in dropback EPA and were running the ball extremely well. Aside from a few untimely turnovers, Brissett looked like a starting QB at the NFL level.
Only Geno Smith and Patrick Mahomes posted a higher CPOE than Brissett. The veteran QB will probably never stick in any one spot as a starter, but the 30-year-old still has a few good years left as a high-end backup or bridge quarterback. And there are situations in the NFL right now where that role is very valuable.
44. Charles Omenihu, EDGE, San Francisco 49ers
Update 3/14: Charles Omenihu has signed with the Kansas City Chiefs on a two-year deal worth $20 million
Charles Omenihu hasn't been a starter yet during his NFL career, but he's been part of an incredibly productive rotation in San Francisco. A year after Arden Key stretched his legs and went to a new location, Omenihu might do the same.
Omenihu is unique. The 6-foot-5, 280-pound pass rusher has some of the craziest length we've seen from a defensive lineman, and that length has proven useful as a pass rusher from the B gap all the way outside the tackle.
Like Key, Omenihu likely will never be a full-time player. He was likelier to be on the field on obvious passing downs. He played nearly three times as many snaps as a pass rusher than a run defender. As a defensive end, you'd imagine with his length and size, he'd be a menace against the run, but he's never developed that aspect of his game, which is partially the reason why he fell to the fifth round of the draft.
45. Sheldon Rankins, DT, New York Jets
Update 3/15: Sheldon Rankins is signing with the Houston Texans on a one-year deal worth $10.5 million.
In his last years with New Orleans and even his first season with the Jets, it looked as if the once formidable interior rusher was on his last legs. And while he hasn't replicated the rush production he showed in New Orleans back in 2017 and 2018, he's improved in the one area he absolutely needed to if he was going to continue on with his career.
With Rankins on the field in 2022, the Jets defense averaged -0.13 EPA per rush while averaging -0.08 with him off the field. Those numbers may not appear like much, but that's the difference between the third-best run defense and the 13th-best.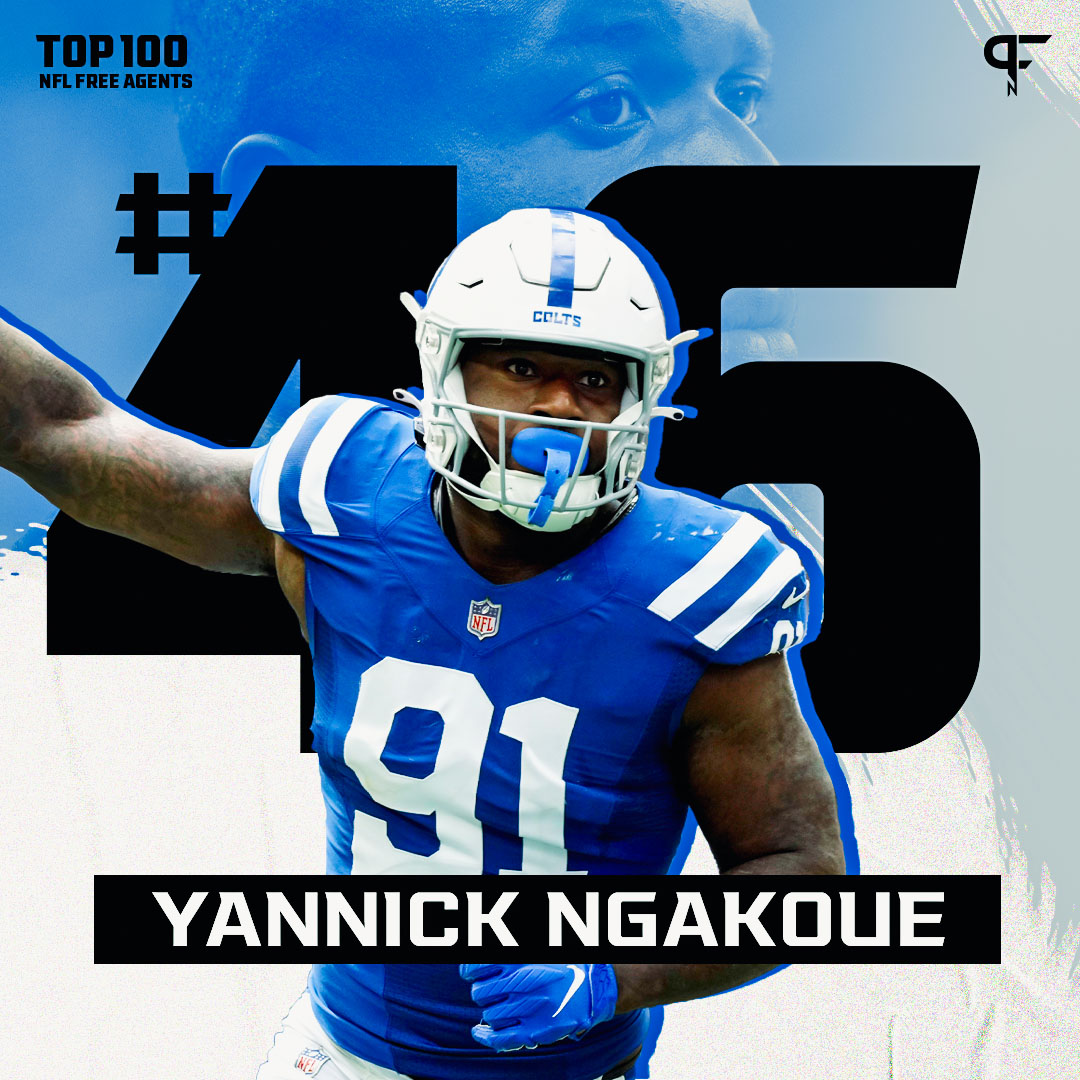 46. Yannick Ngakoue, EDGE, Indianapolis
Yannick Ngakoue would be incredibly productive if coaches and front offices simply acknowledge that he's like the Omenihu and Keys of the world. He's a part-time player playing full-time snaps, and his game simply isn't suited for that.
Think of Ngakoue like the younger version of Robert Quinn without the monster sack seasons Quinn has produced. Ngakoue's explosiveness, bend, and ability to win quickly with his hands can make for some spectacular rushes. However, he does not possess the size, length, or strength to consistently counter on rushes.
Use him as a rotational player who comes in on obvious passing downs and let him pin his ears back. Keeping him fresh for his fifth stop in four years will be imperative.
47. Ethan Pocic, C, Cleveland Browns
Update 3/13: Ethan Pocic is staying in Cleveland on a three-year deal worth at least $18 million, per NFL Media.
Offensive linemen aren't unlike receivers, running backs, and quarterbacks. It's much easier to find success as a blocker when you're sandwiched between two All-Pro caliber offensive guards. And after spending five seasons in Seattle, Pocic received that help in the form of Wyatt Teller and Joel Bitonio.
The veteran center would be a great addition for any team needing a central blocker. However, teams with young QBs who could benefit from the addition of a center who can maneuver protections on his own would be a great fit. The Chicago Bears have the Monopoly money to do a lot this offseason, and Pocic could be an option for them.
But claiming that Pocic is simply the beneficiary of playing between two outstanding players is ignoring the possibility that Bill Callahan is a really, really good offensive line coach who could have aided Pocic in his progression as an interior blocker.
48. Robert Quinn, EDGE, Philadelphia Eagles
After an 18.5-sack season with the Chicago Bears in 2021, we should have known Quinn would come crashing back down to earth in 2022. The 33-year-old was banged up for a good chunk of his time in the regular season with Philadelphia, playing just 88 total snaps for them.
The veteran pass rusher hasn't changed much, even as his age has advanced. He can still run underneath a table, and when he wins, he wins spectacularly. However, because of who he is as a player, when he loses, the rep is over.
Realistically, Quinn can still produce as a pass rusher, but on a snap count akin to what he saw in Philadelphia. He'll be a liability against the run, so he should only see the field when offenses are behind schedule.
49. Greg Gaines, DT, Los Angeles Rams
Update 3/19: Greg Gaines agreed to a one-year deal with the Tampa Bay Buccaneers. The financial terms were not immediately available.
There is nothing more enjoyable than a nose tackle who excels in doing nose tackle… stuff. Like the entire Rams organization, Gaines had a year he'd probably rather forget, especially when comparing his production to last season.
He won't be rushing alongside Aaron Donald at his next stop, which means his pass rush production will probably look more like this season's than lasts. However, the former Huskies defensive tackle is the logjam most teams look for in the middle.
Gaines isn't a behemoth, nor is he a freak athlete. He plays with outstanding leverage from his 6-foot-1 frame, consistently anchoring against run-blockers.
50. Dre'Mont Jones, DT, Denver Broncos
Update 3/13: Dre'Mont Jones has agreed to sign with the Seattle Seahawks. Jones is only 26 years old and is coming off the best season of his career.
Dre'Mont Jones has always been a fascinating player. Interior pressure is the most disruptive in the pressure family. Pass-rush ability is the most important trait for defensive linemen, and Jones brings that in spades.
Jones's best fit may be on a team that runs an odd front, allowing him to play as a five-technique on base downs before sliding inside to rush the passer in third-and-long situations. The 26-year-old has accurate hands and a good rush plan, culminating in nearly 50 pressures in 2022.
At only 26, Jones is another young member of the free agency class. While he will probably never be a down-in, down-out player, the value he adds as a pass rusher should make him a high priority for teams who covet pressure from their three techniques.
51. Ogbonnia Okoronkwo, EDGE, Houston Texans
Update 3/15: Ogbonnia Okoronkway has agreed to terms with the Cleveland Browns.
It took Ogbonnia Okoronkwo approximately 3.5 years to get the opportunity to become the difference-making pass rusher he was while at Oklahoma, but he did just that in Houston down the stretch.
Okoronkwo isn't Haason Reddick or Micah Parsons as an athlete, but he wins similarly to a smaller pass rusher who could be mistaken for an off-ball linebacker if he played in Arizona. Okoronkwo has good lateral mobility and quick hands that can quickly discard opposing blockers from their target on his way to the quarterback.
He doesn't have an outrageous first step, but he's always had a strong pass-rush plan, and he's better at defending the run than many of his other undersized EDGE counterparts. He doesn't possess the pass-rushing upside of some of his peers, and his production all comes from a 10-week span. But he could easily parlay that half into a one-year deal, replicate it, and then get a long-term deal in his age-28 season.
52. Miles Sanders, RB, Philadelphia Eagles
Update 3/15: After a career year, Miles Sanders has taken his talents to Carolina where he will now be the featured back.
Miles Sanders picked a good time to have a career year. He's had more efficient seasons from a traditional yards-per-carry perspective, but the impact he had on the Eagles' offense in 2022 was his best.
In fact, only Tyler Allegeier and Aaron Jones produced a higher EPA-per-play average than Sanders. The fourth-year back also had his highest usage in 2022, touching the ball 279 times, the most since his rookie year.
MORE: Dynasty Fantasy RB Rankings Include Miles Sanders and More
Sanders isn't the type of back who will bounce off tacklers at a high rate, but he's explosive and quick laterally, which allows him to maximize good blocking.
53. DJ Chark, WR, Detroit Lions
DJ Chark is the exact archetype of receiver that about a dozen NFL teams need. Speed has become the most important piece of a modern passing attack. Speed influences safeties and cornerbacks more than route-running ability. As coverages modernize, having speed forces them on their heels.
Chark has the speed to force safeties to turn and burn, creating larger throwing windows behind linebackers dropping into coverage. Speed forces Cover three cornerbacks to maintain their cushion, which allows receivers to more freely break back to the ball. And on top of all that, Chark does it at 6-foot-3. But he can't stay healthy.
That's the rub with Chark. He's struggled to stay healthy throughout his career, and his hands have been suspect throughout that time as well. But Chark's value to the Lions' offense is unquestionable. With him on the field, the Lions averaged 0.15 EPA per dropback, compared to just 0.04 with him off the field.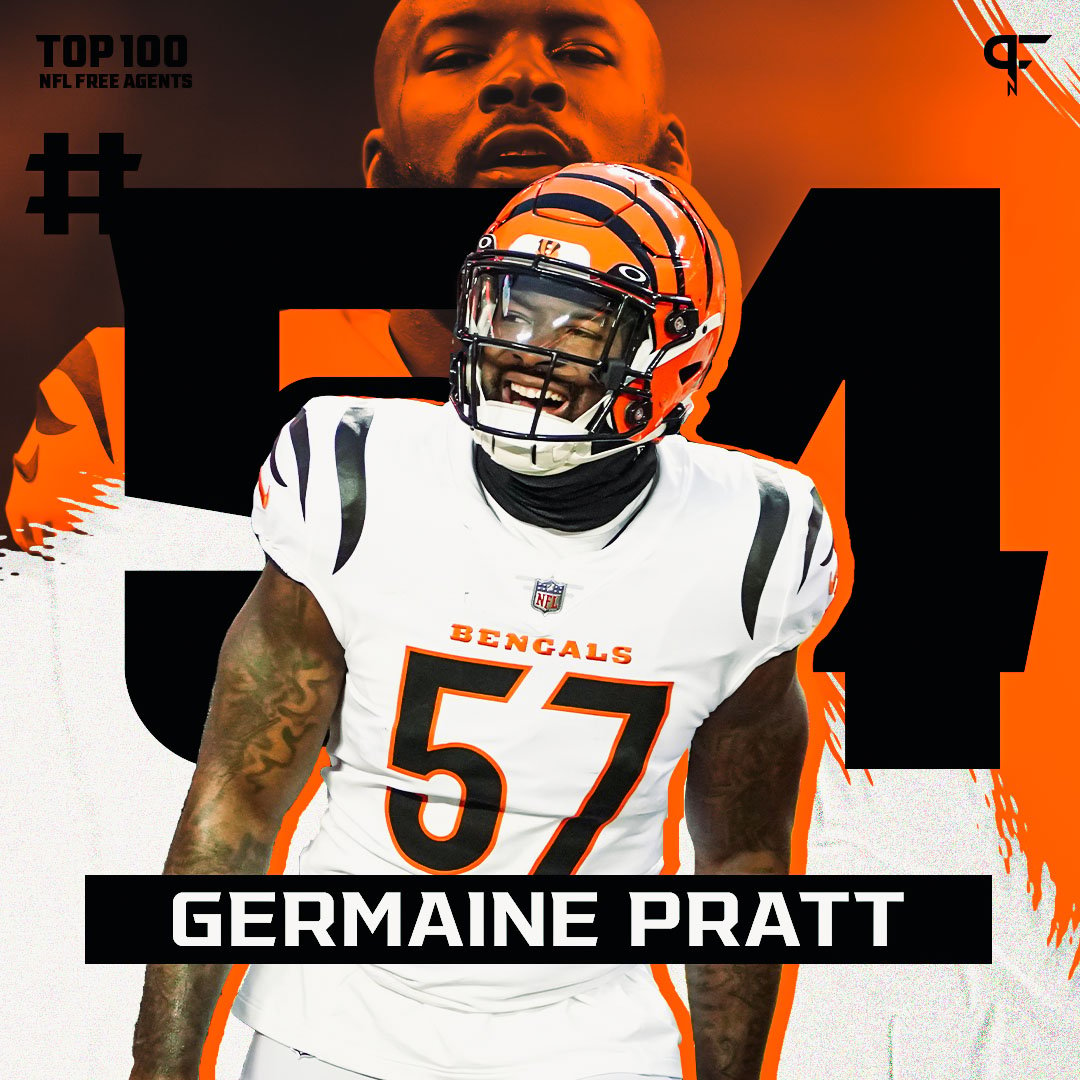 54. Germaine Pratt, LB, Cincinnati Bengals
Update 3/13: Germaine Pratt is remaining in Cincinnati on a three-year deal reportedly worth $21 million.
Germaine Pratt probably didn't win many fans amongst his Bengals teammate after their devastating loss to the Kansas City Chiefs, but his play in 2022 was an almost unbelievable jump. For a while, it would have been a simple decision to let Pratt walk or to bring him back on a very cheap deal, but his 2022 season won't allow for the second option in Cincinnati.
The former NC State safety took time to develop at the position, particularly as a run defender. But the mental side of playing the position finally started clicking for Pratt in Year 4, which allowed him to be a menace at the second level against the run.
Despite his safety background and two years of linebacker in college, it has taken Pratt time to fit into the role of being a hole defender in coverage. But he got in the way of passing lanes more this season than in any previous year.
55. JuJu Smith-Schuster, WR, Kansas City Chiefs
Update 3/15: JuJu Smith-Schuster and the New England Patriots agreed to a three-year deal worth $33 million.
After flirting with the Chiefs the offseason prior, JuJu Smith-Schuster joined the Chiefs in 2022 and had his most productive season since his ridiculous 1,400-yard sophomore season. Unsurprisingly, he had his most efficient season with Patrick Mahomes, catching 77% of his targets for the year.
Escaping an aged Ben Roethlisberger and a bad offensive line did the receiver a lot of good. He's a savvy route runner in the intermediate areas of the field, and he's strong at the catch point. He's not exceedingly fast or explosive, which is why he's best suited at separating later in routes rather than at the line of scrimmage.
56. Donovan Wilson, S, Dallas Cowboys
Update 3/14: The Dallas Cowboys have continued to try and keep Dan Quinn's defense together, this time by re-signing safety Donovan Wilson to a three-year deal.
There aren't many downhill, thumping safeties left in the NFL. That breed of player has died out as the game has been made safer. However, those who can pack a wallop and still survive in the back half still have a place. That's where Donovan Wilson lands.
Wilson is a commanding presence against the run and a versatile coverage player, although he's certainly at his best when working downhill. Dan Quinn has also used him sparingly, yet effectively, as a blitzer since coming to Dallas.
57. Connor McGovern, C, New York Jets
When Connor McGovern and Connor McGovern are both free agents, it should be every team's dream to line them up beside one another the next season. However, the Jets' version of McGovern is far more intriguing at center than the other is as a guard.
Since arriving in New York via Denver, the Jets center has been a consistent run-blocker and a serviceable pass protector. But what's been even more impressive has been his reliability. McGovern has played 5,122 snaps over the past five seasons, a testament to his ability to remain healthy enough to take the field.
With the uncertainty surrounding the QB position in New York, having a veteran presence in the middle is important for Nathaniel Hackett's offense.
58. Leighton Vander Esch, LB, Dallas Cowboys
Update 3/14: Leighton Vander Esch is remaining in Big D, agreeing to a two-year, $11 million contract to remain with the Cowboys.
Leighton Vander Esch is coming off his best season since his incredible rookie campaign in 2018. He looked like a natural in coverage as the one who bore most of the responsibility in the middle of Quinn's defense, and he made more plays against the run than he had in ages. But he lands at No. 59 for an important reason — health.
Vander Esch's neck issues have been discussed since he was a draft prospect. And despite playing five years in the NFL to date, he missed some significant time in 2019 because of his neck and time in 2022 with a stinger. Some teams likely won't take a chance on him based on their pre-draft process.
But others may see a 250-pound linebacker with enough straight-line speed to run the pole in Tampa 2 and enough of a physical presence to play either the MIKE or WILL roles in the middle of a defense.
59. Byron Murphy, CB, Arizona Cardinals
Update 3/14: The Minnesota Vikings and Byron Murphy are finalizing a two-year contract, per Ian Rapoport.
Byron Murphy is another of the very few bright spots on the Arizona defense that will be testing free agency this offseason. Murphy won't be a good fit for man-heavy attacks like the New York Giants, Lions, or Steelers. But Murphy is a fantastic zone defender, which will fit a few teams very well in 2023.
He'll also be just 25 next year. He will probably never be the No. 1 CB type some hyped him up to be early in the season, but he can be an outstanding complement to a legitimate top coverage player.
60. Kelvin Beachum, OT, Arizona Cardinals
It's not often we see a seventh-round pick carve out the kind of career Beachum has produced as a pro. He's played in at least 800 snaps every season since 2016, and the 33-year-old doesn't show any slowing down on the right side.
He's an unbelievable option for any team looking to add an inexpensive option on the right side. Considering how inexpensive his previous contract was, it's unlikely that he'll cost any more than $3 million on a one or two-year deal.
61. Dalton Risner, G, Denver Broncos
The Denver Broncos had a tragic season on offense, but Dalton Risner was one of their few offensive linemen to 1) remain healthy, and 2) play some consistent football. He wasn't the same player we'd seen him be previously, but Risner's surrounding crumbled around him.
The former second-round pick could command some decent coin this offseason. The guard class in free agency leaves quite a lot to be desired, and Risner has remained almost entirely able-bodied over his first four NFL seasons.
He's a bit of a mauler in the run game, which means going to anything but a gap scheme is a bad idea for him and the team employing him. Additionally, while he's strong in a phone booth, he can sometimes struggle against explosive and flexible interior rushers because he's a bit of a mauler in pass protection.
62. Justin Houston, EDGE, Baltimore Ravens
There may be no better value in the NFL than the very veteran pass rusher who is still productive. Houston won't sign any more incredibly lucrative deals in his career, but he can still produce at a very high level in spurts.
He exploded onto the scene in 2022 with nine sacks in his first seven games. He wasn't blowing the stat sheet away with a ton of pressures, but when he was getting pressure, he was absolutely annihilating quarterbacks.
Houston can still bring the heat on a short-term deal as a rotational piece. He's also a solid run defender who can play in the rotation as needed.
63. Rock Ya-Sin, CB, Las Vegas Raiders
Besides having the best name in football, Rock Ya-Sin was one of the few bright spots on the Las Vegas defense when he was healthy.
The 26-year-old still needs to improve his zone-coverage prowess, but there isn't another cornerback on the free agent market who can step up and play press man the way Ya-Sin will. He's also a physical presence against the run and would be a welcomed addition as a high-end No. 2 CB on the outside to complement a great outside cornerback.
Ya-Sin is a bully, and you won't find many modern cornerbacks who play with the type of physicality he brings to the position.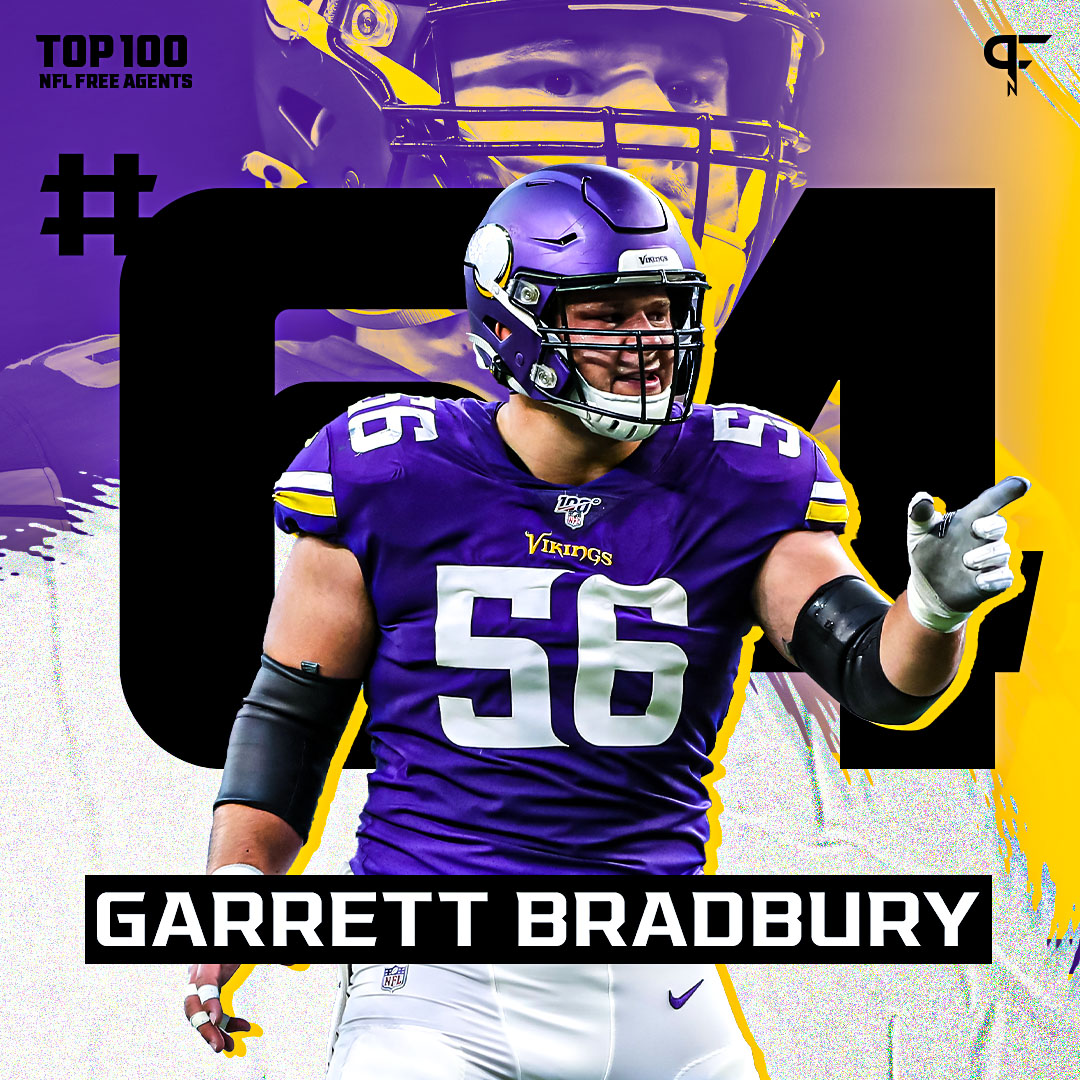 64. Garrett Bradbury, C, Minnesota Vikings
Update 3/14: The Vikings reworked Kirk Cousins' contract to free up some additional cap space. Then, they re-signed former 2019 first-round pick Garrett Bradbury.
For wide zone, play-action teams, Garrett Bradbury may be some team's top priority in the 2023 free agency cycle. The former first-round pick is a smooth operator on his feet, but he has struggled mightily with powerful interior rushers at the NFL level.
Bradbury struggles to anchor against strong interior rushers and, even in the zone run game, can be bullied too often at the point of attack. Bradbury's other issue is that he struggled to stay healthy in 2021 and 2022, missing four games last season and five this season.
65. Bradley Bozeman, iOL, Carolina Panthers
Update 3/13: The Carolina Panthers made sure to keep their offensive line together by re-signing Bradley Bozeman. The deal is reportedly worth three years and $18 million.
Bradley Bozeman didn't play for the first six weeks of the season, but when he joined the starting lineup in Week 7, not much had changed from his time in Baltimore. He's still a rock in the center of the offense in pass protection. There are few 330-pound centers out there, and Bozeman also has the versatility of being a professional guard in his tool belt.
In a class with a few good centers and fewer good guards, maybe a team would consider Bozeman as a guard instead. However, he's found a home in the center of downhill, gap-scheme rushing attacks. Given the chance, he will absolutely maul defensive linemen and devastate linebackers at the second level.
66. Marcus Peters, CB, Baltimore Ravens
Marcus Peters is still a No. 2 cornerback in the NFL, but it will have to come in the right situation. Peters is an aggressive, ball-hawking cornerback who often gets a bit too far over his skis in zone coverage. Despite suffering a torn ACL in 2021, the veteran CB is still an outstanding fit for man-heavy defenses, where the pass rush forces quarterbacks into mental mistakes that Peters can take advantage of playing soft man coverage.
Peters will probably be a mercenary moving forward, taking short-term deals on contending teams who are looking for a good No. 2 option at CB. He won't offer much of anything as a run defender, and you'll sometimes have your face in your palms as a receiver runs a double-move by him. But the few times he gets got won't matter if he nabs a few interceptions.
67. Hayden Hurst, TE, Cincinnati Bengals
Update 3/15: Hayden Hurst is expected to sign a contract with the Carolina Panthers.
Hayden Hurst won't break the bank in free agency, but he is a very reliable option at tight end, which is all most teams are looking for at the position. Hurst has some of the steadiest hands in the entire league, and he is a serviceable run-blocker.
The 29-year-old could probably return as the starter in Cincinnati next season, where he could try and remain healthy and have a career year alongside some of the best weapons in the NFL. But Hurst also brings a fantastic presence off the field as an advocate for men's mental health.
68. Kyzir White, LB, Philadelphia Eagles
Update 3/14: Kyzir White followed Jonathan Gannon to the desert, agreeing to a deal with the Arizona Cardinals.
Kyzir White and Drue Tranquill remain connected, even after White moved on from the Chargers after 2021. Both are undersized linebackers with safety experience at the college level that took significant time to develop at the NFL level.
White has really evolved against the run over the past two seasons. He didn't match Tranquill's production in 2022, but White has started for two full seasons now at a good level and is a better run defender, so he got the nod in the rankings.
69. Drue Tranquill, LB, Los Angeles Chargers
Update 3/18: Drue Tranquill has a new home in a familiar division. He's heading to Kansas City on a one-year, $5 million deal.
Tranquill racked up the tackles in 2022, but tackles alone are a poor indicator of a player's abilities defending the run. Only Cody Barton and Quay Walker average a deeper tackle depth than Tranquill in 2022 among those with 50 tackles. He still needs to play with a more physical presence, but he offers a ton of upside elsewhere.
In fact, he's one of the few linebackers whose previous years at safety have actually appeared to help his transition to linebacker as a coverage player. And although it was a small sample size, Tranquill sacked opposing QBs five times on fewer than 70 rushes this season.
70. Mecole Hardman, WR, Kansas City Chiefs
Whereas many of the players hitting free agency for the first time from the 2019 NFL Draft class had career years in 2022, Mecole Hardman had his least-productive season. His injury-riddled year came at a bad time, considering the Chiefs had traded Tyreek Hill in the offseason.
Andy Reid has used Hardman in his own unique way over the years, but with a curious lack of handoffs, considering how good Hardman can be with the ball in his hands. The 5-foot-10 receiver may be in for a different usage if he moves cities.
While Hardman missed significant time in 2022, he had been healthy in previous seasons, and his abdominal injury this season isn't amongst the traditional worrying injuries. Hardman could be used as a manufactured touch player and speed decoy at his next stop. The athlete has value, but he is not necessarily fit to be the second option for an NFL team.
71. Melvin Ingram, EDGE, Miami Dolphins
Melvin Ingram joins a cornucopia of productive pass rushers pushing their mid-thirties in his free agency class. The former first-round pick over a decade ago took time to blossom in the NFL, but he's been a consistently productive pass rusher for a long time.
Ingram won't be much more than a rotational pass rusher at this point, given his advanced age, but he has proven productive heading into his age 34 season. There isn't a whole lot he can't do as a pass rusher. He can win through defenders and work his way around them with good lateral mobility and accurate hands. He also still pulls out a devastating spin move from time to time that he sets up well.
72. Poona Ford, DT, Seattle Seahawks
The Seattle Seahawk continues his menacing presence into year six. It's been a treat to watch how his role within the Seattle defense has changed and how little it has mattered for his own production over that time.
After spending his first three seasons frequenting more as a nose tackle, Ford has vacated that premises for Al Woods and others. And while the stocky Longhorn might be best fit as a two-gapping defender, he's proven scheme versatile as a B-gap defender as well.
Ford was incredibly the Seahawks' highest-earning player in 2022. While he wasn't as statistically productive this season, a team will undoubtedly enjoy the versatility he's shown on tape.
73. Devin McCourty, S, New England Patriots
Update 3/10: Devin McCourty announced his retirement from football after 13 seasons.
Devin McCourty is good on television, especially for someone without any real experience. While CBS has added him as a guest a few times, and he's been on NFL Network a few times now, he hasn't announced anything regarding a possible retirement yet.
The Patriots' safety has spent his entire 13-year career in New England, and he's not done playing at a high-enough level to contribute yet. Even in a ridiculously talented three-safety rotation with Adrian Phillips and Kyle Dugger, McCourty's coverage ability made it impossible for Bill Belichick to take him off the field.
It would be a travesty to see McCourty in anything but blue and red.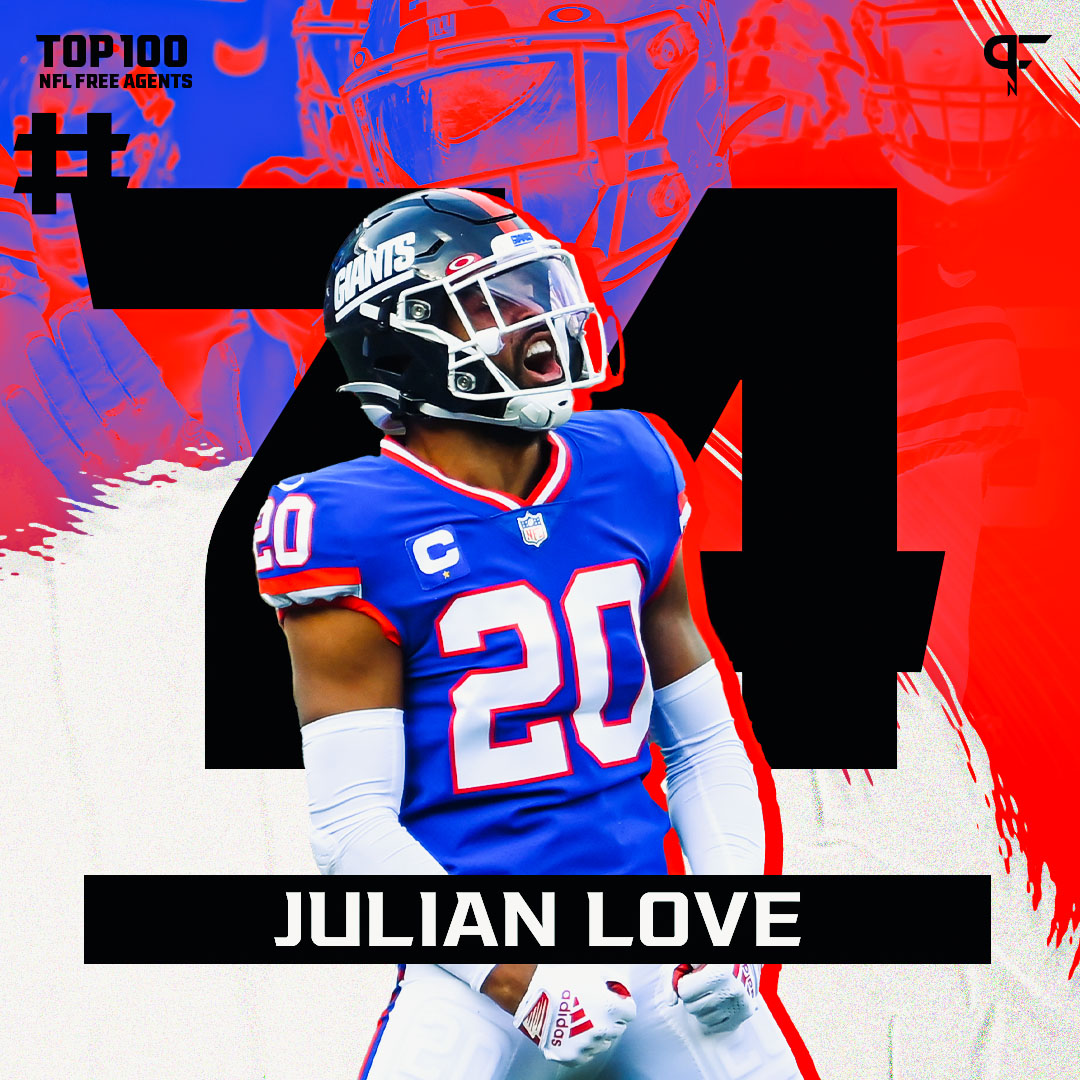 74. Julian Love, S, New York Giants
Update 3/18: The Seattle Seahawks have a treasure chest of safeties, adding Julian Love to their collection on a two-year, $12 million deal.
The New York Giants safety is a position switch from his time playing cornerback at Notre Dame. He's grown as a safety at the NFL level, and his past life has shown as he comes down into the slot effectively.
Love could be a low-cost option to play multiple roles within a defense, or teams could simply line him up in the slot or as a deep third safety. However, his downhill run-defending ability also makes him a fit for teams who want to live in two-high pre-snap while tasking their safeties with defending the alley in the run game.
Love is a great tackler; he'll be just 25 for the 2023 season. While he hasn't shown consistent production during his time in the league, Love appears to be an ascending player.
75. Parris Campbell, WR, Indianapolis Colts
Update 3/18: The New York Giants added Parris Campbell to their roster with a one-year, $4.7 million contract.
Every year we're caught waiting on the Parris Campbell breakout season, and every season we've been left wanting. The problem is that size and speed are addictive, and Campbell has both. But he also has plenty of injury history to worry about.
Campbell has suffered many of the more worrying soft-tissue and lower-body injuries we've associated with the injury-riddled players in the league. He played in only 15 games from 2019-2021, but finally played 16 of 17 in 2022.
Whoever pays for the Campbell lottery ticket will get someone with outstanding straight-line speed, which we've seen from players like Christian Watson can be enough on their own.
76. Jamaal Williams, RB, Detroit Lions
Update 3/15: One of the top RBs available in free agency, Jamaal Williams, has found a new home in New Orleans. Williams is one of many new offensive weapons for the team, the biggest being QB Derek Carr.
Jamaal Williams might be the coolest nerd in the NFL. We've become accustomed to seeing characters in the NFL, but Williams is among the league's best characters. And in 2022, the 27-year-old had the best year of his career while making history for the Lions franchise with 17 touchdown runs.
His touchdown dance is the famous Hingle McCringleberry hip thrust. He is an anime nerd, and he even corrected a reporter's pronunciation of Pokemon. His post-game interview with NBC on Jan. 9 should win an Emmy. And Hard Knocks showed us he's a top-tier smack talker.
Now, the angry runner has the production to back the personality, and any team bringing Williams in will be happy with the player they receive.
77. Linval Joseph, DT, Philadelphia Eagles
The 34-year-old was called off the couch in Week 11 and instantly made his mark on the Eagles' defense. Injuries ravished Philadelphia's devastating front line, and Joseph stepped into the A gap like the brick wall he is.
At his advanced age, he won't be able to consistently give more than 20-30 snaps in a game effectively. However, when he stays fresh, Pro Bowler still has a lot of juice left in him.
78. David Montgomery, RB, Chicago Bears
Update 3/14: Montgomery has agreed to a three-year deal with the Detroit Lions.
The Bears RB has been nothing if not consistent throughout his four NFL seasons. He's never had under 800 rushing yards, and he's never had more than 1,070 in a season. David Montgomery has also been a consistent pass catcher at the NFL level, and that ability was all over the Iowa State Cyclone's college tape.
Montgomery isn't overly explosive, powerful, or shifty. He's a thick runner who takes what he gets and won't really get but an inch or two more. He's a good football player, but he's not a difference-maker at the position. But as a serviceable runner, reliable receiver, and good pass protector, he will continue being a starter on rosters without a high-end option at the position.
79. Larry Ogunjobi, DT, Pittsburgh Steelers
Update 3/19: Larry Ogunjobi won't need to set up a moving service. He's remaining in the Three Rivers region on a three-year, $28.8 million deal.
Larry Ogunjobi is misused. He's an elite athlete for the position who struggles with a consistent pass-rush plan, hand usage, and anchor against the run. Whoever employs Ogunjobi going forward in the manner teams are using the likes of Ingram, Houston, and Quinn.
Ogunjobi's first step is still among the best in the NFL, which is why he's been able to rack up the pressures even when his sack numbers haven't followed. In fact, the Bengals missed Ogunjobi's ability to create havoc on the defensive interior. After missing out on a lucrative deal because of a failed physical, the defensive tackle has probably missed out on a big payday but could be useful as an assassin on the defensive line.
80. Samson Ebukam, EDGE, San Francisco 49ers
Update 3/17: Three years, $24 million was the market for Samson Ebukam, who got that deal from the Indianapolis Colts.
Samson Ebukam has flourished since moving from Los Angeles to San Francisco in 2021. His 95 pressures over the past two seasons are more than the first four years of his career combined, and he's always produced respectably in the sack department.
The 245-pound edge rusher certainly flashes against the run, but he isn't built to dominate a gap or consistently set a firm edge, given his size. But as a backside defender, he can dart to the ball on weakside zone runs, and his athleticism helps him splash against the option game as well.
81. Vonn Bell, S, Cincinnati Bengals
Update 3/13: Vonn Bell is signing with the Carolina Panthers, NFL Media reports.
When Chidobe Awuzie went down with a serious injury ending his season, many thought the Bengals' secondary would struggle to maintain the level of play we'd grown accustomed to seeing from them. That was untrue, because good safety play can really hide the flaws in a defenses cornerback unit.
Cam Taylor-Britt being very good helped quell concerns as well, but Bell is a good run defender and is competent in any of the many coverages Lou Aranrumo's defense deploys. Bell likely won't be too expensive, considering he is more of a box safety at heart.
With Dax Hill waiting in the wings, it's unlikely we see Cincinnati pay Bell and Bates. Hill is also a versatile defender with pop in his pads and the ability to play in the slot or in the back end, and the team used a first-round pick on him in 2022.
82. Andrew Wylie, OT, Kansas City Chiefs
Update 3/13: Andrew Wylie is following Eric Bieniemy to the nation's capital. Wylie is signing a contract with the Washington Commanders, per multiple reports.
Andrew Wylie remains one of the more underrated players around the league because he takes the brunt of the abuse thrown the Chiefs' way on offense. The 28-year-old didn't have a great season in 2022, but blocking for Patrick Mahomes isn't always the easiest thing in the world to do, given his inconsistent drop depths.
The right tackle won't ever be one of the better blockers in the game, but in a league full over extortionately-priced offensive tackles, Wylie is a younger option that can be around on a long-term deal for less money who can start on the right side or play either guard spot.
83. Kareem Jackson, S, Denver Broncos
Kareem Jackson is still talented enough to play a role in the Broncos' outstanding defense, but it might be time to move on from him being an every-down player. With Justin Simmons and Kaden Sterns in the building, Jackson should be playing a more rotational role at this point in his career.
Still, he could still start in a few spots around the league. He's an intelligent coverage defender who works particularly well in two-high coverages, coming downhill making plays against the run from depth, and playing a multitude of zone coverages.
84. George Fant, OT, New York Jets
George Fant had given the Jets a lot of really strong snaps over the past few seasons, but he struggled mightily in 2022, particularly as a pass protector. He also missed Weeks 4-12 with an injury, which significantly slashed his overall snaps for the season compared to previous seasons.
Fant was great in 2021, and there's no reason to believe the 30-year-old won't produce at a good rate again in 2022. Flipping between left and right tackle during the season certainly doesn't help with consistency.
Fant could start on a few teams around the league, or he could be one of the better swing tackles across the league.
85. Brandon Graham, EDGE, Philadelphia Eagles
Graham is a savvy veteran who won't play a majority of defensive snaps anymore but can still be a difference-maker on obvious passing downs. Among all edge rushers with at least 25 pressures, Graham produced a pressure rate of 15.5%, which was good for 14th in the league.
Playing around a bunch of world-beating pass rushers certainly helped Graham get more isolated situations, but the old pass rusher plays with violent hands and a fantastic rush plan, which allows him to win through and around offensive tackles without having mind-numbing bend or explosiveness. What's even more incredible is that he was able to do this after rupturing his Achilles a season ago.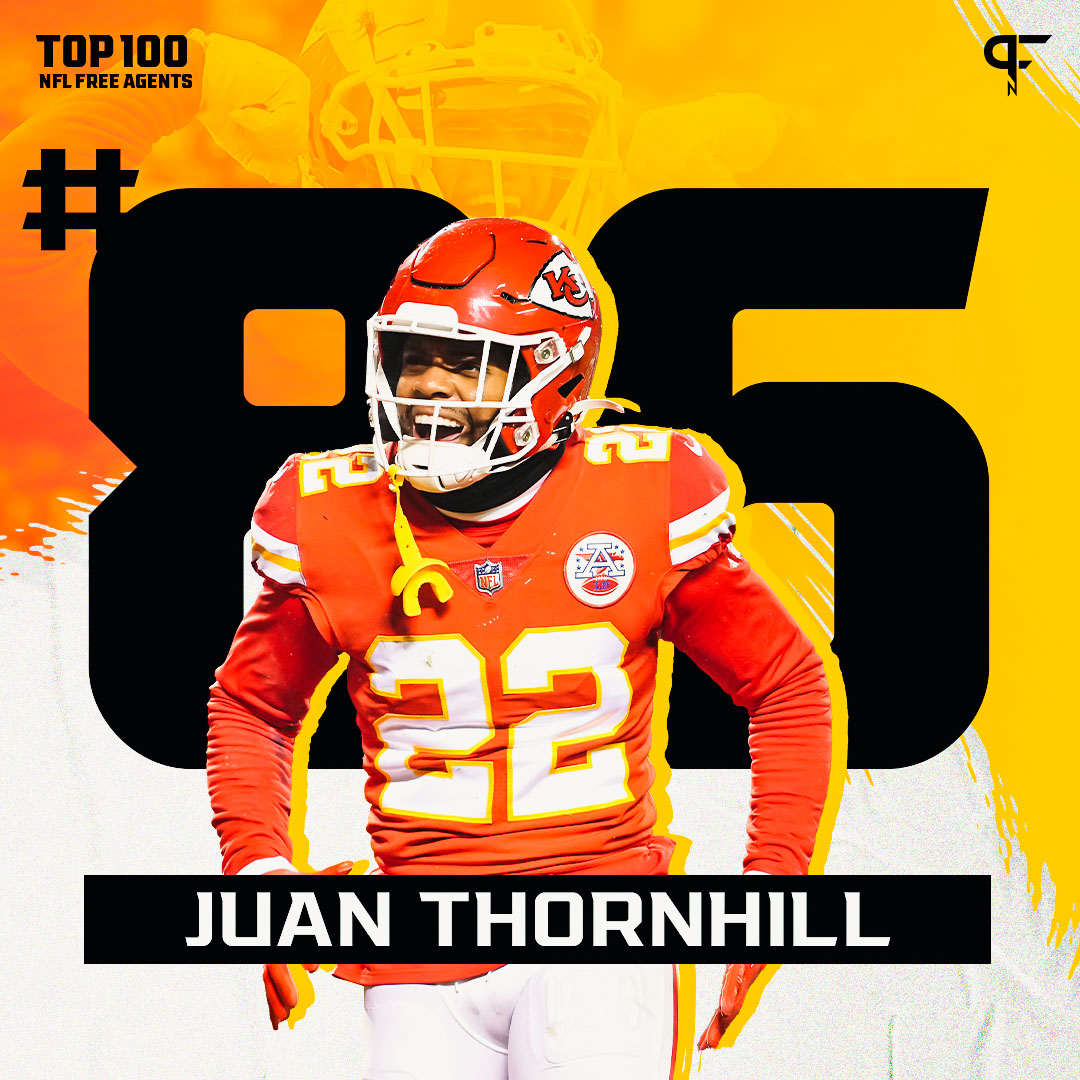 86. Juan Thornhill, S, Kansas City Chiefs
Update 3/15: Juan Thornhill goes from winning a Super Bowl with the Kansas City Chiefs to playing for the Cleveland Browns. The Browns defense played well last season and has now added another weapon.
Juan Thornhill has been a mainstay on the back end of Kansas City's defense since they drafted the Virginia safety in the second round back in 2019. Thornhill hasn't played consistently enough to live up to the expectations some draft experts had for him, but he's been a solid contributor on an inconsistent defense.
Like the Chiefs' defense tends to do, Thornhill seems to lock things in as the season progresses, playing better when it matters most. He's an intuitive coverage player and heady run-defender who has great upside if he'd be a more consistent finisher.
The intuition and aggressiveness in coverage can work against him at times, but Thornhill can play forwards or backward in Steve Spagnuolo's complex defense.
87. Rashaad Penny, RB, Seattle Seahawks
Update 3/14: One of the first running back dominoes finally fell when Rashaad Penny signed with the Philadelphia Eagles on a one-year prove-it deal.
Rashaad Penny broke out at the end of 2021 and then, unfortunately, broke his lower leg in 2022, ending his season in Week 5. The fifth-year back was coming off a monster game in which he'd rushed for 151 yards and two touchdowns.
The Seahawks' rushing attack had a lot of boom-or-bust to it. Kenneth Walker is further proof of that. Penny has big-play ability, and pairing him with Walker as a 1-2 punch wouldn't be the worst idea. Penny signed for under $6 million last season, and his injury and the current free agent market won't help his value any.
88. Allen Lazard, WR, Green Bay Packers
Update 3/14: A sign of things to come? Wide receiver Allen Lazard has agreed to sign with the New York Jets on a four-year, $44 million deal with $22 million guaranteed. Is Aaron Rodgers next?
Allen Lazard isn't a bad football player. In fact, he's actually a pretty good football player when one considers the totality of his game. He's simply boring. Lazard's game is uninspiring as a receiver. Outside the true sickos who faint at the sight of a receiver blocking at a high level, Lazard is easily forgotten.
But he is effective. Lazard is practically a tight end, given his size and (lack of) speed. But he has the type of strong frame the Packers have always loved in their receivers, and he offers legitimate help downfield on outside runs. He also set career highs in targets, receptions, and yards by a wide margin in 2022 in the absence of Davante Adams.
89. Shy Tuttle, DT, New Orleans Saints
Update 3/13: The Carolina Panthers are adding Shy Tuttle on a three-year contract worth a reported $19.5 million, with $13 million guaranteed.
In a league that covets splash plays in the backfield, Shy Tuttle bucks that trend. The 300-pound defensive tackle has never been a pass-rush threat. In fact, he went two straight seasons without sacking the quarterback.
But in a league running short on natural-run defenders, Tuttle should consistently be on the field on early downs and short-yardage situations. And because he offers close to nothing as a pass rusher, he's about as inexpensive as good football players come these days.
At just 27, a team that runs a front similar to Dennis Allen could have contractual control of a great run defender for three-plus seasons at or near the veteran minimum.
90. Nate Davis, G, Tennessee Titans
Update 3/13: Davis was yet another item on the Bears' expansive shopping list. Chicago locked down the talented IOL with a three-year deal.
The Tennessee Titans struggled to protect the passer in 2022, but Davis was one of the lone bright spots on the OL. Like many players on the top list of free agents, the 2019 draft class member had a career year after floundering for the first three-quarters of his NFL career.
Davis was a truly abysmal pass protector in the past but was able to remain on the field because he is one of the better run blockers at the position, which is arguably more important in Tennessee than anywhere else. But he improved technically in 2022.
The problem is he injured his foot early in the year and finished the season on IR with an ankle injury. But in an uninspiring guard class, the 26-year-old may have a solid market this offseason.
91. Jerick McKinnon, RB, Kansas City Chiefs
Jerick McKinnon has always been around as a receiving back, but his production exploded in Andy Reid's offense, as good receiving backs tend to do. He scored eight receiving touchdowns in the final six games while becoming one of the Chiefs' most prominent receiving weapons, as many in their receiving corps were injured.
McKinnon received one more target than rushing attempt during the regular season. McKinnon's usage throughout the years has kept his wear down, and that has made it so he's kept much of the athleticism he entered the league with. He's compact and quick on his feet, making defenders whiff on tackle attempts with relative consistency.
92. Dawuane Smoot, EDGE, Jacksonville Jaguars
Dawuane Smoot was arguably the Jacksonville Jaguars' best pass rusher in 2022. That isn't necessarily a good thing, considering he only finished with five sacks all season. He should be much higher on this list, but the Jaguars' pass rusher tore his Achilles tendon in Week 16. That means he probably won't see the field in 2023, and it's unlikely he is the same athlete whenever he does come back.
However, Smoot has a solid pass-rush plan, and he can still use his hands, which he will undoubtedly be working on in his spare time as he rehabs from his serious lower-body injury. He'll still be under 30 when he returns to the field and should have no problem securing a multi-year deal as a rotational piece somewhere ahead of 2024.
93. Devin Singletary, RB, Buffalo Bills
Even in a loaded running back market, Devin Singletary is a good option for teams looking to bring in a second back for a heavy rotation. Singletary is a strong receiver and an underrated pass protector, making him an option to see the field on all three downs.
He won't ever be one to consistently break huge runs. He doesn't have the long speed to threaten angles outside the tackles, but he has shown he can be a consistent runner between the tackles. The biggest issue for Singletary has been ball security. The runner averages a fumble nearly every 50 carries, which is bad enough to make folks hold their breath whenever he touches the ball.
Still, the compact runner should provide a low-cost option for teams looking to improve their rotation.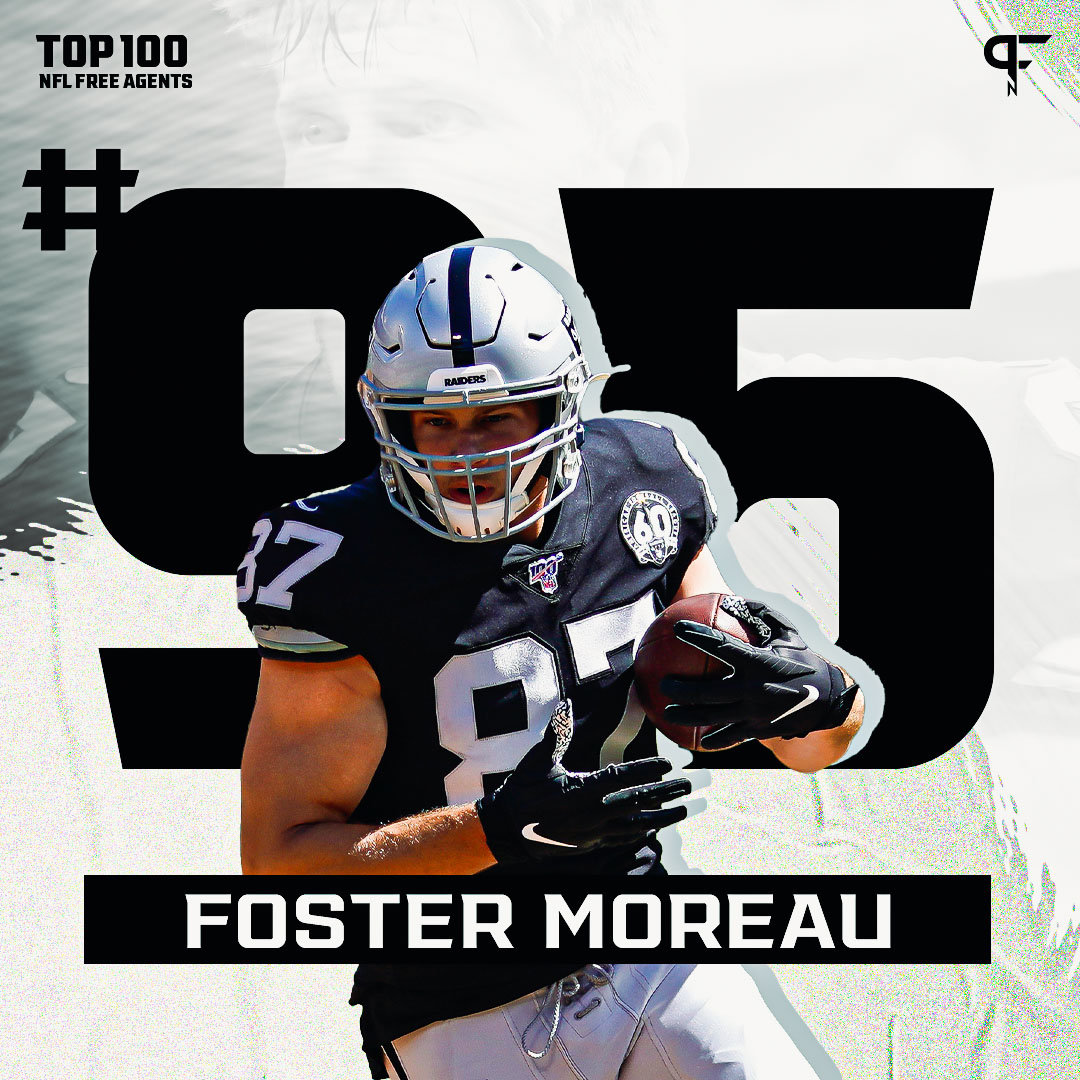 94. Foster Moreau, TE, Las Vegas Raiders
Foster Moreau is another good low-cost option for teams that use a lot of two-tight end sets. Moreau is a good pass protector, and he isn't a bad run blocker, although nobody will mistake him for Rob Gronkowski.
The Raiders tight end could be a fit in a lot of different spots around the league as a low-end starter or high-end backup. He doesn't have the athleticism to consistently separate, but he is a physical receiving presence that can find holes in the middle of zones. Pairing that with his pass-blocking prowess, wide zone teams that utilize play action often would be good fits for him.
95. Kyle Van Noy, EDGE, Los Angeles Chargers
After being passed around by the Miami Dolphins and New England Patriots, Kyle Van Noy landed in Los Angeles, where he was able to have his most productive season since 2019. Van Noy was a welcome signing for a Chargers defense that was awful against the run in 2021.
His versatility allowed Brandon Staley the freedom to use him as a pass rusher or coverage player underneath. He won't make the same difference as some of the other veteran pass rushers looking for short-term deals, but he will be the best scheme fit in a few different spots, and his ability to defend the run means he isn't stuck simply stepping on the field on third and longs.
96. Marvin Jones, WR, Jacksonville Jaguars
It was unfair of the Jacksonville Jaguars to force Marvin Jones into a No. 1 WR role in 2021. While he produced over 800 yards as their top receiving target, the 32-year-old receiver is better off being a third or fourth option within an offense at this point in his career.
He struggled with drops in 2022, but he's been relatively steady-handed throughout the entirety of his career. The former fifth-round pick could slide into a No. 3 WR role on many rosters in the league, and his ability to play on the outside will allow for talented receivers on the roster to be used more in the slot.
97. Tashaun Gipson, S, San Francisco 49ers
Update 3/12: Tashaun Gipson found an acceptable before free agency even got started. He signed one-year deal with the 49ers three days before the start of the NFL year.
Tashaun Gipson is a great option for teams that want a downhill, heat-seeking missile at safety. The veteran safety is best fit as one of the safeties in a two-high heavy defense that runs a lot of Cover 3 buzz, allowing him to either play the deep third in the middle of the field or fly downhill as part of the run fit and a rat in the hole in coverage.
In other words, DeMeco Ryans' system was absolutely perfect for Gipson, and we're likely to see Jalen Pitre take off in a similar manner next season in Houston.
98. Duron Harmon, S, Las Vegas Raiders
Duron Harmon has been on four different teams over the past four seasons. Any team looking for someone who can survive on the back end in coverage at an inexpensive rate should take a peek at Harmon.
He isn't the type of sideline-to-sideline safety that can often make Cover 1 a viable coverage, but he is a heady player on the back end for zone-heavy teams. He's also incredibly reliable. He's played in 16 or more games in nine of his 10 seasons, with the only missed game of his career coming in his first week as a professional, where he missed the game with a hamstring injury.
99. Matt Ioannidis, DT, Carolina Panthers
Matt Ioannidis has struggled to produce consistent sack numbers for a few seasons now, but when he's on the field, he's been a consistent pressure point on the interior of the Washington and Carolina defensive fronts.
Ioannidis has always struggled to stay on the field consistently because of injury, but his explosiveness, pass-rush plan, and accurate hands make him a menace on the interior.
100. Damien Harris, RB, New England Patriots
Damien Harris went from having nearly a 1,000-yard rushing season to playing in just 11 games and rushing for only 562 yards.
Rhamondre Stevenson had already starting gaining starting favor because of his receiving chops, but a hamstring injury derailed Harris's season in January.
Harris isn't particularly explosive, but he's  a capable back with great vision, and can be a good second option for teams using a heavier rotation.