The New York Giants at the San Francisco 49ers on Thursday Night Football might not be the matchup we thought we were getting before the season commenced. The 49ers are a double-digit favorite at home against the Giants, who are coming off just escaping Arizona with a win after an embarrassing beating versus Dallas in Week 1.
What Are the Top Storylines To Watch Tonight?
No Saquon Barkley in the lineup makes an already questionable offensive attack even less appealing. The 49ers have been great so far, but the offensive line has not made things easy on their young QB. Is this the week Kayvon Thibodeaux drops his invisibility cloak?
Where in the World Is Kayvon Thibodeaux?
Giants fans on social media are NOT happy with Thibodeaux's performance through two games this season. Honestly, it's hard to blame them.
No matter where one looks from a defensive metrics perspective, Thibodeaux has been missing in action. But numbers alone lack important context.
Pass rushing is an art, and teams that run a lot of play-action force rushers to buy new canvas and supplies after they already started their newest project. The Cowboys used it on 41% of Dak Prescott's dropbacks. Joshua Dobbs and the Cardinals used it on 34% of their dropbacks.
Then, there is how quickly QBs get rid of the ball. Dobbs averaged 2.73 seconds in Week 2, and Prescott was at an astonishing 2.11 in Week 1. In other words, nobody had a chance to get home consistently against the Cardinals or Cowboys.
Add in a secondary starting not one but two rookies on the outside, and you're asking your defensive front to perform miracles, especially given how aggressive Wink Martindale is. Which leads up to the next point.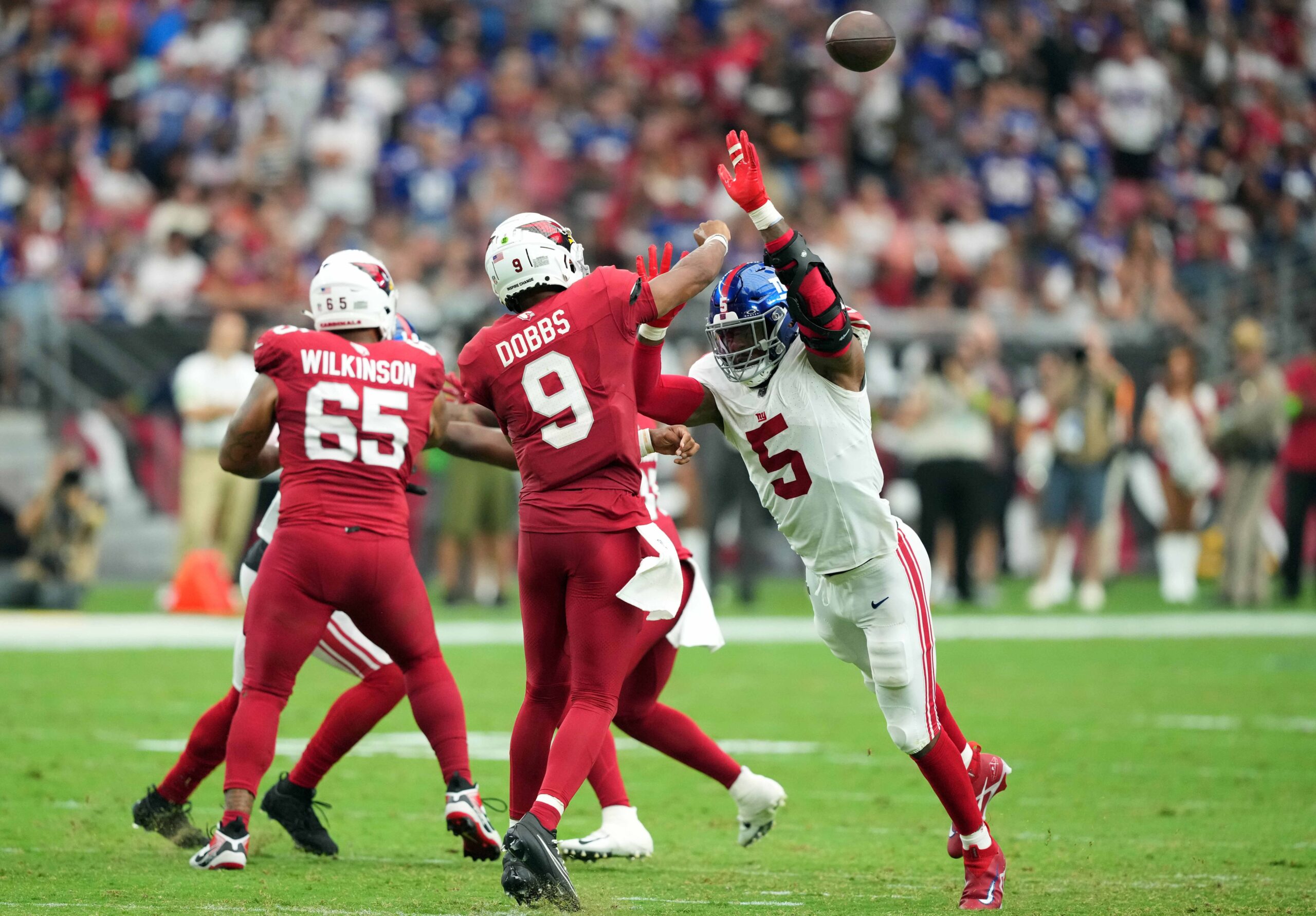 This isn't your average four-down, drop-seven defense. Thibodeaux isn't pinning his ears back the way Nick Bosa, T.J. Watt, and Myles Garrett are. And it doesn't help that Azeez Ojulari is missing on the opposite side.
Do the elites overcome all of these situational factors? Usually to a degree. It's fine to be disappointed in the young pass rusher, but he's far from a bust through two weeks of his second NFL season.
Now Evan Neal…
What Makes Brock Purdy Different (And Better) Than Jimmy Garoppolo?
It might not be long before Brock Purdy legitimately establishes himself as a top-10 QB in the NFL. The narrative will likely lag behind nationally because of his… irrelevant… draft status. But Purdy's play on the field is demanding respect, even independently of the phenomenal situation he was thrust into.
Despite Jimmy Garoppolo's success in San Francisco, very few people ever regarded him as a top-10 passer in the league. His EPA+CPOE composite during that time (.129) matches Aaron Rodgers, a man who won two MVPs in that time. His success rate (50.9) is higher than Rodgers' (49.3), but not a single sane human would compare the two.
What makes Purdy different?
He doesn't have a very big arm. The Iowa State passer was never a dangerous rushing threat. At 6'1″ and 220 pounds, he's not a prototypically sized QB. So, what makes his success more independent than Garoppolo?
Nobody cares about singles. And Garoppolo, for all of his efficiency, was a singles-only hitter.
Purdy is the same sort of assassin over the middle that Garoppolo was. He's not as whip-smart yet, but that will come in time. And while Kyle Shanahan's system and the weapons at his disposal help him immensely, Purdy consistently makes plays outside of that offensive structure that Garoppolo can only daydream about.
Part of that comes down to passing the athletic threshold necessary to create, and the other part comes down to his innate ability to manipulate and manage pressure on his way to creating hallways to deliver passes.
MORE: Giants vs. 49ers Predictions, Picks, Odds Today
San Francisco's OL isn't doing him a ton of favors, but Purdy's lateral mobility, sturdy frame, and creativity allow him to seek creases to escape pressure and deliver into the intermediate levels of the field. He's able to attack the line as a runner, freezing linebackers and safeties enough to hit crossing patterns.
And while the middle-of-field mania gets all the attention, Purdy consistently tests downfield and along the boundaries as well, an area the offense avoided like the plague with Garoppolo.
An offense that was already outrageously efficient found a way to keep that efficiency while also becoming more explosive.
Can We Finally Get a Clean Prime-Time Game?
In Week 1, the Kansas City Chiefs' weapons let down Patrick Mahomes in the season opener. The Cowboys embarrassed the Giants on Sunday Night Football. Josh Allen played like Rodgers gave him Ayuascha before the Monday night showdown in New York.
Week 2 was even uglier. The Vikings played hot potato with the football against Philadelphia, whose offense hasn't looked right yet through two weeks. The Saints and Panthers game was an absolute snooze-fest, aside from a few insane catches from Chris Olave and Michael Thomas. The Browns and Steelers, meanwhile, did everything to lose the game.
Only the Dolphins and Patriots Sunday night matchup had any redeeming qualities. However, New England's offense is so uninspiring that even a game featuring Miami's offense felt dull at times.
A 10-point spread, no Barkley, and a struggling Giants OL do not bode well for NFL fans for Thursday Night Football tonight. Even if this game is close, it'll likely come down to traditional sloppiness rather than legitimate play from each team. The 49ers simply outclass New York in every area of the field aside from their OL vs. the Giants DL.