Week 2 of the NFL season is upon us, and the first "short week" crashes into the shores of Philadelphia, Pennsylvania. The Minnesota Vikings and Philadelphia Eagles clash in Thursday Night Football tonight on short notice like two fighters replacing the main card with only a few weeks to prepare. What are the top storylines to follow?
What Are the Top Storylines To Watch Tonight?
Short weeks often lead to sloppy football, but is it easier to get injured on Thursday nights compared to Sundays and Mondays?
Brian Flores hails from the Bill Belichick tree. Could his defense employ the same formula to slow down the Eagles' run game? And is Justin Jefferson okay?
Will Justin Jefferson's Likeness to Stefon Diggs Extend to a Trade?
Jefferson did not look happy late in the first half or at all during the second half of Minnesota's loss to the Tampa Bay Buccaneers. His truck stick on Christian Izien after a Kirk Cousins' red-zone interception looked cathartic, but it didn't put him in better spirits.
The best wide receiver in the NFL wants the ball. And in the first half, Jefferson was targeted 10 times on his way to 138 yards. In the second half, he managed only two targets and a lot of camera panning his way as he appeared livid at the situation he'd found himself in.
Jefferson has two more years remaining on his deal, so the need to rush a deal isn't there. But when a player so special comes asking for long-term security, teams are almost always better off getting a deal done early.
The price will only go up as others receive their extensions. It doesn't hurt Jefferson in the slightest to wait until his college teammate, Ja'Marr Chase, potentially gets his new deal this next offseason when he becomes eligible.
Although there's different management in town, we've seen this before in Minnesota. The Vikings traded Stefon Diggs to Buffalo ahead of the 2020 NFL Draft. That 22nd pick ended up being Jefferson. But we've also seen a purge of veteran contracts in Minnesota, and it's too early to tell what Kwesi Adofo-Mensah wants to do with this roster.
One would think that even in a fire-sale situation, Minnesota would want to keep Jefferson around as the cornerstone piece. The NFL moves quickly, and rebuilds don't have to take too long, even if you're down to the studs.
MORE: Why Justin Jefferson Should Become the NFL's First 'Real' $30 Million WR
But it's also important to monitor the in-game situation over the coming weeks and months. Will Jefferson's mood decline over that time if he's unable to keep pace with Tyreek Hill in Miami?
"I've done something that no one has ever done in the history of the game, so my situation is a little bit different than everyone else's," Jefferson said.
He undoubtedly wants to add a few more records to bring to contract negotiations in the spring. Will his frustration boil over if there's a game where the ball only comes his way seven times?
Can the Eagles' Run Game Get Going Against a Belichick Disciple?
Philadelphia's rushing attack was unbelievably efficient a season ago. They finished with a 0.072 rushing EPA and a 50.7% success rate on the ground. Both metrics were best in the league.
But against Belichick's Patriots, the Eagles only mustered a 27.3% success rate, and Jalen Hurts was mostly bottled up and forced into slides at the line of scrimmage.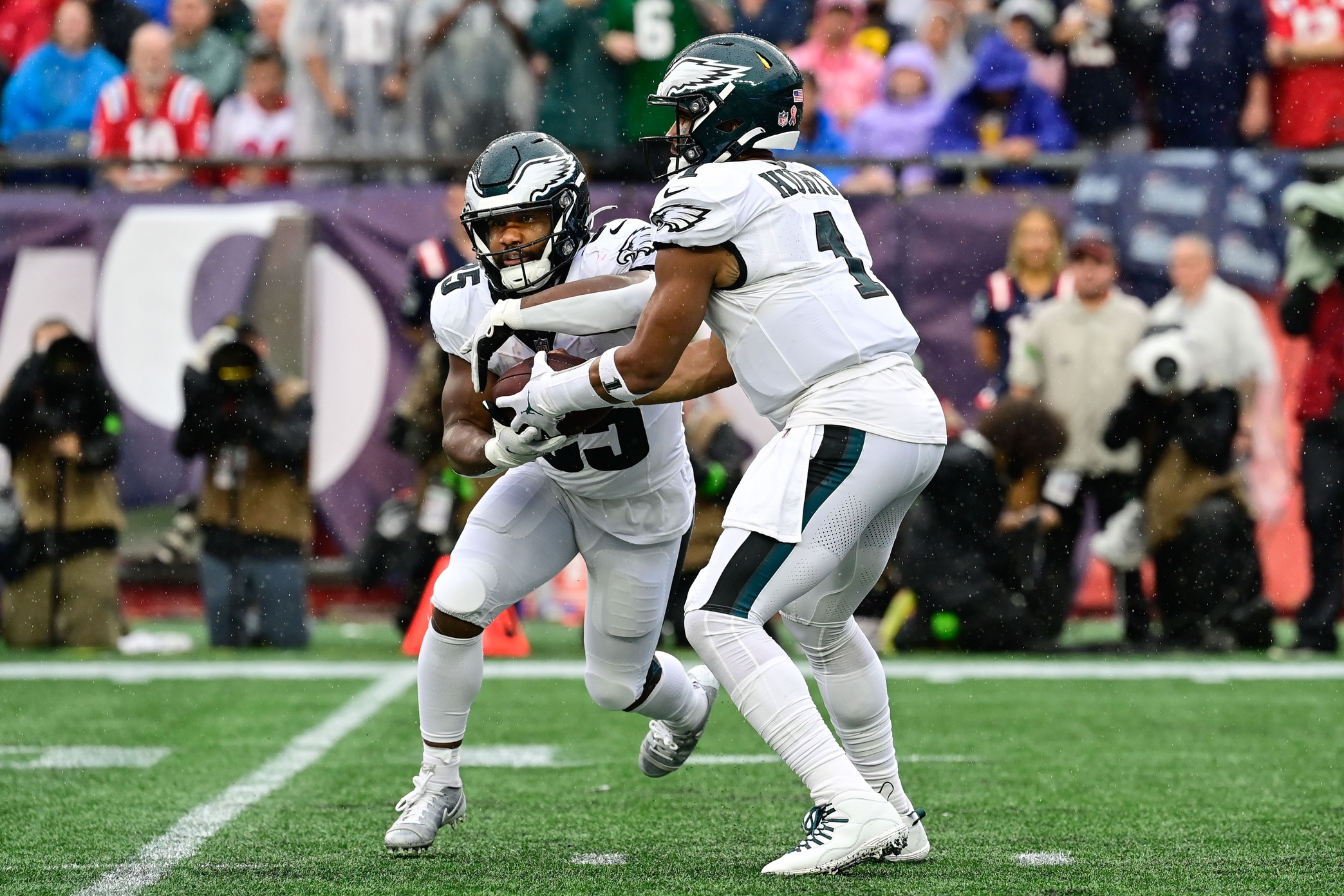 In 2022, there remained weeks where the passing attack seemed uninspired. Hurts' 170-yard performance on 33 attempts was lackluster, but we've seen the Eagles' passing game explosiveness come and go in waves. However, their run game kept them moving the chains last season.
If Philadelphia loses that consistency on the ground, the offense could be in for a legitimate regression in 2023. However, there aren't many defenses that share a similar philosophy to Flores, and to an extent, even Belichick. Few teams create rosters the way Belichick does, and few are as aggressive as Flores.
Are Short Weeks Dangerous, or Are They Just Bad Football?
No, and yes.
According to PMID: 30848976, a joint study conducted by The University of Illinois College of Medicine and Northwestern University, concluded that from 2012-2017, Thursday Night Football games were actually less likely to result in injury than Sunday or Monday.
We're not medical experts or experts in empirical studies, but it would be nice now, in the year 2023, to see the study expanded to double the sample. Even the most basic mind understands a bigger sample is always better. This is important because of the next point.
MORE: Pro Football Network's Week 2 NFL Power Rankings
Without significant injury concerns, Thursday Night Football is here to stay. But giving staffs and athletes just three days to prepare for an opponent and rest, respectively, provides us with some of the worst football in any given week.
Because it's a prime-time game, it's usually between contending teams. This will become more prevalent with the new TNF flex rules. It's a bad product that puts the consumer in a bad spot. But television is where the money is, and the money is all NFL ownership cares about at the end of the day.