With the walk across the stage and the donning of their team's hat and jersey, the newest crop of NFL players have officially started their journey to playing. And as they have done in years past, FOCO is offering a series of NFL Draft Bobbleheads to commemorate the moment.
FOCO to release 2022 NFL Draft Bobbleheads
The bobbleheads, which can be found here, retail for $57 dollars and depict each player in his draft day outfit. The player is also shown wearing his team's hat and holding his jersey. Whether you're a fan of the player's pro squad, a fellow alumnus from his school, or a collector looking to finish the set, there's a bobblehead for everyone.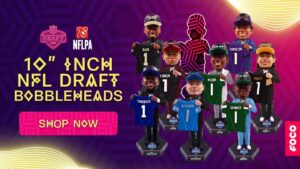 Among the bobbleheads being offered by FOCO for this year's draft are Aidan Hutchinson, Ahmad "Sauce" Gardner, and Chris Olave. All three players had stellar college careers en route to the draft in Las Vegas.
Standing at 6'7", Hutchinson is a terror to quarterbacks everywhere as a defensive end. He registered 156 total tackles (85 solo) and 17.5 during his career at Michigan. His most dominant season came in 2021, when he recorded 62 total tackles, 16.5 tackles for a loss, and 14 sacks. At the 2022 NFL Draft, Hutchinson was selected second overall by the Detroit Lions.
Playing as a cornerback on the same side of the ball, the 6'2" Gardner helped elevate Cincinnati to the College Football Playoff, becoming the first-ever non-Power Five school to make the tournament.
Gardner recorded 99 total tackles through three years of college, as well as 9 total interceptions, and didn't allow a touchdown in the final two years of his collegiate career. At the 2022 NFL Draft, Gardner was selected fourth overall by the New York Jets.
And in the receiving corps, Olave capped off a stellar career as a wide receiver at Ohio State. The 6'1" wideout recorded 175 career receptions for 2,702 yards and 35 touchdowns. His senior year was his most productive, with 65 catches for 936 yards and 13 touchdowns. At the 2022 NFL Draft, Olave was selected 11th overall by the New Orleans Saints.
And after much speculation of who would end up going No. 1 overall, the Jaguars took Travon Walker to the surprise of many. While he had an unquestionably great college career, it wasn't until the NFL Combine that Walker rose past many of his peers to be in the conversation as the potential first overall pick.
All four of these players and more will be available to purchase on FOCO's website as part of the draft series. And while you're there purchasing your 2022 NFL Draft bobblehead, check out the variety of other collectibles and merchandise available for all your favorite teams.