There's no getting around it. The Tua Tagovailoa second-half meltdown against Green Bay was no nightmare. Nightmares aren't real, even if they feel real enough to cause emotional and physical distress upon awakening. For Mike McDaniel and the Miami Dolphins' offense, they had hours to digest their Christmas Day loss before trying to fall asleep.
Tua fell apart late in the game, with three drives resulting in three consecutive interceptions, but only his sixth, seventh, and eighth of the season. He was aggressive to a fault, and that is what must change. But that will be a tough nut to crack, given how aggressive the Dolphins' passing attack has been all season.
Evaluating the Tua Tagovailoa Meltdown
It's challenging to fault Tua's aggression, given how rewarding it's been all season with very few negative repercussions. Before Week 16, Tagovailoa ranked second in the NFL with his 9.1-yard aDOT, first in passer rating, and first in yards per attempt. He's lived over the middle of the field, particularly between the numbers.
According to Sports Info Solutions, 2,213 of Tagovailoa's 3,238 passing yards (68.3%) had come from the middle of the field over the first 15 weeks. He dwarfs the next-closest QB in air yards and intended air yards over the middle. And over the past four weeks, teams have actively fought the Dolphins to take that throw away, with great success for the most part.
MORE: Dolphins In Danger Of Epic Collapse — And Tua Is To Blame
Four of Tua's six-lowest single-game QBR games have come during their current four-game skid. Three of the four have been games with a QBR under 25. And while he's still pushing the ball to the intermediate with success on a per-attempt basis, his efficiency completing passes has been slashed, making Miami's offense a boom-or-bust attack.
While the interceptions against Green Bay were a massive issue, there's an easy fix for them. Just live the damn checkdown the defense gives you.
A Bad Throw in a Tough Situation
The play call looks like "Z Dagger" from a bunch-right gun formation. However, Jaylen Waddle bends instead of running through the inside shoulder of the play-side safety in the Packers' two-high look. That's inconsequential, considering the ball was intercepted by Jaire Alexander, the outside cornerback.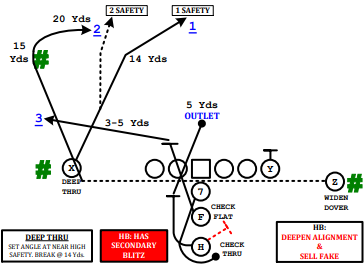 It is essentially a two-man route off of play-action with two late releases as checkdowns. Well, Durham Smythe never gets out on his route because he was an active participant in the protection, and Tua threw the ball before Raheem Mostert could even become a target.
The Packers appeared to be in Quarters coverage, and the lack of outside threats meant they could squeeze the coverage inside the numbers. It made for a very tight window, and when Tagovailoa tried to layer the throw over Krys Barnes, he instead sailed it to Alexander.
It was a bad throw into a rapidly closing window. Anybody who has watched enough of the San Francisco 49ers knows this throw all too well. It's one that Jimmy Garoppolo is prone to make every few weeks. It comes with the nature of perpetually attacking over the middle.
Tua had a nice pocket established, but Preston Smith was bearing down from his blindside. With how the timing worked out, he probably never even felt the pressure. Even if he wanted to spin out and create out of structure, Kenny Clark was coming on a stunt that would have rocked Tua's world.
Strike one.
Miscommunication, Bad Timing, and Needless Aggression
Tua's second interception was a miscommunication between himself and Mostert, but the decision to make that throw, even if Mostert had stopped his route, was needlessly dangerous. Tua's eyes were already bringing De'Vondre Campbell into the area. Things happen in an instant at the NFL level for quarterbacks, and timing in the Dolphins' offense is everything.
But the Packers' coverage gave Tua two incredibly easy answers that he simply never even considered. Although his eyes began outside, Mostert was his first read, and he was trying to clear Quay Walker so he could attack the space he had been operating.
But he had slant-flat on the opposite side with Tyreek Hill running open to the flat because the Packers gave cushion, and Alec Ingold was immediately open as he scampered to the flat as well.
Tua tried to bite off more than he could chew, and the decision bit him back.
An Indefensible Decision
Early in the game, Green Bay played a soft Cover 2 look on 1st-and-20, and Tua hit Mike Gesicki on a vertical route toward the sideline in the "honey hole" behind Rasul Douglas and before Adrian Amos could get to the sideline. On the 2nd-and-14 interception to seal the game, Miami attempted to hit that area again but from a different look.
This time, they ran a smash concept against a soft Tampa 2 look with Gesicki and Hill paired with double posts on the backside. It's a good call against Cover 2, as it stresses the two high safeties with three vertical routes.
But this time, Douglas baited the corner throw and intercepted the pass.
MORE: Pro Bowl Snub Christian Wilkins Deserves To Get Paid
The throw itself was horrible. If Tua throws the ball high and outside, Gesicki might actually catch the pass. Instead, he threw it low and inside, gifting Douglas with possibly the greatest Christmas gift of his lifetime. But again, it was needless aggression and blind faith in a murky picture that was more to blame.
Tua simply assumed Douglas was going to sit on Hill because of who Hill is as a receiver. Tagovailoa made a decision too quickly, and it led to the game's end. If he waits just a split-second longer in a clean pocket, he forces Douglas to commit to one of the two routes in his area instead of being able to play both.
Tua was almost certainly trying to bite chunks out of the defense with only 1:30 left in the game and no timeouts, but it wasn't time to panic yet. He could have easily gotten the ball in Hill's hands in space over the middle, with plenty of time to clock it and get into another good call with over a minute remaining.
What's the Fix?
Take what the defense gives you. Teams are going to clog up the middle of the field. They're going to drop back into coverage and try to take away those middle-of-the-field crossers. McDaniel is doing a nice job getting Tua under center for play-action, which seems to do a better job keeping the linebackers static in their run fits a bit longer, letting these plays develop.
But in the straight dropback game and shotgun play-action passing attack, those windows are closing faster than Texas schools when they see the first snowflake hit the pavement. Finding creative ways to use Waddle and Hill as the underneath options to give better YAC opportunities could be critical. But in reality, using them to command that coverage could still be more beneficial.
At the end of the day, McDaniel must try and coerce Tua into getting off his read and finding his outlet quickly to maximize yards after the catch. Force defenses to play the entire field and watch those windows turn into French doors again. Tua doesn't need to have the second-highest aDOT in the league for this offense to hum.
The problem is, Tagovailoa has been operating one way all season, and that aggression isn't easy to coach out that quickly. Becoming an expert in something takes hundreds if not thousands of repetitions. So maybe Tua should spend the majority of his time in practice over the next few weeks learning that the floor before five yards downfield is not lava.