The Denver Broncos started the 2021 season strong but have since gone on a three-game slide. However, despite their recent struggles, Broncos QB Teddy Bridgewater has played surprisingly well so far in 2021.
Teddy Bridgewater's traditional statistics have been unspectacular
A glance at his box score statistics will tell you that Bridgewater hasn't been exceptionally productive. Through the first six games of the season, the Broncos QB has thrown for 1,514 yards, 10 touchdowns, and 4 interceptions.
Those aren't awful statistics, although it is concerning that all 4 of those interceptions have come in the last two weeks, but they aren't anything special either.
Advanced metrics suggest that Bridgewater is not the problem in Denver
Despite his underwhelming conventional numbers, Bridgewater is excelling on many advanced metrics. As proof, let's take a look at the Offensive Value Metric (OVM). The OVM is a grading system created by the (Bx) Movement to evaluate players based on how much they contribute to their box score statistics rather than the statistics themselves.
Bridgewater's OVM grade so far this season is 29.5. That ranks fifth in the NFL among all qualifying quarterbacks. It also represents a significant improvement over the grades Bridgewater earned in the seasons prior, going from 18.92 in 2019 with the New Orleans Saints to 24 in 2020 with the Carolina Panthers.
A grade that high suggests that the veteran is playing at a high level, even if it hasn't necessarily resulted in spectacular offensive production.
Examining Teddy Bridgewater's weekly grades from the last two seasons
To help us gain a more complete picture of Bridgewater's OVM performance with the Broncos, let's compare his grades from each week of the 2021 season so far to the ones he earned in 2020.
In the chart below, you can see Bridgewater's weekly grades from those seasons, marked by the black dots. For comparison, the league average regular-season grades for quarterbacks from those seasons are represented by the yellow lines.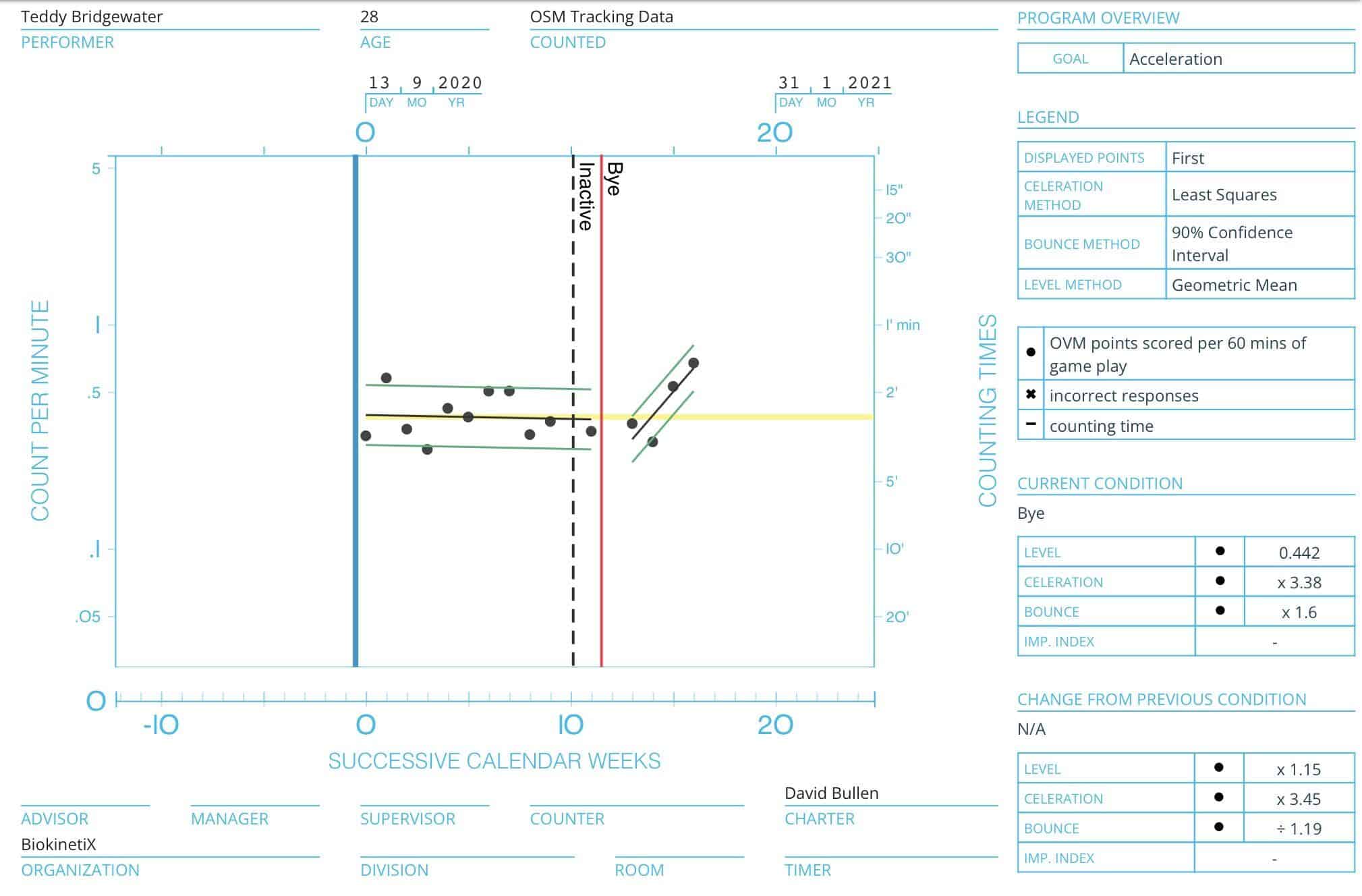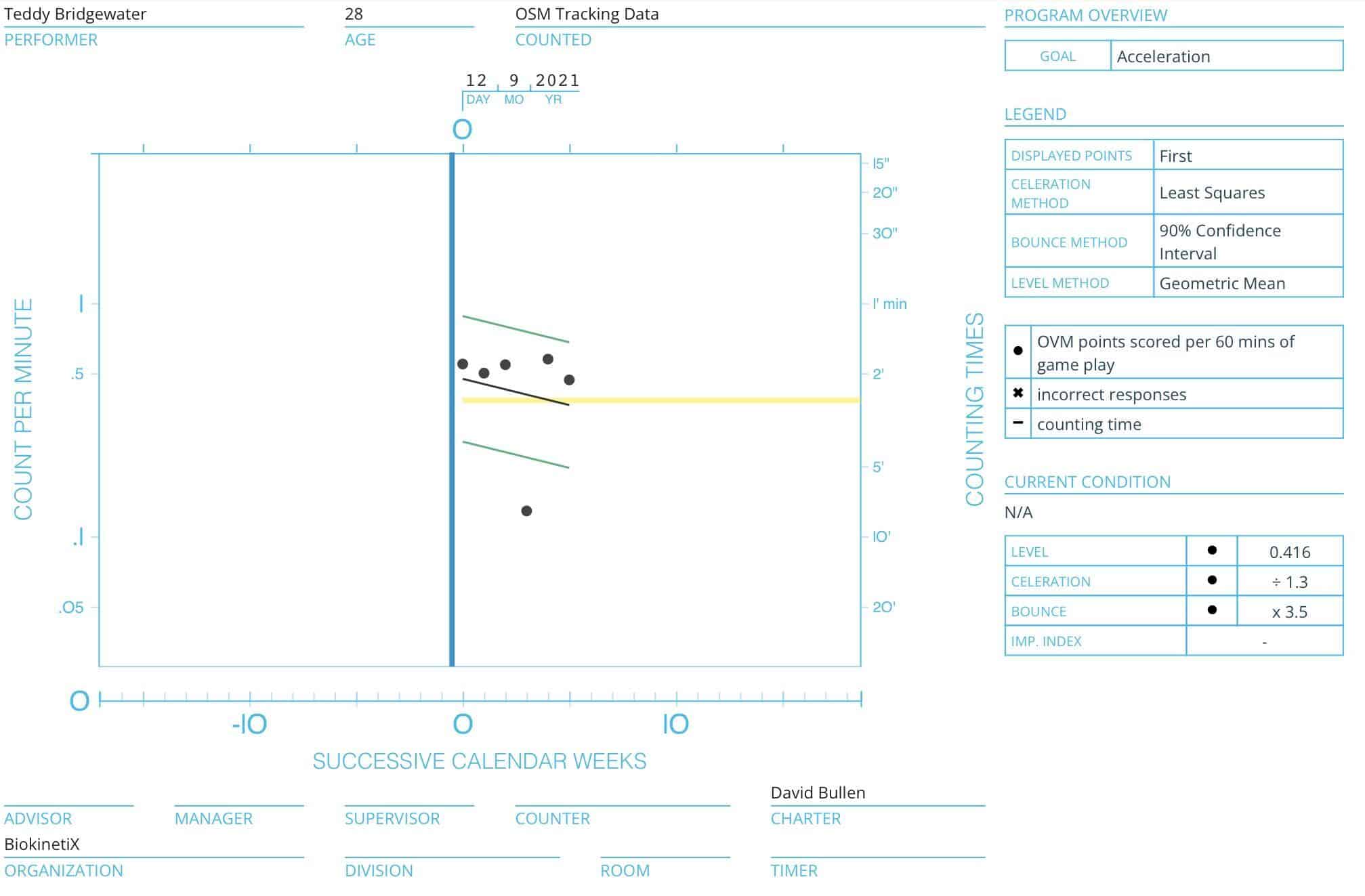 In 2020, Bridgewater hovered around the league average for most of the season, although he appeared to be trending upward late in the season. This season, on the other hand, every grade the Broncos QB has earned is above the league average except one. Four of those grades are above 30 points, a mark Bridgewater only reached five times in all of 2020.
The one low point for Bridgewater so far in 2021 was Week 4 against the Baltimore Ravens — when he earned a grade of 7.71. He was knocked out with a concussion midway through the game but was playing incredibly poorly before then. It's possible that he would have turned his performance around had he not gotten injured, but we can only base our analysis on what actually happened.
Aside from that game, though, Bridgewater has been exceedingly effective so far in 2021.
Advanced metrics behind OVM grade
To help explain Bridgewater's excellent OVM grades, let's look at the advanced metrics involved in calculating them.
The Broncos' QB has excelled in almost every area. He is throwing the ball an average of 9.6 yards downfield, the fourth-highest distance in the NFL, and an average of 6.8 yards on his completions, the ninth-highest distance.
And despite throwing the ball relatively far downfield, Bridgewater is still completing his passes at a remarkable rate. His completion percentage of 70.2% is the seventh-highest in the NFL right now. More impressively, that number is 6.3% higher than the NFL's projections suggest, the fourth-best differential.
The one category in which Bridgewater hasn't excelled is that he is throwing into tight windows 14.6% of the time. Even that is only slightly below the midpoint for quarterbacks this season.
In short, Bridgewater is performing at an elite level nearly across the board.
The Broncos have a chance to turn their fortunes around on Thursday
Despite Bridgewater's level of play, Denver as a team isn't in a great spot right now. Normally, a Thursday night matchup with the likely playoff-bound Cleveland Browns would be the last thing they want to see.
However, the Browns won't be playing at full strength this week. Baker Mayfield is dealing with a torn labrum, and the team will also be without both Kareem Hunt and Nick Chubb.
We'll see if Bridgewater and the Broncos can take advantage of Cleveland's weaknesses and get their season back on track.